The Definitive Resource On How To Sell A House
Posted by Joe Manausa on Friday, November 29, 2013 at 8:06 AM
By Joe Manausa / November 29, 2013
Comment
I have finally compiled a single blog post that is loaded with tons of information on how to sell a house.
In fact, this is one of the longest posts that I have ever produced, so don't expect to ingest the whole meal in one sitting. But I promise you this, you will not find a better resource on how to sell a house.
I recommend that you bookmark this page (and share this article with your friends) if you really want to be an authority on how to sell a house.
This has been a long-time coming, but I suspect there is a niche of analytical homeowners who want to know everything there is to know about how to sell a house, so here's a compilation of what I have gathered over the past 22 years selling real estate in Tallahassee, Florida.
Top 51 Articles On How To Sell A House
Over the past five years, I have written some popular articles on how to sell a house, and below are listed the ones that received the most traffic. In fact, each of the articles below have been viewed 50,000 times or more, and they continue to receive steady traffic today.
For each bullet point below, you'll find a basic description and a link to the full article (simply click on the underlined words and your browser will be directed to the corresponding article).
If you take the time to read each of these included articles, you will have an incredibly rich foundation from which you can make the best decisions when it comes time to sell your home.
We will sell your house in 4 to 14 days ... ask us to show you how!
The National Association of REALTORS conducted a survey and found that 72% of home sellers hired the first agent they interviewed.
Maybe that is why so many sellers fail to sell on their first attempt, or even worse, sell their home for less than they would get had they used a progressive home selling plan. It doesn't have to be that hard, and you don't have to give your home away either! Let us help.
Tell us who you are, we'll reach out to you to set up a time to simply talk about the sale of your home. No strings attached, use Joe Manausa Real Estate to start your home selling preparation, you'll be glad you did!
SELL FAST TO GET TOP DOLLAR
With the rare exception for homes that must be marketed in a low-liquidity environment, homes that take longer than 4 to 14 days will likely yield less money for the home seller than a home sold within the proper time frame.
Give us a try, talk to us about the "why" of this, and we'll start by taking a look at the current inventory of homes like yours that are listed for sale in Tallahassee. Whether you want to sell your home now or sometime in the future, our meeting will help you prepare to get top dollar for your home.
NOT EVERYBODY SUCCEEDS
Did you know that more than 30% of home sellers fail with their first listing agent?
That's right, they end up waiting and hoping for a lone buyer to come in and offer anything for the home when they instead should be seeing multiple buyers competing for their home.
Sell your home fast and for top dollar, we'll show you how!
It Does Not Take 230 Days To Sell A Home - Do you ever wonder how long it takes to sell a home? According to numbers reported by the National Association of REALTORS®, the time is roughly 7 1/2 months. Of course we all know that number is grossly inaccurate, but do you know where and how they get this "statistic?"
VIDEO: How Much "Negotiation Room" Should I Add To My Asking Price? - This question is fairly common from new home sellers who have not sold a home in the past few years. Since nobody wants to "leave any money on the table," it makes sense that asking a little bit more than you are willing to take would guarantee getting the best price possible …. right? Well, watch this video and discover a paradigm shift on how the internet is changing how to sell a house today, and that by understanding how to best price your home can get you sold quicker and with more money to show for it as well.
Using Cost Benefit Analysis To Decide On Selling A Home Or Leasing It Out - If you are like many home owners and you are trying to decide whether to sell a home or lease it out, then you are in luck, as I have prepared a Home Seller's Cost Benefit Analysis Model in order to help you weigh the ramifications of each decision.
The Difference Between Active And Passive Internet Marketing (and why it matters to home sellers) - There really is a huge difference between the two different types of plans for marketing a home for sale on the internet. It has taken me three years to complete the evolution from where I was based in traditional realty methodologies to being a much more active marketer on the internet. You see, the two methods are diametrically opposed, but very simple to understand.
The Real Key To Marketing A House For Sale In Tallahassee - Anybody who has been in the real estate business for more than a week can tell you that "real estate is local," so why are most real estate companies focused on marketing a house for sale in Tallahassee on the large aggregate sites that are anything but local? I suspect it has something to do with the hype about traffic, the fact that these sites get millions of visitors from all over the world. I guess if you think that raw exposure is the key to promoting a house for sale in Tallahassee, then simply advertising the house on the most active websites should certainly get it sold. Right?
Free Webinar Teaches Modern Home Selling Techniques - To sell as many homes as Joe Manausa Real Estate, you have to understand the process that the HOME BUYER undergoes … and this is always changing. Just as other industries have had their standards of practice turned upside-down by the internet, so too has the real estate brokerage business, and why it has pushed us to learn how to sell a house using modern home selling techniques.
What Is A Short Sale Going To Do To Help A Upside-Down Homeowner? - You might be wondering what is a short sale going to do for a homeowner who owes more money on a property than it is worth, and who really needs to relocate right now. After all, there are options for homeowners beyond just doing a short sale, right?
Open Houses Help Sell Homes - When I discuss the techniques used in selling a home with new home sellers, most are curious about my opinion on open houses. For those readers who missed my past article on real estate open houses, I addressed conversation rates and REALTOR® motivation for conducting them. But what about the relevance of holding an open house in 2012 and is it really necessary in the process of selling a home?
House Under Contract? You're Only 1/3rd Of The Way There! - So you've been trying to sell a home for quite some time, and you finally have the house under contract. Considering only half of home sellers over the past year have succeeded in selling their homes, you feel relieved to know that you will be joining that all-to-exclusive group. But would you be shocked to discover that two out of every three real estate contracts actually terminate without the house under contract going to closing?
Wait Until Next Year If You Are A Homeseller? - "We are going to have to wait until next year to sell our house," is perhaps the concern that I am hearing most from upside-down homeowners, or those who have lost much of the equity in their homes. Perhaps they hope to rent the house out to a tenant for the next year or so, and then put the home on the market when it will sell for the values found back in 2006.
How To Use The Short Sale Paradigm To End Your Real Estate Dilemma - Everybody knows the basics of getting a home sold. Of course, everybody used to know that the Earth was flat and that the Universe rotated all around us. There have been many other examples in history where rock-solid beliefs were changed, and now I suggest you consider the short sale paradigm as a way to end your current real estate dilemma.
Creative Home Selling – Taking A Lesson From Wall Street - In today's tough real estate market, where Sellers far outnumber Buyers, it is important to have a complete "bag of tools" when you desire to sell a home in Florida. This article will show you how to use an instrument that is fairly common on Wall Street that we do not see very often on "Main Street," and that is the Zero Coupon Bond. For those readers who do not invest their money in bonds, I will briefly define a zero coupon bond as an investment that generates no monthly payments, but rather accumulates interest and is repaid in full, plus interest, on a future maturity date.
How To Find Comparable Properties For Your Home - Frustrated homeowners are accumulating, and traditional real estate pricing practices are not making them any happier. It is time to recognize that there is a new way to determine the best asking price for getting a home sold in today's difficult real estate market.
Wanna Know Why Most Real Estate Marketing Plans Don't Work?
Because most real estate agents don't work a plan!
With roughly half the listings in the Tallahassee MLS failing to sell during their initial listing period, you have to wonder if real estate agents are lazy or if they are ignorant.
Who would you rather hire, somebody too lazy to market your home EVERY DAY, or somebody who does not realize that daily marketing is essential?
If neither of those options appeals to you, let us know by making contact with us below. We'll take it from there!
Understanding Current Information On How To Sell A House
I hope you take the time to review the links and articles listed above.
You will have a far better understanding of how to sell a house, and you will understand pretty much everything you need to know to get your home sold fast, in any market.
Additionally, should you ever need to interview agents for the job of selling your home, it is likely that you will be better versed on the subject than most of the people that you interview. At a minimum, you should have great confidence in your ability to select the right real estate agent and real estate company to sell your home.
If you would like to more information on how to sell a house, you can always just drop me a note to schedule a time to discuss your specific situation.
Your Local Expert In Tallahassee
When moving to, in, or from Tallahassee, you will fare better if you work with a local expert. We are here to help. If you have further questions on the Tallahassee real estate market, you can leave a comment below, give us a call at (850) 366-8917, or drop us a note and we'll give you the local information needed to ensure a successful, smooth transaction.
As a local born and raised in Tallahassee with a focus on customer service, I promise you'll find great success when working with Joe Manausa Real Estate, just as have our past customers. You can read thousands of their reviews reported on Google, Facebook and Zillow right here: Real Estate Agent Reviews Tallahassee.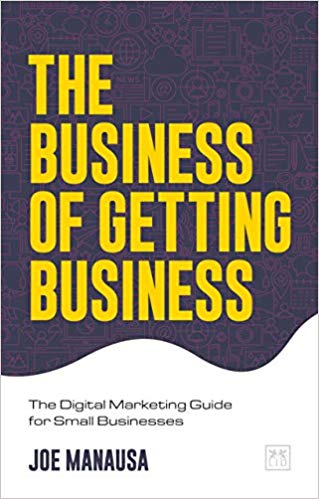 Have you heard about my new book "The Business of Getting Business?" It's a comprehensive guide for small businesses to help them make the move to digital. For those of us who want to survive and thrive in a world where large corporations are taking over, it is a must-read. It's also the perfect guide for how to sell a home in the digital age. You can find The Business Of Getting Business by clicking on any of the trusted retailers below.

Think all REALTORS are alike?
Read what people are saying about working with Joe Manausa Real Estate! You can see thousands of real customer reviews reported on Google, Facebook and Zillow at this link: CLICK HERE FOR REAL ESTATE AGENT REVIEWS.