Massive Marketing Earns Top Dollar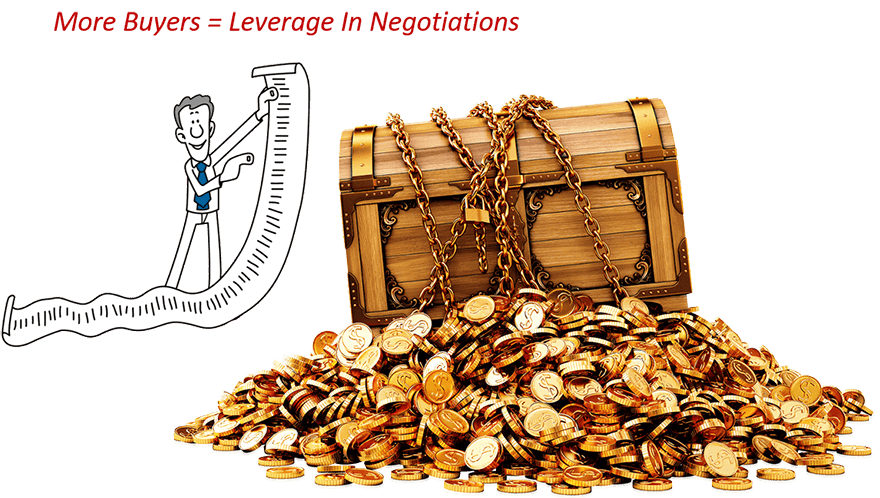 Our Goal
The primary goal of our marketing is to ensure that you get the most money possible for your home. We know that 94% of today's buyers are using the internet, and the majority of them are on a nine-month journey to buying a home. So what does this mean for you? It means that a real estate marketing company who feverishly works to generate a constantly growing and changing list of buyers likely has a buyer for your home on its list. While you might decide to sell today, your buyer started looking at homes six to nine months ago (or even longer). This is why it does not take 60 days to sell your home, it merely takes a great plan to expose your home to those "ready" buyers who've been looking for a home like yours. Here's how we do it:
Pre-Marketing A Home For Sale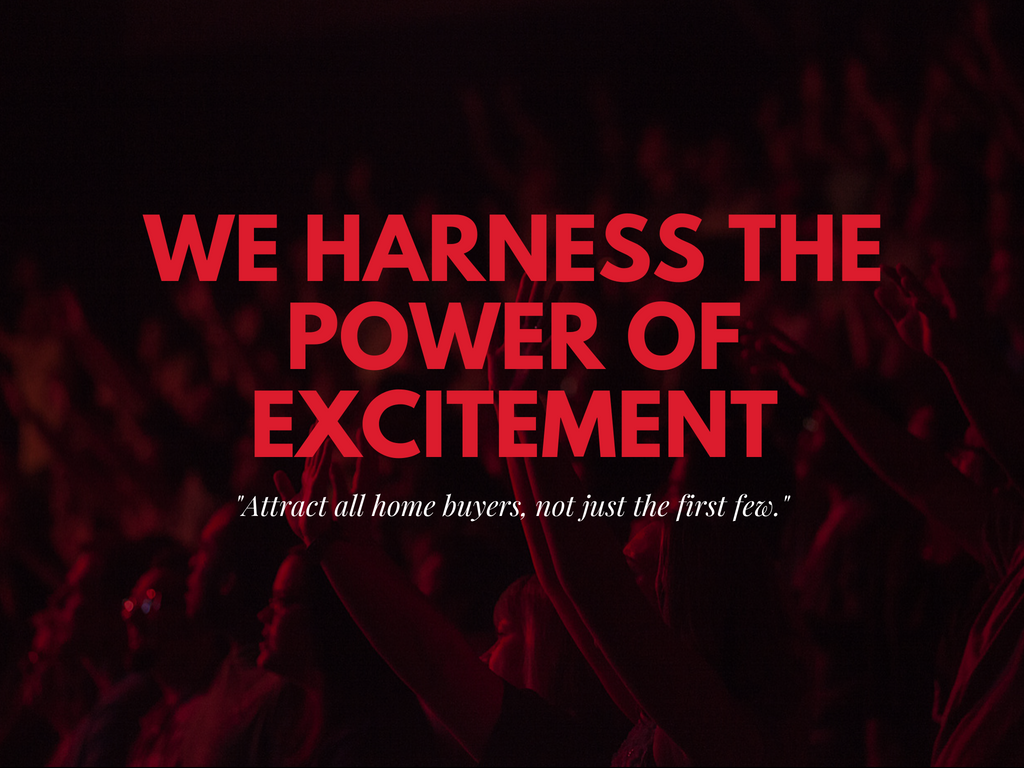 The first thing a good marketer will tell you is that "everybody wants what they cannot have." We use the concept to its fullest with our "coming soon" marketing plan. We have exclusive rights to Tallahassee, Florida and the surrounding area for comingsoonhomesTallahassee.com, and we use this site to inform buyers of homes that will soon be hitting the market.
Often times, we get calls from buyers (and other real estate agents) wanting to show these homes, but we deny access until the published "go live" date. We tell them (as they can see on the site), the day that the home will first be available. While this might seem counterintuitive (like we are chasing away good buyers), the results speak for themselves. Buyers want what they cannot have, and the key to getting top dollar is to ensure that interested buyers know that other buyers are aware of this home. If we make them all wait for "Day 1" together, then they will perceive the competition for the home.
But Does It Work?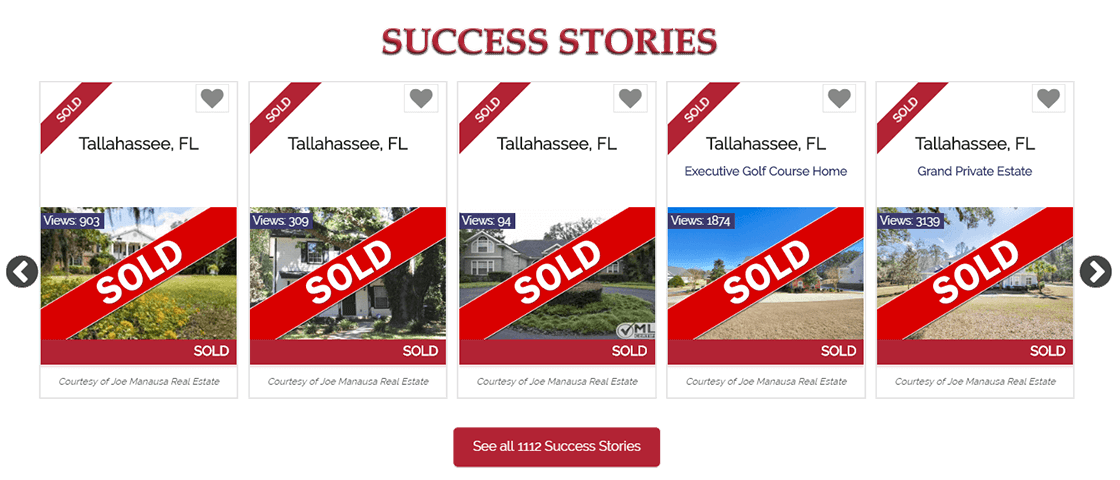 The home sellers that follow our pricing guidance often sell within the first few days, and 23% of these sellers get MORE than their full asking price. Why? Because we make the neighborhood stalker compete with other buyers for the right to purchase the home, and he's not going to let a good one get away. Only a robust pre-marketing plan can make this happen.
Marketing A Home Just Listed
We spend more money marketing our home listings each month than most agents earn in a year! Contrary to what other agents are doing, we spend big bucks to generate the stream of buyers needed to push your home's price to its top potential.
Remember, the work done to get you top dollar for your home needs to occur long before you decide to move. If somebody tells you that they are going to advertise your home, they are months behind the eight ball of collecting all the buyers that you need. They might even say (gasp) "it only takes one!" I hate when I hear this. While it only takes one buyer to sell your home, it takes multiple buyers to push your home's value to the top.
Real Estate Websites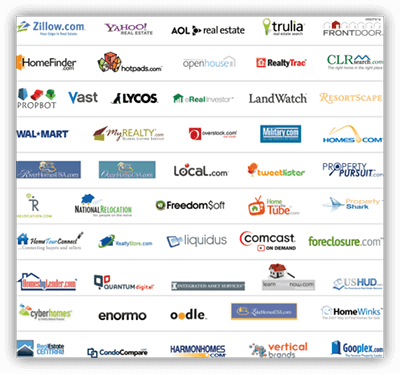 We recently sold a home that had been listed with another agent for six months with little to no activity. When we asked the homeowners why they chose the previous agent, they were excited because the agent said "List with me and I'll put your home on 500 websites all across the internet." Surely, that's massive marketing, right?
Well, an agent who tells you that is like a car salesman saying "buy it now and I'll include tires with the car!" Almost every listing agent in town knows how to check the box to syndicate listings across the internet, this is certainly no reason to hire somebody. We all do this.
The fact that somebody is using this "benefit" to solicit business is sad. Think about this ... EVERY listing that ever failed to sell has been syndicated to hundreds of websites ... so does this syndication get your home sold? Of course not.
What You Need To Know About Free Real Estate Websites
In a recent study of homebuyers on the internet, it was found that the typical property search query turns up 250 properties. So how many of these 250 homes does the typical buyer see?
The average homebuyer looks at the first 11 ... and then does another search. So if your home was one of the 239 homes at the end of the list, the buyer didn't see it.
When your agent tells you that your home appeared in 10,000 search results (and yet your home is not under contract), you have to wonder ... were you one of the 11, or one of the 239 in all of these searches!
We actually pay to be featured on the more prominent real estate websites so that our listings appear more often. This is not cheap, and it's the reason most agents don't pony up for premium positions.
Because we spend the most, you are seen the most! Our technology allows us to showcase your property on all nation-wide home search sites like realtor.com, zillow, trulia and more.
Another Thing All Top Real Estate Agents Do
We market your property to the top real estate agents in town, those that are most likely to have a buyer for your home. Some of our competition does this as well, but it is merely one small piece of our plan, whereas it represents the bulk of what our competitors do. It's cheap, it's easy, and it does not take much time (and it really does not do much to spread the word about your property).
Search Engine Marketing - Nobody Is Better
Most agents have a real estate website. They are relatively cheap to maintain and with a small financial commitment, they can get all Tallahassee MLS listings on their sites.
But understand this about websites ... If nobody knows where your site is and nobody is recommending buyers visit your website, then your site is as useful as a billboard in a cornfield facing away from the highway.
Our website (manausa.com) is the highest rated local real estate site in Tallahassee, and there is nobody else even close. We've been providing new content daily for more than 10 years, and the search engines recognize us as the authority for real estate in Tallahassee.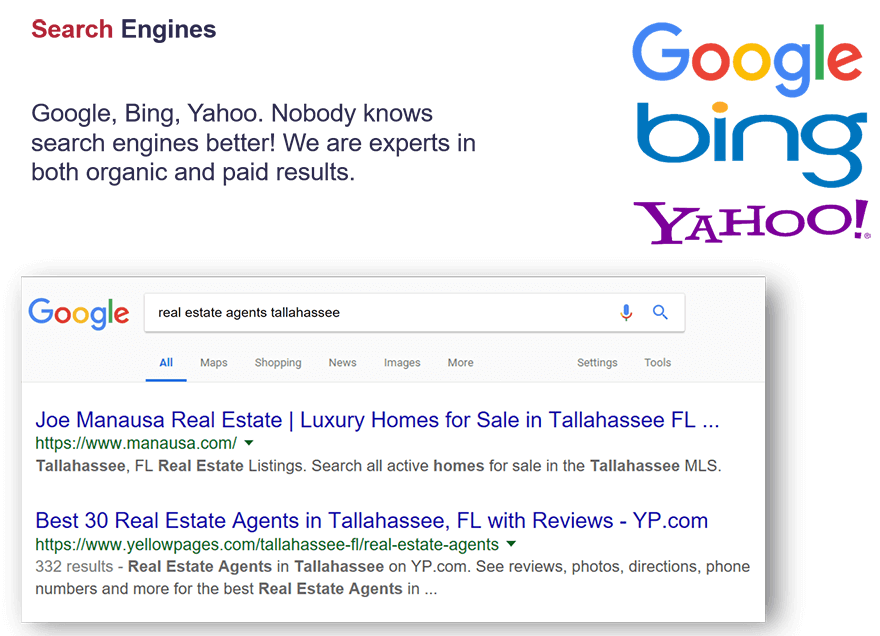 We spend more money than any other agent on Google and the other search engines because we know that there are buyers using search engines to find information on homes for sale and real estate in Tallahassee.
The benefit to our sellers is that they get MASSIVE EXPOSURE, not just the minimal traffic that is generated on free postings across the internet.