Joe Manausa
REALTOR® CRB, CRS, GRI
Office:
Joe Manausa Real Estate Office
About Joe Manausa
Joe Manausa wrote the book on how to implement a digital marketing plan for businesses. As a nationally recognized name for digital marketing in real estate, Joe Manausa utilizes his near 30 years of real estate experience to attract the clients that his company helps move to, from, and within Tallahassee, Florida.
Joe is a Tallahassee native who graduated from high school having earned First Team All-State Honors in football as well as his Eagle Scout. He was appointed to the United States Military Academy at West Point, where he earned his bachelor's degree in Computer Science and Military Science. He has since earned his Masters Degree in Business Administration.
Joe served in the United States Army as an Airborne, Ranger, Infantry officer. He led a platoon of forty soldiers in the Republic of Panama during Operation Just Cause and was awarded his Combat Infantryman's badge.
Joe has been in Real Estate for more than 30 years, all of which were spent in the Tallahassee area. His companies have always performed at the top of the market and have won franchise awards with both RE/MAX and Century 21, making a name for the office as one of the best home-selling companies in Florida.
Joe can be found all over the internet, using progressive digital marketing strategies to sell homes. His Twitter account (@housingreporter) is one of the most-followed real estate broker accounts, and his writing can be found on hundreds of different blogs and real estate forums all over the internet. 
Joe runs a unique, consumer-centric, team-styled real estate brokerage operation. Joe Manausa Real Estate operates with full-time, well-trained real estate agents. Joe is dedicated to delivering extraordinary customer service and focuses on creating "clients for life." 
For his investor clients, Joe understands their needs like no other broker around. He has broad experience as a real estate investor with experience in single-family homes, multi-family apartments, mobile home parks, land holdings, and developments.
Joe has clients worldwide who own real estate in Tallahassee. His Tallahassee Real Estate Blog, Newsletter, and YouTube Channel have tens of thousands of followers and are considered top resources for the US and Tallahassee housing markets by real estate professionals, investors, builders, and bankers.
Joe's knowledge has also made him known as the local expert for real estate market information in the Tallahassee area. He has been featured numerous times in the Tallahassee Democrat, interviewed by reporters on the WCTV news station, spoken on local radio stations about real estate, featured in local magazines, annual presents an economic update to the Builders' Association, and presents at the annual Tallahassee Chamber of Commerce Conference.
His family consists of his wife Michelle and their three children. Samantha, Max & Joey.
Your Local Expert In Tallahassee
Do you have questions on the Tallahassee real estate market? If so, you can leave a comment below, give us a call at (850) 366-8917, or drop us a note and we'll give you the local information needed to ensure a successful, smooth transaction.
As a local born and raised in Tallahassee with a focus on customer service, Joe promises that you'll find great success when working with Joe Manausa Real Estate, just as have our past customers. You can read thousands of their reviews reported on Google, Facebook and Zillow right here: Real Estate Agent Reviews Tallahassee.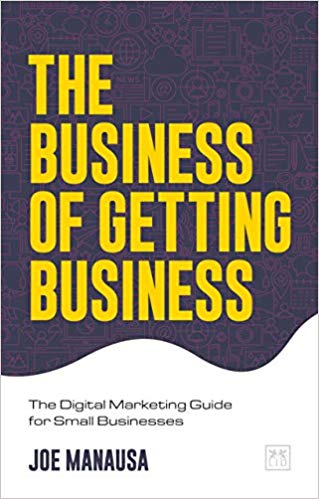 Have you heard about Joe's new book "The Business of Getting Business?" It's a comprehensive guide for small businesses to help them make the move to digital. For those of us who want to survive and thrive in a world where large corporations are taking over, it is a must-read. It's also the perfect guide for how to sell a home in the digital age. You can find it on Amazon (UK) for immediate delivery, or you can go to Amazon (US) to reserve a copy at a pre-US published rate.
Joe Manausa Real Estate (2014 to Present)
Focusing on a consumer-centered web marketing system, Joe Manausa Real Estate is considered one of the forefront leaders in how to use internet marketing to help people sell and buy a home.
CENTURY 21 Manausa & Associates (2011 to 2014)
Joining forces with his wife Michelle, they decided to continue the Century 21 brand for three more years in the Tallahassee real estate market.
The office consistently performed among the top ten offices in Tallahassee based upon closed home sales.
CENTURY 21 First Realty (2000 to 2011)
Joe Manausa Real Estate was formed in 2000 by a merger between Manausa and Associates of Tallahassee and CENTURY 21 Advanced Realty. The CENTURY 21 franchise offered a great opportunity for a company that already had clients in many other parts of the world. With a real estate support system recognized as the top in the industry, CENTURY 21 allows a company in a relatively small market operate as a power player in a worldwide market. There is no better affiliation for a company that exists to help people buy and sell real estate.
First Realty and RE/MAX Realty North (1992-1999)
Manausa and Associates was formed when Joe determined that it was not beneficial to renew the franchise that the company had utilized for the previous six years. Needing a stronger support system, particularly with the growth of the internet, Joe decided to "go independent" and take the time to examine all of the offerings in the real estate franchise business. While many "flavors" existed, Joe knew that the better companies would be embracing the internet as the new premier marketing medium in the real estate industry. After over a year of study, the choice of CENTURY 21 was easy to make.
Killearn Sales Center (1991-1992)
When Joe left the Army in late 1991, he knew that he wanted to accomplish two important things:
1. Learn Sales
2. Stay close to home (Tallahassee)
He accepted a position as salesman at Killearn Sale Center and dove right in to the onsite sales operation. Joe learned sales and the real estate business by selling new construction homes and residential homesites for Killearn Sales Center in Killearn Lakes. By May of 1992, Joe had moved on to owning RE/MAX Realty North.
US Army (1987-1991)
Joe served in the United States Army for over four years at the ranks of 2nd Lieutenant, 1st Lieutenant and was promoted to the rank of Captain. Serving all over the United States and in several different countries, Joe's favorite responsibility was as platoon leader for approximately forty men. He led this infantry platoon during operation Just Cause in the Republic of Panama, where they successfully completed all combat assignments and returned with all platoon members. Joe was awarded the Combat Infantryman Badge, an Army Commendation Medal and was promoted to Captain.
US Army Infantry Schools 1987-1988
During Joe's years in the Army he attended and graduated from many select courses, including Airborne School, Ranger School, Infantry Officer's Basic Course, Armor Officer's Advanced Course, and the Mortar Platoon Leaders' Course.
West Point 1983-1987
Joe received his appointment to the United States Military Academy at West Point where he was to earn his Bachelor's Degree in Computer Science and in Military Science. During his four years at the Academy, Joe played football, earning three varsity letters and All East recognition during his senior year.