How Meredith Whitney Rocked The Tallahassee Real Estate Blog
Posted by Joe Manausa on Thursday, October 9, 2008 at 2:59 AM
By Joe Manausa / October 9, 2008
19 Comments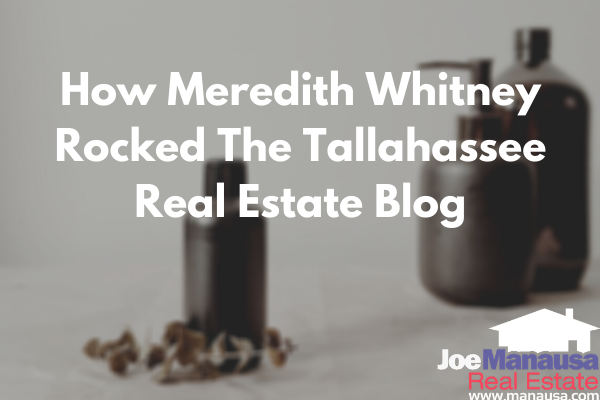 I want to thank all of our long-term readers for their contribution to the discourse at the Tallahassee Real Estate Blog, especially during the past two days. Recently, we received a visit from "Greg" who has categorized me and this blog as typical of the real estate industry.
I beg to differ. After being compared to cheerleaders, cool-aid drinkers, and "average" REALTORS, and then being accused of being either "deceitful or just blinded," I figured I would respond to each part of his comment, point by point. Rather than do it in the comments section where it would be missed by many of our readers, I felt that I would feature my response in the form of a new blog post. This way, we can pull many more of our readers into the discussion. Enjoy.
Meredith Whitney Believes that Peak To Trough Drop Will Exceed 33%
Greg writes:
No offense, but I give a heck of a lot more weight to the opinions of a Meredith Whitney, who is disinterested and has been ahead of the housing curve for a long time, over someone like you, who is invested in the issue and has continually pushed housing as a good investment. Whitney recently said that peak to trough "will be far worse than 33%."
Tallahassee Real Estate Blog on Housing
When somebody starts a sentence with "no offense," it usually means that they will be saying something offensive. Ironically, I agree with you to a significant degree. I am invested in the Tallahassee real estate market, and Ms. Whitney is not, meaning that her bias will not be based upon living here, working here, and making micro-observations of our local market. Of course, this means that her opinion is generalized for the whole country and we won't hold her opinion as a statement for each market, rather just all the markets put together. Some will do better, some will do worse. Agreed?
I do not know you, so I'm not so sure that your unqualified opinions can truly offend me. I welcome them. I encourage bears and bulls to voice their opinions. My experience has taught me that when everyone is bullish, I should be bearish. When everyone is bearish, I should be bullish. And when the market is balanced, I need to do extensive study. One could certainly argue that we are moving very close to "everyone is bearish." How can I say this? I don't have to say it, you are my proof. Market extremes turn the internet into a NY street corner. People come out with the "end is near" signs and speak as loudly as they can, to anyone that will listen.
You credit me with "continually" pushing housing. Hmmmm, what do you recommend? Live in the streets? The way I see it, people can choose to rent or they can choose to own. Some people buy a home to live in, some rent from strangers, and some rent from their parents (or other family members). The right answer for each person depends upon a multitude of personal factors (which I write about daily). You on the other hand appear to be "against housing," yet I suspect you actually live in a home (meaning not in the streets).
Well-Priced Homes In Tallahassee Are Good Investments
Greg writes:
I wonder how your clients who bought homes in 2006 at prices which I'm sure you then opined were "very-well priced" feel right about now. Your comment about well-priced homes being a good investment is tautological. Current prices are far, far from being well-priced. I'm sure you disagree, like all your fellow brethren cheerleaders.
Tallahassee Real Estate Blog on Tautology
Here is where you lose a bit of credibility from myself and many of the readers who have provided feedback to your comments. You start by wanting to make a valid point (2006 was the worst entry-point into this market) but instead you turn it into an unsubstantiated statement which you are "sure" that "I opined" .... This is where you depart from adding to the discussion with your opinion and diverge into verbal vomit that really does not add to our discussion or learning on this blog site. You are obviously very educated and very intelligent, I would just think a "scholarly acting" person would do at least as much research as a typical college student would do before making such invalid statements.
I suspect that our clients who purchased in 2006 and need to move now are sick to their stomach with worry about the housing market. The ones that know they don't need to move for quite a while, who have fixed-rate loans (or are switching to fixed-rate loans) most likely are not-so concerned, as they are paying for their home in the manner in which they expected. Unfortunately for those who need to sell, they are in a very tough position. I'm wondering if you actually read the response by a reader "Tom" who did buy a Tallahassee home in 2006?
Your opinion that my "comment about well-priced homes being a good investment is tautological" is laughable at best. Since I do not have a "word of the day" calendar on my desk, I asked my friend Dr. Roy Barineau (a really smart guy) for his definition of this big (not Joe Real Estate Blog Language) word. He told me that it meant redundant or repetitious (or something like that but he lost me when he started using big words too).
Do you mean that "by definition, well priced homes in Tallahassee will always be 'good investments'" and that is why my opinion was tautological? or
Do you mean that I keep repeating myself by saying Tallahassee homes are good investments?
Regardless, it matters not. You undo your whole point when you make an unsubstantiated claim about current prices of homes being "far, far" too high! Well you've made the statement, now demonstrate that you bring more than a large vocabulary to the discussion (and I honestly believe you do). Just as I do not think bulls are idiots, I do not think bears are idiots either. I believe that too much fear has driven away your ability to take in all the clues, so you focus completely on the negative ones. But here are some questions for you to consider:
What would Meredith Whitney say about the Tallahassee housing market over the next 10-20 years? Most projections on population in Tallahassee are for growth at a higher rate than we have seen in the past.
If Meredith Whitney thinks the Peak to Trough is going to exceed 33%, do you think you need to know where we are now, peak to trough, before you start "opining" on the market being "far, far, from being well priced?"
What source of local data will you use to determine what you will believe in the future?
What source of mortgage data will you use to speculate the influence that we will see from "Outside Influencers?"
And now on behalf of my brethren cheerleaders....
Home prices in Tallahassee are still falling. Many of the 3,000+ homes for sale in Tallahassee are priced at a point I would not make a buy recommendation. However, there are some homes that are priced to sell. Remember, you cannot hold the purchase of a home in a vacuum. You have to compare it with the other options that the potential buyer has today:
Does the buyer live in a home that is also losing value?
Does the buyer live in a hotel and need to buy or lease a home immediately (we are faced with this every week with corporate relocation clients)?
Can the buyer find a suitable rental property to meet his lifestyle?
If the buyer buys a home that still has potential to depreciate, is that financially worse than buying in two years (or five years, etc.) at higher interest rates?
I do not believe the answer lies in a blanket opinion, meaning that buying now or not buying now is based upon individual personal needs and you won't find one singularly good answer for everybody.
A No-Brainer Investment in Tallahassee Real Estate
Greg writes:
Your no-brainer investment was actually a rental. You ignored the risk of price stagnation/depreciation because you drank the cool aid that home prices would never go down and that rent/price ratios don't matter. You likely still believe that "over the long run" home prices would never go down. Tell that to the poor guy who bought a Summerbrooke house for 220/sq ft in 2006; the same one that has a current value of 120/sq ft and is dropping like a stone by the minute.
Tallahassee Real Estate Blog on Investment Options
I had to read this statement of yours five times to try to figure out what you really were sayng.... You say my "no-brainer investment was actually a rental."
Uh, yes. That is what makes it a no-brainer investment. You see, tenants will actually pay the owner of the property rent for the enjoyment of living there. Analyze the flows and buy it because your ROI exceeds 15% with the right amount of down payment. Stock market yielding 15% these days?
Again, buying real estate as an investment does not exist in a vacuum. You must compare the investment you will make to buy it with your other opportunities... you must apply a risk factor to each, then make the decision to get the highest yield that you can achieve without violating your tolerance for risk. So, let me ask you a simple question.... Had an investor bought that house when I wrote the article, how would their investment be compared to say buying shares of stock in Lehman Brothers? Or how about just buying a Dow Index Fund? I suspect more of their investment would be safe in Tallahassee real estate.
Additionally, you again attribute a conclusion to me that was not made. As a matter of fact, it is in complete opposition of what I believe and what I write about. You wrote that I ignored the risk .... That "rent/price ratios don't matter." Why do you think I was showing that property as an example in my blog? Historically, rent/price ratios (Gross Income Multipliers) have had rental properties trading around 100 times monthly rent. For example, monthly rent of $1,200 is a property that will trade at $120,000. Historically, I have endeavored to purchase my rental properties under 90 times rent, and 80 times rent was a "home run." The purpose of that article was to show a rental property that was well below 100 times rent (even though the rental market

was

still overpriced at greater than 110 times rent.
Outside Influencers Can Have Serious Short-Term Affects on the Tallahassee Real Estate Market
Greg writes:
What makes you think that if mortgage rates substantially increase, that that itself wouldn't cause a further reduction in demand for housing which would cause a further reduction in prices? This is further evidence of your bias. All of a sudden home prices would magically become insensitive to mortgage rates. What do you think would happen to prices if mortgage rates went to 8%? I know you're smarter than that, but I can't tell whether you are being deceitful or just blinded by your emotional investment in the issue.
Tallahassee Real Estate Blog on Outside Influencers
Again, you probably would benefit greatly from reading many more of my previous blog posts. While they are not "research papers" that are worked upon for weeks (as a matter of fact, I usually write my daily blog from the house at 5:30 a.m. before I go to my real job), my blog articles are written based upon my collective experiences. Unfortunately, that means that the blog meanders and addresses issues in a whimsical manner. You actually have to read more than 2 or 3 posts before you lump me in with the typical REALTOR who is writing a product-based blog.
So, about mortgage rates, please read what I wrote about "Outside Influencers." You will see that I believe that rising mortgage rates will put downward pressure on home prices for a while, however, one point that you fail to address in all your lengthy comments is population growth. If you believe in the agencies who do mid-census population evaluations, we are growing. Historically, Tallahassee grows at a rate just above 2% per year, meaning that if it continues, then we will consume more homes than we currently have available now (Refer to my recent article on population versus home consumption). If we ultimately need more homes, how will they be delivered to the demand of the market at prices below that which they can be built? You see, I look at the long-term cycles of the real estate market, not just the current fear-filled market.
Fear and Greed operate in all commodities markets. That is why in 2004 I was advising clients to "run away" from the beach markets. Many of them ignored me and made a ton of money in 2004 and 2005. They even made money in 2006, but most of them gave it all back in 2007. I was a little premature on my advice, but it was based on sound math, economics, and population data.
I have not recently sold many investment homes to clients (it was the bulk of my business from 1996-2004) because the rent ratios have been out of whack. But this is changing. Current rental home prices are still a bit high and I struggle to find good buys right now, but within a relatively short time, 20% annualized returns will be back (refer back to my blog article on the real estate stack).
Keep Your Eye on Tallahassee Real Estate
Greg writes:
I'll check back in 6 months and we can see who's right. I say prices down another 20% and you like Hank Paulson will be calling the bottom for the 78th time.
Tallahassee Real Estate Blog on Daily Blogging
Greg, I truly hope you'll be regular contributor here. Your insight for the most part is great, you just temper a good point with personal attacks in your discourse. I suspect when you are too lazy to verify or find collaboration on your opinion, you use your intellect to belittle the opposing view and hope that a personal attack will steer readers away from the fact that your point might be unfounded or at least lacking enough proof at just face value.
As far as "calling the bottom for the 78th time," you might want to check out what I have already written about the future of the Tallahassee real estate market. It's follow-up article about softening prices in Tallahassee is a good read too!
See everyone at the office at 8:30 a.m.?
---
As a reminder for those who subscribe to the Tallahassee Real Estate Blog by email, some embedded pictures and videos might not be appearing in your email and you might need to click the title header to go to your browser where all will be visible. Additionally, if you would like to respond (leave a comment) to this article, you will need to "click through" to the blog site to post your feedback.
Keep checking out the Tallahassee Real Estate Blog every day for updates that include charts, graphs, and analysis of the Tallahassee real estate market.
If you like this Article then please subscribe to my
blog through a full
RSS feed
,
or you can
. You will be able to stay informed about the happenings in the Tallahassee Real Estate Market. You can also subscribe to this blog and have it delivered by
Email.
Please Do Us A Small Favor
We work very hard to produce daily content for our long-time readers and first-time visitors. We provide this information for free, hoping to earn your respect and trust and the right to one-day help you when selling or buying a home. Can we get your help spreading the word about our blog?
If you like the content, would you please like it or share it using the Facebook button at the beginning of the post? This simple action will be greatly appreciated! THANK YOU!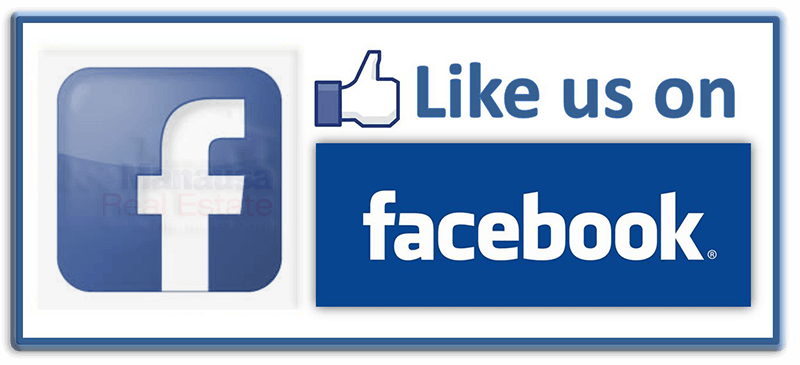 Also like us on Facebook at https://www.facebook.com/joemanausarealestate/
Joe Wrote The Book On How To Sell A Home Today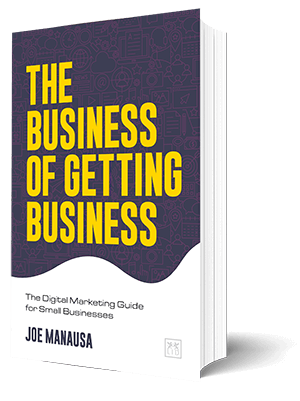 WARNING: The Internet & digital marketing systems have changed the way sellers need to market a home for sale. It's not about getting a home sold anymore, it's about getting a home sold and netting the most money from the sale.
To do this, a seller needs to hit the digital market hard in a coordinated effort that alerts ready-buyers (all at the same time) to ensure buyers understand they are competing for the right to buy the home.
While it only takes ONE buyer to sell a home, it takes MULTIPLE BUYERS for the seller to bid the property up to its highest value in today's market. You see our full explanation about how to sell a house here, or you can buy the book and really get into the nuts and bolts of selling a home in the digital age.
Get the book that explains it all, in a manner that is understanding to all, even technology neophytes. It's available on Amazon, a trusted source for consumers.

Think all REALTORS are alike?
Read what people are saying about working with Joe Manausa Real Estate! You can see thousands of real customer reviews reported on Google, Facebook and Zillow at this link: CLICK HERE FOR REAL ESTATE AGENT REVIEWS.