Why Try To Sell Your Home For Sale By Owner
Posted by Joe Manausa on Tuesday, June 2, 2009 at 12:45 PM
By Joe Manausa / June 2, 2009
4 Comments
Yesterday's blog on "For Sale By Owners" created some interesting discussion both here and at a real estate networking site that I visit on a regular basis. It seems that, oddly enough, my viewpoint was shared by most REALTORS®, yet some of our readership was mixed. I absolutely love when we get reader comments because it helps steer the direction of this blog, as well as the direction of our customer service directives at our Tallahassee Joe Manausa Real Estate.
Reader Asks "Where Is My House"
So the first comment is from longtime reader "WW' who writes:
How do you measure FSBOs? If I'm smart enough to say, "Hm, all the $200K's in my neighborhood are failing to sell," and list my house FSBO at $110K, and it sells in a week.... which of your charts do I hit?

Not trying to be difficult, and I enjoy your posts, just pointing something out. -- WW
My answer to this, as usual, is somewhat analytical. As I replied to WW yesterday, the answer to his question is that sold homes, regardless of the methodology, end up on my "sold" chart (graph). That is why we measure both the Tallahassee MLS as well as the Leon County Tax rolls for real estate sales in Tallahassee. WW's home sale would show up as a new sold property ... and that's the point. Not many people's homes are showing up as newly sold properties. They need help!
One thing you need to understand right up front is that the only differences between you and a real estate professional or another "For Sale By Owner" are knowledge and experience. Experience is tough to gain but knowledge is available here.
I talk to people regularly that sell on their own. It's hard work, involves a lot of time, some expenses, and requires a sound plan. This book will help you develop a winning plan and empower you to collect all of the equity in your home. Just tell us where to send it!
Real Estate Brokers Opinion On FSBO
The next is a comment I received by a top real estate professional in New Orleans. He writes:
FSBO's dont always know how to sell a home. And, marketing the home is not the only difficulty. The majority of FSBOs dont have a clue about what forms and disclosures are needed to even complete a transaction. All that trouble just to save a little comission money! -- CJ
As I told CJ, I agree with most of what he said. But I do not agree with his conclusion where he stated: "just to save a little commission money!" The fact is, my clients are not so rich that they see it as a small amount of money. Nor do I. Our commissions are a large price to pay, but the fact is, the seller will pay it either way.
Who Really Saves The Real Estate Commission
Every FSBO seller I've ever talked to said they would pay my fee if I brought a buyer. This means they are only trying to save 1/2 of the fee, not all of it. Additionally, every buyer knows a FSBO is not paying a fee, so they expect to save the fee and offer less (the full fee less ... not just 1/2!). So the real question is....can both parties really "save" the money?
Not with any calculator that I have ever used. The chances of a FSBO selling their home without a REALTOR being involved (at least working for the buyer) is less than 10%. When a home is sold "For Sale by Owner," the home seller usually nets significantly less than if a top real estate brokerage company had been hired to sell the home. So, the final result is a home seller who either does not sell the home, or one that does all the work themselves, opens themselves up to significant legal issues, and all for the benefit of netting less money.
---
*Joe Manausa Real Estate is a brokerage company headquartered in Tallahassee, Florida. Its unique business model provides specialists to both home sellers and home buyers, and the results speak for themselves. JMRE has significantly more 5-star reviews on Google than any other local competitor. Joe Manausa Real Estate is a leader in internet marketing and utilizes search engine optimization, email marketing, social media, and data analytics to get their clients' home sold faster and for more money than any other Tallahassee brokerage firm. For more information, visit www.manausa.com or call us at (850) 366-8917.
---
Your Local Expert In Tallahassee
When moving to, in, or from Tallahassee, you will fare better if you work with a local expert. We are here to help. If you have further questions on the Tallahassee real estate market, you can leave a comment below, give us a call at (850) 366-8917, or drop us a note and we'll give you the local information needed to ensure a successful, smooth transaction.
As a local born and raised in Tallahassee with a focus on customer service, I promise you'll find great success when working with Joe Manausa Real Estate, just as have our past customers. You can read thousands of their reviews reported on Google, Facebook and Zillow right here: Real Estate Agent Reviews Tallahassee.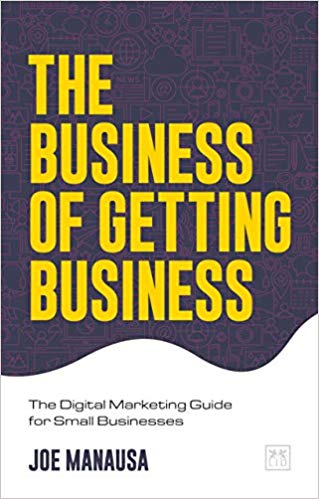 Have you heard about my new book "The Business of Getting Business?" It's a comprehensive guide for small businesses to help them make the move to digital. For those of us who want to survive and thrive in a world where large corporations are taking over, it is a must-read. It's also the perfect guide for how to sell a home in the digital age. You can find The Business Of Getting Business by clicking on any of the trusted retailers below.

Think all REALTORS are alike?
Read what people are saying about working with Joe Manausa Real Estate! You can see thousands of real customer reviews reported on Google, Facebook and Zillow at this link: CLICK HERE FOR REAL ESTATE AGENT REVIEWS.