Real Estate, FSBOs, and Fishing Nets
Posted by Joe Manausa on Monday, June 1, 2009 at 2:08 PM
By Joe Manausa / June 1, 2009
4 Comments
I was talking to a good friend of mine yesterday who was asking me about an article in the Tallahassee Real Estate Newsletter that was published last Monday. He said he understood everything except he wanted to know what a "Failed To Sell" measurement was. He had seen the graph and wanted to know what it meant. Simply put, this is the measurement of the people in Tallahassee who tried to sell their home, but failed.
How Can You Possibly Be A FSBO In This Market?
For those of you that do not know, "FSBO" is a term used in the real estate industry for people who are trying to sell their home without a real estate brokerage company. The term "FSBO" stands for "For Sale By Owner." So, I'm sitting here wondering what people are thinking about when they put their home on the market without the benefit of an international marketing effort.
The following real estate graph is the measurement of home sales failure rates in Tallahassee. The results are staggering:
What this graph shows is that the 1-year trend of failed home sellers (people who put their home on the market and went the who marketing period without selling their home) is currently at 81%. That is terrible. Can you imagine needing to sell your home and being told that if you do what everybody else does, you have a 1 in 5 chance of selling your home?
The Tallahassee real estate market is down over 60% from the height of the market three years ago. Yeah, three years ago you could put a crayon-crafted "for sale" sign in your yard in the morning and have 3 offers before the end of the afternoon. But that was then, this is now.
One thing you need to understand right up front is that the only differences between you and a real estate professional or another "For Sale By Owner" are knowledge and experience. Experience is tough to gain but knowledge is available here.
I talk to people regularly that sell on their own. It's hard work, involves a lot of time, some expenses, and requires a sound plan. This book will help you develop a winning plan and empower you to collect all of the equity in your home. Just tell us where to send it!
Home Sellers Need Good Help
For those of you who are detailed oriented, you might notice that the above graph was constructed from data mined from the Tallahassee Board of REALTORS® Multiple Listing Service (MLS). So that means that 81% of people who hired a Tallahassee REALTOR® to sell their home failed to get the home sold during the listing period.
You actually have to hire a great real estate company now. Just putting the house for sale in the Tallahassee MLS is going to result in an 81% failure rate! This is a tough market, and I recommend you getting the best advice available when you decide to sell a home in Tallahassee!
On Another Note - A Fishing Net Invention
My good friend, Rod Presnell, has invented a retractable fishing net. You might recall we had a fishing net naming contest on the Tallahassee Real Estate Blog back in June of last year, and the winning entry was "The Bass Lasso." Please check it out, as Rod has invested a lot of himself, his time, and his money into this remarkable invention. They are being produced now and will be available in a few weeks.
Keep checking out the Tallahassee Real Estate Blog every day for updates that include charts, graphs, and analysis of the Tallahassee real estate market.
---
*Joe Manausa Real Estate is a brokerage company headquartered in Tallahassee, Florida. Its unique business model provides specialists to both home sellers and home buyers, and the results speak for themselves. JMRE has significantly more 5-star reviews on google than any other local competitor. Joe Manausa Real Estate is a leader in internet marketing and utilizes search engine optimization, email marketing, social media and data analytics to get their clients' home sold faster and for more money than any other Tallahassee brokerage firm. For more information, visit www.manausa.com or call us at (850) 366-8917.
Get Our Free Market Update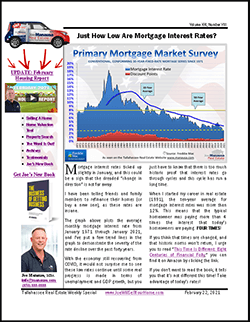 Other buyers, sellers, lenders, and real estate agents have this critical information, and now you can too!
Get immediate access to our most recent newsletter.
Let more than 30 years of experience work for you with charts, graphs, and analysis of the Tallahassee housing market.
Each Monday morning we send out a simple, one-page report that provides a snapshot of the Tallahassee housing market. It only takes 2 minutes to read, but it gives you better market intelligence than most real estate agents possess. Just tell us where to send it below!