Did Growth Management Cause The Housing Bubble?
Posted by Joe Manausa on Friday, October 2, 2009 at 2:06 PM
By Joe Manausa / October 2, 2009
3 Comments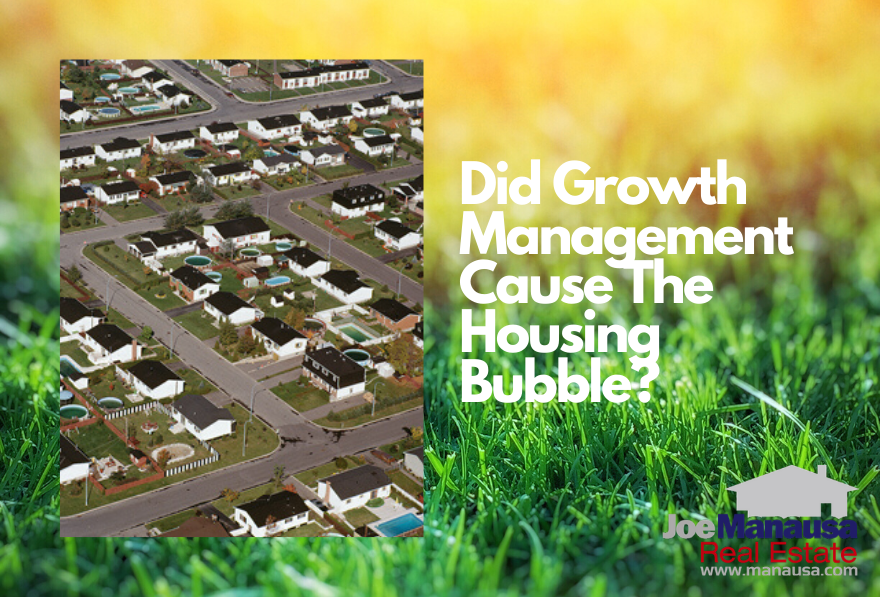 A new white paper was released yesterday by the Cato Institute which boldly claims that the cause of the housing bubble isn't what everybody else has been talking about for the past few years. In this policy analysis, Randy O'Toole argues that the blame rests on a regulatory system known as growth management, saying
Some people blame the Federal Reserve for keeping interest rates low; some blame the Community Reinvestment Act for encouraging lenders to offer loans to marginal homebuyers; others blame Wall Street for failing to properly assess the risks of subprime mortgages. But all of these explanations apply equally nationwide, while a close look reveals that only some communities suffered from housing bubbles.
Needless to say, I found the topic intriguing and thought I would provide a "readers digest" version of my interpretation of the paper today. This is most likely not a critical read for somebody looking to buy or sell a home, but if you are a concerned citizen and wonder why housing costs are so high, this is a well written paper worthy of your attention. You can download Randy O'Toole's Growth Management Policy Analysis paper in it's entirety right here.
Usual Suspects Only Fueled The Fire
It has always been my opinion (at the street level) that the housing bubble was caused by a new, vigorous apetite for housing that began in 2000 because of many colliding factors:
GSEs (Fannie and Freddie) were created to make home ownership possible for all
The crash of the tech stocks caused many to pull money from mutual funds
Excess money out of the market created boom in 2nd home market
Baby boomers invested in 2nd homes
As the housing market started to cool in 2004, new loan programs were created to keep a hot market growing
The subprime market boomed, pumping in even more money for lenders to use to create loans
I have always felt the real culprit in all of this was consumer greed, and I am not so sure that this is not still my belief. One year ago, I wrote a blog about the comments made by then Treasury Under Secretary for International Affairs David McCormick during an interview on CNBC where he discussed what the government planned to do to restore stability in the global markets. In a nutshell, this is how he explained the market meltdown:
Regulators and investors alike showed a growing complacency toward risk. These factors blended into a dangerous cocktail of underlying conditions ripe for instability.

This imbalance between risk and reward was most evident in the U.S. housing market, where lenders significantly loosened credit standards, particularly for a new generation of adjustable-rate mortgages. Yet aggressive financial innovation went well beyond mortgages. Banks and brokers created an alphabet soup of products with simple names like CDOs, CLOs, and SIVs, which were in fact complex and opaque investment products and structures. Credit-rating agencies responsible for assessing and rating these assets, as well as investors who purchased them, failed to question the chances of these underlying investments going bad.
Even one year later, I think this opinion stated by McCormick is spot on. Easy money made buyers out of all of us (which does not excuse any of us from being part of the causation). However, rather than view easy money and risk complacency as the reason (for the bubble), I have to say the Mr. O'Toole's paper has me understanding how Growth Management initiatives most likely would have lead us to the same condition at some point in time.
Growth Management Creates Artificial Shortages In Supply
In reading Mr. O'Toole's work, he spends a good bit of time discussing the supply and demand dynamics of the housing market, explaining that the price of new construction drives the price of resales. When supply is limited, prices go up and existing homeowners follow suit when selling their homes.
Because growth controls did not allow heightened demand for housing to dissipate through new supply, the result was an immense price bubble in states housing nearly half of the nation's population.
This is at the heart of his point, and it is one that I had never considered. Had supply raced at the speed of demand, home values would not have doubled in Tallahassee from 2000 to 2006. This was a large leap that we will be seeing corrected in our market for many years to come. And anybody who has ever gone through the permitting process in Tallahassee will tell you, it is very expensive and takes way too long.
The real estate graph below shows supply and demand relationships in the Tallahassee MLS and offers anecdotal evidence for O'Toole's claim that supply failed to keep up with demand. During the period of 2003 through 2005, the relative supply of homes (purple line in graph) remained heavily weighted towards a seller's market, which could have (and should have) been arrested with new home construction. This period of time also correlates to the fastest appreciation that Tallahassee housing market has experienced.
Home Values Stated As A Multiple Of Income
In his report, O'Toole shows that the bubble created a large distortion in the historical relationship between income and home value. He writes:
Prior to 1970, median home prices in the vast majority of the United States were 1.5 to 2.5 times median family incomes. The main exception was Hawaii, which, not coincidentally, had passed the nation's first growth-management law in 1961. Home-value to income ratios remain in that range today in most places that do not have growth-management planning. In other words, in the absence of government regulation, median housing prices average about two times median family incomes.
The paper includes a list of all of the States and current home value to income relationships. Not surprisingly, the States with the biggest housing bubbles are Growth Management States.
| | | | | |
| --- | --- | --- | --- | --- |
| State | Price Gain | Price Decline | Bubble? | Regulation |
| Dist. Of Columbia | 145.80% | -9.30% | Yes | HI |
| California | 124.30% | -31.20% | Yes | GM |
| Florida | 107.70% | -27.40% | Yes | GM |
| Hawaii | 96.20% | -8.50% | Yes | GM |
| Rhode Island | 96.00% | -16.10% | Yes | GM |
| Maryland | 93.80% | -11.60% | Yes | GM |
| Arizona | 87.10% | -21.60% | Yes | GM |
| Nevada | 86.70% | -30.80% | Yes | FL |
| New Jersey | 83.70% | -10.00% | Yes | GM |
| Virginia | 77.70% | -8.40% | Yes | UA |
| New York | 72.10% | -7.70% | Yes | HI |
| New Hampshire | 70.80% | -11.40% | Yes | NE |
| Massachusetts | 70.50% | -14.10% | Yes | NE |
| Delaware | 64.80% | -7.30% | Yes | HI |
| Vermont | 61.90% | -2.50% | Ambiguous | GM |
| Maine | 60.90% | -4.40% | Ambiguous | GM |
| Washington | 59.20% | -5.70% | Yes | GM |
| Wyoming | 58.40% | -1.30% | Ambiguous | NG |
| Connecticut | 58.20% | -8.60% | Yes | NE |
| Oregon | 55.50% | -6.70% | Yes | GM |
| Montana | 54.40% | -1.70% | Ambiguous | UA |
| Minnesota | 49.30% | -10.20% | Yes | UA |
| Idaho | 45.50% | -3.80% | Ambiguous | UA |
| Pennsylvania | 44.10% | -3.00% | No | UA |
| New Mexico | 39.00% | -3.90% | No | UA |
| Alaska | 38.60% | -3.60% | No | NG |
| Illinois | 35.10% | -5.80% | No | UA |
| Utah | 32.90% | -5.00% | No | UA |
| North Dakota | 30.60% | 0.00% | No | NG |
| Louisiana | 30.50% | -1.80% | No | NG |
| Wisconsin | 27.00% | -3.80% | No | UA |
| Colorado | 26.10% | -3.30% | No | UA |
| South Carolina | 25.90% | -2.00% | No | NG |
| South Dakota | 24.80% | 0.00% | No | NG |
| Missouri | 24.60% | -3.10% | No | NG |
| Georgia | 22.70% | -4.80% | No | NG |
| West Virginia | 22.10% | -3.20% | No | NG |
| North Carolina | 22.10% | -1.40% | No | NG |
| Alabama | 21.80% | -0.80% | No | NG |
| Texas | 21.50% | -0.40% | No | NG |
| Arkansas | 20.40% | -2.30% | No | NG |
| Oklahoma | 20.30% | -1.80% | No | NG |
| Mississippi | 20.20% | -2.00% | No | NG |
| Tennessee | 19.40% | -1.30% | No | GM |
| Michigan | 15.70% | -19.40% | No | NG |
| Kansas | 15.40% | -2.20% | No | NG |
| Kentucky | 14.60% | -1.30% | No | NG |
| Iowa | 13.20% | -1.70% | No | NG |
| Nebraska | 9.70% | -4.40% | No | NG |
| Ohio | 9.00% | -9.40% | No | NG |
| Indiana | 6.50% | -4.80% | No | NG |
(Regulatory status is: FL=state dominated by federal land; GM=mandatory state growth-management law; HI=urban areas hemmed in by other states with growth management; NE=New England (weak county governments); NG=no growth management; UA=selected urban areas practice growth management (including Denver and Boulder, CO; Boise, ID; Chicago, IL; Minneapolis–St. Paul, MN; Missoula and Whitefish, MT; Albuquerque and Santa Fe, NM; Philadelphia, PA; Charleston, SC; Salt Lake City, UT; northern Virginia; and Madison and Milwaukee, WI).
Less Regulation From Government In Housing
Ultimately, O'Toole is calling for less regulation and the dismantling of Growth Management laws in the States that have them. He even warns that proponents of Growth Management are circling their wagons for stiffer controls, which he feels will lead us to an even bigger housing bubble.
I am not so sure how we would even begin to dismantle the growth management policies in the State of Florida. I am not even convinced that this is the solution. But after reading O'Toole's paper, I would suggest that our State Government could learn alot about smart growth policies from States such as Texas and Georgia, who have healthy growth and seemed to have completely avoided the bubble.
Whether or not you believe that Growth Management caused the housing bubble, after reading O'Toole's paper I suspect you will agree that it definitely played a role in the whole problem. In these tough economic times, it seems very wise to consider dismantling a costly, beaurocratic process (cut government expenses) that causes higher costs and delays to growth (increased tax income) in the State of Florida and everywhere else that Growth Management practices are in play.
As a reminder for those who subscribe to the Tallahassee Real Estate Blog by email, some embedded pictures and videos might not be appearing in your email and you might need to click the title header to go to your browser where all will be visible. Additionally, if you would like to respond (leave a comment) to this article, you will need to "click through" to the blog site to post your feedback.
Keep checking out the Tallahassee Real Estate Blog every day for updates on real estate in Tallahassee Florida.
Joe Manausa is a real estate blogger, a real estate investor and the Broker and Co-Owner of Joe Manausa Real Estate. He can be reached via e-mail through the Tallahassee Real Estate Website or catch his latest writings on the Tallahassee Florida Real Estate Blog , or by calling (850) 386-2001.
| | | | | |
| --- | --- | --- | --- | --- |
| | | | | |
Please Do Us A Small Favor
We work very hard to produce daily content for our long-time readers and first-time visitors. We provide this information for free, hoping to earn your respect and trust and the right to one-day help you when selling or buying a home. Can we get your help spreading the word about our blog?
If you like the content, would you please like it or share it using the Facebook button at the beginning of the post? This simple action will be greatly appreciated! THANK YOU!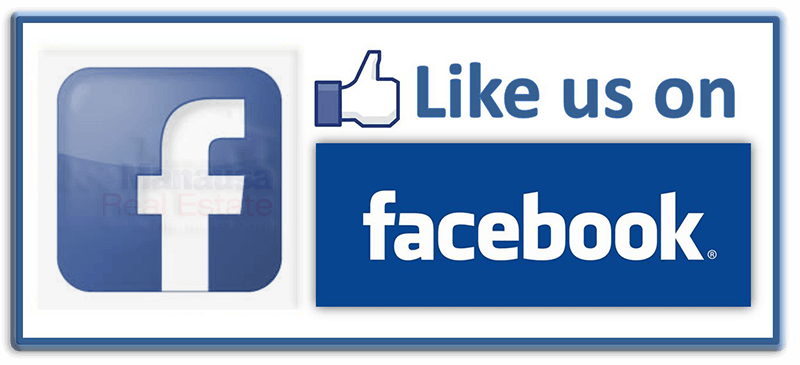 Also like us on Facebook at https://www.facebook.com/joemanausarealestate/
Your Local Expert In Tallahassee
Are you ready to go see a home in this oft-overlooked, amazing neighborhood? Do you have further questions on the Tallahassee real estate market? If so, you can leave a comment below, give us a call at (850) 366-8917, or drop us a note and we'll give you the local information needed to ensure a successful, smooth transaction.
As a local born and raised in Tallahassee with a focus on customer service, I promise you'll find great success when working with Joe Manausa Real Estate, just as have our past customers. You can read thousands of their reviews reported on Google, Facebook and Zillow right here: Real Estate Agent Reviews Tallahassee.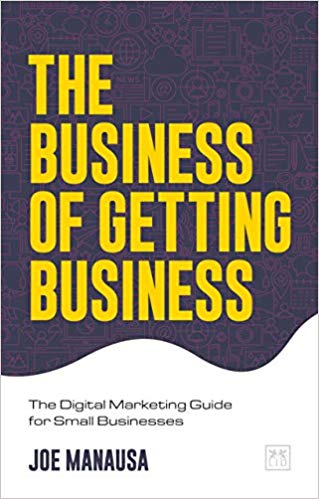 Have you heard about my new book "The Business of Getting Business?" It's a comprehensive guide for small businesses to help them make the move to digital. For those of us who want to survive and thrive in a world where large corporations are taking over, it is a must-read. It's also the perfect guide for how to sell a home in the digital age. You can find it on Amazon (UK) for immediate delivery, or you can go to Amazon (US) to reserve a copy at a pre-US published rate.

Think all REALTORS are alike?
Read what people are saying about working with Joe Manausa Real Estate! You can see thousands of real customer reviews reported on Google, Facebook and Zillow at this link: CLICK HERE FOR REAL ESTATE AGENT REVIEWS.