What Do Low Mortgage Interest Payments Really Mean?
Posted by Joe Manausa on Monday, May 3, 2021 at 5:51 AM
By Joe Manausa / May 3, 2021
Comment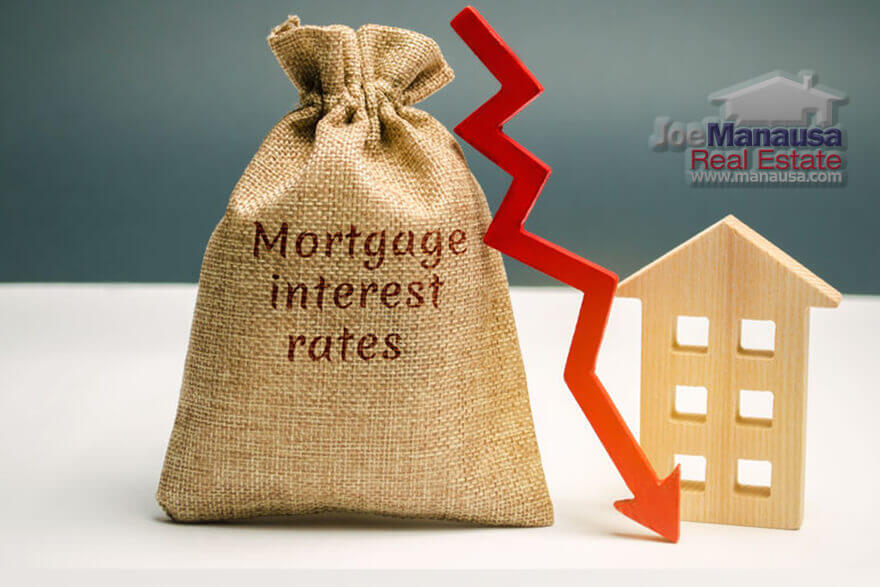 Every article or video about mortgage interest rates conveys that rates are low, but do you really know what it means? How do low mortgage interest rates impact the US housing market?
Today, we're going to explain how mortgage interest rates impact homebuyers and what a change in rates will mean to home affordability in every market area.
Rate Changes Impact Home Affordability
For the purpose of today's article, I am using data provided by Freddie Mac's report on the 30-year fixed-rate mortgage. My data goes back to January of 1971, so we have more than fifty years of rates to give us perspective on how rates today impact the housing market.
Mortgage Interest Rate History Chart
The blue area in the chart below plots the monthly average mortgage interest rate since 1971.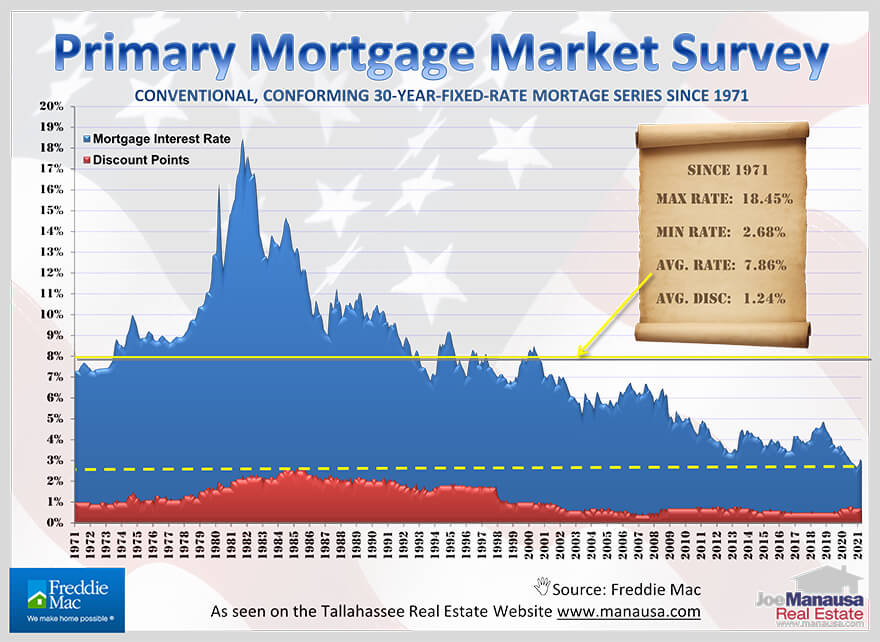 The solid yellow line represents the average rate (7.86%) over the past fifty years, while the dashed yellow line marks the lowest rate. This is a great picture to convey exactly just how low mortgage interest rates are today versus where we have seen them in the past.
Recent Mortgage Interest Rates
This next graph plots the most recent year's average weekly mortgage interest rates, so it's basically a zoom into the final year from the graph above.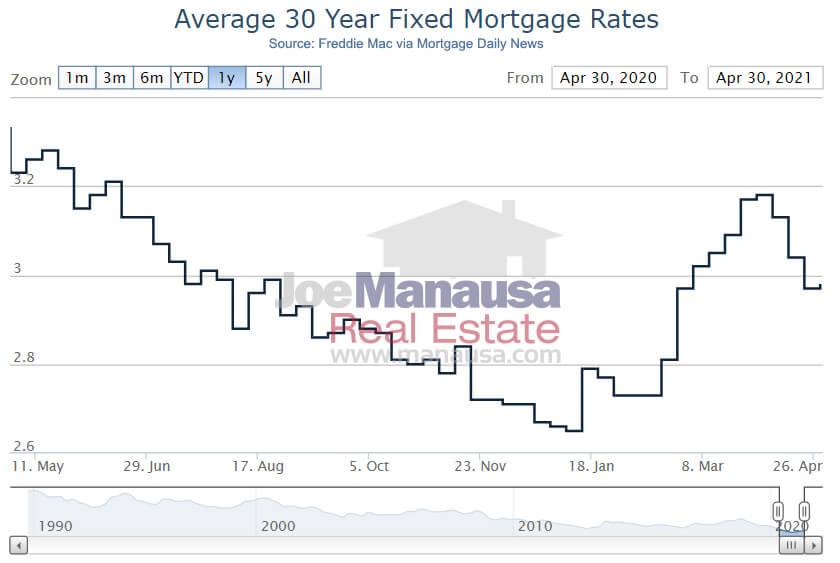 Rates bottomed at 2.65% in early January, and then rose until early April and have been moving down slowly since. So even though rates are higher today than they have been in the recent past, they are lower than they were a year ago and currently sit just below 3%.
So that's where we stand for mortgage interest rates, and it makes it clear that all the news on low rates is well warranted, but let's take a deeper dive into why this matters so much to buyers and the entire housing market too.
How Are Mortgage Payments Calculated
There are hundreds or even thousands of different loan products that buyers can utilize, but the most common one is the thirty-year fixed-rate loan. It's the one we'll be using in today's post.
The fixed monthly mortgage repayment calculation is based on the annuity formula, and it is mathematically represented as,
Fixed Monthly Mortgage Repayment Calculation = P * r * (1 + r)n / [(1 + r)n – 1]
where P = Outstanding loan amount, r = Effective monthly interest rate, n = Total number of periods / months
On the other hand, the outstanding loan balance after payment m months is derived by using the below formula,
Outstanding Loan Balance= P * [(1 + r)n – (1 + r)m] / [(1 + r)n – 1]
The main learning point from these two fairly complex equations is that it has the borrower pay more towards interest in the early months and years of the mortgage repayment, while later years have more of the payment going to the principal loan balance.
Obviously, this is not the type of calculation you want to be doing by hand. There are numerous mortgage amortization calculators that can be found by doing a simple Google search, or you can import a mortgage amortization worksheet if you use Microsoft Excel.
In the next section, we'll show you how much changing rates impact your monthly mortgage payment.
Have You Heard About Our Long-Term Shop & Lock Mortgage Program?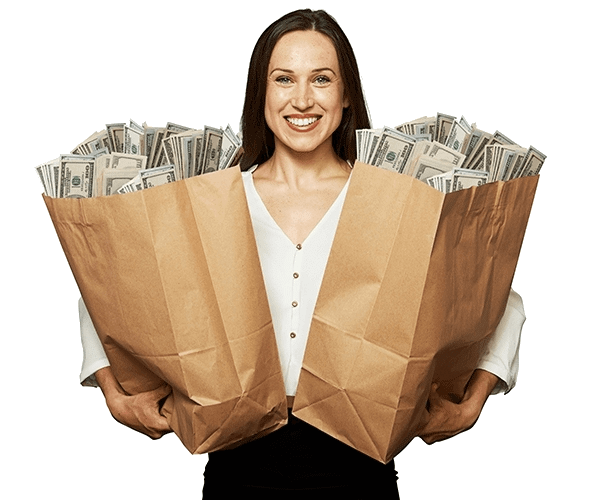 In this crazy seller's market, it can be tough to get a home under contract when so many other buyers are bidding on the same home as you. In fact, there are many buyers who have tried and failed multiple times to get homes under contract, and they are facing a problem we have not seen in the past.
Mortgage interest rates are moving higher, and many buyers have found that the rate has grown so much since they first began their home search that they no longer can afford to buy at the price they have been shopping. This is why for many buyers we recommend they evaluate a long-term rate lock that will allow them to shop for up to NINE (9) months without losing their loan commitment.
Simply provide your contact information below and we will help you evaluate the best time and way to utilize a mortgage interest rate lock.
Components Of A Monthly Mortgage Payment
When you make a monthly mortgage payment, you are actually paying for several things. You are paying interest on the loan, you are paying down the amount you owe on the mortgage, and you are also (typically) paying your property taxes and hazard insurance too. Some loans will require you to purchase mortgage insurance as well, and this can also be part of your monthly mortgage payment.
A lender might quote you a payment that is just P&I (principal and interest) or you might get the full estimate quoted as PITI (principal, interest, taxes, and insurance). You always want to ensure you compare apples to apples if multiple lenders are giving you a quote. (Check out THIS ARTICLE about the tricks lenders will use to make you think their quote is the lowest, it's really good to know before you go shopping for a mortgage loan).
How Changing Mortgage Interest Rates Impacts Housing
In Tallahassee, roughly 80% of all homebuyers finance their purchases, so mortgage interest rates have a large impact on home affordability. The graph below shows the impact of mortgage interest rates on the principal and interest portion of the monthly mortgage payment.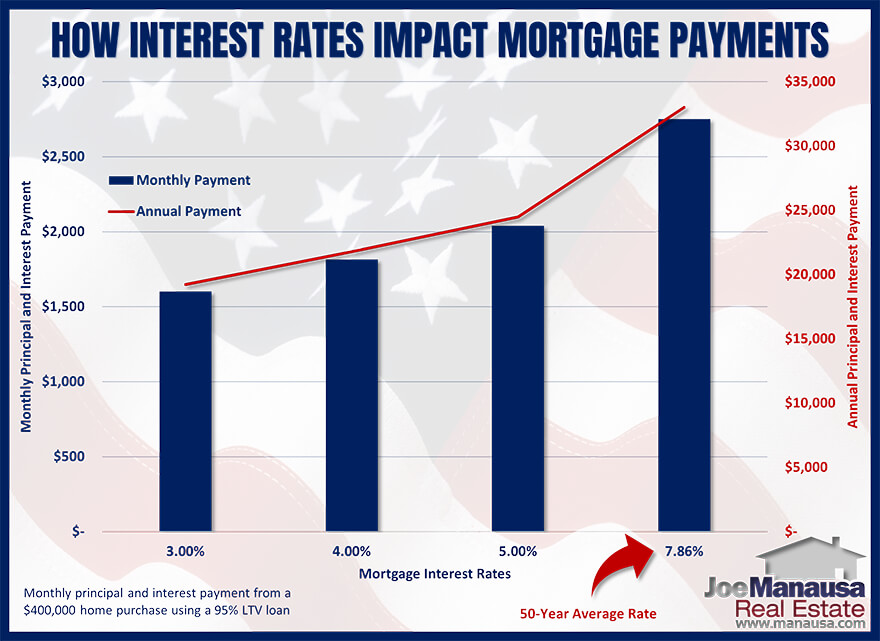 The blue bars plot the monthly mortgage payment for a $380K loan at each of four different interest rates, while the red line shows the annual total of those payments. Today's rate is very close to the 3% on the left, while the fifty-year average is the payment on the far right.
So how important are today's low mortgage interest rates?
Somebody buying a $400K home today would have to pay 13% more if rates were 1% higher (than today), 27% more if rates were 2% higher and a whopping 72% more if rates returned to the average over the past 50 years.
Mortgage Payment Principal And Interest Allocations
Another way to compare the impact of changing interest rates is to look at how the payments are broken down annually.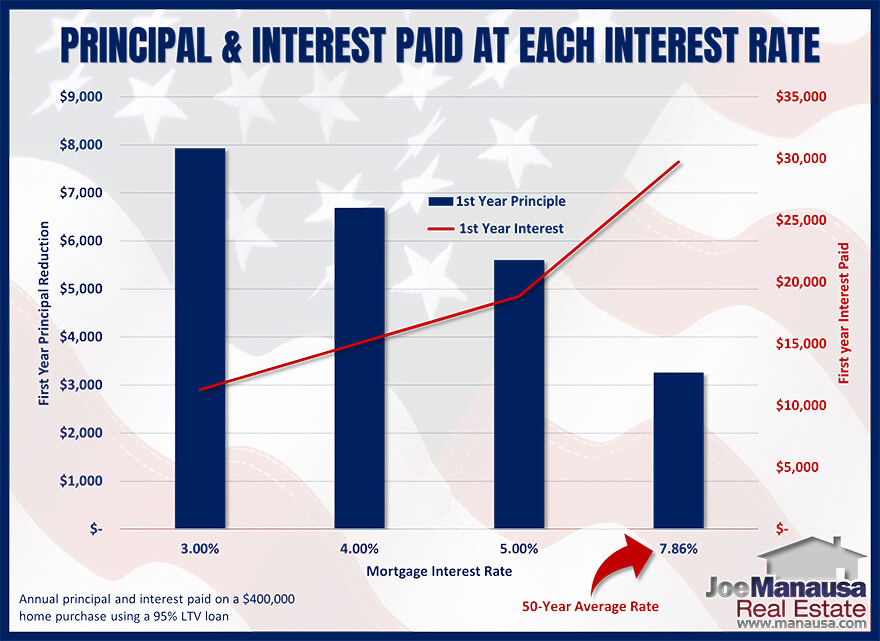 The blue bars plot the annual principal reduction on a $380K loan at each of four different interest rates, while the red line shows the annual interest paid.
Somebody buying a $400K home today would have $8,000 from their payments applied to the loan balance in the first year versus just $6,700 if rates were 1% higher (than today), $5,600 if rates were 2% higher, and just $3,300 if rates returned to the average over the past 50 years. This means that today's rate has you paying less money and gaining more than double the principal reduction than if you were paying the historical average rate!
The interest payment really should get you excited about today's rates. Somebody buying a $400K home today would have to pay $11,300 of total interest for the first year versus just $15,100 if rates were 1% higher (than today), $18,900 if rates were 2% higher, and a staggering $29,800 if rates returned to the average over the past 50 years.
That's a lot of money hiding in the interest portion of the payment. I would think most buyers I have helped over the past thirty years would have loved to reduce their interest payment by $1,500 per month!
My Advice To You Regarding Mortgage Interest Rates
First and foremost, my advice is to pay attention to mortgage interest rates. Have a trusted lender analyze your current situation and advise you on whether or not you could or should refinance your home (or buy a new one if you plan to move).
These rates are historically low. This means that as the economy recovers and rates rise, it is highly likely that you will NEVER again see rates this low.
Now I'm not saying you need to run out and buy or refinance today, as I expect rates will remain low for the foreseeable future. But when the economy starts posting gains in most sectors, we will see rates rise. Not likely in 2021 or the beginning of 2022, but pay please pay attention to rates and talk with a trusted mortgage lender sooner rather than later.
I hope today's article has provided some clarity to you for how mortgage interest rates impact home affordability for the 80% of people who finance their home purchases in Tallahassee. If you have any questions or comments, feel free to email us or comment below.
Your Local Expert In Tallahassee
When moving to, in, or from Tallahassee, you will fare better if you work with a local expert. We are here to help. If you have further questions on the Tallahassee real estate market, you can leave a comment below, give us a call at (850) 366-8917, or drop us a note and we'll give you the local information needed to ensure a successful, smooth transaction.
As a local born and raised in Tallahassee with a focus on customer service, I promise you'll find great success when working with Joe Manausa Real Estate, just as have our past customers. You can read thousands of their reviews reported on Google, Facebook and Zillow right here: Real Estate Agent Reviews Tallahassee.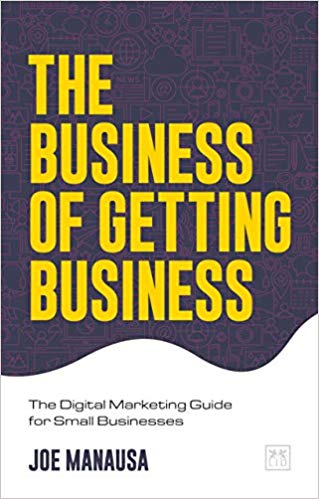 Have you heard about my new book "The Business of Getting Business?" It's a comprehensive guide for small businesses to help them make the move to digital. For those of us who want to survive and thrive in a world where large corporations are taking over, it is a must-read. It's also the perfect guide for how to sell a home in the digital age. You can find The Business Of Getting Business by clicking on any of the trusted retailers below.

Think all REALTORS are alike?
Read what people are saying about working with Joe Manausa Real Estate! You can see thousands of real customer reviews reported on Google, Facebook and Zillow at this link: CLICK HERE FOR REAL ESTATE AGENT REVIEWS.