Pending Home Sales Report July 2020
Posted by Joe Manausa on Monday, July 13, 2020 at 5:51 AM
By Joe Manausa / July 13, 2020
Comment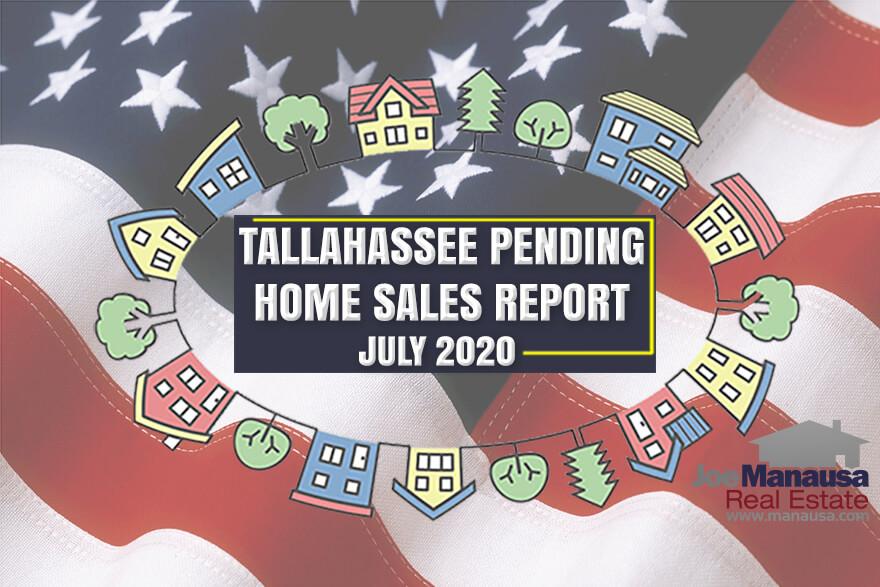 Welcome to the July 2020 Pending Home Sales Report for the Tallahassee real estate market.
June was a very strong month for new contracts, perhaps indicating a diminishing impact of the COVID pandemic.
July 2020 Home Sales Report
Are you interested in a thorough pending home sales report including charts, graphs, and analysis of the Tallahassee real estate market? We have prepared a short video that explains how new contracts have fared thus far in 2020.
Watch the video, it will walk you through today's pending home sales report.
New Real Estate Contracts Surge
The following graph was assembled from data in the Tallahassee MLS on July 10, 2020. On that date, I retrieved all sales that were closed from January 2019 through mid-July 2020 and sorted them by contract date (not closing date). Additionally, I added all properties that are under contract and sorted the entire group by the date contracts were written.
What this data represents is all contracts written that are either still working towards closing or ones that have closed escrow (thus the agreements were confirmed). What this data DOES NOT include are contracts that were written and subsequently failed to close. Each month when I assemble a Pending Home Sales Report, failed contracts disappear so that we are only left with ones waiting to close or those that successfully closed.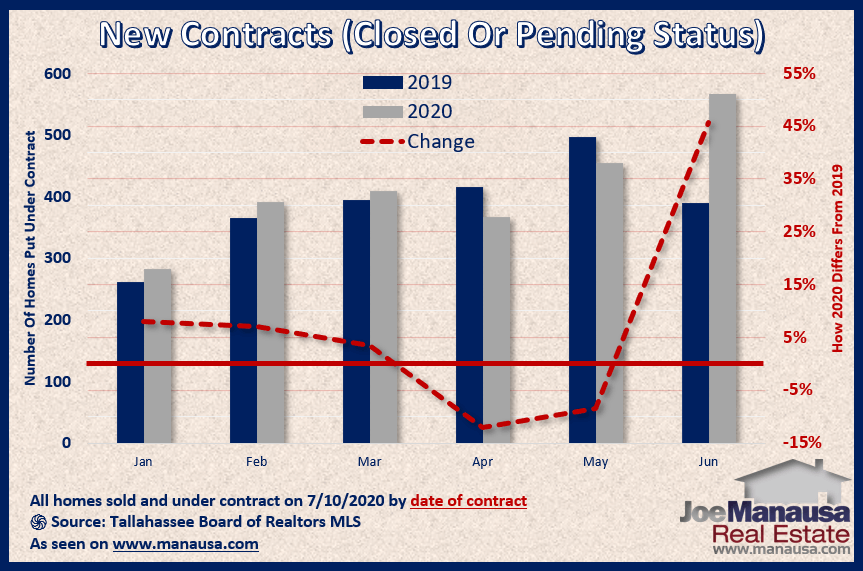 The blue lines in the graph above reports the number of contracts written in 2019 by month that are either still pending or have already closed. The gray lines report the same for 2020.
Currently, the number of contracts written through June has grown to 147 more than those written through June of 2019 due to a very strong month of new contracts in June where we saw a growth of 46% over last year's June contracts.
As a reminder for returning visitors or a note to new friends, the pending home sales report only looks at current and closed contracts, thus contracts that fall apart are not considered in our data. This means that the big rise of June 2020 contracts is a bit inflated. It includes many contracts that will fail, while only one pending contract remains from June 2019 and the rest have already closed or been excluded as failures. So we're not really comparing apples to apples.
Ultimately, we know that when the future reports are produced, June 2020 will NOT exceed June 2019 by 46%. Nevertheless, it's nice to see such a pronounced gain in year-over-year new contracts.
Average Home Prices
Using the same data, I calculated the average home price in 2020 each month and compared it with the same months in 2019.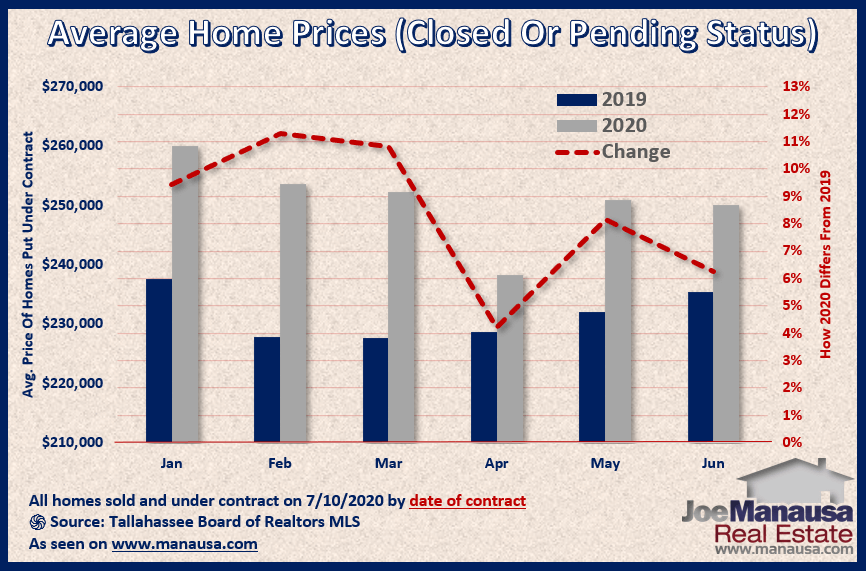 Buyers continue to spend more this year than they did last year, ranging from as much as 11.3% more in February to just 4.2% more in April. June prices were nearly 8% higher than June prices in 2019.
One thing to note though is that the MLS does not reveal the contract price for pending home sales. That means for homes that have closed, we're using the sales price, but for those still under contract, we are using the asking price.
This means that when all the homes tracked in this report close, it's likely we see the difference between the two years tighten up a little (as most closed prices will likely be at or lower than most asking prices).
Please Do Us A Small Favor
We work very hard to produce daily content for our long-time readers and first-time visitors. We provide this information for free, hoping to earn your respect and trust and the right to one-day help you when selling or buying a home. Can we get your help spreading the word about our blog?
If you like the content, would you please like it or share it using the Facebook button at the beginning of the post? This simple action will be greatly appreciated! THANK YOU!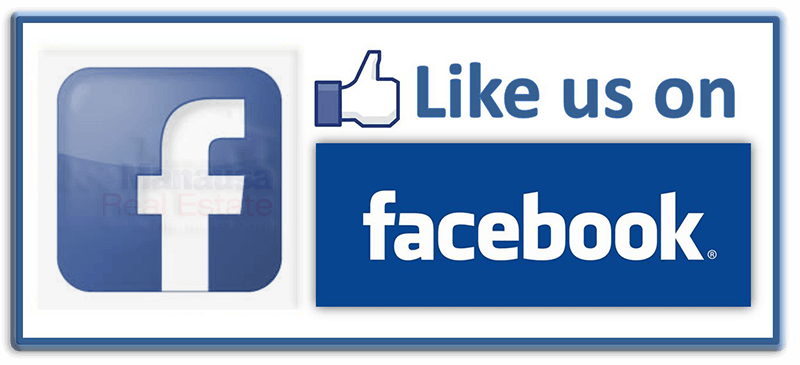 Also like us on Facebook at https://www.facebook.com/joemanausarealestate/
Average Home Values
The next graph tracks the average home value in 2020 each month and compares it with the same months in 2019.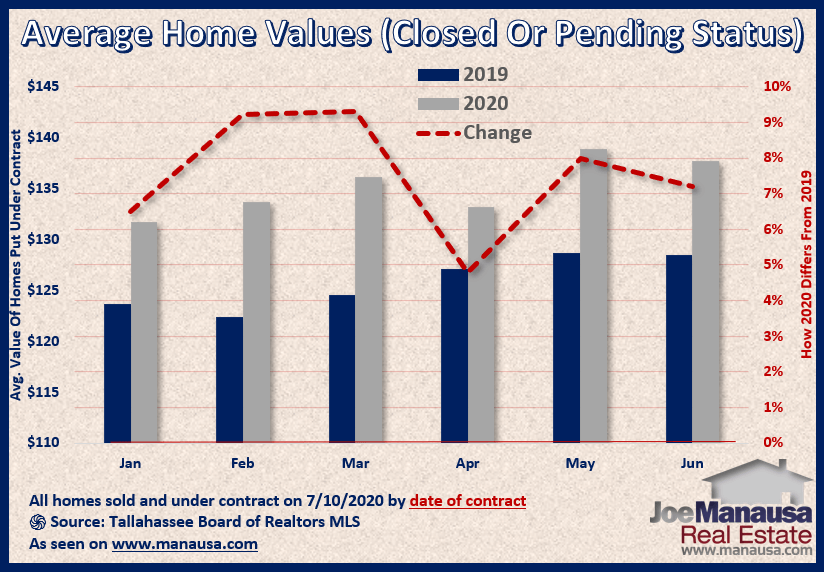 The graph shows that the appreciation rate each month has ranged from as high as 9.3% to as low as 4.8%, with values in June 7.2% higher than June of 2019.
As reported in numerous other market updates, we continue to see low inventory levels in most areas and price ranges below $500K, and this is the biggest contributor to the accelerated appreciation rate.
Current Contracts
The next graph identifies when the current pending contracts were written, and what we're seeing is a longer-than-normal tail of contracts, perhaps tied to new homes being built. It is not uncommon for a home to be "under contract" in the MLS for nearly a year if the contract is for a home to be built.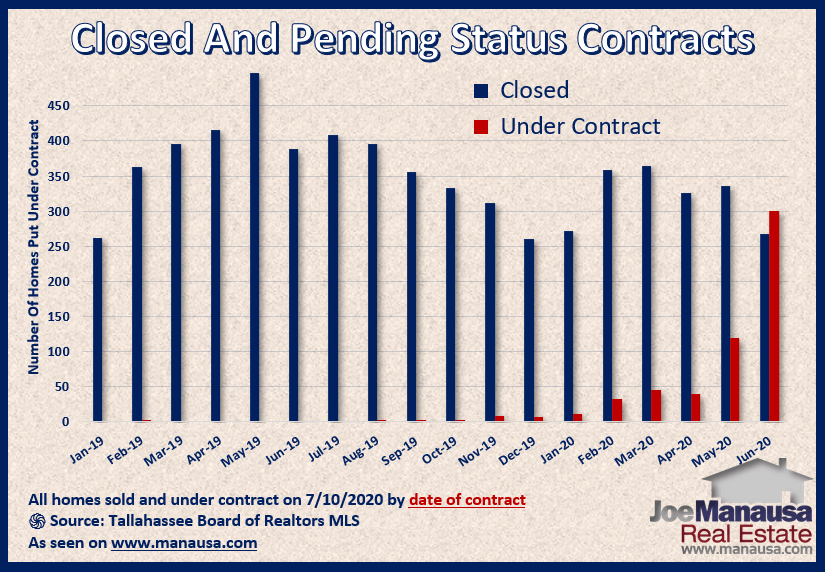 Currently, there are 667 Tallahassee homes for sale in the MLS that are under contract with buyers (pending contracts). This represents an increase of 1.2% since last month's report revealed 659 homes under contract.
Of those, 89 contracts were written in July (13%), 300 were written in June (45%), 119 were written in May (18%), and the rest were written as far back as August of 2018! Simply put, 76% of the pending contracts were written in the past 70 days, meaning about 1 in 4 contracts are fairly old.
One thing that does catch my eye in this graph is the large number of June closings that have occurred. Remember, this graph shows closed and pending contracts by the date they were written, and there were 267 contracts that were written in June and have already closed.
By the time the rest of June contracts closed, June will very likely be the strongest month of the year for new contracts thus far, perhaps indicating the COVID pandemic's impact on the housing market is waning.
Year Over Year Home Sales Comparisons
We know that the number of contracts written continues to rise, but the following graph shows closed home sales by date of closing (all other graphs were by date of contract).
So contracts have been strong, yet closings have been declining, especially over the past 90 days.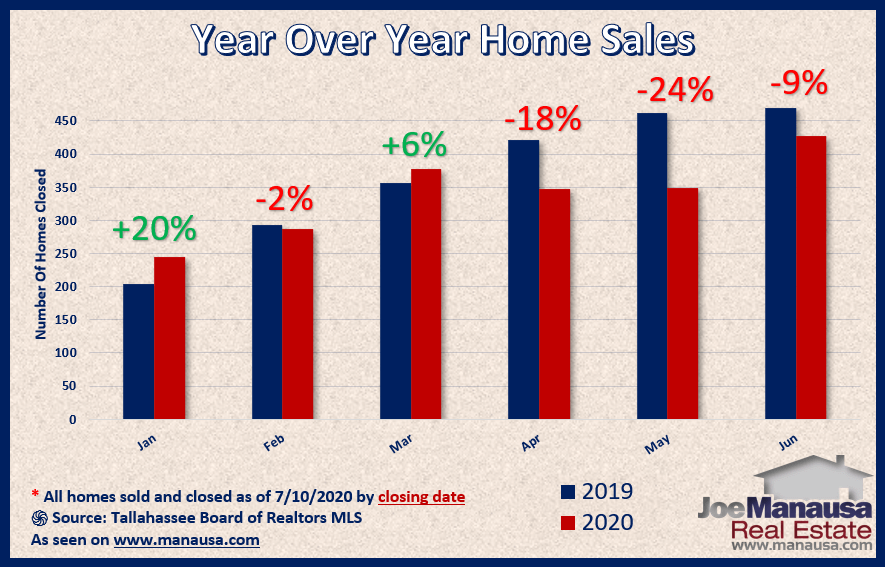 June figures are promising, as we saw the market slow its decline that became visible in April.
I won't be surprised if next month's Pending Home Sales Report shows a year-over-year gain in July 2020 versus June 2020 for homes closed. Contracts were strong and the market seems to have turned.
While the COVID pandemic continues to impact our way of life, perhaps its impact on the housing market will be reduced. Regardless of the outcome, we'll be here to keep you up to date on the listings and home sales in the Tallahassee real estate market.
Your Local Expert In Tallahassee
When moving to, in, or from Tallahassee, you will fare better if you work with a local expert. We are here to help. If you have further questions on the Tallahassee real estate market, you can leave a comment below, give us a call at (850) 366-8917, or drop us a note and we'll give you the local information needed to ensure a successful, smooth transaction.
As a local born and raised in Tallahassee with a focus on customer service, I promise you'll find great success when working with Joe Manausa Real Estate, just as have our past customers. You can read thousands of their reviews reported on Google, Facebook and Zillow right here: Real Estate Agent Reviews Tallahassee.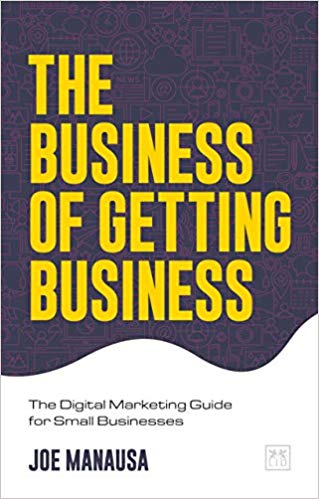 Have you heard about my new book "The Business of Getting Business?" It's a comprehensive guide for small businesses to help them make the move to digital. For those of us who want to survive and thrive in a world where large corporations are taking over, it is a must-read. It's also the perfect guide for how to sell a home in the digital age. You can find The Business Of Getting Business by clicking on any of the trusted retailers below.

Think all REALTORS are alike?
Read what people are saying about working with Joe Manausa Real Estate! You can see thousands of real customer reviews reported on Google, Facebook and Zillow at this link: CLICK HERE FOR REAL ESTATE AGENT REVIEWS.
I recently stumbled upon your latest Carrabelle listing. I must say, a home on Florida's Forgotten Coast is bound to be snatched up quickly. Best of luck with getting it under contract soon!

Posted by Barbara Corcoran on Thursday, June 15, 2023