How To Sell A House That Needs Repairs
Posted by Joe Manausa on Monday, November 4, 2019 at 5:57 AM
By Joe Manausa / November 4, 2019
1 Comment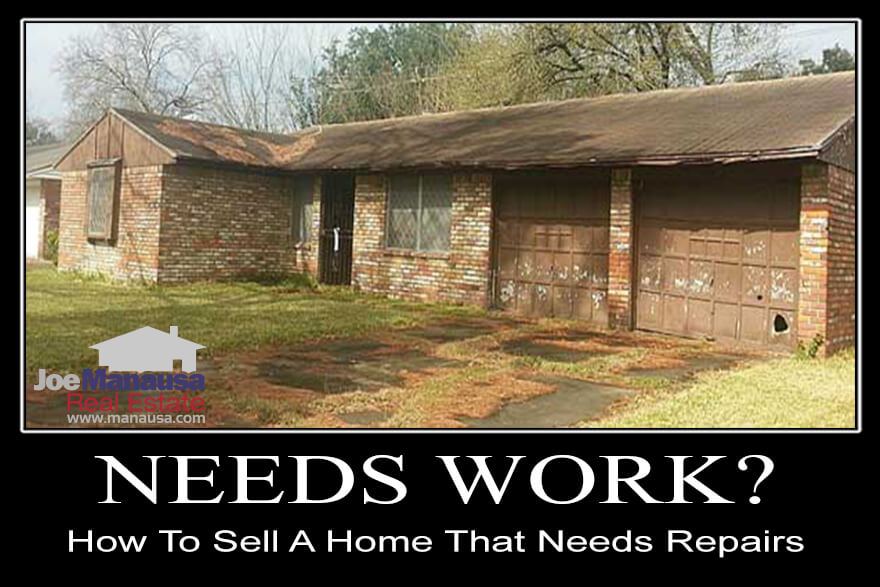 If you want to know how to sell a house that needs repairs, then there are some fundamentals of selling a home that you should understand.
Ideally, you should bring a house to market-condition before you sell in order to attain top dollar during the sale, but ideal situations are not always possible.
If you follow the tips and advice in this article, you will be able to sell a house that needs repairs in a manner that nets you the most money possible.
Understanding The Market Condition Of A Home
The title of this article suggests that I'm going to tell you how to sell a house that needs repairs (and I will). First, there are a few definitions and assumptions that we have to establish. For example, what do we mean when we say "needs repairs?" Do we mean the home has to have everything that is worn replaced? Make it "like new?"
For the purpose of our advice here today, we are going to define "needs repairs" as anything that is needed to bring a house to current market expectations. If current market conditions expect homes to have a newer roof (under 10 years old), then we would consider a 15-year-old roof as one that needs repairs, even if there are no leaks and the roof looks serviceable.
The same holds true for every major system in the house. Heating and cooling systems (HVAC), plumbing, electrical ... all must be considered to be below market condition in order to qualify for "needs repairs."
Thus, this article embraces houses in extremely poor condition all the way up to ones that appear to be functioning perfectly. Local real estate market conditions will determine the line between needing (and not needing) repairs.
Next, we must understand each homeowner's goals when considering how to sell a house that needs repairs. Some have plenty of time and money but do not want the hassle of doing or supervising repairs. Others have limited time and money, and want to know what they should prioritize. Finally, others have little time or little money and want to know their best course of action.
Because of these differing goals, there is no way to prepare one set of advice that services each type of homeowner. For each, there is specific guidance that they should follow, but for all, there are some common steps that each should take.
When I need real estate advice in Tallahassee, I call Joe Manausa. His innovative marketing attracts hundreds of buyers every month which creates more demand for your home, selling it faster and for more money. He guarantees to sell it on your timeline or he'll buy it! Call the agent I trust, Joe Manausa, and avoid the drama.
A Common Mistake Made By Sellers With Repair Issues
Before we get to the tips, I can tell you the most common mistake I see from sellers who have houses that need repairs is that they are too hasty in deciding what to do. They typically reach out to a company that buys unsightly homes to get advice but instead get sold on getting rid of the home fast and easy. Of course, if fast and easy with no concerns about money is your goal, then this is an excellent method. But if you are trying to squeeze all the equity from the property, then there is a smarter course of action.
Whether you plan on hiring a real estate agent or selling on your own, begin the process by talking to a real estate agent that sells a lot of homes. Ask them to evaluate your home for its market condition and to identify what needs to be done to bring it to market condition.
Order a home inspection, it's well worth the few hundred dollars it will cost to determine the condition of your major systems. A reputable home inspector will identify and make recommendations about any problems you may have. If you want to know more, I wrote this article on tips about home inspections.
Use ROI To Prioritize Repairs
I see a lot of home sellers doing things to make their homes easier to sell that unfortunately are not profitable. Homeowners should consider ROI (Return On Investment) when deciding what to fix. For example, would you put in $25K of appliances to help you net $10K more from the sale? While this might appear to be a stupid question, this is something we see frequently.
The price of your home must be based upon market conditions, because buyers are going to compare your homes with other similar properties when they decide upon which one to buy. Don't fall in love with a price you want to get, rather focus on the bottom line that you will net from the sale. If you have the resources and time to make profitable repairs, then do them! But if you do not, merely reduce your asking price to offset the below-market condition of your home.
How To Sell A House That Needs Repairs
In a perfect world, buyers want a perfect house. So if you have $40K worth of repairs that are needed, you cannot merely reduce your asking price by $40K and expect to get a buyer excited. Think about it ...
Why would a buyer buy a home that needs $40K in repairs and then go through all the hassle of repairing the home just to have purchased a home at market value? Couldn't the buyer just buy a home in market condition, paying market price, and avoid the hassle? In most cases, yes!
This is why selling a home that needs repairs requires an expert understanding of local market conditions and property values. If you are unwilling to bring a home to its market condition, then you'll have to motivate buyers to take it in its present shape. This is done by price-discounting (and not merely by a price equivalent to the cost to bring it back up to market-condition).
A lack of understanding of local market values often results in homeowners over-discounting their asking price. Ignorance might be bliss, but it is costly when selling a house that needs repairs.
You also need a top marketing plan to ensure that everybody, not just the bottom feeders, finds your home. Even with a home that needs repairs, it takes multiple buyers competing for your home to bring top dollar. Real estate agent selection for the job of selling a below-market-condition home is critical because you need to ensure you hire somebody who can get the word out in mass.
A sound marketing plan targets across price ranges to bring the right buyers to your home. Here's what I mean: Suppose you have a home for sale for $250K that also needs $50K in repairs. That means you really are seeking a $300K to $350K buyer. If your real estate agent just does the typical marketing (put it in the MLS and pray that it sells), it will be marketed to the wrong people. Buyers searching for a $250K home will find yours immediately but then won't like it because of its condition, and they won't have the resources to buy it and bring it to market condition. The home needs to be marketed to a group of buyers that the MLS simply does not reach (nor does Zillow or the national real estate sites).
Getting the word out to the small group of buyers that are willing to purchase a home and make repairs requires a large budget and a continual, daily commitment to growing a list of the special buyers. An agent who is very active on social media, radio, and television will likely have the buyers you seek.
Selling A House In Tallahassee That Needs Repairs?
This one is easy. Just give us a call at (850) 366-8917 or drop us a note and we'll help you examine your options, the repairs that are (or are not) needed to sell your home, and the market value of your home under today's real estate conditions. We look forward to helping you get the best result possible based upon your goals and needs.
As a local born and raised in Tallahassee with a focus on customer service, I promise you'll find great success when working with Joe Manausa Real Estate, just as have our past customers. You can read thousands of their reviews reported on Google, Facebook and Zillow right here: Real Estate Agent Reviews Tallahassee.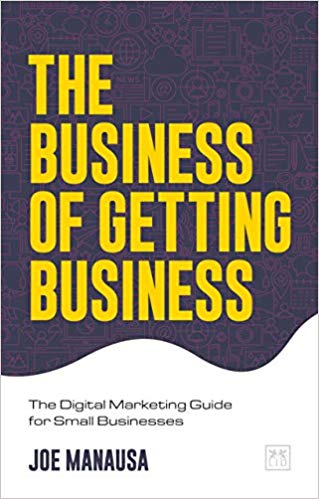 Have you heard about my new book "The Business of Getting Business?" It's a comprehensive guide for small businesses to help them make the move to digital. For those of us who want to survive and thrive in a world where large corporations are taking over, it is a must-read.
You can find it on Amazon (It will be published in Feb 2020, reserve your copy today at a pre-published rate).
Real Estate Market Information Can Be Overwhelming
That's why Joe breaks the data down into easy-to-understand concepts. Whether you're buying, selling, investing or just interested in the market, sign up for Joe's blog to get the latest Tallahassee real estate updates, straight to your inbox.