What Happens If Homes Are Too Cheap To Build New Homes?
Posted by Joe Manausa on Monday, June 12, 2023 at 6:00 AM
By Joe Manausa / June 12, 2023
Comment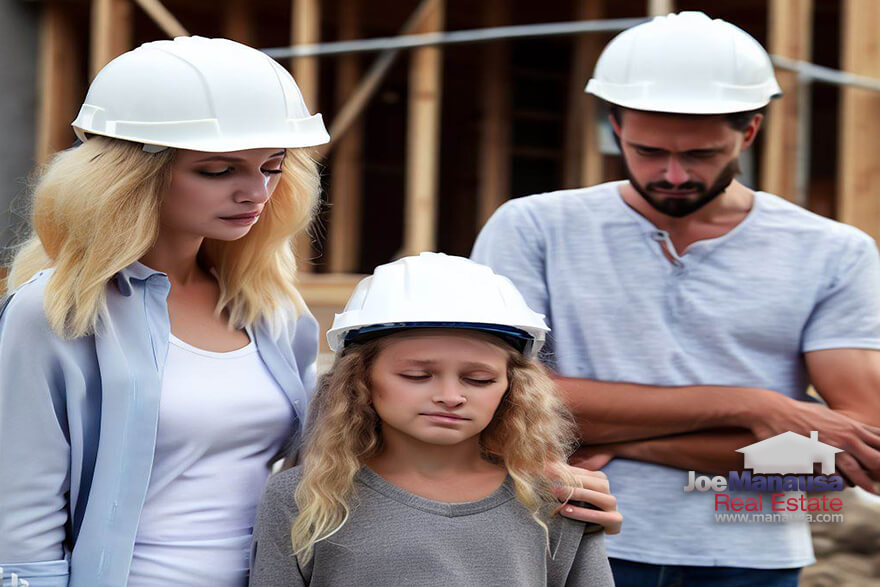 We've seen a mounting paradox in US housing markets in recent years. Demand for homes remains very strong, yet supply continues to lag dramatically.
It's as if we're stuck in an ever-growing line at the Golden Corral buffet, but the kitchen can't keep up with the orders.
On the surface, this peculiar situation defies the basic principles of economics and leaves us grappling with a compelling question: "What happens if homes are too cheap to build new homes? " I would like to add that this is a question first posed by Keven Erdmann, a senior affiliated scholar at the Mercatus Center at George Mason University.
I suspect, at this point, you might be thinking, "Are you crazy? Home prices are soaring; they are not cheap! " And if you are, you are correct. But if you study history, then you know that home prices have steadily risen for the past 130 years. Of course, all goods and services have inflated prices over the past. So get used to it because home prices today, though unaffordable, are cheap compared to future home prices!
As counterintuitive as it may sound, the question of whether it is too cheap to build rings alarm bells for economists, policymakers, and builders alike. If we unwrap this conundrum, we find a much deeper, more complex issue at its core – one that strikes at the heart of our society and could potentially reshape how we perceive and approach housing in the future.
But before we delve into the nitty-gritty of this enigma, let's take a moment to put our detective hats on. Let's unmask the villain in our story: the strange economic monster that appears to be eating away at the housing market's foundations. Our journey will clarify why this is happening, illuminate potential repercussions, and explore how we might tame this unruly beast.
We invite you to join us as we delve deeper into this compelling examination of an unlikely conundrum: the potential collapse of housing affordability due to homes remaining too inexpensive to warrant new construction. This is not a theoretical scenario but a genuine challenge in today's market. The current situation presents a paradox where homes that are unaffordable for the majority of prospective buyers are, in fact, priced too low to incentivize builders to compete in the market.
The necessity for understanding this paradox cannot be overstated. The unfolding narrative has profound implications for a broad spectrum of stakeholders, including builders, homebuyers, sellers, policymakers, and every individual aspiring to own a home.
Understanding Real Estate Economics
The dynamics of real estate markets can appear complex and intricate, but at their core, they function based on the fundamental economic principles of supply and demand.
Let's start with the basics: Supply refers to the total number of homes available for sale, including new constructions and existing homes, while demand refers to the number of people willing and able to purchase these homes. The interplay between these two forces helps determine the price of real estate in a particular market.
When demand increases due to population growth, economic prosperity, or other favorable conditions, prices rise as more people compete for the available homes. Conversely, if supply increases while demand remains constant, prices typically decline as more homes compete for a stable pool of buyers.
However, the real estate market is in a state of constant flux, with supply and demand continually adjusting in response to countless factors. For instance, rising prices may encourage builders to construct more homes, thereby increasing the supply. Similarly, higher prices may deter some potential buyers, thereby decreasing demand. Over time, these adjustments can lead to a state of equilibrium where supply matches demand and prices stabilize.
Equilibrium in housing prices doesn't mean they will stop fluctuating altogether. Prices will continue to respond to changes in market conditions, but these shifts will be more moderate and sustainable. When the housing market is in equilibrium, it's generally easier for individuals and families to plan for the future, knowing that they're not likely to be caught off guard by sudden, dramatic changes in home prices.
However, achieving this state of equilibrium is not always straightforward. Numerous variables, from construction costs and interest rates to government intervention and broader economic trends, can influence the housing market's balance between supply and demand. Understanding these dynamics is critical when addressing why builders might not be constructing new homes, even when demand is high and prices are, ostensibly, too low.
The Paradox of High Demand but Low Construction
At first glance, a booming real estate market, marked by high demand and soaring prices, should incentivize builders to construct new homes. After all, more buyers vying for properties should equate to brisk business for builders. Yet, in reality, we find an intriguing paradox where high demand does not always result in an increased supply of homes. What could be causing this disconnect?
The answer largely boils down to the financial feasibility of construction projects. Builders are, after all, running businesses. They invest resources – time, money, and labor – into constructing homes with the expectation of selling them at a profit. If the costs of building new homes surpass the potential selling prices, builders may hesitate to embark on new projects, regardless of how high the demand might be.
Several key factors can drive up the costs of construction. These include:
Land Costs: In many high-demand areas, the price of land can be prohibitively high. The land price often comprises a significant portion of the total cost of constructing a new home. With the rise of Nimbyism over the past twenty years, land costs have gotten out of control. It's not necessarily the acquisition cost that is the problem; rather, it is the development costs that Nimbyism has driven beyond our reach.

Material and Labor Costs: Building materials and labor prices are subject to fluctuations in global and local markets. Events such as trade disputes, natural disasters, and pandemics can cause sudden surges in these costs. What I rarely see mentioned in other real estate reports is the soaring rate at which the minimum wage grows. At last count, 30 states and Washington D.C. have minimum wages above the federal minimum wage, blowing away the historical rate of change the market would typically endure.

Regulatory Costs: These include permit fees, impact fees, and costs related to meeting building codes and regulations. These costs can make up a sizable percentage of the total construction cost in some areas.

Financing Costs: Builders often need to borrow money to finance their projects. When interest rates are high, the cost of borrowing increases, making construction projects less financially feasible.

Risk and Profit Margins: Builders need to account for potential risks such as market downturns, project delays, cost overruns, and more. They also need to ensure that potential profits justify the risks they take.
When these costs exceed the price builders can reasonably expect to get from selling a new home, it discourages new construction. This is the crux of the paradox we're exploring: even in a high-demand market, homes may effectively be too cheap – that is, their selling price may be too low compared to the cost of building – to spur the construction of new homes. So yes, homes are unaffordable today, but compared to the cost of building more, they are too cheap!
Keep Up With New Trends In Tallahassee!
Get The Tallahassee Real Estate Newsletter
Don't be the one that doesn't know what's going on when you sell a home or buy a home in Tallahassee.
Other buyers, sellers, lenders, and real estate agents have this critical information, and now you can too!
Get immediate access to our most recent newsletter.
Let more than 30 years of experience work for you with charts, graphs, and analysis of the Tallahassee housing market.
Impacts of Low-Priced Homes on the Market
When the market price of homes is low relative to these construction costs, it can ripple affect the entire housing market. As we've discussed, it discourages the construction of new homes, exacerbating supply constraints and potentially leading to a further increase in home prices.
Low-priced homes can also affect the quality of new housing. Builders looking to maintain profitability may resort to using cheaper materials or cutting corners, which can lead to a decline in the overall quality and sustainability of housing.
Furthermore, a market dominated by a low inventory of homes may attract investors looking for profits from rapid appreciation rather than long-term residents, leading to higher rental rates and housing instability.
In short, while relatively lower existing home prices may seem like a boon for potential buyers, they can lead to many unintended consequences that can destabilize the housing market and have far-reaching impacts on the community.
Effects on Existing Homeowners and Quality of Housing
When the price of new homes is significantly higher than existing home prices, it not only impacts the builders and future homeowners but also profoundly affects existing homeowners. They become trapped in their current homes as the cost of moving up has gone through the roof, and the cost of moving down rarely yields a discount.
A lack of future-move options can inhibit homeowners from selling their properties. Knowing they have no affordable options for a next home could deter potential sellers, further constricting the supply of available homes.
The quality of new housing can also be compromised. To maintain profitability, builders may use lower-cost, potentially lower-quality materials or reduce the size and features of new homes. This cost-cutting could lead to a decline in the overall housing standards, affecting the living conditions of new homeowners and potentially increasing the need for repairs and maintenance in the long run.
The Role of Government and Policy
Government policy plays a pivotal role in shaping the housing market. Regulations influence the cost of construction, the availability of land, the price of homes, and the overall demand and supply dynamics.
For instance, building codes and zoning laws dictate what can be built and where. While many believe these regulations are essential for ensuring safety and planning sustainable communities, they also add to the cost of construction. High regulatory costs make building new homes less profitable, particularly in a low-price market. Worse are the communities with strict zoning laws that fail to follow them due to pressure from the Nimby movement.
On the other hand, governments can also implement policies to incentivize home construction. This might include tax credits for builders, subsidies for using certain materials or building techniques or streamlining the permit process to reduce delays and costs.
Monetary policy, such as setting interest rates, also plays a significant role in the housing market. Lower interest rates can make borrowing cheaper for both builders and buyers, but there is ample historical evidence to suggest that interest rates do not have a long-term impact on the supply and demand for homes.
Government policy can also affect the demand side of the equation. For example, tax deductions for mortgage interest can make home-buying more attractive.
The role of government and policy in addressing the paradox of a high-demand, low-construction, and low-price housing market cannot be understated. Balancing the needs of builders, homeowners, and potential buyers requires a nuanced understanding of the housing market and thoughtful, proactive policymaking.
Influence of Local and National Policies on Building Feasibility
Policies at both local and national levels can profoundly influence the feasibility of constructing new homes. They can impact all the elements of construction costs we discussed earlier, from land and labor costs to financing and regulatory expenses.
Zoning laws and building codes, typically enforced at the local level, can directly affect the cost of building. Zoning laws dictate what can be built where impacting land availability and costs. Building codes can influence the cost of materials and labor as they set standards for safety, energy efficiency, and aesthetics that builders must adhere to.
National policies also play a crucial role. Trade policies can impact the cost of raw materials, while immigration policies can influence labor availability and costs. Monetary policies, such as interest rates set by central banks, affect builders' borrowing costs.
Exploring Potential Policy Solutions
Addressing the paradox of high demand but low construction in a low-price market requires nuanced policy interventions. Potential solutions could include:
Land Use Policies: Reforming zoning laws could help reduce land costs for building new homes. More homes could be built on the same plot of land by allowing higher-density housing in certain areas, reducing the per-unit land cost.

Streamlining Regulations: While maintaining necessary safety and sustainability standards, there could be opportunities to streamline the regulatory process, reducing delays and costs for builders.

Incentivizing Construction: Government incentives such as tax breaks, subsidies, or low-interest loans could help offset some of the construction costs, making it more profitable for builders to build new homes.

Supporting Labor Market: Policies that support the training and retention of skilled construction workers could help ensure a steady labor supply, potentially reducing labor costs over time.

Affordable Housing Programs: Governments could invest directly in the construction of affordable housing or provide incentives for builders to include affordable units in their projects.
Case Studies
Case studies from around the world can provide valuable insights into the impacts of various policies on housing markets. In the next section, we will explore a few of these case studies, examining how different jurisdictions have grappled with housing affordability and construction challenges and the policy solutions they have implemented. Through these case studies, we hope to understand better the potential pathways to addressing the paradoxical situation in our current housing market.
Case Studies: Markets with Low-Priced Homes And Their Lessons
Several markets around the US offer instructive examples of the phenomenon we're examining: low-priced homes that don't incentivize new construction. Let's take a closer look at a few of these.
Seattle, Washington: The housing market in Seattle provides a compelling case study on this issue. Despite having one of the strongest job markets in the U.S., fueled largely by a thriving tech sector, Seattle grapples with issues related to low-priced homes and insufficient new construction. Like many other major urban centers, Seattle has faced escalating housing prices. However, a portion of the market, particularly in the city's outlying areas, still has homes priced relatively low due to factors like older housing stock and less desirable locations.
Despite strong demand, new construction in these areas has lagged behind for several reasons. High construction costs, driven by increasing labor and materials costs and tight land-use regulations, have made it economically challenging for builders to embark on new projects where the potential selling price may not cover the development costs. The city has been actively addressing these issues through policy measures. Efforts such as the Housing Affordability and Livability Agenda (HALA) have been implemented to increase housing options and affordability. These measures include upzoning certain areas to increase density, providing incentives for constructing affordable housing and streamlining approval processes. While it is still a work in progress, Seattle's experience underscores the complexities of housing markets and the role of policy in shaping outcomes. It provides a valuable case study for other cities facing similar challenges.
Austin, Texas: The city of Austin has seen a significant influx of residents due to its thriving tech scene and the appeal of its vibrant culture. This has led to a sharp increase in housing demand. However, this hasn't translated into a corresponding increase in construction, particularly in the affordable housing segment. Despite low-priced homes existing in certain areas, builders find it challenging to justify new projects due to high costs for land, materials, and labor. Strict zoning regulations further compound these issues. Austin's struggle to meet its affordable housing demand illustrates the paradox we've been discussing and highlights the importance of policy changes to stimulate construction.
Denver, Colorado: Denver's case is another interesting one. The city has experienced significant population growth in the past decade, which has led to a surge in housing demand. Nevertheless, the construction of new homes, especially affordable ones, has not kept pace. The reason is twofold: the high costs of construction, including land and materials, and stringent building regulations. Despite being undersupplied, the lower end of the market isn't attractive for builders as the prices of these homes often don't offset the high construction costs. Denver's experience further underscores the complex interplay of market dynamics and policy decisions in the housing market.
Lessons Learned and the Consequences of Prolonged Shortage
Each of these examples illustrates different outcomes and provides lessons on the impacts of low-priced homes on the construction market. Importantly, they underscore the role of local and national policies in mitigating the impacts of such a market.
However, if the shortage of new homes persists over an extended period, the consequences can be severe. A long-term supply shortage can exacerbate affordability issues, increase income inequality, and potentially fuel a housing bubble. It can also lead to overcrowding, underinvestment in housing, and substandard living conditions, impacting the quality of life and the broader socio-economic stability.
Addressing this issue with a strategic, multifaceted approach involving public policies, private sector incentives, and community engagement is essential. The goal should be to increase the number of homes being built and ensure these homes are affordable and sustainable, and contribute positively to the overall community.
SUCCESSFUL INVESTMENT IS WARFARE!
There are fundamental concepts that apply to the real estate investment industry that have also been found true consistently on the battlefield throughout history.
Prudent investors could strengthen their positions by taking a lesson from our military history and doctrine.
This brief paper, assembled by a West Point-educated US Army combat veteran, attempts to explain how investors can alter their strategic plans by using the same analytical techniques as would be applied by our modern warriors.
The Ramifications of a Prolonged Shortage
The sustainability and equilibrium of the housing market are critical to economic and societal stability. When a housing shortage continues unchecked for an extended period, the repercussions can be severe and widespread, manifesting in multiple forms.
Escalation in Housing Costs: A pronounced shortfall in housing supply amidst strong demand can lead to a steep rise in home prices and rental costs. This rise exacerbates the affordability crisis, pushing homeownership further out of reach for many, especially lower- and middle-income families.
Deepening Economic Inequality: The escalating housing costs and a lack of supply may also exacerbate economic inequality. Those who own properties can enjoy capital appreciation, further increasing their wealth. On the other hand, those priced out of the market miss out on this opportunity, which can widen the wealth gap.
Macroeconomic Instability: The housing sector is interconnected with the broader economy in multiple ways. A significant imbalance in the housing market can lead to broader economic disruptions, including potential housing bubbles and recessions.
Social Disparities and Impact on Quality of Life: On a societal level, the persistent shortage of affordable homes has led to a rise in homelessness, overcrowded living conditions, and a decline in overall living standards. It can also contribute to a growth in socio-economic segregation, with low-income households increasingly concentrated in less desirable areas.
If the Situation Remains Unresolved
The long-term implications for the economy and society could be significant if this situation of high demand and low construction persists without resolution.
Stunted Economic Growth: Continuing this paradox could lead to an overall slowdown in economic activity. The construction industry is a significant job creator and contributor to GDP. A sustained decline in homebuilding could lead to job losses, decreased consumer spending, and stunted economic growth.
Societal Strains: Over time, the lack of affordable housing options could significantly increase social challenges. Housing instability can lead to poorer health outcomes, lower educational attainment, and higher stress and anxiety levels in affected populations.
Disruption of Community Fabric: The social fabric of communities can also be negatively impacted. Gentrification may force long-term residents out of their neighborhoods, causing a loss of community cohesion and continuity.
Resolving the paradox of high demand but low construction in today's market is not just a housing issue but a broader economic and social imperative. It calls for thoughtful and coordinated solutions that span various stakeholders, from policymakers and builders to financial institutions and community organizations. These solutions must focus on increasing the supply of homes and ensuring affordability and accessibility for all segments of society.
Resolving The Paradox
This article examined the intriguing paradox of high housing demand juxtaposed with low construction activity, primarily due to low existing home prices. This is a situation that transcends the realm of mere economic curiosity. It is a predicament that has profound implications for builders, potential homebuyers, policymakers, and society.
We've delved into the complexities of the real estate market, examining the fundamental principles of supply and demand and how these forces interact to shape the housing landscape. We've explored the unique situation where high demand doesn't necessarily spur increased construction, especially when the price of existing homes falls well below the cost of building new ones.
This exploration led us to understand the cost dynamics involved in homebuilding, covering elements like labor, materials, land, and regulatory costs. We've seen how a lower market price for homes can disincentivize builders from embarking on new projects, leading to a potential shortage in housing supply.
The ramifications of such a shortage, if prolonged, are far-reaching. From escalating housing costs and increasing economic inequality to macroeconomic instability and social disparities, the ripple effects of this paradox touch every corner of our society.
If this situation remains unresolved, the long-term implications could be severe, including stunted economic growth, social strains, and disruption of the community fabric.
Reflecting on the central question - "What happens if homes are too cheap to build new homes? " - it becomes clear that the potential consequences extend beyond real estate and housing markets. The stability and prosperity of our society are deeply intertwined with the balance and robustness of our housing market.
Addressing this issue is not a simple task. It requires thoughtful, targeted, and coordinated strategies from various stakeholders. It's about increasing the volume of houses being built and ensuring the right houses - affordable, sustainable, quality homes - are being built in the right places.
As we continue to grapple with this complex issue, we must remember that the ultimate goal of housing policy should be to ensure everyone has access to a safe, decent, and affordable place to call home. Achieving this will resolve our present paradox and contribute to a more equitable and sustainable society.
There are a lot of people who endorse Joe for the job of selling your home, from Barbara Corcoran (Star of ABC's Shark Tank) to Preston Scott (host of Tallahassee's top daily "Audio Magazine," as well as the thousands of happy customers Joe has helped in the past. Listen why!