What Does The Ideal Move-Up Market Look Like In Real Estate?
Posted by Joe Manausa on Wednesday, January 17, 2018 at 8:32 AM
By Joe Manausa / January 17, 2018
Comment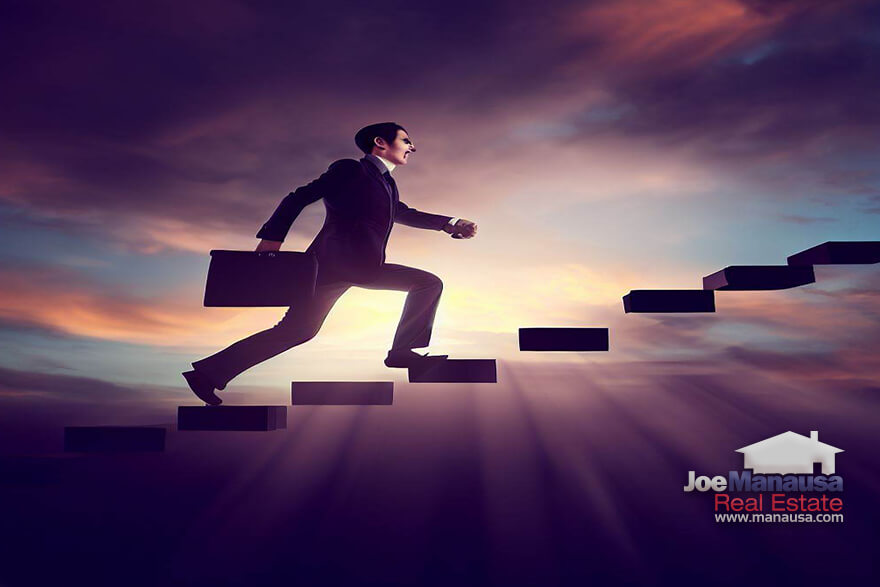 Most people getting ready to buy a home and sell a home in Tallahassee are internally focused and rarely form an opinion about the segments of the housing market in which they are about to engage.
This means that whatever they have heard about the Tallahassee real estate market they just subconsciously apply that "news" to what they are about to do.
But as you will see in today's report, the activity in the Tallahassee housing market is not equally disbursed across all the home price ranges and it has formed the ideal "move-up" market for homeowners.
Homes For Sale For "Move-Up" Buyers
There is one price range in Tallahassee that remains in a buyers' market across all four geographic quadrants of our real estate market, and that is high end homes (starting at $600K). With mortgage interest rates low and equity growth high, today's median homeowner can profit in this ideal "move-up" housing market.
Here are the current list of homes for sale over $600K where buyers are still favored due to the imbalance between supply and demand.
Homes Under Contract In Tallahassee
One way to measure the competitiveness of each price range is to calculate the ratio of homes under contract to all homes listed for sale.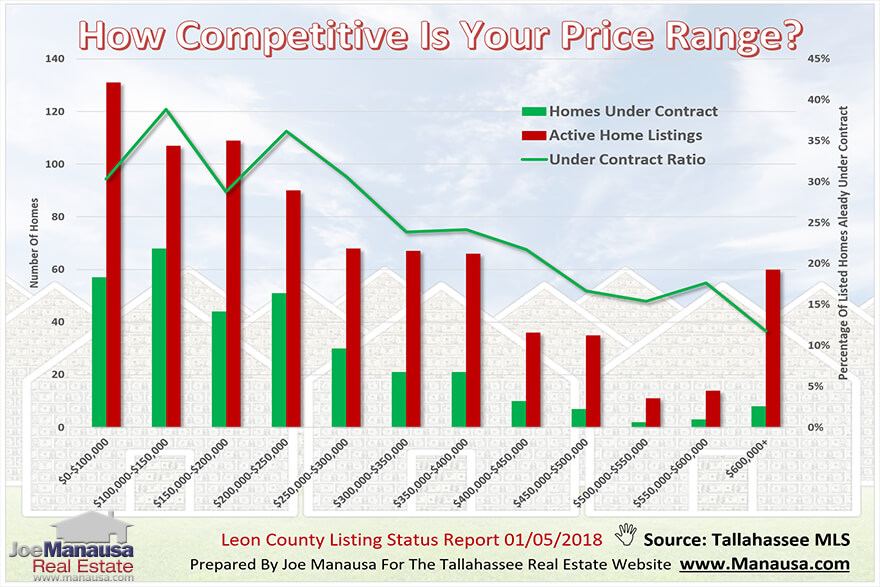 The current inventory of homes is shown by price range using green for homes under contract and red for homes that have not yet found a buyer. The green line measures the "under contract percentage," which is the ratio of homes under contract compared to all homes for sale.
The general trend is that there is a higher percentage of lower priced homes under contract than there are for the higher priced homes.
Roughly 1 in 3 homes priced from $100,000 to $300,000 is already under contract, so if you are buying in this price range, you better have a great negotiator at your side and you better be prepared to make quick decisions.
But if you are selling in this price range and you implement the proper marketing to attract MULTIPLE buyers to your home, you can expect to pull ALL of your equity out from a home sale.
Think about how great it is to sell in a sellers' market, and then turn around and buy in a buyers' market. This is the perfect move-up market.
Quarterly Market Update Podcast
Listen to "Tallahassee Real Estate Market 01/15/18" on Spreaker.
How To Sell A Home In A Sellers' Market
Most homeowners think it is easier to sell a home in a sellers' market than in a buyers' market, but for most price ranges, that is simply just not true.
The majority of home sellers, excluding those at the very bottom of the market and those at the very top of the market, have the ability to control their home sales if they have the proper marketing plan combined with a correct understanding of current market conditions.
Favorable market conditions make it easier for a weak marketing plan to find a buyer, so many sellers hiring a friend or selling "for sale by owner" think they have succeeded when they sell their home during a sellers' market.
But most homeowners who hire Joe Manausa Real Estate to sell their home want to get the most money possible from the sale. They are not merely happy because we sold their house, they are thrilled because they received every penny of equity they had earned while owning the home.
Are you interested in finding out how much equity is in your current home? Perhaps you are thinking of taking advantage of low mortgage interest rates and would like to "trade up" if you have the equity to make is possible.
We can help you assess the current market for YOUR home as well as examine the market for the home that you would like to buy. Maybe the time is right now, maybe you'll have to wait for a later date. Why not find out today?
Simply give us a call at (850) 366-8917 or drop us a note and we'll schedule a time to help you examine your options.