Are you a NIMBY or a YIMBY?
Posted by Joe Manausa on Monday, December 26, 2022 at 6:00 AM
By Joe Manausa / December 26, 2022
Comment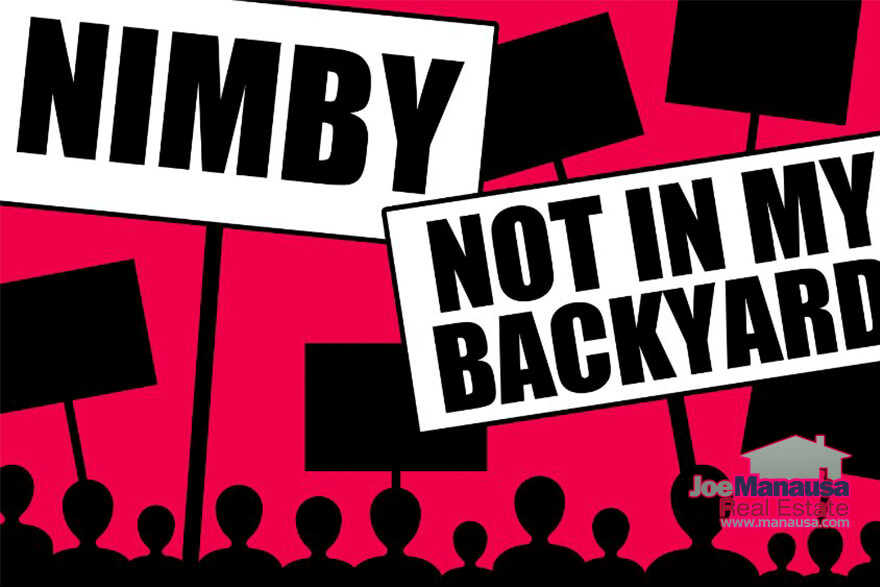 If you spend any time monitoring social media for real estate conversations, you'll quickly discover two terms that have gained prominence over the past few years. NIMBY (Not In My Back Yard) and YIMBY (Yes, In My Back Yard) appear to be the labels that classify housing market activists into one of two camps:
NIMBY - The "not in my backyard" camp is strongly opposed to new development in or near their neighborhoods which might impact their quality of life or the value of their property.

YIMBY - The "yes, in my backyard" group has popped up as a response to the NIMBYism movement and supports adding new developments and constructing more housing units.
So, which one are you?
If you think it doesn't matter, then you are among the silent majority who will be amazed at the collapse of homeownership in America.
Why These Terms Matter
NIMBY and YIMBY are hotly debated viewpoints because the US has entered a home affordability crisis. With mortgage interest doubling this year and a historically low supply of homes for sale and rent, the cost of living is through the roof. And it's going to get far worse.
With rents and home prices rising simultaneously, it is clear that the number of housing units in the US is insufficient to grow our housing population. The solution to this problem is simple to understand, we need to build more homes. But that is exactly the opposite of what is happening.
The pace of home construction was crippled in 2006 when the federal government felt the housing market needed meddling and changed loan standards to where all but the wealthiest among us could afford a home. With fewer buyers, builders were forced to shut down production.
Over the years, lending standards returned to "normal," but builder production has been far too slow to keep up with the pace of population growth in most markets. As the flood of millennials entered the housing market, existing home prices and rents soared. Each year, the gap between what has been built and the need for shelter has grown. Even the homeless rate, which had declined for many years, has grown for six consecutive years.
Keep Up With New Trends In Tallahassee!
Get The Tallahassee Real Estate Newsletter
Don't be the one that doesn't know what's going on when you sell a home or buy a home in Tallahassee.
Other buyers, sellers, lenders, and real estate agents have this critical information, and now you can too!
Get immediate access to our most recent newsletter.
Let more than 30 years of experience work for you with charts, graphs, and analysis of the Tallahassee housing market.
How Many New Homes Are Needed?
The National Association Of Realtors has estimated the shortage of single-family and multi-family to be 5.5 million units! Let's look at a graph of housing starts in the US to give that some perspective.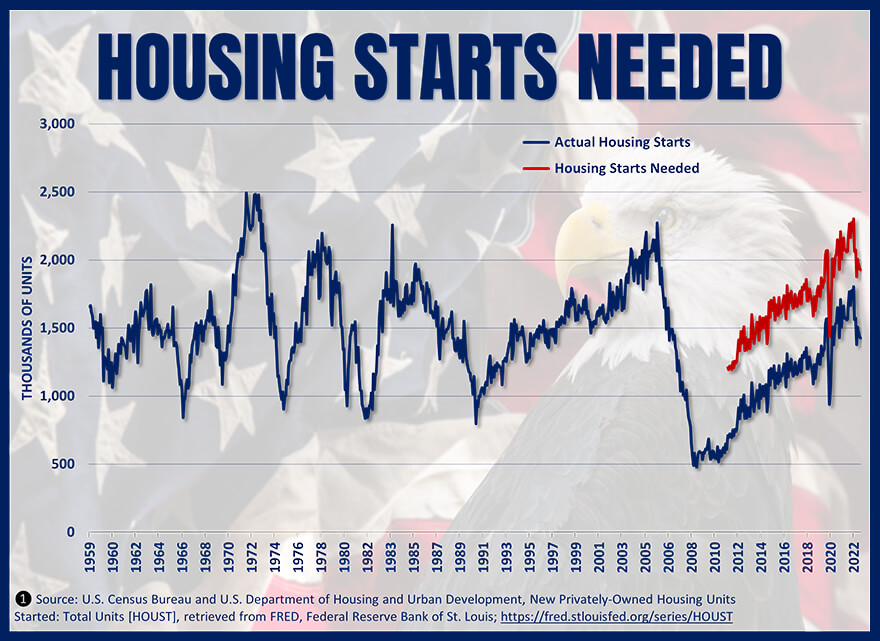 In the graph above, the blue line plots the seasonally adjusted annual housing starts for each year since 1959. The red line shows the level required to avoid the current home deficit. In other words, builders produced the number of homes represented by the blue line, but we needed builders to produce the number of homes represented by the red line.
In the future, we will need to average roughly 2M housing starts annually to balance the market by 2035. So long as builder production fails to meet the demands of our growing population, we must anticipate home prices and rents rising at rates higher than the historical norm.
Building Permit Growth By State
The following interactive map was found on pewtrusts.org. It shows the percentage change in building permits issued by each state compared to 2019.
The number of homes with approved permits right now is a bit misleading. As we previously addressed in the video shown below, the supply chain disruptions from COVID have resulted in a longer construction period for new homes being built.
The Pipeline Of New Construction Has Changed
What has historically taken five to six months to build, the time it takes to build new homes today is closer to nine months.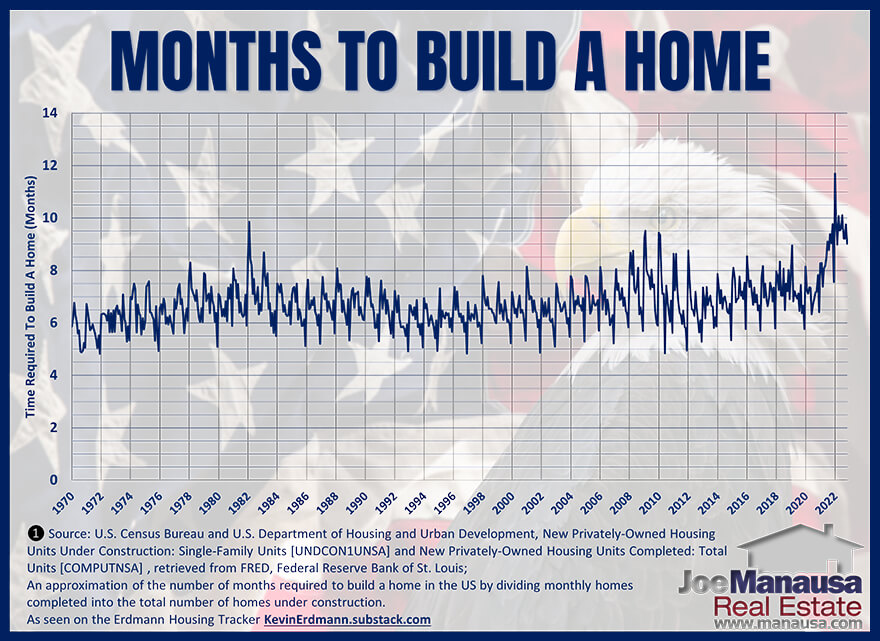 Many are worried about the size of the new construction pipeline and that it is filled with too many new homes in production. What many fail to understand, though, is that the pipeline size should be 50% larger than "normal" because it is taking 50% longer than normal to get the homes built. How do we know that the current pipeline is not too many?
Months Supply Of New Homes For Sale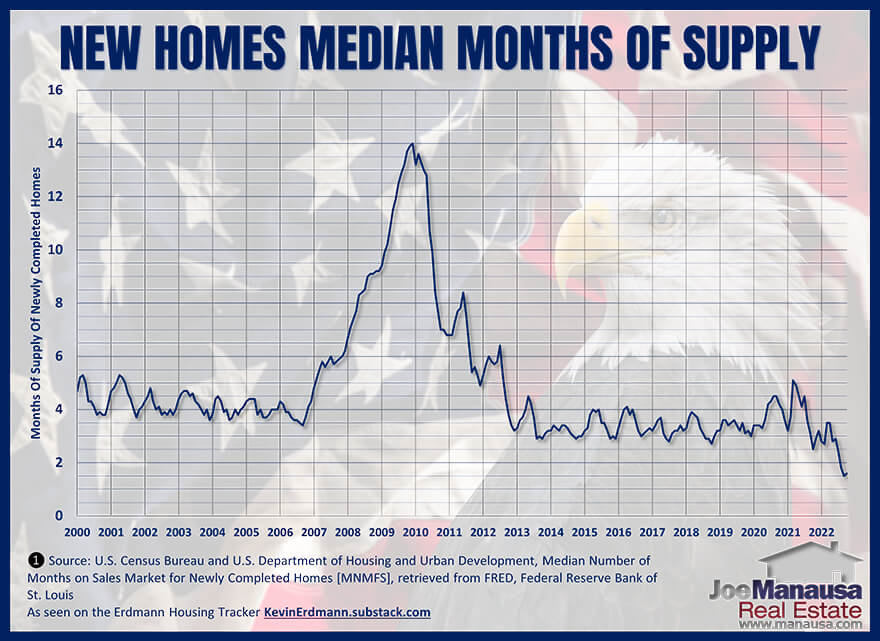 The median month's supply of new homes for sale is near an all-time low, with less than two months of supply of homes available. That's a far cry from the 14 months of supply back in 2010 and only 43% of the median months of supply recorded during the housing bubble formation years.
A Shocked Market
The housing market is in shock right now for two key reasons.
First, mortgage interest rates doubled in a matter of months. When buyers got pre-qualified for homes at the beginning of their home search early in the year, they were blown out of the market when rates doubled in the second quarter. All the homes they had been previewing were now out of their reach.
Second, the inventory of homes continues to shrink. Even as demand continues to drop, so too does the supply of homes for sale, creating a sellers' market for the majority of price ranges in most US metropolitan areas.
As time progresses and mortgage interest rates begin to feel normal to the new buyers entering the market, we will see demand return. After all, today's rate is 14% lower than the 50-year average of the 30-year fixed-rate mortgage, so we're not dealing with crazy high rates. The real problem in housing is the production of new homes, which takes us back to the conversation we laid out in the opening of this article.
NIMBY Versus YIMBY - The Truth About Housing Development
The YIMBY View - We need more housing for our growing population, and we should consider all options.
YIMBY is an acronym for "yes, in my backyard", a pro-housing movement in contrast and opposition to the NIMBY ("not in my backyard") phenomenon. The YIMBY position supports increasing the supply of housing within cities where housing costs have escalated to unaffordable levels. YIMBYs often seek rezoning that would allow denser housing to be produced or the repurposing of obsolete buildings, such as shopping malls, into housing. Some YIMBYs have also supported public-interest projects like clean energy or alternative transport.

The YIMBY movement has supporters across the political spectrum including left-leaning adherents who believe housing production is a social justice issue and free-market libertarian proponents who think the supply of housing should not be regulated by the government. YIMBYs argue cities can be made increasingly affordable and accessible by building more infill housing,  and that greenhouse gas emissions will be reduced by denser cities. ~ Wikipedia
The NIMBY View - We should not allow anything to be built near here, we like everything the way it is.
NIMBY is an acronym for the phrase "not in my back yard", a characterization of opposition by residents to proposed developments in their local area, as well as support for strict land use regulations. It carries the connotation that such residents are only opposing the development because it is close to them and that they would tolerate or support it if it were built farther away. ~ Wikipedia
My experience has taught me that we all have some "NIMBY" blood in us if we are homeowners. After all, who wants more development (especially in-fill development) in their neighborhoods? Unfortunately, this way of thinking has led to broken housing markets all across the US resulting in soaring home prices and soaring rents. We need more homes, but the NIMBY mentality is that they need to be built "elsewhere."
Need For Housing Is Not Going Away Any Time Soon
The US housing market is severely short of homes, and the problem is here to stay. Now that inflation has pushed the cost of new construction so high, the homes we need cannot be produced at prices most buyers can afford. There needs to be concentrated efforts at every local level to produce the shelter we need.
One has to wonder why the government feels compelled to control housing at every level. They don't seem to be so active in other industries.
For example, If there are not enough cars on the road, does the federal government get involved and make it more difficult for the automobile factories to build more cars, or do we let market forces facilitate production levels? We let the car manufacturers take the risk and reap the rewards of determining automobile production levels. Why not let homebuilders do the same for housing?
Similarly, the federal government almost always attacks a perceived housing problem by manipulating the demand side. They ease or toughen lending standards, or they raise or lower the rates on the source of funds for lenders. In my opinion, local governments need to put an equal and opposite focus on the supply side of the housing market.
The only way we can expect our local governments to treat housing as the problem that it is is by ensuring our elected officials know how disturbing the housing deficit has become. We must rally to support most YIMBY movements to produce the homes our growing population needs to rent and buy. If you have not taken the time to reach out to your local government officials demanding housing solutions, today is an excellent day to start!
There are a lot of people who endorse Joe for the job of selling your home, from Barbara Corcoran (Star of ABC's Shark Tank) to Preston Scott (host of Tallahassee's top daily "Audio Magazine," as well as the thousands of happy customers Joe has helped in the past. Listen why!