Buy Yourself A Home With A Pool This 4th Of July
Posted by Joe Manausa on Thursday, July 4, 2019 at 5:50 AM
By Joe Manausa / July 4, 2019
Comment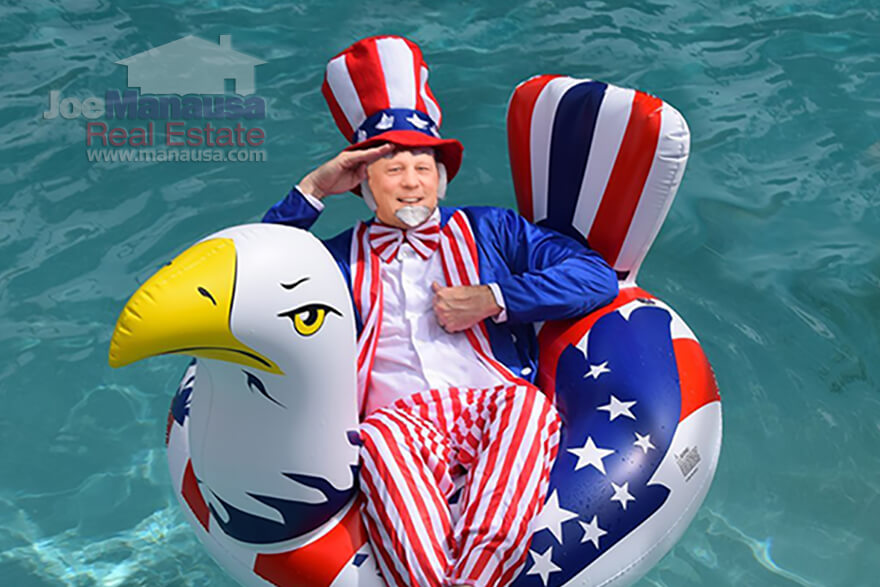 It's the fourth of July in Tallahassee and it's crazy-hot, wouldn't you be so much cooler if you owned a home with a pool?
Take a look at the 131 homes for sale in Tallahassee that all have swimming pools, and then buy yourself one to celebrate the 243rd birthday of our great Nation.
Pool Homes For Sale In Tallahassee
The following list includes all single-family detached homes for sale in Tallahassee, and it is updated continuously throughout the day (every day).
4 Reasons To Buy A Home With A Swimming Pool
Cool Points - If you value your social life (and the social lives of your spouse and children) then owning a home with a swimming pool can make you the social center of the neighborhood if you desire. Michelle and I have owned a home with a pool for most of the years of our marriage, and when our children were young, our home was often the place where other kids came to play. It's nice being able to keep an eye on your kids as they end up playing in the backyard more so than other places they could be.
Resale Value - If you have seen any of our reports about the value of a swimming pool, then you know that homes with pools sell for more than those with no pools. But they sell for less than the cost of a new pool, so buying a home that already has a pool is a wise choice. Look at it this way: All the pool homes listed for sale above have already paid the premium for the pool, now future owners will get the benefit of its use as well as its appreciating value.
Health - Having easy access to a pool in your backyard will encourage you to spend more time outside and more time moving around. Whether or not you are a strong swimmer, you will get some exercise just splashing around. You'll also get plenty of Vitamin D from the Sun.
Beauty - Not

YOUR

beauty, your home's beauty! A well-maintained swimming pool in the backyard looks better than most backyards that do not have pools. It is an attention grabber and I believe makes the entire home look nicer. Most pools have a porch, deck, or patio around them or nearby, making the backyard so much more livable than the typical plants and grass you'll find in a non-pool home.

Speak To An Expert!
Elevate your confidence by trusting Joe and his team led by US armed forces Veterans. Unmatched dedication, expertise, and professionalism drive their success, as their thousands of 5-star reviews confirm.
Their proven track record showcases precise navigation of the market. Choosing Joe means gaining access to extensive knowledge and networks and prioritizing YOUR unique needs. Experience the power of dedicated commitment in real estate. Trust Joe and his team of military Veterans to be your partners in achieving your dreams.
If our 4th of July list of homes for sale with swimming pools has refreshed your desire to move, simply give us a call at (850) 366-8917 or drop us a note and we'll help you with your specific Tallahassee real estate needs.
As a local born and raised in Tallahassee with a focus on customer service, I promise you'll find great success when working with Joe Manausa Real Estate, just as have our past customers. You can thousands of their reviews reported on Google, Facebook and Zillow right here: Real Estate Agent Reviews Tallahassee.
How To Buy A Home With A Pool
If you are ready to make owning a home with a swimming pool a reality, all you need to do is to take a brief moment to fill out the form below. One of our highly trained real estate buyer specialists will contact you to set an appointment to see all the pool homes you could possibly want.