Where To Find A Pool Home UNDER $300K In Tallahassee
Posted by Joe Manausa on Monday, June 10, 2019 at 5:51 AM
By Joe Manausa / June 10, 2019
Comment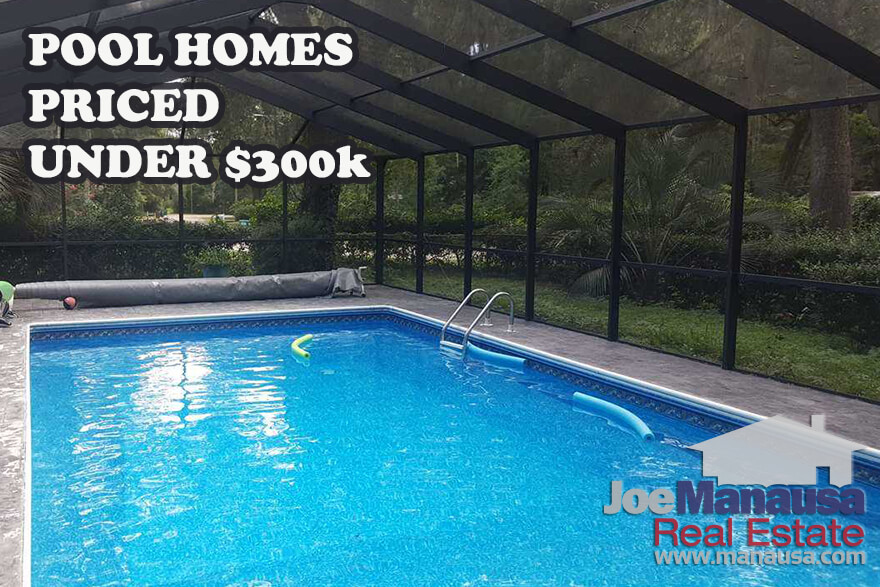 If you are looking for a single-family detached home with a pool and your budget falls below $300,000, then you have found the right place.
Today's article features 33 single-family detached homes for sale with pools, as well as insights into the value of these homes and the best way to go about buying one.
Single-Family Detached Homes For Sale With Pools
The following list of homes for sale with swimming pools priced under $300K is current and updated ninety-six times daily. You won't find a better place for shopping pool homes in Tallahassee.
A Vanishing Commodity
If you looked closely at the list of swimming pool homes listed above, you probably noticed that exactly 1/2 of them are already under a contingent contract. When you add the ones not shown (because they are under binding contracts), then you'll discover that 70% of the homes for sale with swimming pools priced under $300,000 are already under contract. We were hired to sell three of them, and all three are under contract with buyers.
This is a clear sign that there is a high level of demand for these homes. What you might not have considered though is that this commodity is short-lived opportunity. It won't be a long time before you will not be able to buy a single-family detached home with a pool in Tallahassee for less than $300K. Why?
Replacement costs are too high and they are pulling values up, that's why! The average single-family detached lot is up to $70,000, and the average new pool costs about $60,000. If you have a $300,000 budget, that only leaves you with $170K for the home.
With average new construction costs of $140 per square foot and higher, that means if you are very tight on your spending you could build a 1,214 square foot home, while the average home size in the list above is over 2,000 square feet. This delta is only going to grow as prices move higher, both for homes as well as replacement costs.
If you would like to own a nice-sized home with a pool and spend less than $300,000, the time is now!
Home Buying For Smart People
A process designed to save you money when buying a home
Something tells us you're just … well … smarter than most people looking to buy a home.
You're not naive, you are looking for a house to call home, and you want to make sure that you love the home you buy, but also get a great value.
In other words, you don't have to be an Einstein to "get" the home buying process. But you do have to be prepared.
We can prepare you

How To Buy A Home With A Pool
Buying a home with a pool requires extra preparation compared to buying a home without a pool. You must know exactly which type of pool and equipment you are buying, and you need to have it all inspected by a pro.
If you work with a real estate buyer specialist who has vast experience with helping buyers purchase homes for sale with swimming pools, you'll be in a strong position to negotiate the best deal possible.
If you would like to go pool home shopping, simply give us a call at (850) 366-8917 or drop us a note and we will accommodate your schedule immediately.
Why should you hire Joe Manausa Real Estate to help you sell or buy a home with a swimming pool? Just read what our past clients have written about our 5-star service, you can see thousands of our customer reviews reported on Google, Facebook and Zillow right here: http://www.manausa.com/testimonials.
Real Estate Market Information Can Be Overwhelming
That's why Joe breaks the data down into easy-to-understand concepts. Whether you're buying, selling, investing or just interested in the market, sign up for Joe's blog to get the latest Tallahassee real estate updates, straight to your inbox.