Why Holding Onto Your Home As A Rental Might Be Your Smartest Move
Posted by Joe Manausa on Monday, August 21, 2023 at 6:00 AM
By Joe Manausa / August 21, 2023
Comment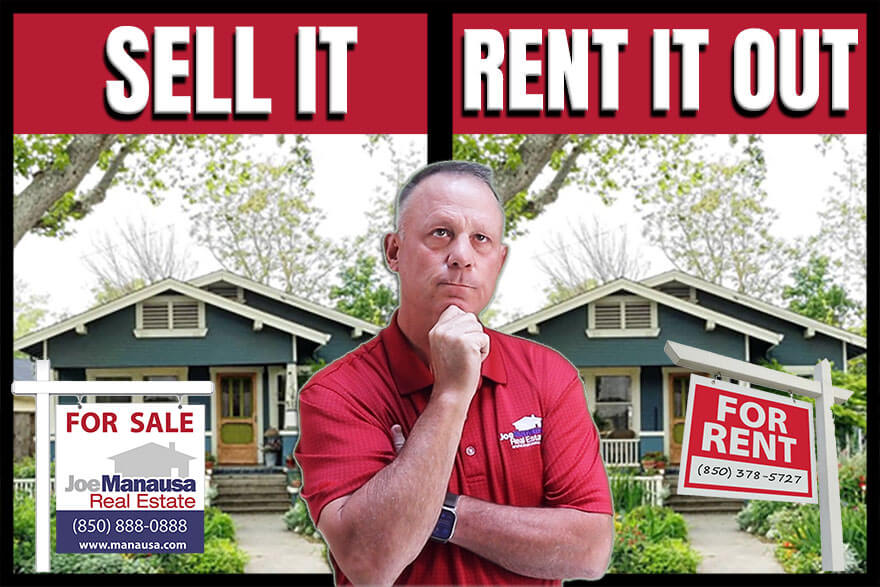 As many homeowners gear up to relocate in today's low-inventory real estate environment, a lucrative option often goes unnoticed: instead of simply selling their property, they could step into the potentially rewarding role of becoming landlords.
If you're gearing up to relocate, your instinct might be to sell and capitalize on the rising home values. But what if there's an opportunity you haven't considered?
As a real estate broker, I've noticed that many homeowners overlook the potential of becoming landlords, even briefly. Given the scarcity of available homes and soaring rental demands, this option can offer some unexpected benefits.
Join me as we delve into why holding onto your home and stepping into the landlord role, even if just temporarily, might be the smartest financial move you haven't thought of yet.
Current Market Dynamics That Impact Your Decision
Unprecedented forces are shaping today's housing market in ways never before seen in recorded history. It's crucial to comprehend how these dynamics influence your decisions when considering a move from your home.
Supply And Demand For Homes
At first glance, real estate market activity might seem counterintuitive. Even though demand has notably decreased, home prices are soaring. The reason?
It's largely due to a long-standing issue: builders have been underbuilding for the past 15 years. This prolonged period of limited construction has left both the sale and rental markets with a dearth of available properties. With such a limited supply, both house prices and rents have skyrocketed.
Potential buyers, even those few actively looking, often pay a premium. This unusual combination of decreased demand yet high prices underscores the unique challenges and opportunities in today's housing market.
Rising Home Values
One of the most compelling reasons to consider retaining your home as a rental property lies in the trajectory of real estate appreciation, influenced majorly by the historically low inventory levels. Ask yourself: If you had the foresight that your home's value would double over the next twelve years, would you be so quick to put that 'For Sale' sign up?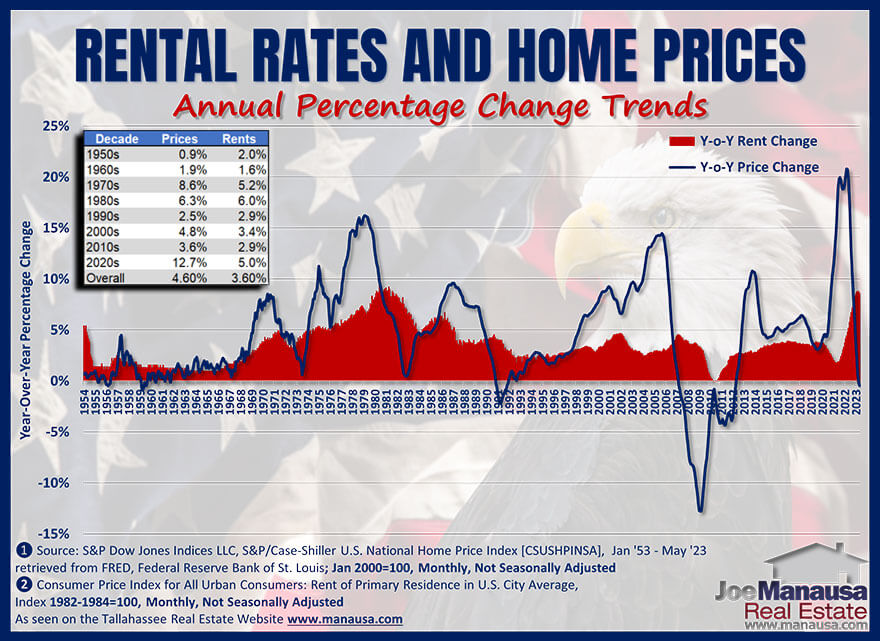 Historical data paints an enlightening picture. By examining the annual shifts in home prices and rental rates, a notable trend emerges. This decade has seen an unparalleled surge in both categories.
Such rapid growth in value and potential rental income presents homeowners with an unprecedented opportunity. By renting out your property now, you could capitalize on this momentum, benefiting from both the rental income in the short term and the potential appreciation in value over the long run.
Mortgage Interest Rate Shock
Another layer to the evolving tapestry of the real estate market is the sentiment many homeowners currently grapple with – feeling "trapped" within their own walls. This feeling isn't derived from the homes themselves but from the historically low mortgage interest rates they've secured. For many, these rates were locked in during a purchase or a refinance, representing significant monthly and long-term savings.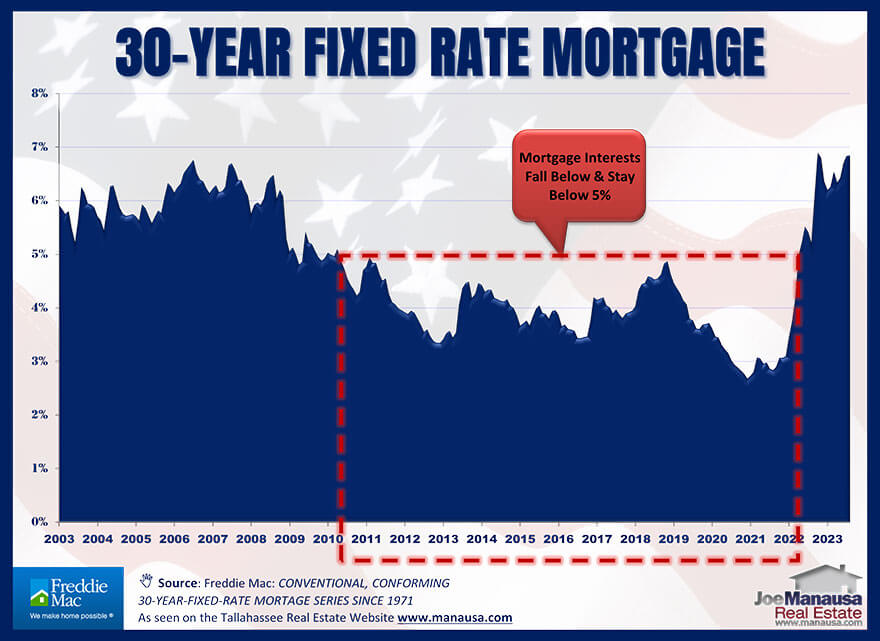 Considering a move today poses a financial conundrum. Not only would homeowners face the current escalated home prices, but they'd also have to contend with significantly higher mortgage rates for their new homes. This creates a 'double whammy' effect. Firstly, the new home comes with a heftier price tag. Secondly, the monthly mortgage payments will be markedly higher due to the increased interest rate. The combined impact dramatically affects home affordability.
Given these market conditions, retaining one's existing property and transitioning it into a rental becomes increasingly appealing. The supplemental income generated from renting out the current home can effectively counterbalance the elevated interest costs of purchasing a new property. Remarkably, even those downsizing sellers may face a surprisingly higher monthly mortgage payment due to the combined impact of rising home prices and increased mortgage interest rates.
The Benefits of Turning Your Home into a Rental
Although transitioning a home into a rental property introduces certain risks and responsibilities, its advantages can often significantly eclipse these challenges.
Consistent Income Stream
With many individuals and families actively seeking residences in the current market, the potential for rental income has become particularly pronounced. The scarcity of available homes has driven up home prices and heightened the demand for rental properties. This presents an opportune moment for homeowners to step into the role of landlords.
For many homeowners, the rental income can be a significant financial boon. It's not uncommon for this income to cover the entirety of a home's mortgage, property taxes, maintenance, and other associated expenses. When appropriately priced and managed, many homeowners discover that, after covering these costs, there's a surplus left — a profit that can be saved, reinvested, or used for other purposes.
Furthermore, this consistent stream of rental income can offer homeowners a layer of financial security, especially in unpredictable economic climates. By holding onto their properties and renting them out, homeowners can harness both the tangible benefits of property appreciation and the immediate advantages of rental revenue.
Tax Implications and Benefits
One of the lesser-known yet significant advantages of converting your home into a rental property lies in potential tax benefits. Homeowners who rent out their properties often find that they can deduct certain expenses directly related to the property from their taxable income. This can include:
Maintenance Costs: Routine repairs and upkeep to maintain the property in a rentable condition can often be deductible.

Property Taxes: The taxes you pay on the property can potentially be written off.

Depreciation: Over time, the wear and tear on the property can be factored in as a depreciation expense, offering a sizable tax advantage.

Mortgage Interest: The interest paid on a mortgage for the rental property can often be deducted, reducing your taxable income.
However, tax codes and regulations are intricate and can vary based on several factors. Therefore, it's crucial to consult with a tax professional or an accountant who can provide tailored advice suited to your individual circumstances. Their expert guidance can ensure that you maximize the tax benefits of your rental property while adhering to all legal requirements.
Future Flexibility: Your Investment's Long-Term Horizon
One of the often-overlooked aspects of retaining a home as a rental property is the gift of future flexibility it offers. While the current real estate landscape presents attractive appreciation rates, there's no telling what the future might hold. By holding onto your property now, you might find yourself able to sell at an even more advantageous time when prices have increased.
Location also plays a pivotal role in this. If your property is situated in a prime or up-and-coming area, its value could increase exponentially in the coming years. Such locations tend to attract higher demand from potential renters and future buyers. Having a property in a sought-after location can be a powerful asset, positioning you for even greater financial gains.
In essence, by retaining your home as a rental now, you're not just earning from the immediate rental income but also preserving the option to capitalize on potential future real estate booms. It's a strategy that offers both short-term rewards and long-term potential.
Now that we've addressed some reasons that support you retaining your home as a rental let's consider "the other side of the coin."
The Other Side of the Coin: Challenges & Considerations
While the advantages of holding onto your home as a rental property can be compelling, it's equally important to be aware of the potential pitfalls and responsibilities associated with becoming a landlord.
Property Management:

Being a landlord isn't just about collecting rent. It involves handling repairs, addressing tenant concerns, and maintaining the property. Some homeowners opt for a property management company to handle these tasks, but this comes with its own costs.

Tenant Risks:

Not all tenants are ideal. There's always a risk of renting to someone who might default on rent, cause damage, or create disturbances. Comprehensive screening processes can mitigate these risks but can't eliminate them entirely.

Market Fluctuations:

While we've discussed the current upward trend in rental demand and property appreciation, markets can change. Future economic conditions, changes in neighborhood dynamics, or unforeseen global events can affect property values and rental demands.

Additional Expenses:

Owning a rental property might come with unexpected costs – from emergency repairs to legal fees if disputes arise. It's essential to be financially prepared for such contingencies.

Liquidity Concerns:

Unlike some other investments, real estate isn't easily liquidated. If you need immediate access to funds, selling a property might not be as quick or straightforward, especially if the market is down.

Emotional Attachment:

For many, their home isn't just a building; it's filled with memories. Renting it out to strangers might be emotionally challenging for some homeowners.
In conclusion, while the prospect of retaining your home and benefiting from both rental income and potential appreciation is enticing, it's paramount to weigh these advantages against the responsibilities and potential challenges that are part and parcel of leasing out a home. Each homeowner's situation is unique, so carefully considering all aspects of the decision will lead to your best outcome.
Take the Next Step: Get a Comprehensive Home Analysis
We're here to assist you if you're weighing the options between selling your home or converting it into a lucrative rental property. By filling out the form below, you'll start the process of receiving a detailed analysis of your home's potential both for sale and as a rental.
Armed with this information, you'll be better equipped to make an informed decision tailored to your unique situation. Don't leave such a pivotal choice to chance — let our expertise guide you to the best outcome for your property and financial future.
There are a lot of people who endorse Joe for the job of selling your home, from Barbara Corcoran (Star of ABC's Shark Tank) to Preston Scott (host of Tallahassee's top daily "Audio Magazine," as well as the thousands of happy customers Joe has helped in the past. Listen why!