Year Over Year Home Sales Surge Higher In October
Posted by Joe Manausa on Monday, November 2, 2020 at 5:59 AM
By Joe Manausa / November 2, 2020
Comment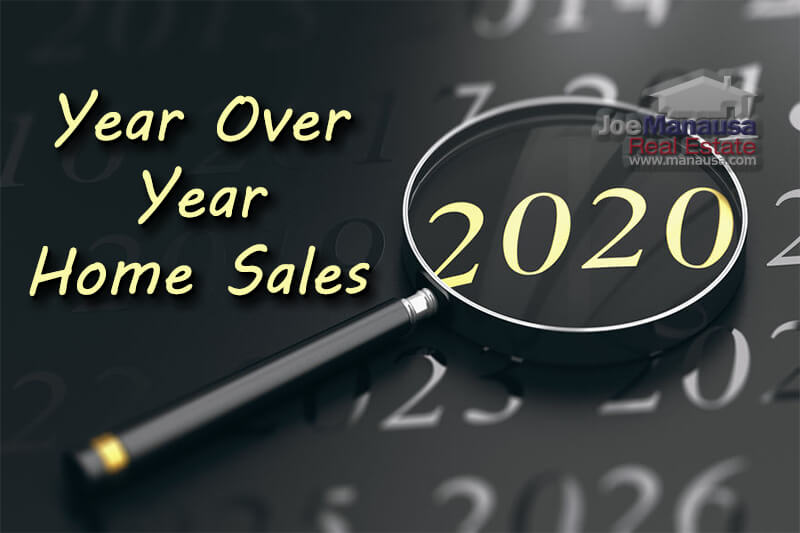 The housing market remains very active in this final quarter, with buyers trying to make up for lost time earlier in the year due to the stall that occurred when the COVID-19 pandemic first struck.
Smart buyers are trying to get into a home before mortgage interest rates rise, but the inventory of homes for sale continues to fall short of demand. Nevertheless, the month of October saw closed home sales come close to an all-time high.
As of right now, the number of closed home sales in October was the 2nd-most active October on record, second only to 2005.
Year Over Year Home Sales Rise In October
The graph below shows year-over-year home sales change. Each month is compared with the same month from the year prior, with green bars revealing growth while red bars show a decline.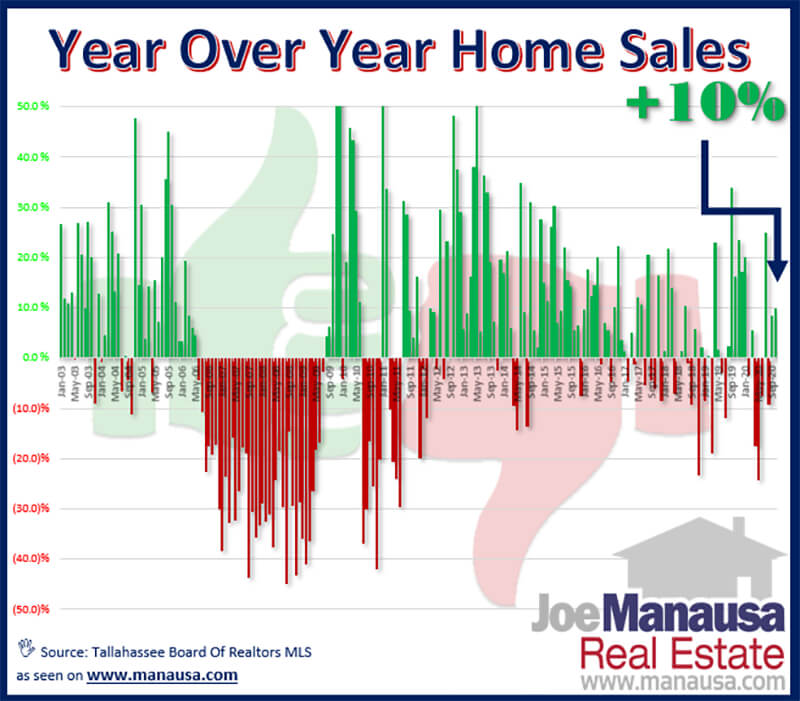 For the second straight month (and three of the past four), home sales were busier in 2020 than they were in the same months in 2019.
As I write this, home sales in October were up 10% over October of last year, but I'm expecting additional October sales to be added by real estate agents who have not yet got around to putting them into the MLS.
Year To Date Home Sales Closing In On 2019
As I have mentioned in previous housing reports, the market sagged significantly in the second quarter as the pandemic moved into Tallahassee. The graph below shows exactly where we stand after October, and the news is good.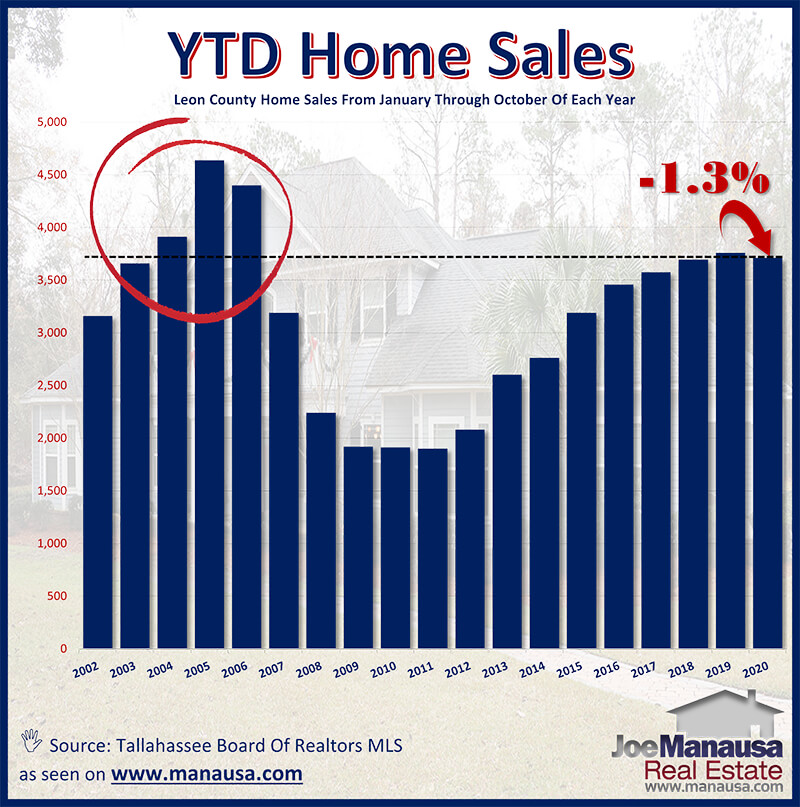 Through October, home sales are down 1.3% when compared to 2019. 2019 was a very good year, so a decline of 1.3% is not bad at all. In fact, it makes 2020 YTD the fifth-best year on record.
If you are curious how 2020 will close out, I have perused my crystal ball and shared my findings in the video below.
Real Estate Crystal Ball
Median Home Price Through October
The median home price in Tallahassee has pushed higher from the record-high recorded last year, and there is nothing visible in the foreseeable future that is going to reverse this growth trend.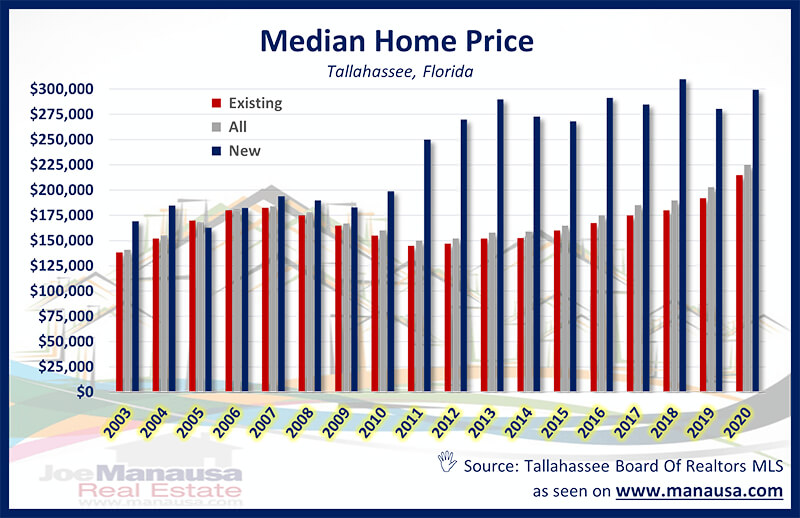 Low mortgage interest rates are allowing buyers to spend more, while the low inventory of homes for sale is allowing sellers to demand more money for their homes.
The high cost of new construction means all new inventory entering the market will be at prices far above the median, so there is nothing to stop the median from growing, as it has steadily since 2011.
Median Home Value Through October
The median home value reached a new record-high this year, and I expect to see the rate of growth accelerate.
The graph below segments new and existing homes, with new home values shown in blue, existing home values shown in red, and the combination of the two shown in gray.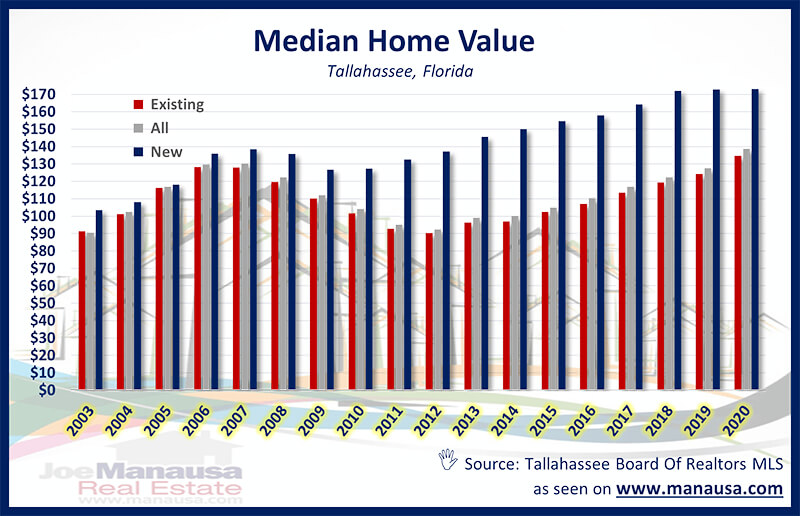 What I find interesting in this graph is that existing and overall home values are rising, while new home values are fairly stable for three years.
The median existing-home value has risen 8.9% so far in 2020, and we often use this measurement as a fair estimate of the current rate of appreciation for homes.
Though it cannot be equally applied across all price ranges, we do know that the middle of the market is almost 9% higher than it was last year. Considering that we still have two months remaining in 2020, we're going to see double-digit appreciation this year (more than 3 times the normal rate of growth).
Median Home Size Through October
Finally, we look to the median home size graph to see if there are any significant differences occurring.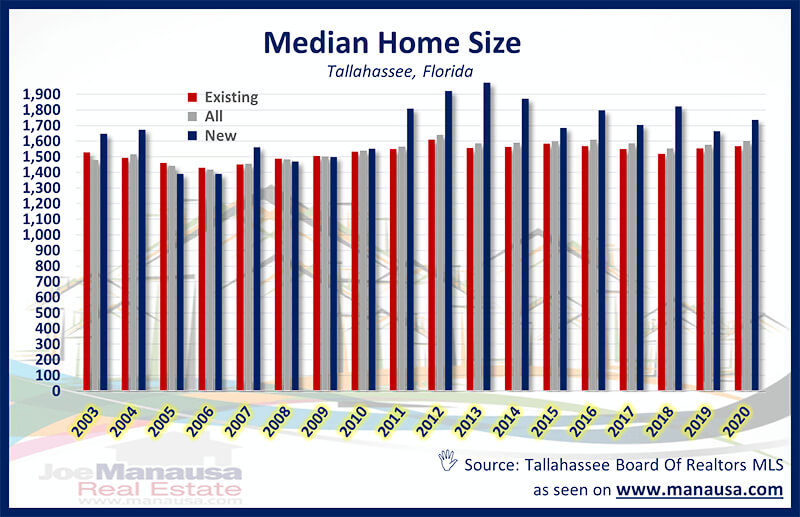 The existing homes sold thus far in 2020 are less than 1% larger than last year, so I would not attribute any of the value or price change there.
If you look back to the last market peak in 2005 and 2006, new homes got significantly smaller so that builders could still bring homes to meet buyer demand. I'm wondering if that is what we should expect in 2021 and beyond?
The change in values, prices, and sizes all rely on buyer spending power. Buyer spending power is heavily influenced by the economy (jobs) and mortgage interest rates.
What we should expect moving forward is that the future of the housing market in Tallahassee will be tightly aligned with these two factors. Will there be lost jobs due to COVID? Will mortgage interest rates rise?
If you have an answer to those two questions, then you know everything you need to know to forecast the future of the housing market!
Your Local Expert In Tallahassee
When moving to, in, or from Tallahassee, you will fare better if you work with a local expert. We are here to help. If you have further questions on the Tallahassee real estate market, you can leave a comment below, give us a call at (850) 366-8917, or drop us a note and we'll give you the local information needed to ensure a successful, smooth transaction.
As a local born and raised in Tallahassee with a focus on customer service, I promise you'll find great success when working with Joe Manausa Real Estate, just as have our past customers. You can read thousands of their reviews reported on Google, Facebook and Zillow right here: Real Estate Agent Reviews Tallahassee.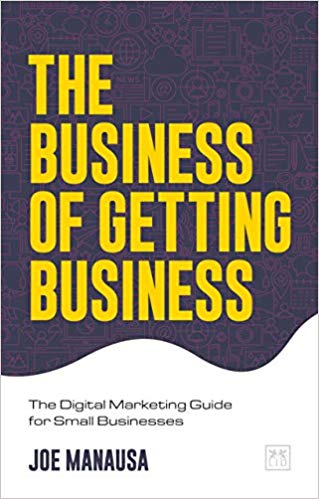 Have you heard about my new book "The Business of Getting Business?" It's a comprehensive guide for small businesses to help them make the move to digital. For those of us who want to survive and thrive in a world where large corporations are taking over, it is a must-read. It's also the perfect guide for how to sell a home in the digital age. You can find The Business Of Getting Business by clicking on any of the trusted retailers below.

Think all REALTORS are alike?
Read what people are saying about working with Joe Manausa Real Estate! You can see thousands of real customer reviews reported on Google, Facebook and Zillow at this link: CLICK HERE FOR REAL ESTATE AGENT REVIEWS.
I recently stumbled upon your latest Carrabelle listing. I must say, a home on Florida's Forgotten Coast is bound to be snatched up quickly. Best of luck with getting it under contract soon!

Posted by Barbara Corcoran on Thursday, June 15, 2023