What To Pay For An Enclosed Garage
Posted by Joe Manausa on Monday, September 13, 2021 at 5:55 AM
By Joe Manausa / September 13, 2021
Comment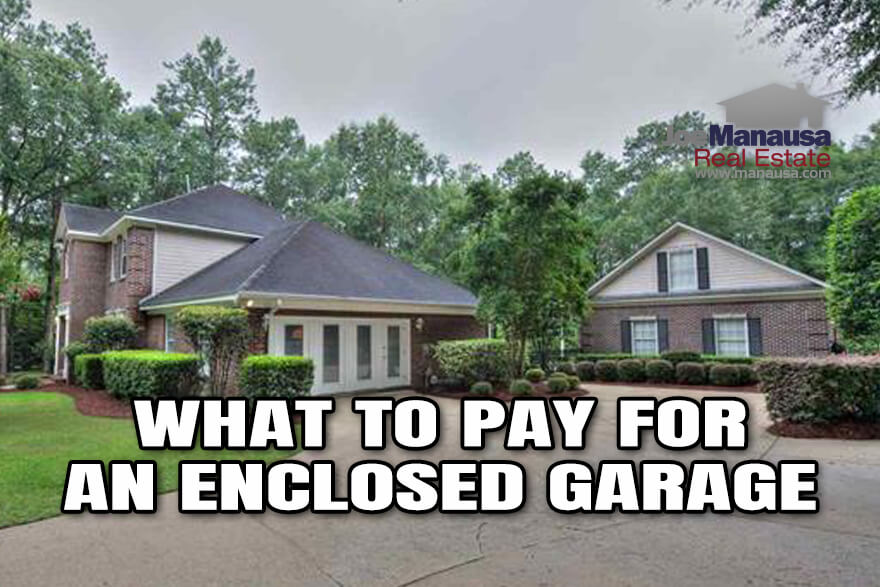 A frequently asked question that we often hear from homebuyers is what is an enclosed garage worth?
It seems like a simple question that should result in a simple answer, but that is not often the case. When somebody encloses a garage, it likely adds heated and cooled space to the home. Most people who enclose garages (when they go to sell), miscalculate the added value this enclosure brings.
Today's post will help you understand the value of enclosed garages so that you'll enter the housing market more informed, whether buying or selling.
Homes With Garages For Sale Right Now
Before we get to the analysis, here is a current list of homes with garages for sale in Tallahassee (updated every 15 minutes).
What Is An Enclosed Garage Worth?
Home Sales By Garage Type
Our first graph shows the total number of homes sold in Tallahassee each year, segmented by whether they have a garage, a carport, or no overhead coverage for a car. The data in all graphs covers all of 2004 through August of 2021.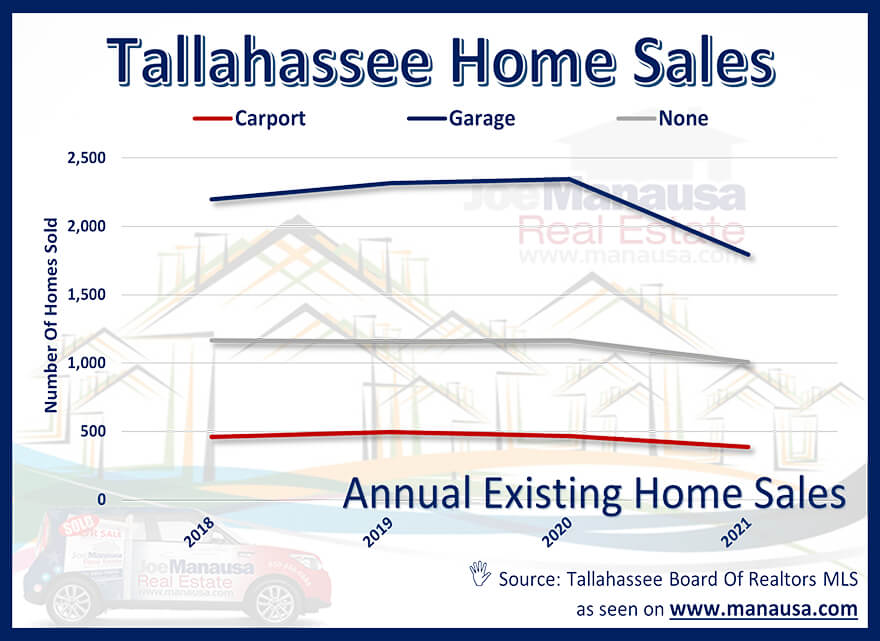 This graph provides an overall foundation for the property types (based upon garages) that you will find in the Tallahassee real estate market. It segments all home sales by whether they have a carport (red line), a garage (blue line), or no garage at all (gray line). Most homes with converted garages will fall in this third category.
Roughly 30% of all existing homes sold in Tallahassee have no garage, and unfortunately, I do not have data to tell us what percentage of those have enclosed garages. But that's OK, this information is very useful.
More important to you (as a buyer or seller), is what this percentage is in the neighborhood or area in which the home is located. If most homes in the area have garages, then you must understand that most home values are based upon homes with garages. If you are dealing with a home with an enclosed garage, then you have to make adjustments positively for the space that it adds, and negatively for the lack of a garage.
Of course, the opposite is true. If most homes do not have a garage, then a home in the area with a garage holds additional value.
Average Home Prices
Next let's look at what people are paying for homes, segmented by whether they have a garage, a carport, or neither of the two.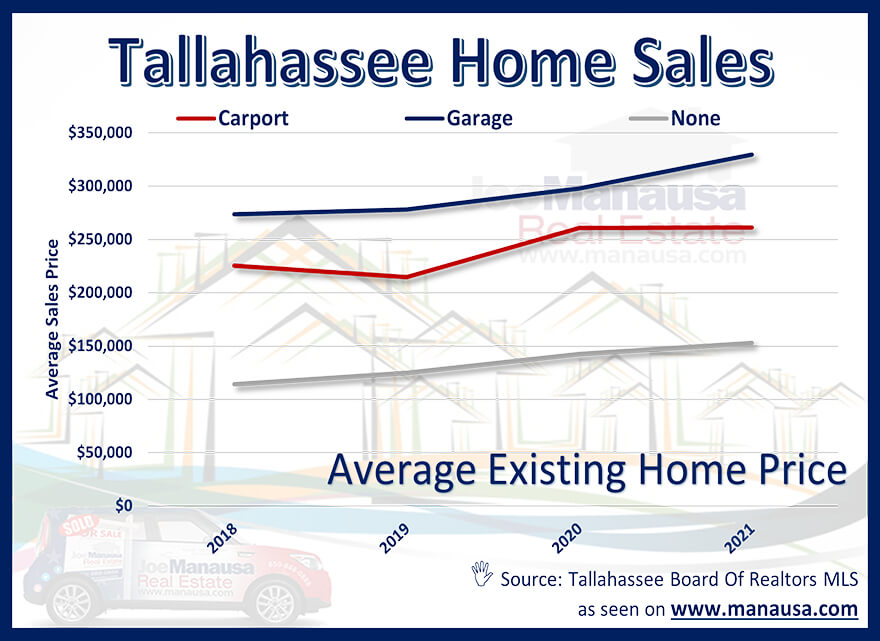 This graph clearly delineates the price structure of the housing market, where homes with garages cost the most, followed by homes with carports, and then homes with neither garages nor carports.
I would expect that a graph for most neighborhoods that contain homes with enclosed garages would not look like the above though, because homes with enclosed garages will often sell for more than smaller homes that retain the garage. As this is the main point we're trying to discover, I'll address this further after we have examined values and sizes.
Average Home Values
Similar to the previous graph, we see that the value hierarchy is garages, carports, and then neither of the two.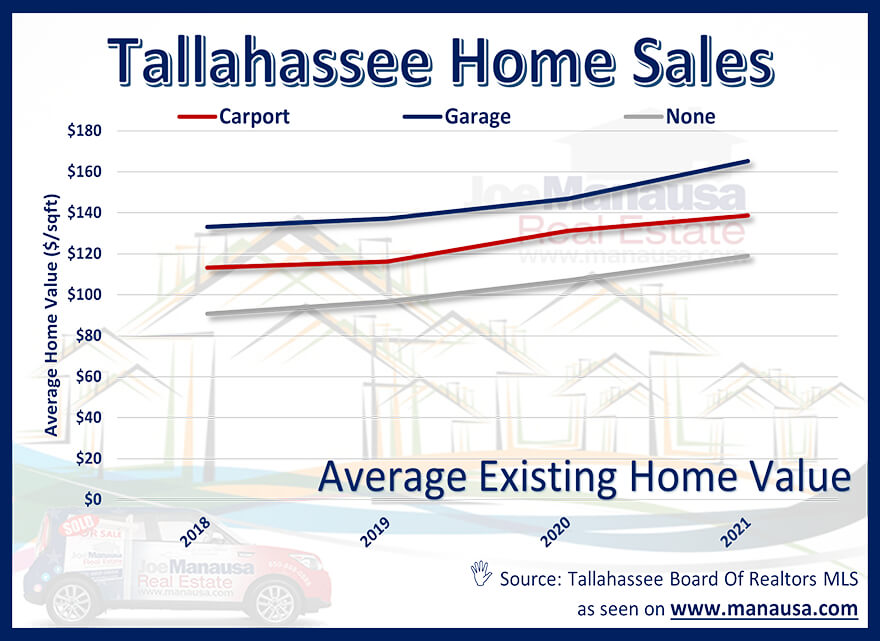 This graph gives us some great information on how parking accommodations impact home values. The actual values are far less important to us than are the relative values, as the actual values from one neighborhood to another will vary greatly.
The relative values from this graph show us that in today's market, through August of 2021, homes with garages have been selling for 39% more than homes with neither while homes with carports have been selling for 17% more than homes with neither.
Our Top Tips For Homebuyers
Average Home Sizes
The final metric we want to explore is the size of the homes in the area. This graph, like the previous 3, segments the market between homes with garages, homes with carports, and homes with neither.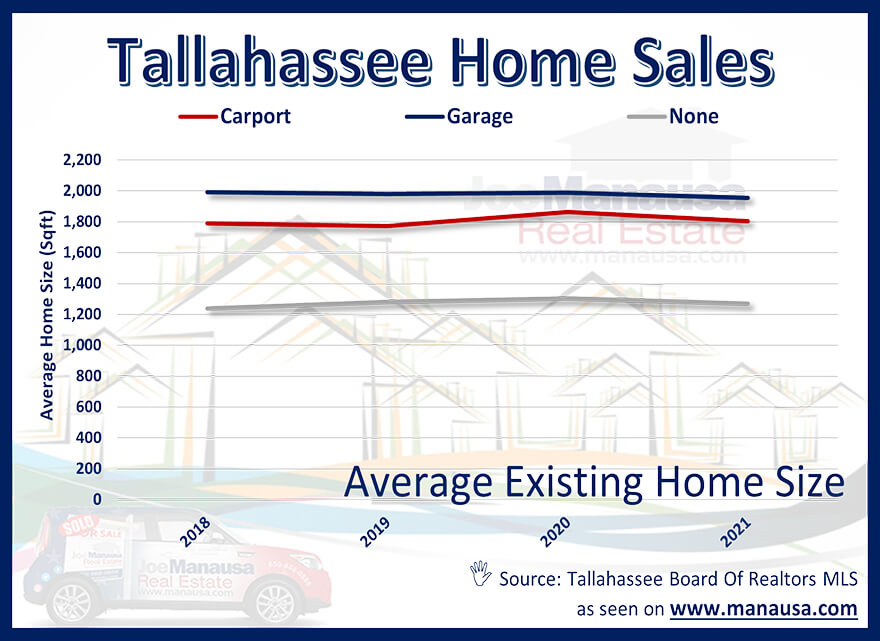 It's no big surprise that homes without garages are typically smaller than those that have a carport or garage, though that is very likely NOT going to be the case in a neighborhood where a home (or homes) have enclosed garages. More on that in the conclusion.
Overall through August in 2021, we find homes with carports are about 42% larger than those with nothing, and homes with garages are 54% larger than those with nothing. So why is this important?
It's important because the size of a home is one element of its value, and we know that homes with enclosed garages are bigger than they were prior to the enclosure. So this added size is an added value, but then we have to factor in the loss of the garage or carport that the home has suffered.
Valuations Of Homes With Enclosed Garages
It has been my experience that ignorant real estate agents and optimistic home sellers hit the market with far too high of an initial asking price for a home with an enclosed garage. Typically, the agent computes the average price per square foot of homes in the neighborhood and then applies it to the home with the enclosed garage. This improper calculation often leads to disappointment for the home seller.
While converting a garage does add valuable space to a home, one must consider the totality of the impact on the home. Here are some questions that must be answered before the value of a home with a converted garage can be completed:
Is the quality of the new space consistent with the rest of the home (ceiling height, a/c coverage, plumbing, etc.). In my experience, there is often a lower ceiling height and/or a lack of proper circulation for the heating and cooling system. Oftentimes, a wall-unit a/c has been added so you have to ask if a wall-unit a/c is consistent with the typical space one would find in the neighborhood. In other words, is the converted garage built to the same standards as what is usually found on the interior of homes in the neighborhood? If not, you cannot assess the local price per square foot to the new square footage of the garage, it has to be valued at a lower rate.
Is the home's new size consistent with what you find in the neighborhood? If the home's size is significantly larger than those around it, the value of the additional space is lessened. Why? Because people who want larger homes buy in different neighborhoods, so the additional space is more valuable, but not at the same rate as the rest of the home. The largest home in a neighborhood usually sells at the lower end of the value range (a higher price, but a lower price-per-square-foot).
After the garage was enclosed, was a new garage or carport added to replace it? If not, one has to consider the loss of covered parking as a loss of value. We've already seen graphs that show us that homes with garages or carports sell at a higher value than those without.
Does the overall value move in a positive or negative direction due to the enclosed garage? The loss of the garage is a negative value, while the addition of space is a positive value. One has to consider both in order to establish the financial impact of an enclosed garage on the home.
Converting a garage makes a home larger and in the majority of cases, more valuable. But my experience has taught me that many enclosed garages are not built to the same standard as the existing home, and thus the additional gain in value from the additional square footage is often neutralized by the loss of covered parking.
If you are thinking about enclosing a garage on a home, talk to a trusted Realtor about what you want to do and how it will impact the value of your home. If you are in the Tallahassee area, give us a call. We're happy to give you guidance before you spend money on your existing home.
If you are looking at buying a home with an enclosed garage, make sure you work with an experienced and active buyers' agent so you do not make too high of an offer on the home.
And finally, if you are planning to sell a home with an enclosed garage, make sure you hire an active and experienced listing agent so that you are not misled on the value of your home. It's critical to hit the market at the right price so that you can squeeze every dime out of the sale of your home.
Answers To Your FAQs What To Offer On A Home In A Sellers Market
We are experiencing the strongest seller's market on record, so you have to be prepared to make the right kind of offer if you want to buy a home today. And it's not all just about how much to offer, there is so much involved when making the "RIGHT" offer in a seller's market. I have shared my experience of selling thousands of homes in a seller's market, both with working for buyers and with working for sellers. I have shared 3 important home buying tips to enlighten you on what matters most to sellers so What are closing costs when buying a home?
If you are planning to buy a home now, or in the next few months, there are some fees and expenses you'll need to pay in addition to your down payment that you should know about. Other than your down payment, all money you spend when you buy a home are called "closing costs," and you should know about them ahead of time. Even experienced buyers can be surprised at all the costs that are associated with buying a home today. This short video will cover what you need to know so that you can (one, be prepared,
Your Local Expert In Tallahassee
When moving to, in, or from Tallahassee, you will fare better if you work with a local expert. We are here to help. If you have further questions on the Tallahassee real estate market, you can leave a comment below, give us a call at (850) 366-8917, or drop us a note and we'll give you the local information needed to ensure a successful, smooth transaction.
As a local born and raised in Tallahassee with a focus on customer service, I promise you'll find great success when working with Joe Manausa Real Estate, just as have our past customers. You can read thousands of their reviews reported on Google, Facebook and Zillow right here: Real Estate Agent Reviews Tallahassee.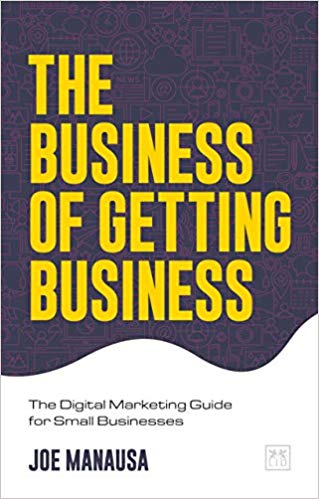 Have you heard about my new book "The Business of Getting Business?" It's a comprehensive guide for small businesses to help them make the move to digital. For those of us who want to survive and thrive in a world where large corporations are taking over, it is a must-read. It's also the perfect guide for how to sell a home in the digital age. You can find The Business Of Getting Business by clicking on any of the trusted retailers below.

Think all REALTORS are alike?
Read what people are saying about working with Joe Manausa Real Estate! You can see thousands of real customer reviews reported on Google, Facebook and Zillow at this link: CLICK HERE FOR REAL ESTATE AGENT REVIEWS.
I recently stumbled upon your latest Carrabelle listing. I must say, a home on Florida's Forgotten Coast is bound to be snatched up quickly. Best of luck with getting it under contract soon!

Posted by Barbara Corcoran on Thursday, June 15, 2023