How To Value A Home With A Converted Garage
Posted by Joe Manausa on Monday, November 25, 2019 at 5:51 AM
By Joe Manausa / November 25, 2019
Comment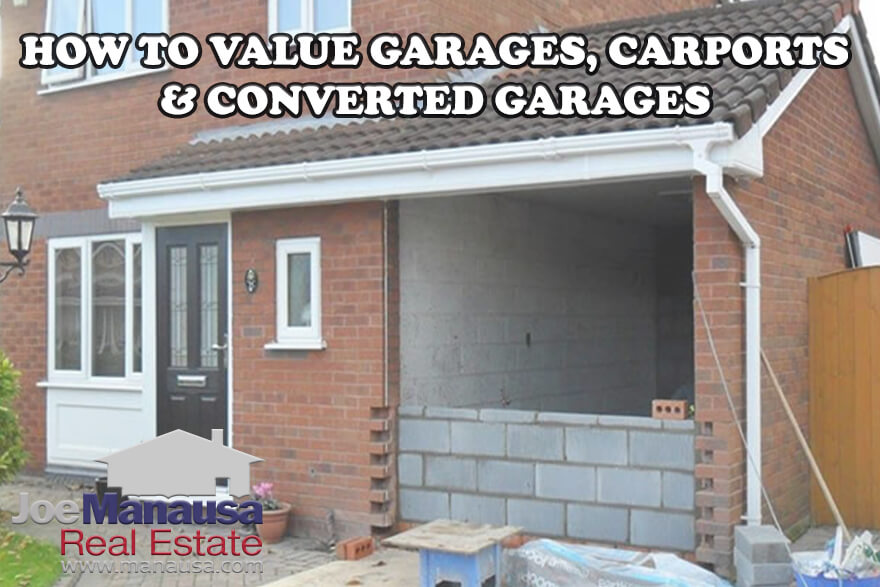 Does a garage affect the value of a home? Believe it or not, the answer is far more complicated than remembering a formula or dollar amount.
The addition of a garage (or carport) in a home sale adds value, but "how much" value is what you need to know in order to maximize the benefit of the transaction in which you will enter. And most difficult of all, how do you value a home with a converted garage?
Today's post takes a look at some statistics between homes with and without garages and then concludes with the methodology one should use to determine how a converted garage impacts the value of a home in any particular area.
Homes For Sale With Garages
Let's start with a list of homes for sale with garages in the Tallahassee real estate market.
Annual Home Sales
The graph below shows the total number of homes sold in Tallahassee each year, segmented by whether they have a garage, a carport, or no overhead coverage for a car.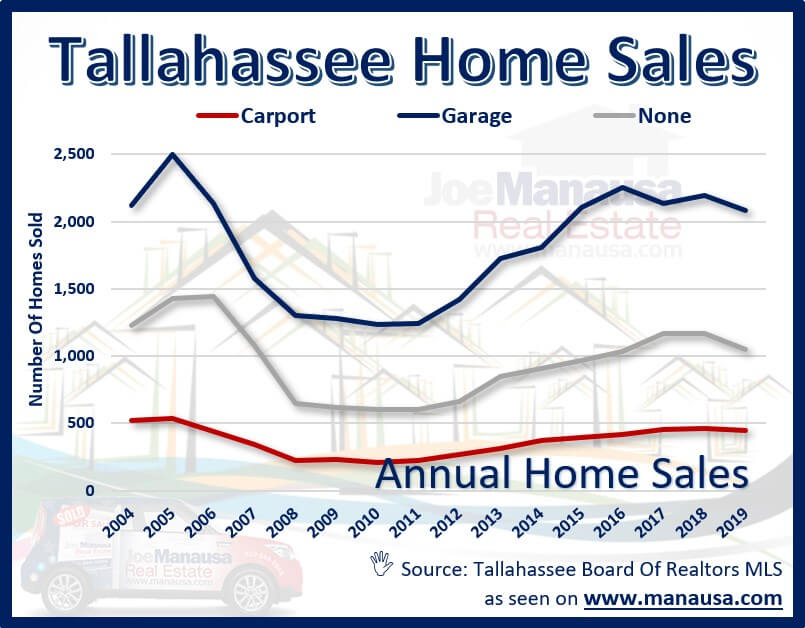 When trying to determine the value of a home with a converted garage, the first step is evaluating the demand for homes with garages in the area surrounding the subject home.
When we look at the number of homes sold each year in Tallahassee, we find that homes with garages typically comprise about 58% of all homes sold, while 11% of homes have a carport, and the final 30% have no overhead coverage for a car.
These numbers are important to know for the area and location in which you plan to sell or buy a home. If most homes have a garage, then you know that average prices include garages and thus corrections need to be made for homes that have less than a garage.
Of course, the opposite is true. If most homes do not have a garage, then a home in the area with a garage has some additional value.
Average Home Prices
The graph below shows the average price of homes sold in Tallahassee each year, segmented by whether they have a garage, a carport, or no overhead coverage for a car.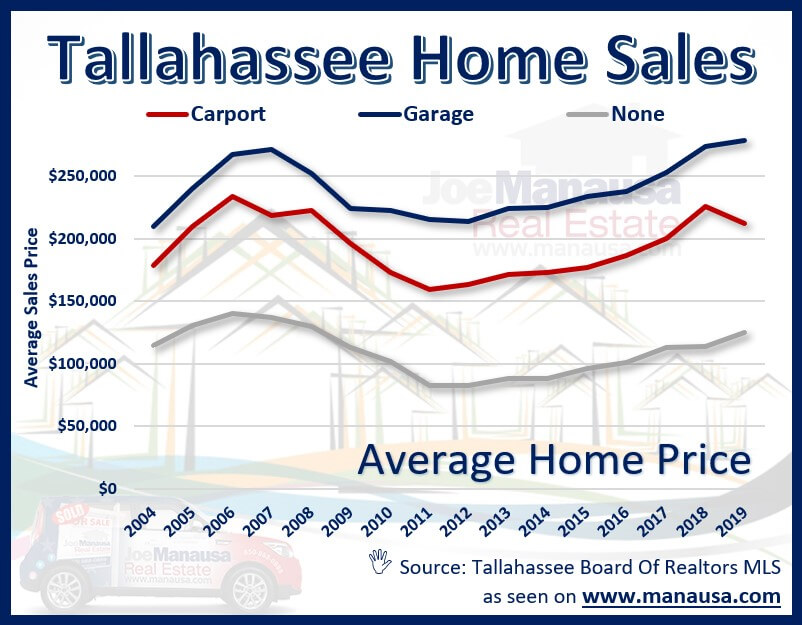 It's clear that people pay more for homes with garages and carports than they do for homes without overhead coverage for their automobiles, but the ratios between the two are not used in an absolute manner.
What we're looking for above is the trend of these differences, as it gives us an idea of what today's buyers value. Currently, carports are less in favor then they usually are, so we should consider that when determining the value of a home.
Average Home Values
The graph below shows the average value of homes sold in Tallahassee each year, segmented by whether they have a garage, a carport, or no overhead coverage for a car.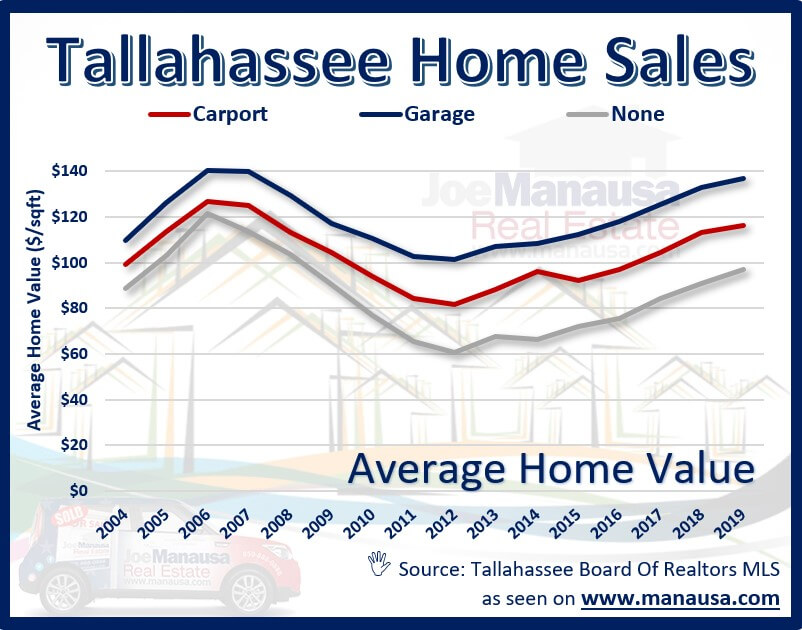 Home values are used in a similar manner as home prices, but the relative change from each is important too. Currently, (in 2019) homes with garages are selling at values 41% higher than those with nothing and homes with carports are selling at values 20% higher than those without, and both numbers are consistent with long-term trends.
I would take the graph above to mean that I should be valuing homes with carports and garages today in a similar manner as I would have in the recent past. As an example of a different reading, garages and carports held far less value in 2006 when the market was completing its unhealthy pace (the market was heavy with investors who perhaps did not value overhead protection for automobiles).
Speak To A Local Expert!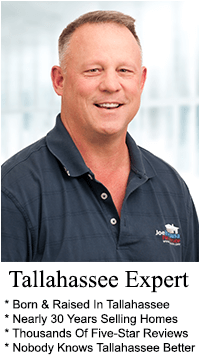 Joe was born and raised in Tallahassee and has been selling real estate here for nearly 30 years.
Let us show you how to take our local knowledge of Tallahassee and the current state of the housing market to use to your advantage, ensuring you the best deal possible when selling or buying a home.
His past customers speak volumes (you will see Joe's past-customer reviews after you submit the form) on why you should hire Joe to be your real estate agent.
Talk to us today about helping you negotiate a better deal, with better terms, when selling or buying your home. You'll be glad you did!
Average Home Sizes
The graph below shows the average size of homes sold in Tallahassee each year, segmented by whether they have a garage, a carport, or no overhead coverage for a car.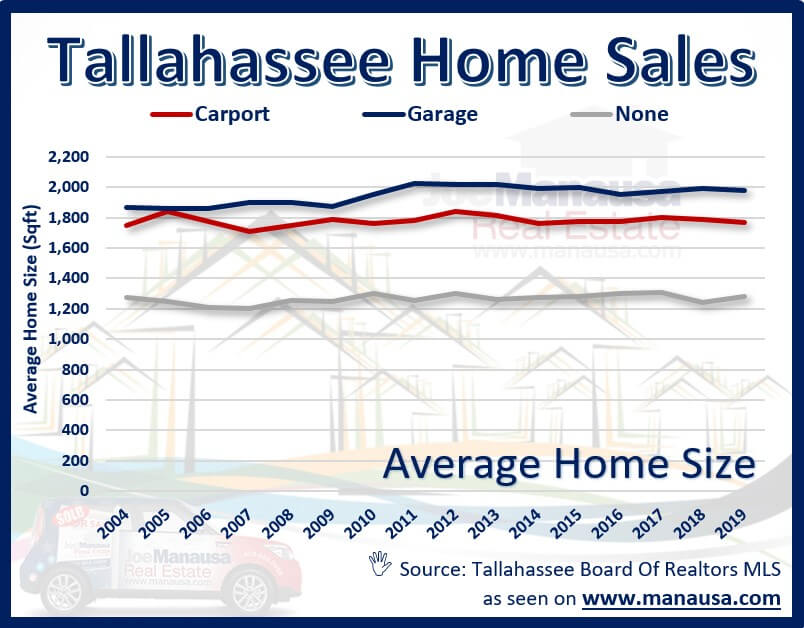 It's no big surprise that homes without garages are typically smaller than those that have a carport or garage. Overall, we find homes with carports about 41% larger than those with nothing, and homes with garages are 54% large than those with nothing. So why is this important?
The value of a garage or a carport can be tricky in neighborhoods where there is a mix of homes that have a mix of nothing, garages, and carports. The key is understanding what buyers in the neighborhood expect (and that is what the previous graphs showed for the overall market, but neighborhoods need to be isolated to determine local values).
Valuations Of Homes With Converted Garages
When somebody converts a two-car garage to a heated and cooled room for the home, they are adding more than 400 square feet of space to the home. An ignorant homeowner or real estate agent might assume they merely add that square footage to the size of the home and then multiply by some factorial to determine the new value. In fact, I see this all the time. But it is a huge mistake.
While converting a garage does add space to a home, one must consider the total picture. Here are some questions that must be answered before the value of a home with a converted garage can be completed:
Is the quality of the new space consistent with the rest of the home (ceiling height, a/c coverage, plumbing, etc.)
Is the home now "too big" for the neighborhood? If the home's size is significantly larger than those around it, the value of the additional space is lessened. Why? Because people who want larger homes buy in different neighborhoods, so the additional space is more valuable, but not at the same rate as the rest of the home.
Did the homeowner add a garage or carport to replace the one that was converted? If not, should there be a negative valuation included? If most homes in the neighborhood have a garage, the lack of one is a negative point!
Are the current trends for garages and carports favoring additional value for the missing garage?
Converting a garage makes a home larger and in the majority of cases, more valuable. But the degree of value growth is typically far less than a homeowner expects and rarely does the cost of the renovation reap a positive return on investment in a short period of time.
Help Us Help You
Did our November 2019 report on how garages affect home values provide you the information you were seeking? If not, you can give us a call at (850) 366-8917 or drop us a note and we'll help you with your specific Tallahassee real estate needs.
As a local born and raised in Tallahassee with a focus on customer service, I promise you'll find great success when working with Joe Manausa Real Estate, just as have our past customers. You can thousands of their reviews reported on Google, Facebook and Zillow right here: Real Estate Agent Reviews Tallahassee.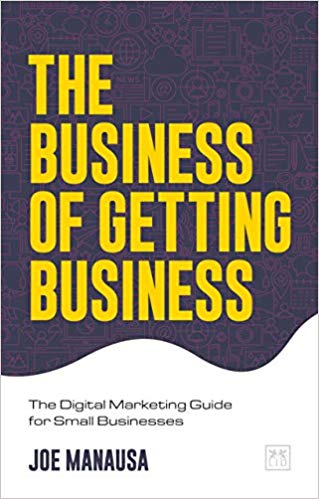 Have you heard about my new book "The Business of Getting Business?" It's a comprehensive guide for small businesses to help them make the move to digital. For those of us who want to survive and thrive in a world where large corporations are taking over, it is a must-read.
You can find it on Amazon (It will be published in Feb 2020, reserve your copy today at a pre-published rate).
Real Estate Market Information Can Be Overwhelming
That's why Joe breaks the data down into easy-to-understand concepts. Whether you're buying, selling, investing or just interested in the market, sign up for Joe's blog to get the latest Tallahassee real estate updates, straight to your inbox.