AVOID This MISTAKE! Big Tip For Selling A Home In A Strong Seller's Market
Posted by Joe Manausa on Monday, April 18, 2022 at 5:51 AM
By Joe Manausa / April 18, 2022
Comment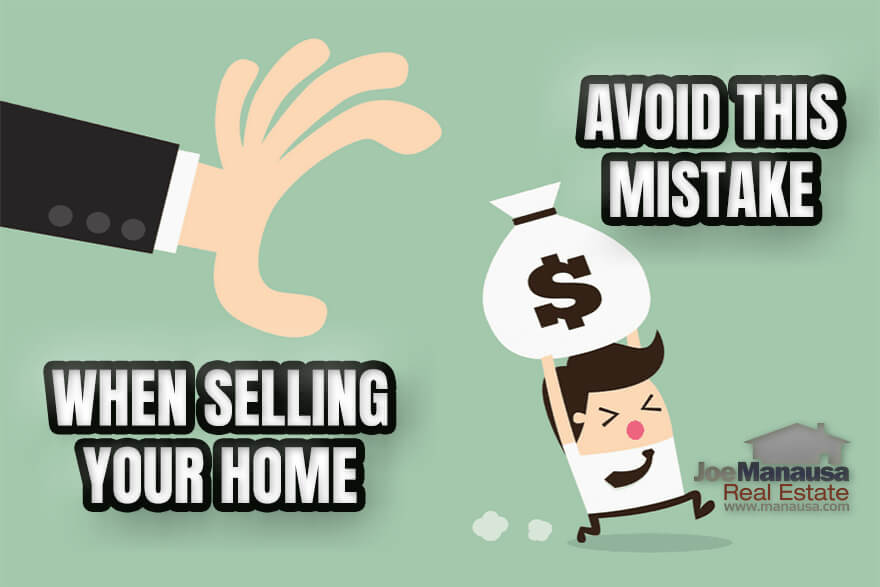 If you are getting ready to sell a home then this article will help you avoid making a horrible mistake that I'm seeing every single day.
As we continue in the midst of the strongest seller's market on record, one might assume that a seller can do no wrong. Now, if the standard of measure is getting the home sold, then I would agree, it's pretty easy out there. But if we toughen the stakes to getting the most money possible when selling a home, then you'll soon learn why so many sellers are making this costly mistake.
Picture this. You hire your friend who is in real estate to sell your home. It goes on the market, you receive three offers, and you select the best one that is a full-price offer. The home closes a month later. All good, right?
Two weeks after closing, you happen to notice a home down the street from the one you sold fetched $25K more than yours, and it wasn't as nice of a home. You wonder, is the market moving that fast?
This actually happened recently in Tallahassee, and no, the market is not moving that fast. The seller of the first home failed to emphasize a critical step in the sales process correctly and it resulted in them getting less than top dollar for their home. In this case, the seller discovered they had undersold their home (at full price!), but in most cases, sellers don't pay attention to their old neighborhoods and home prices and therefore do not even realize their losses.
My goal with today's article is to warn you of a horrible mistake I see daily and to prepare you to maximize the cash you pocket when selling a home in a strong seller's market.
The Best Sellers' Market Ever
Let's start off with a simple picture. The graph below was prepared from Tallahassee housing market data, but what I'm hearing and reading from agents all around the US, the same data could have come from just about any other market.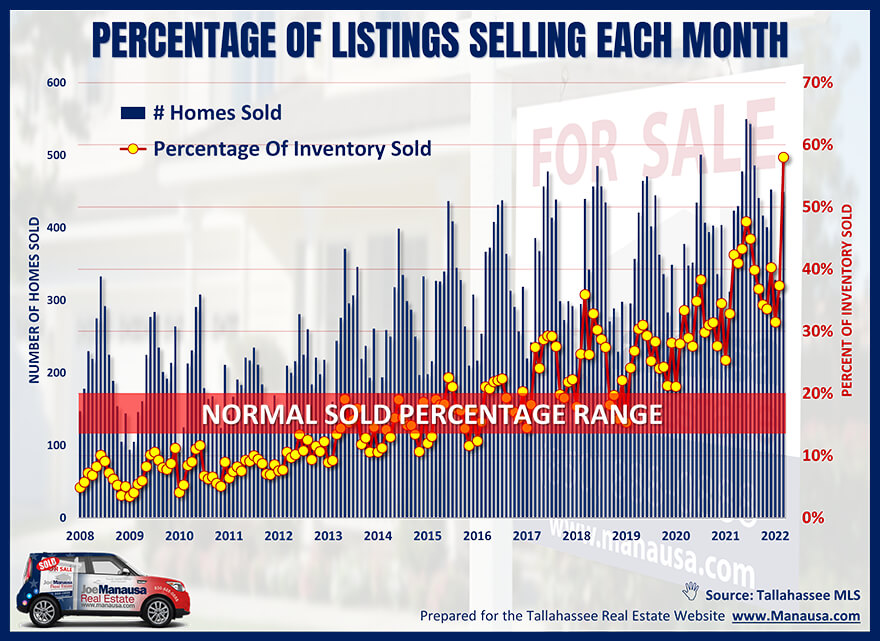 The graph above plots the number of homes sold each month as a percentage of the entire inventory of homes for sale. For example, if there were 1,000 homes listed for sale and 100 were sold in a month, we would see a yellow dot at the 10% level for that month.
This graph starts in 2008, when the inventory of homes for sale was much larger than the beaten-down rate of demand. Lending standards had changed and a great portion of the market of buyers had shifted over to the rental market as tenants. At one point in 2008, only 3% of the homes on the market actually sold in a month. So what did that mean?
That means for every 33 home sellers hoping to get rid of their homes, only 1 succeeded (and 32 failed)!!! It was a very tough time to be a home seller. But look at how the market healed over time. From left to right, we see that the percentage of successful sellers rose over time. By late 2016, the market was fairly balanced.
Now look to the far right and you'll see why today is so much different than "normal." Last month, 57% of the listings sold! That's a far cry from just 3% fourteen years ago.
To say that today's market conditions favor sellers is a gross understatement, and I think most homeowners know it. But just because conditions are fully in your favor does not mean you will automatically squeeze the most money possible from your home sale, you still have some work to do!
How Homeowners Lose Money When Selling A Home
While there are many ways a homeowner can lose money (or leave money on the table at closing) when selling a home in a seller's market, the biggest one occurs without them even knowing it happened.
If I could only give you one tip for selling your home, it would be this:
Take advantage of technology to squeeze an extra 5% to 10% more out of your home.
And I'm talking about the top line, not the bottom line, so that extra 5% to 10% flows fully to your bottom line and could easily double your net proceeds from the sale of your home!
Before I get into the specific technology that will grow your sales proceeds, I want to clarify a point that might not be obvious. In today's seller's market in housing, homeowners are successfully selling their homes (and often feeling happy) but at prices less than they could have fetched had they used a modern home selling process.
I consider it a loss when somebody walks away with less than their full equity from their home sale. While a small minority of home sellers just want to get rid of a property, the reality is that most people's home is their largest asset and they NEED to get every penny possible from its sale. Moving forward, it is this majority to whom I'm providing guidance.
Subscribe to Joe's Blog
Join 1000's of other subscribers that receive updates each day that we publish a new article. Filled with homes for sale, neighborhood analyses, and all the information home sellers and buyers need to make an informed decision. Just tell us who you are and where you'd like us to send new updates.
You Must Not Surprise The Market
In the old days, before digital marketing (and before the internet of things), it took roughly 45 to 60 days to truly hit the market when selling a home. You had to take pictures (and then get them developed), and then you had to submit the listings to the MLS and magazines which were printed on a monthly basis. Based upon print production deadlines, it could very well be two full months from listing a home to being "on the market."
But times change. Technology changes. Things are different today.
Today, I can hit 95% of the prospective buyers for a home in less than a week. In fact, most real estate agents can hit more than one-half of the pool of buyers for a home in less than a week by listing your property in the MLS. But here's the missing ingredient:
To get top dollar for your home, you have to increase the competition among buyers for your home. They have to feel and fear the competition from many other buyers in order to motivate a few of them to make crazy, well-above asking price offers.
To optimize the competition, it is critical that you do not "surprise the market!"
Your home shouldn't be listed for sale in the MLS without (at least) one week of vigorous pre-marketing. It should be featured on the top coming-soon website in your market area, it should be registered in the local MLS as a coming-soon listing, and your real estate should be spending some money promoting your home on the major social media channels.
Why Most Agents DO NOT Pre-Market Real Estate Listings
I suspect the primary reasons that agents don't pre-market real estate listings correctly are that they have not been taught of its importance, they do not want the extra work it requires, or they do not have the resources it takes to do it right. Regardless, do not hire an agent to sell your home until they fully explain how they will aggressively pre-market your home!
Now if you are a wise reader questioning the value of pre-marketing during a hot seller's market, then consider this:
Does Apple "surprise the market" and announce they have a new phone for sale? Does Mercedes put cars on lots as their first notice to the public that the new models are out? Does Intel keep quiet on their new chips until after they have been released? NO! No! and No!
Technology (specifically digital communications technology) allows us to get the word out BEFORE a product hits the market. This creates anticipation, but it also brings more buyers to the table at the same time. When a home hits the market without a strong per-marketing plan, only the hyper-vigilant buyers know about it right away. And they make offers right away before everybody else hears about the home.
Do you really want to restrict your marketing reach to just hyper-vigilant home buyers?
Smart sellers use pre-marketing to ensure that the buyer who is willing to pay the most for the home knows that competition for the home is fierce. Now, let's go back to the beginning of this article, where the seller who had 3 offers left $25K on the table. How did that happen?
The home in question was one that could have generated as many as twenty offers from buyers. Now, twenty offers create a lot of extra work for the real estate agent (when compared to three offers), but it's absolutely beneficial for the seller for several reasons:
Listing agents are people. Busy people! Some agents prefer to deal with fewer offers to keep things "manageable." Sellers should not want "manageable," they should want chaos! Two offers is better than one! Five offers is better than three. Twenty offers is better than five! One hundred offers is better than twenty! You get the point, right? For home sellers, more offers equate to more money.
Not all offers come from viable buyers
Not all offers have the most favorable terms for the seller
Not all offers are written by experienced agents (sellers have to trust what they're told by the buyers' agent)
A good listing agent will work individual pieces of offers against each other. They will tell one buyers' agent "we've already received a cash offer" while telling another "another buyer has removed all contingencies from their offer." We combine the terms of one offer with the terms of another offer to get the most motivated buyer to make the strongest deal possible for the seller. None of this is possible unless you create a buying frenzy.
Pre-marketing a home is almost unheard of in real estate, yet it is no different than treating the home as a new product with a well-published launch date. I have found that sellers who allow us to pre-market the home for at least two weeks get the strongest offers when they hit the market.
Remember, it is critical for home sellers to avoid surprising the market by starting the process of selling with a listing in the MLS. And speaking of the MLS, a coming-soon listing in the MLS is only a small subset of the pre-marketing plan. It alone does very little to pre-market a home.
Pre-marketing a home gets the word out en masse prior to a home hitting the market, alerting as many prospective buyers as possible to its upcoming launch date. These buyers will see and feel each other's presence and a feeding frenzy ensues. It is this feeding frenzy that brings the extra money to a home seller's top and bottom lines.
Avoid the mistake of surprising the market, it will put (more) equity in your pocket when you finish at the closing table selling your home. It is not common to find a real estate agent who pre-markets properly, so put in a little extra effort finding your agent and you'll be glad that you did!
There are a lot of people who endorse Joe for the job of selling your home, from Barbara Corcoran (Star of ABC's Shark Tank) to Preston Scott (host of Tallahassee's top daily "Audio Magazine," as well as the thousands of happy customers Joe has helped in the past. Listen why!
I recently stumbled upon your latest Carrabelle listing. I must say, a home on Florida's Forgotten Coast is bound to be snatched up quickly. Best of luck with getting it under contract soon!

Posted by Barbara Corcoran on Thursday, June 15, 2023