Relative Home Supply In Tallahassee Improving
Posted by Joe Manausa on Wednesday, October 7, 2009 at 9:24 AM
By Joe Manausa / October 7, 2009
Comment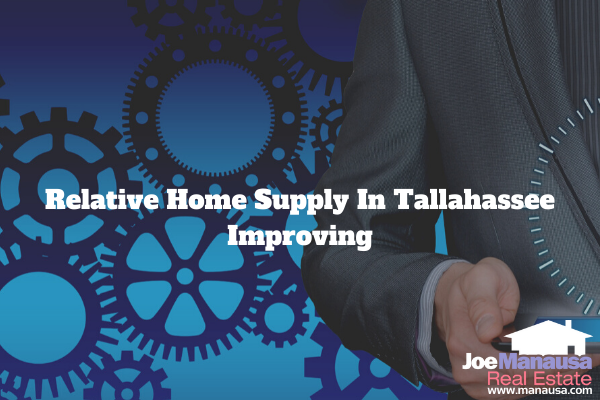 The relative home supply in Tallahassee improved again during the month of September. For new readers to the Tallahassee Real Estate Blog, relative home supply is the supply of homes for sale in Tallahassee, measured in months of supply, relative to the current demand for homes. By paying close attention to the supply and demand dynamic in Tallahassee housing, we can anticipate current and future housing market moves.
Valuable Home Supply Report
The report is valuable for all consumers, whether you want to buy a home in Tallahassee or sell a home in Tallahassee, it is good to know what competition exists for each area and each price range.
The housing report is broken down into the four quadrants of the Tallahassee real estate market:
Northeast Tallahassee homes
Northwest Tallahassee homes
Southeast Tallahassee homes
Southwest Tallahassee homes
Relative Home Supply Dropped In September
The relative supply of homes for sale in Tallahassee dropped by about 10 days worth of inventory during the month of September. The real estate chart below shows how each price range changed during the month. Figures in red represent a reduction in the inventory of homes, while figures in black show growth in the inventory.
While inventory reduction is always good news, we still have a long way to go. The Northeast quadrant of Tallahassee was the only area that showed improvement, but it showed enough to carry the entire market totals. The number of homes for sale in Tallahassee is still way too high. A balanced market is 6 months of supply, and we do not see this level in any area or any price range in the Tallahassee housing market. But we are starting to see some bright spots in certain price ranges ...
Northeast Tallahassee Home Supplies Show Greatest Drop
Northeast Tallahassee showed the greatest improvement during the month of September, with supply dropping over 6% to 12.2 months of supply of homes. One bright spot in particular is the median price range ($150,000 to $200,000) in the Northeast has been reduced to 7.5 months of supply.
Northwest Tallahassee Home Supplies Show Little Change
The supply of homes in Northwest Tallahassee showed the least change during the month of September, growing by less than 1%. With over 17 months of supply, the Northwest needs to reduce inventory by over 50% to get to a balanced market.
Southeast Tallahassee Home Supplies Show Slight Growth
Southeast Tallahassee saw its housing inventory grow by nearly 2% during the month of September. The Southeast had been seeing great declines in inventory during previous months and has been the best performing quadrant in Tallahassee in terms of relative supply. The Southeast has to reduce inventory by just under 50% in order to find market equilibrium.
Southwest Tallahassee Home Supplies Show Growth
Unfortunately, Southwest Tallahassee saw an increase of 5% in relative supply during the month of September. The Southwest has been the worst performing section of the Tallahassee housing market, and this additional growth takes it to a dismal 22 months of supply. That means at the current rate of sales, there are nearly 2 years worth of homes already on the market in the Southwest portion of the Tallahassee real estate market.
Keep An Eye On Relative Home Supply
Whether you are buying a home in Tallahassee or selling a home in Tallahassee, the information that these reports contain is critical. A home seller who has a$125,000 home in the Southwest has nearly 3 years worth of supply, meaning competition is fierce. The same price range in Northeast Tallahassee has 8.6 months of supply, meaning less competition. If I was a buyer in this price range and did not have a concern about which area of town in which I wanted to buy, I would look for an incredible bargain in the Southwest portion of the Tallahassee housing market.
As a reminder for those who subscribe to the Tallahassee Real Estate Blog by email, some embedded pictures and videos might not be appearing in your email and you might need to click the title header to go to your browser where all will be visible. Additionally, if you would like to respond (leave a comment) to this article, you will need to "click through" to the blog site to post your feedback.
Keep checking out the Tallahassee Real Estate Blog every day for updates on real estate in Tallahassee Florida.
Please Do Us A Small Favor
We work very hard to produce daily content for our long-time readers and first-time visitors. We provide this information for free, hoping to earn your respect and trust and the right to one-day help you when selling or buying a home. Can we get your help spreading the word about our blog?
If you like the content, would you please like it or share it using the Facebook button at the beginning of the post? This simple action will be greatly appreciated! THANK YOU!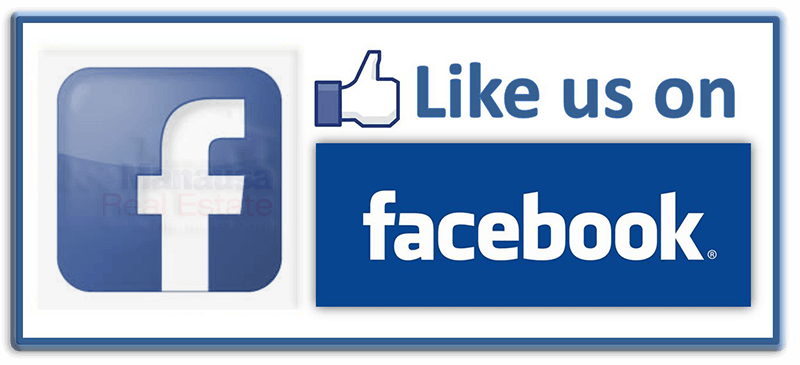 Also like us on Facebook at https://www.facebook.com/joemanausarealestate/
Joe Wrote The Book On How To Sell A Home Today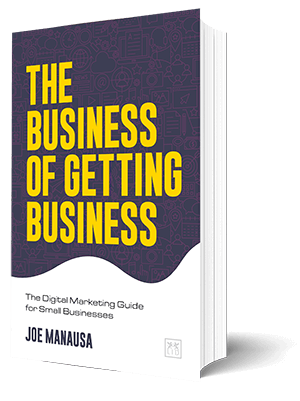 "Location, location, location' is no longer a competitive advantage. Digital marketing and going direct to consumer have made all geographical boundaries obsolete. The Business of Getting Business is a must-read modern-day survival guide for any local business to get to the next decade. Local businesses are on death ground.
They can either take a stand and re-invent themselves by embracing the digital frontier and have a chance to survive the overwhelming odds of digital direct-to-consumer capabilities that have erased all local and national business distinctions, or they can choose business as usual and accept certain death.
The Business of Getting Business is the critical survival guide for those that choose to dig in and fight."
– Anthony Noto, CEO, SoFi and former COO, Twitter
Get the book that explains it all, in a manner that is understanding to all, even technology neophytes. It's available on Amazon, a trusted source for consumers.

Think all REALTORS are alike?
Read what people are saying about working with Joe Manausa Real Estate! You can see thousands of real customer reviews reported on Google, Facebook and Zillow at this link: CLICK HERE FOR REAL ESTATE AGENT REVIEWS.