The Oldest Real Estate Question Ever: Should You Rent Or Own A Home?
Posted by Joe Manausa on Tuesday, October 17, 2017 at 7:50 AM
By Joe Manausa / October 17, 2017
Comment
The answer to renting versus owning a home cannot be summed up in one sentence, nor does the same answer apply to everybody.
If you have pondered renting a home versus buying a home, then I wrote this just for you.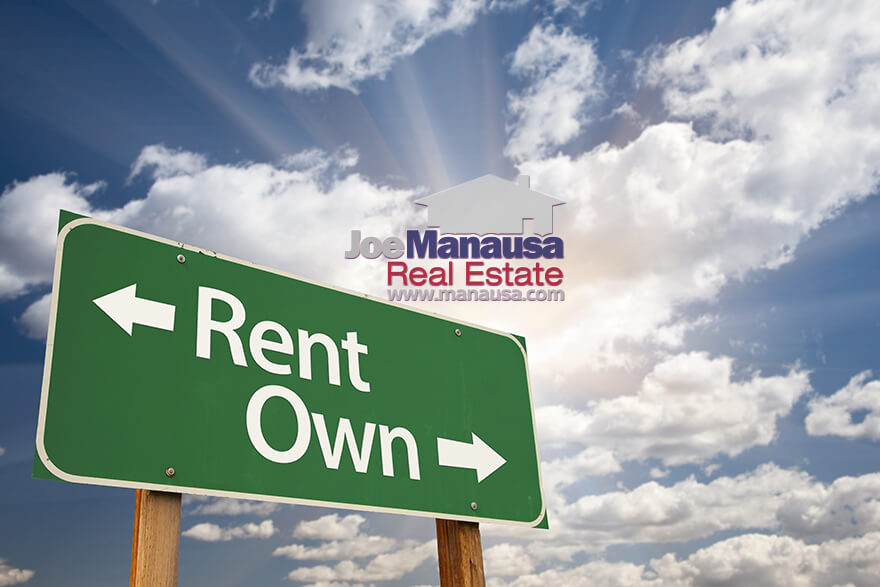 Should You Rent Or Own A Home?
The decision to rent a home versus buying a home is one that often plagues people who are unsure in how long they plan on living in an area. If you find yourself considering your options, then you've probably found that most articles written on this subject were penned by a real estate agent who makes a living (SELLING) homes, so naturally most of them recommend "now is the time to buy!"
By way of disclosure, Joe Manausa Real Estate is not a property management company, so we purely make our living selling homes. We love when people make the decision to buy, and we're naturally inclined to favor a buying situation for most parties.
But as you can see from our hundreds of testimonials and recommendations from past customers, many of whom we recommended to wait before buying, we have a long-term outlook with our customer relationships, and provide sound advice to the benefit of our customers. We know that good advice spreads quickly, and what we lose in those who need to rent pale in comparison to the referrals we receive from our happy customers. In other words, here comes good advice whether you decide to rent or buy a home.
Thoughts On Planning Your Next Move
There is no way to provide advice that will uniformly and specifically provide the guidance one needs to make a decision when it comes time to choose between renting versus owning a home, but the following thoughts and questions (and your answers) will likely guide you to the best course of action.
Remember, choosing a residence is not merely a decision founded on economics, it also requires one to consider quality of life issues.
For example, if you are single, love to travel, and hate maintaining a yard, you might want to consider leaning towards being a tenant. There are some great multi-family properties (apartments, condominiums, etc.) that you could lease which will allow you very little attachment to the property.
On the other hand, if you plan on being in Tallahassee for more than three years and don't want to have to change locations after this next move, you might want to consider ownership.
Regardless of your situation, you would be absolutely crazy to make a decision (unless you absolutely know what you want) without gathering information and considering the real impact of each alternative.
6 Things To Consider Before Choosing Between Owning Versus Renting A Home
Do you favor one versus the other? This might sound simple, but what you want to do should matter. Too often, people decide to take a course of action because they believe it's what they "should" do or because somebody else tells them they ought to decide one way versus the other. While you should not solely rely on this point as an absolute, it certainly should guide your decision.
How long do you plan to live in your next home? This question can fall under the economics category, as you rarely should be looking to buy a home if you plan on moving in the next year or so. Even if you are not planning a move, if your occupation is questionable, you really don't want to have to sell your home within the first three years of ownership. Between the closing costs in selling and the closing costs in buying, it usually takes more than three years to recover your full investment when owning a home (note: see next question, as it greatly impacts this point). Conversely, if your occupation is sound and you'll likely be spending more than five years in the home, you'll likely want to enjoy the equity you gain through appreciation and debt reduction when owning a home. There is always a risk of a downturn in the market, but if you have the wherewithal to move when you want to move, home ownership will very likely be the smart economic choice. Of course, you need to know the answer to the next question before this should be considered.
How will you complete a purchase if you choose homeownership? - This is not an issue if you are a cash buyer (or have great credit and enough cash for a reasonable down payment), but if cash is tight and your credit not so good, you might not be in a position to buy right now. The key is to meet with a creative buyer's broker before you decide you are not in a position to buy. Often times, there are seller's who are willing to work with buyers that do not conform to normal purchasing conditions, so you just need to know where to look. Credit challenges and low cash reserves are where we often see people make the choice to rent because they do not fully explore their options to buy. They think their credit is too low or they think they do not have a large enough down-payment to support a purchase. While these factors very well could dictate a rental decision, do not rule-out buying solely on these points without first meeting with an expert.
What are the current market conditions for the home you would like to occupy? The market right now is very much a seller's market for homes under $450K in most of Tallahassee. While at first blush this might make you think it's a bad time to buy, the reality is quite the opposite. Homes are going up in value now at a faster rate than we normally see. If you buy a home today, it will be worth more tomorrow. How long will this last? (Great question, I'm glad you asked) The current relationship between supply and demand is the most lopsided the Tallahassee real estate market recorded in more than 25 years. Supply is low, values are moving higher, and new construction is starting to heat up. This means existing homes will be appreciating at faster than historically normal rates (until supply moves towards a glut). Simply keep an eye on supply (or work with a professional who can provide you something like this), and you'll be able to forecast whether or not appreciation will likely work in your favor.
Is renting really an option (is buying really an option)? Sometimes, there really aren't homes like you want in the rental market (or for purchase market). I would strongly recommend you meet with a real estate professional to have him or her show you what is available in your price range. Sure, you can look online, but you'll never find all of the potential deals and options that a seasoned professional knows about. The worst way to make your decision is uninformed, so why not compare what you can rent with what you can buy, and then calculate the true cost each way? Right now, mortgage interest rates are very low, so your dollar goes a long way. But you'll also find that rental rates in some areas are very affordable now due to this same reason.
Location, Location, Location - If you choose to rent, are you open to areas where you would not consider if you were buying? You see, if you decide to rent short term, you might find a location that is slower in the housing recovery than in areas where you will want to consider buying. Just know that renting now and buying later means two moves ... which increases your cost of living.
Buy A Home Versus Rent A Home Today
If you are planning a move and need to answer this question of renting versus buying yourself, we would love to help.
We can walk you through all the questions, the market, the inventory of homes that you like, as well as all the cash and financing questions or challenges you might be facing. We have helped thousands of people buy a home in Tallahassee, and we've made great recommendations to those that needed to rent as well.
All you need to do is give us a call at (850) 366-8917 or drop us a note and we'll be in touch right away to set up a time to just talk.
Want to know how we're doing? See what our recent clients are saying below!