Should You Add A Pool To Your Home Or Move To A Home With A Pool?
Posted by Joe Manausa on Wednesday, October 18, 2017 at 7:45 AM
By Joe Manausa / October 18, 2017
Comment
Do you love swimming but don't know whether to add a pool to your home or move to a home with a pool?
This is a common question in Florida, and here's what you should know before you decide.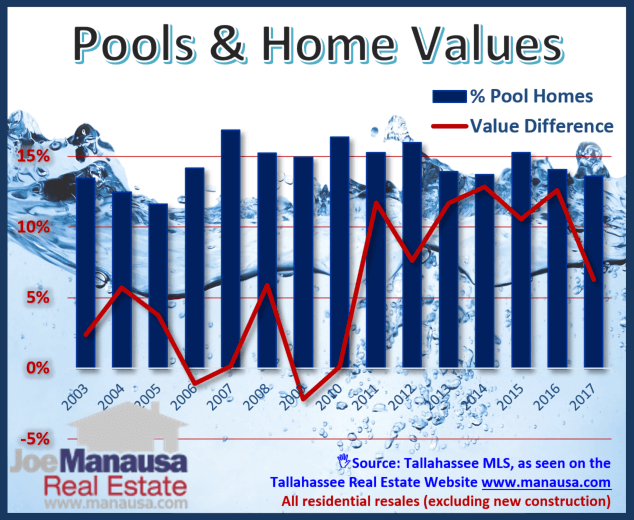 Swimming Pool Information (Tallahassee, FL)
The graph above shows information about the sale of homes with swimming pools in Tallahassee.
The blue bars show the percentage of homes sold that have pools (about 14% thus far in 2017), while the red line shows the value difference for pool homes versus those that do not have pools (on average, pool homes sell for 6.3% more than homes without pools).
One way to express the above information is to say that this year, buyers have been willing to pay 6.3% more for homes with pools than they have been willing to pay for homes without pools. Last year, buyers paid, on average, 12.6% more for homes with pools. Relatively speaking, homes with pools are cheap this year.
But what does this really mean for the value of a swimming pool?
How To Determine The Value Of A Swimming Pool In A Real Estate Sale
The first thing you should know is that a swimming pool is an asset for the homeowner.
As such, we know that the value of an asset changes over time, and relates to many different factors. Values go up, values go down, thus determining an asset's value requires one to understand current and existing market cycles.
Our graph shows that there were two years where homes with pools actually sold (on average) for less than homes without pools.
Over nearly 14 years worth of data from the Tallahassee MLS, our finding is that on average, pool homes sell for 5.9% more than do homes without pools. Of course, I recommend that you use current information in order to determine the current market and its impact on the value of a swimming pool in a real estate sale.
Current Median Home Price (No Pool): 1,587 sqft feet for $172,756
Current Median Home Price (With Pool): 1,587 sqft feet for $183,563
Thus, for median sized home in Tallahassee, a swimming pool's value (on average) is about $10,800.
Anybody who has ever had a pool added onto a home will tell you the cost is far more than $10,800. Last year, the market would have valued the pool at $21,600 (twice this year's value!).
This technique is a good way to view the market's appetite to homes with pools, but it is NOT an exact process to use when determining an offer value on a home. Varying pool types and sizes will appraise differently. Work with a competent real estate professional who can guide you to specific market information in the area and price range for which you are interested.
Should I put in a pool or move to a home with a pool?
If you are faced with this situation, you should consider all the reasons that you like your current home and compare them with all the reasons you might want to move. To do that, you need to know about the real costs of adding a pool to your existing home.
Get a well-respected swimming pool contractor to bid your project so that you know exactly what you'll be comparing when looking at adding a pool or buying a pool home.
When you get your bid, don't forget to add the cost of re-landscaping where the heavy duty equipment has had to run through your yard (and likely repaint fences, patch driveways, etc.).
If the decision boils down to the swimming pool, our data clearly shows that in every market, you can buy a home with a pool at a price far lower than it takes to add a pool to your home.
If you really like your current home but would be motivated by significant savings, I would say that now is the best time since 2010 to buy a home with a pool. The market is discounting pools right now in the valuation process, so you very likely can pick up a pool for pennies on the dollar.
If you'd like to see the best pool homes for sale in Tallahassee, give us a call at (850) 366-8917 or drop us a note and we'll be in touch right away to set up a time to just talk.