What The Increase In Tallahassee Realtors Means For Real Estate Consumers
Posted by Joe Manausa on Tuesday, November 21, 2017 at 8:44 AM
By Joe Manausa / November 21, 2017
Comment
The real estate market continues to out-perform previous years going back more than 10 years, yet the average Realtor in Tallahassee is selling fewer homes.
This might appear to be just "industry news" for those in real estate, but home sellers and buyers should pay attention to what it also means for them.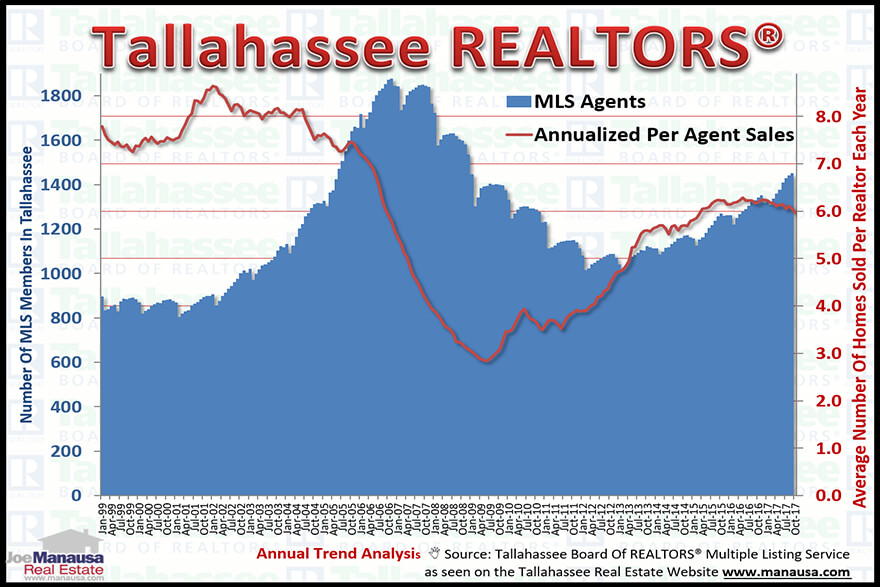 Tallahassee Realtors
The number of Realtors in Tallahassee has grown to more than 1,450 (through September), which is the highest count since the end of 2008.
The market is expanding, more people are interested in moving, so naturally more people think it is a good time to get their real estate license and then help those who need to sell a home in Tallahassee and/or buy a home.
The graph above shows, in blue, the number of Realtors in Tallahassee who have access to the Tallahassee MLS and (might) be involved in selling a home here. The red line shows the average production, per Realtor, over time.
As you can see with the declining (red) trend, the average Realtor will sell a home in Tallahassee fewer than 6 times this year. Another way to express this is that the average Realtor will sell a home about every two months.
So what does this mean for you?
Is Your Agent Too Broke To Be Your Broker?
Most Real Estate Agents Have No Marketing Budget
The average real estate agent in Tallahassee will only sell five homes this year, and more than half will sell two or fewer. This means they do not earn enough money to spend the significant amount it takes to attract MANY buyers to your home.
They certainly cannot spend the type of money needed each day to promote your home and generate the buzz you need to attract MULTIPLE buyers. We are effective. And we spend more money each month marketing our listings than most agents earn in a year.
Let us show you how we can get your home sold for MORE MONEY than anybody else in the market!
Your Listing Realtor Matters
You might think that since you only have one home to sell, it really doesn't matter how many homes are sold by a Realtor in a year, right? Wrong!
A successful home marketing plan requires your agent to spend thousands of dollars each month promoting listings to draw buyers to your home.
An agent who sells six homes each year (using the median home price in Tallahassee) earns roughly $22,000 per YEAR (before expenses). How can somebody who earns less than $2,000 per month spend thousands of dollars each month marketing homes? (hint: they don't)
We spend more money marketing our properties each month than most agents earn in a year. This means you will see more buyers at your house and this will help drive up the price.
Shark Tank's Barbara Corcoran Says What She Would Do
Interview A Realtor Specialist
Take the time to learn what you need to do to save money when you sell a home and when you buy a home. Even if you don't plan to move in the next few months, we encourage you to sit down with a specialist to start to develop your plan.
Not wanting to sell over the holidays? Check out this ingenious way to have your cake and eat it too!
We are here to help.