How Long Does It Take To Sell A Home In 2020?
Posted by Joe Manausa on Thursday, July 16, 2020 at 5:51 AM
By Joe Manausa / July 16, 2020
Comment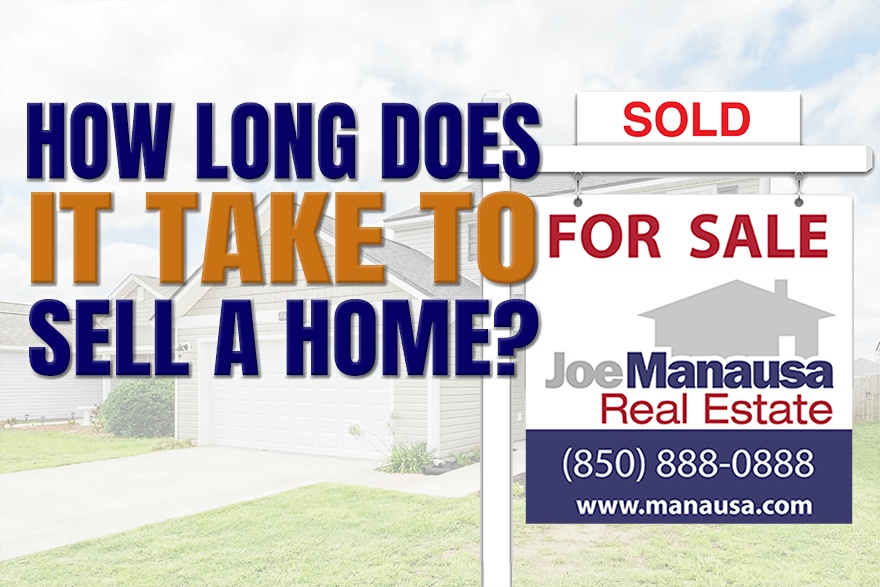 How long does it take a home to sell in 2020?
I've been asked this question a lot recently, and it made me realize a full explanation was in order. Why? Because if you understood how to sell a home for top dollar, you would know that it is a trick question.
Trust me on this. Invest the few minutes it takes to watch the video or read this post and you'll have a better understanding of selling a home than do most people in the real estate industry (and I'll prove it!).
Watch The Video
Market Time In Real Estate Is Pure Fiction
Do you know what really GRINDS MY GEARS?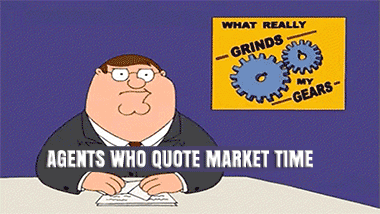 It's people in my industry that use BOGUS STATISTICS to confuse customers. It happens a lot and I'm going to show you how long it REALLY takes to sell a house in 2020 despite what other "experts" might report.
And if you think that today's article will be a statistical analysis, you're incorrect!
It does not take statistics to answer this question, rather it takes an understanding of something far more simple. You probably have heard the quote popularized by Mark Twain, the famous American humorist and writer, that "there are three kinds of lies: lies, damned lies, and statistics."
In the case of market time in real estate, …. it's just a damned lie! It's total hogwash.
It's pure FICTION!
By the end of this article, you will completely and thoroughly understand that it does not take more than a few days to sell a home (under any market conditions). That's right, market time is pure fiction.
I have written numerous articles that go in-depth on this topic, but suffice it to say that the Multiple Listings Services in America (the systems agent use to promote properties among themselves and to the major websites) do not measure market time correctly.
Different MLS systems vary in how they work, but my conversation with agents from around the country leads me to understand that they all have the same flaw.
When measuring market time, they merely look at the most recent date a property was listed and then measure the number of days it took to go under contract. That is what the majority of MLS systems use as "market time" or "time on the market."
Sounds simple right?
Unfortunately, that only works for homes that only are entered into the MLS by one agent (and that agent sells the home).
Well, what about all the market time that is not included in this measurement? How about the 6 months a property was listed for sale and failed to sell before the current agent took over? Is that included in market time? Or how about the For Sale By Owners who tried for a month before listing with an agent? Is that measured?
Better yet, how about the real estate agent who keeps canceling a listing and reinserting it into the MLS? It's canceled and relisted each week until it sells, then it is canceled and relisted with a market time of 1 day.
All of these scenarios work to reduce the amount of time it took for homes to sell and no MLS system that I'm aware of accounts for each or all of them.
Therefore, you might now wonder why so many real estate agents include "market time" when they give you a marketing evaluation for your home? Well, there are three kinds of agents that will do that, and to borrow a phrase from Peter Griffin, that really "grinds my gears!"
BEWARE These 3 Types Of Agents
Agents who report market time are either lazy, ignorant, or deceitful. Are any of these traits something you're looking for in a real estate agent to sell your home?
The lazy agents report market time because the MLS spits out reports that look official and they know that homeowners and buyers won't know any different.
Ignorant agents are just happy to give the consumer something that makes the agent look smart, and deceitful agents rig the market time on their listings to show sellers that they get homes sold faster than everybody else.
The next time you receive a market report that shows market time, you're likely dealing with one of these three types of agents. You'd be wise to move on to a better agent!
I have assembled a series of simple images below to help explain why market time in real estate is bunk and I'll show you how and why you can control the amount of time it takes to sell your home.
How To Control Your Market Time When Selling A Home
In order to explain how you control the time it takes to sell a home, let's examine the three images. They convey a message on choosing your initial asking price for your home, one of the most critical elements of getting a home sold for top dollar.
While many factors go into determining the market value of a home, I have simplified the images so that the size of each home is the indicator of its relative market value. For this example, bigger homes are worth more than smaller homes.
Pretend that your home is the one that has the label on it, and follow that home throughout this example. The true market value of your home is $450K.
Over-Pricing A Home
The classic mistake home sellers make is when they hit the market with too high of an asking price. The image below shows how things look to a buyer who comes across their home listed online.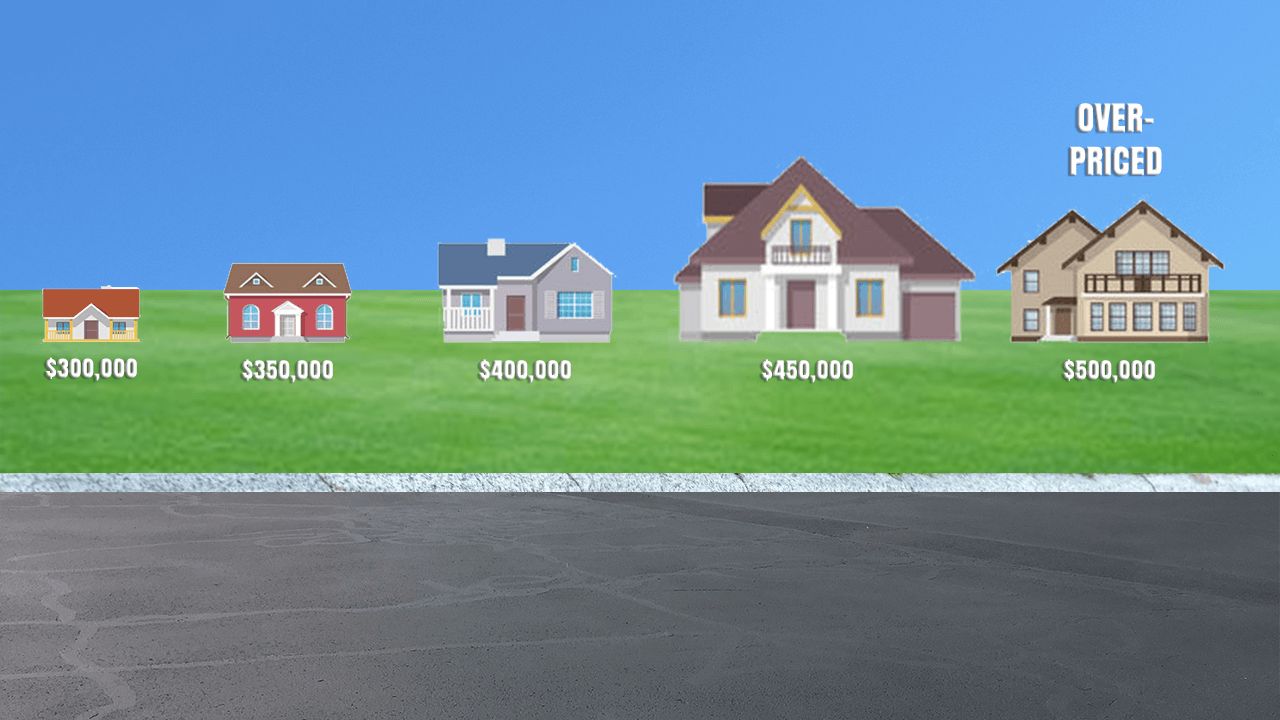 Remember, for the sake of these examples, bigger equates to a nicer home when buyers see it. If your home is worth $450K but you over-price it, then the buyers who are willing to spend $450K likely won't even see it. What's worse, is the buyers who plan on spending more money will be comparing your home to nicer houses.
Before the internet, over-pricing a home was a method used to protect you from selling too-fast as it took several months to expose your home to all the potential buyers out there. But it only takes a solid marketing plan to do that in less than four days today, so over-pricing a home results in you marketing the home to a group of people who will not want to buy it.
You have to wonder how many $450K buyers won't even know that your home is listed for sale! Over-pricing today is really no different than not being for sale, it will not get your home in front of the right people.
Under-Pricing A Home
A very rare mistake home sellers make is when they hit the market with too low of an asking price. The image below shows how things look to a buyer who comes across their home listed online.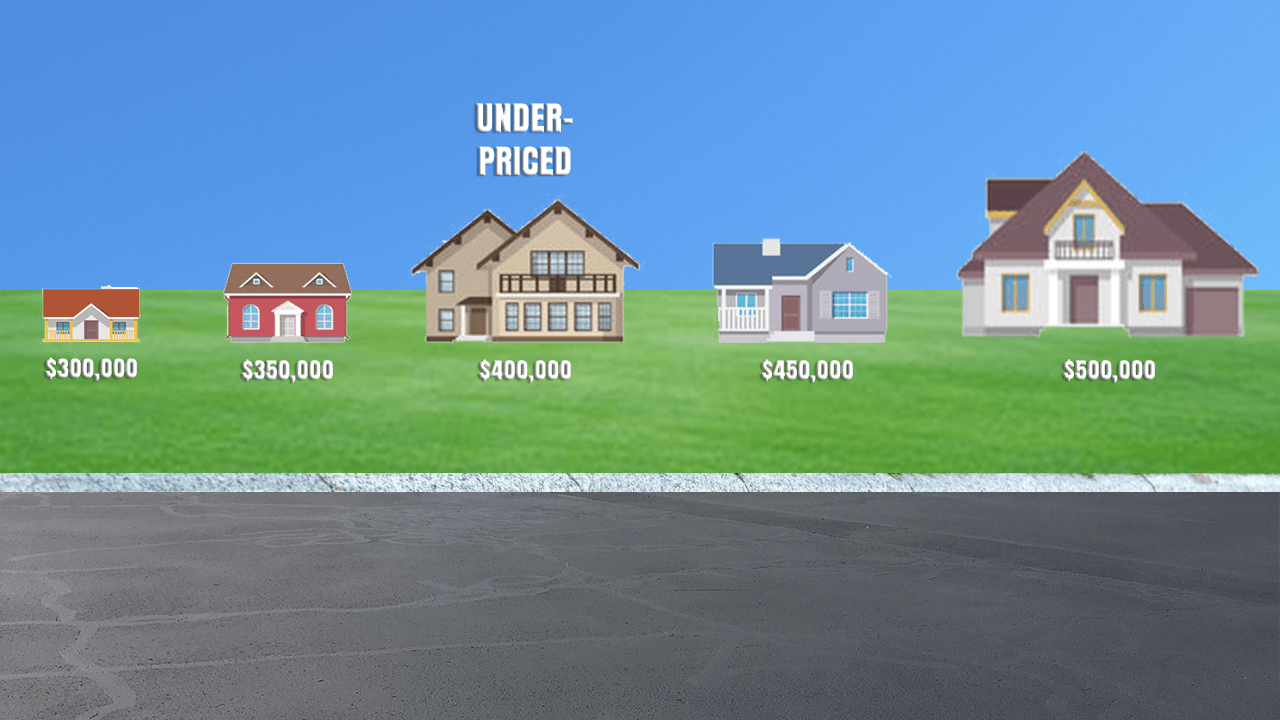 Again, in this example, your home is worth $450K and yet you list it for $400K. This means the bulk of buyers who see your home are only able to spend up to $400K or so, but you'll get tons of offers!
An under-priced home will sell very fast as buyers will see the value in what your home has to offer. They will see just how nice the home compares to those priced just above and just below it! Unfortunately, it will be marketed to the WRONG group of buyers for your home. You'll sell fast, but not for top dollar.
Properly Pricing A Home
A properly priced home enters the market at a price for which it can sell, thus allowing the marketing team to present the home to the right group of buyers and generate immediate showings and multiple offers.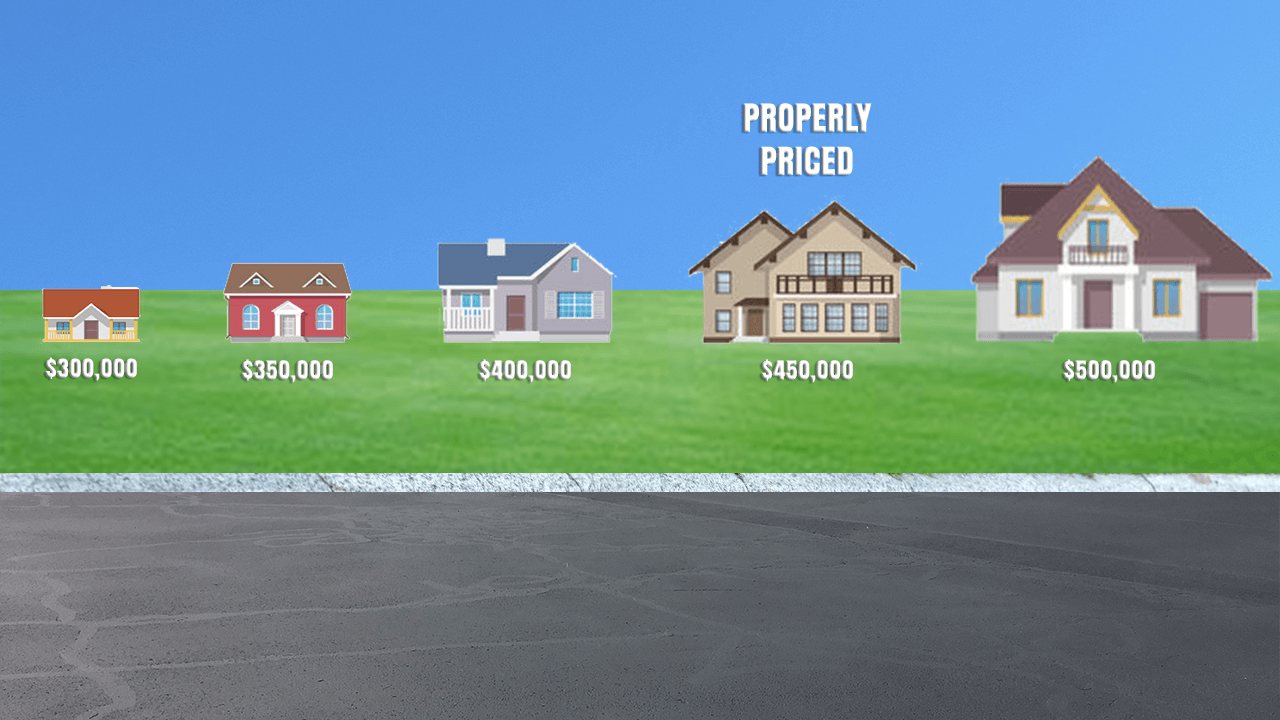 Notice how in this image the home is nicer than the ones priced below it, but not quite as nice as the one priced above it. This is how to price your home for immediate sale (and top dollar). This is such an important point that I want to make the effort to highlight it: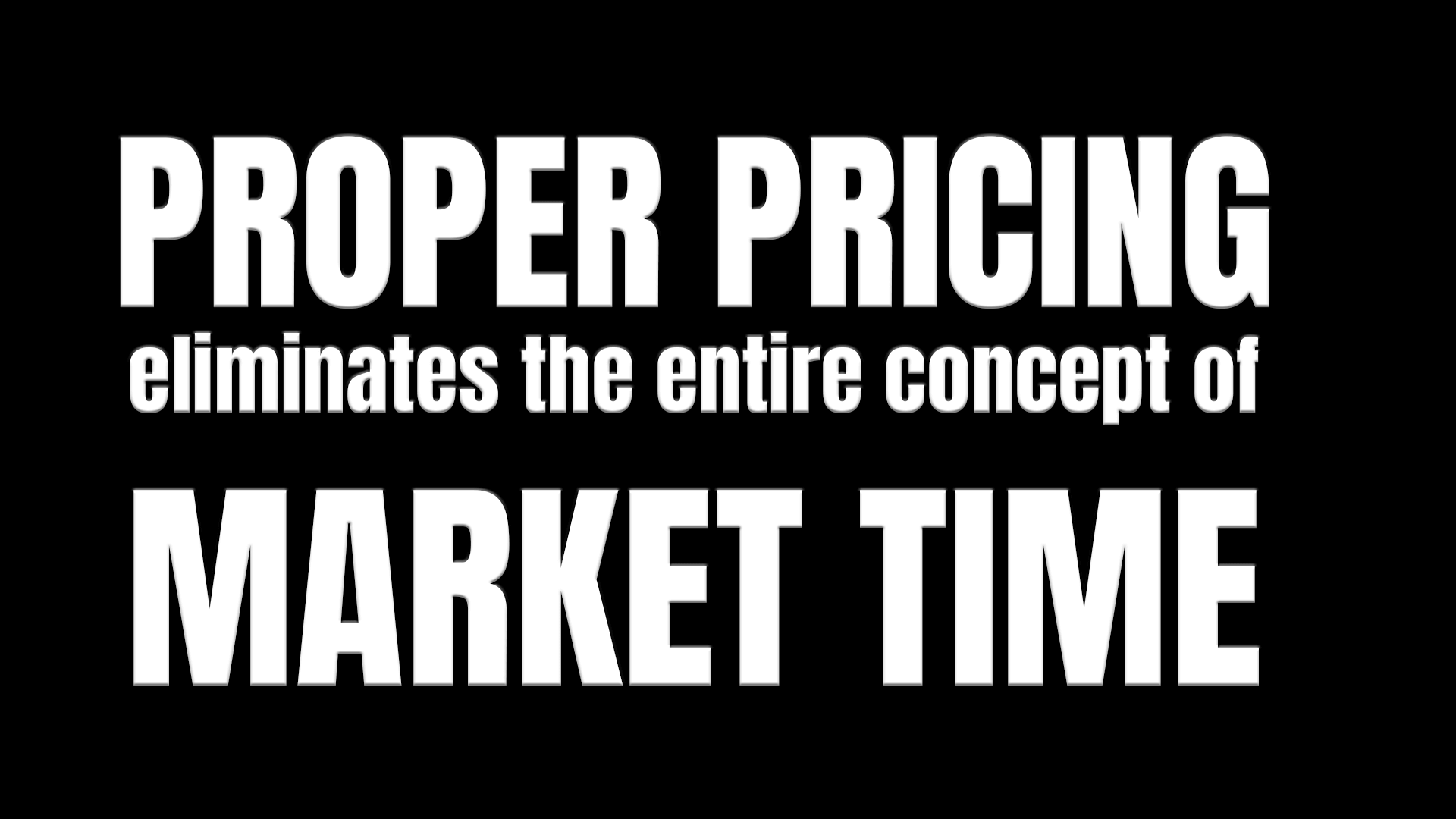 That's right, market time is fiction in the digital era. Your home should sell immediately within hitting the market (certainly less than 1 week), and it's the best way to fetch top-dollar when you sell!
The Key To Controlling Market Time In Real Estate
A great price with poor exposure might get your home sold, but you'll leave money on the table as too few buyers will know about the home.
Most home sellers start at a higher price and then make price reductions until it sells. Here's why this works to get a home sold, but does not get the seller the most amount of money possible from the sale.
The day a home first hits the market is the most important one for the home seller. If multiple buyers could know about it ahead of time and compete for the right to buy it, the home price would be bid to the highest possible level.
But if the home is not priced correctly, the buyers will be underwhelmed and most likely no offer will be generated. The seller would have missed the best chance for a top-dollar sale.
I like to think of over-priced homes as ones not-yet on the market, as the right buyers for the home won't even know it's for sale. Price reductions only matter if the reduction brings the home down to its current value. Unfortunately for sellers who use this approach, it is rare for all the "right" buyers to know when a price has been reduced. Thus, when the seller finally gets it right and reduces the price, it is rare to see multiple buyers compete for the home.
The key to controlling market time is to pre-market a home at a price for which it will sell. If there is ample liquidity in the market (meaning many buyers for this type of home and price), then multiple buyers will be waiting to see the home when it first becomes available and they will end up competing for the right to be its next owner.
This is how sellers get top dollar while selling immediately!
Your Local Expert In Tallahassee
When moving to, in, or from Tallahassee, you will fare better if you work with a local expert. We are here to help. If you have further questions on the Tallahassee real estate market, you can leave a comment below, give us a call at (850) 366-8917, or drop us a note and we'll give you the local information needed to ensure a successful, smooth transaction.
As a local born and raised in Tallahassee with a focus on customer service, I promise you'll find great success when working with Joe Manausa Real Estate, just as have our past customers. You can read thousands of their reviews reported on Google, Facebook and Zillow right here: Real Estate Agent Reviews Tallahassee.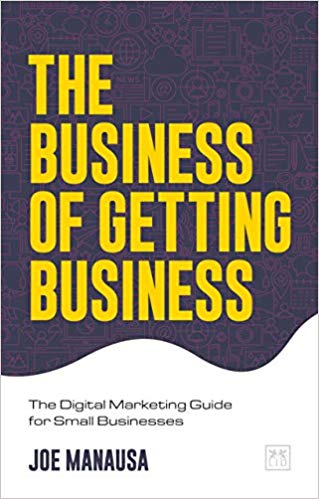 Have you heard about my new book "The Business of Getting Business?" It's a comprehensive guide for small businesses to help them make the move to digital. For those of us who want to survive and thrive in a world where large corporations are taking over, it is a must-read. It's also the perfect guide for how to sell a home in the digital age. You can find The Business Of Getting Business by clicking on any of the trusted retailers below.

Think all REALTORS are alike?
Read what people are saying about working with Joe Manausa Real Estate! You can see thousands of real customer reviews reported on Google, Facebook and Zillow at this link: CLICK HERE FOR REAL ESTATE AGENT REVIEWS.
I recently stumbled upon your latest Carrabelle listing. I must say, a home on Florida's Forgotten Coast is bound to be snatched up quickly. Best of luck with getting it under contract soon!

Posted by Barbara Corcoran on Thursday, June 15, 2023