Housing Market Forecast 2019
Posted by Joe Manausa on Monday, January 7, 2019 at 5:51 AM
By Joe Manausa / January 7, 2019
Comment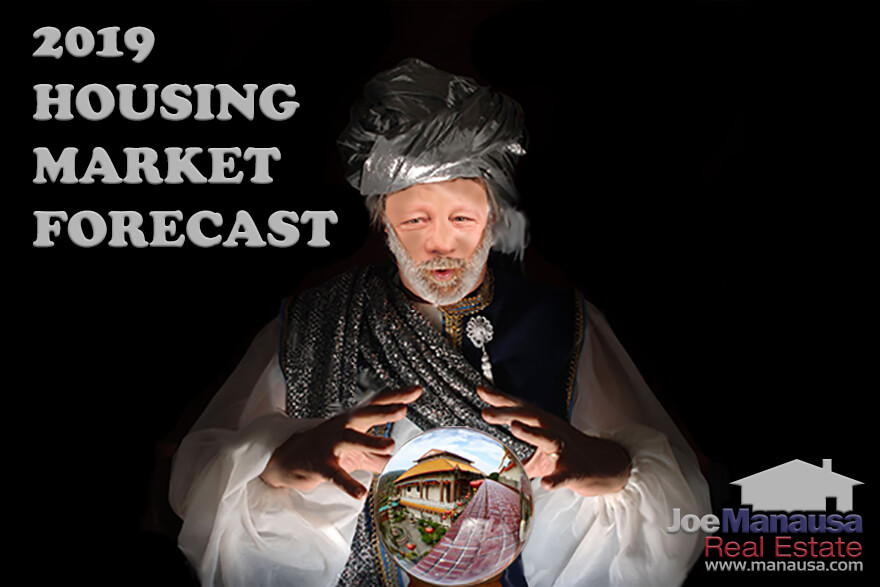 If you are looking for an early housing market forecast for 2019, I believe we have enough information to accurately do so today (before the end of the first week of the year!).
The Tallahassee real estate market has two diametrically opposed forces working on it right now, and there is enough historical precedent to guide us to plot the expected future of home sales in our area.
Mortgage Rates Impact Housing Market Forecast
When we look at historical mortgage interest rates, we find the fifty-year average at right around 8.25%.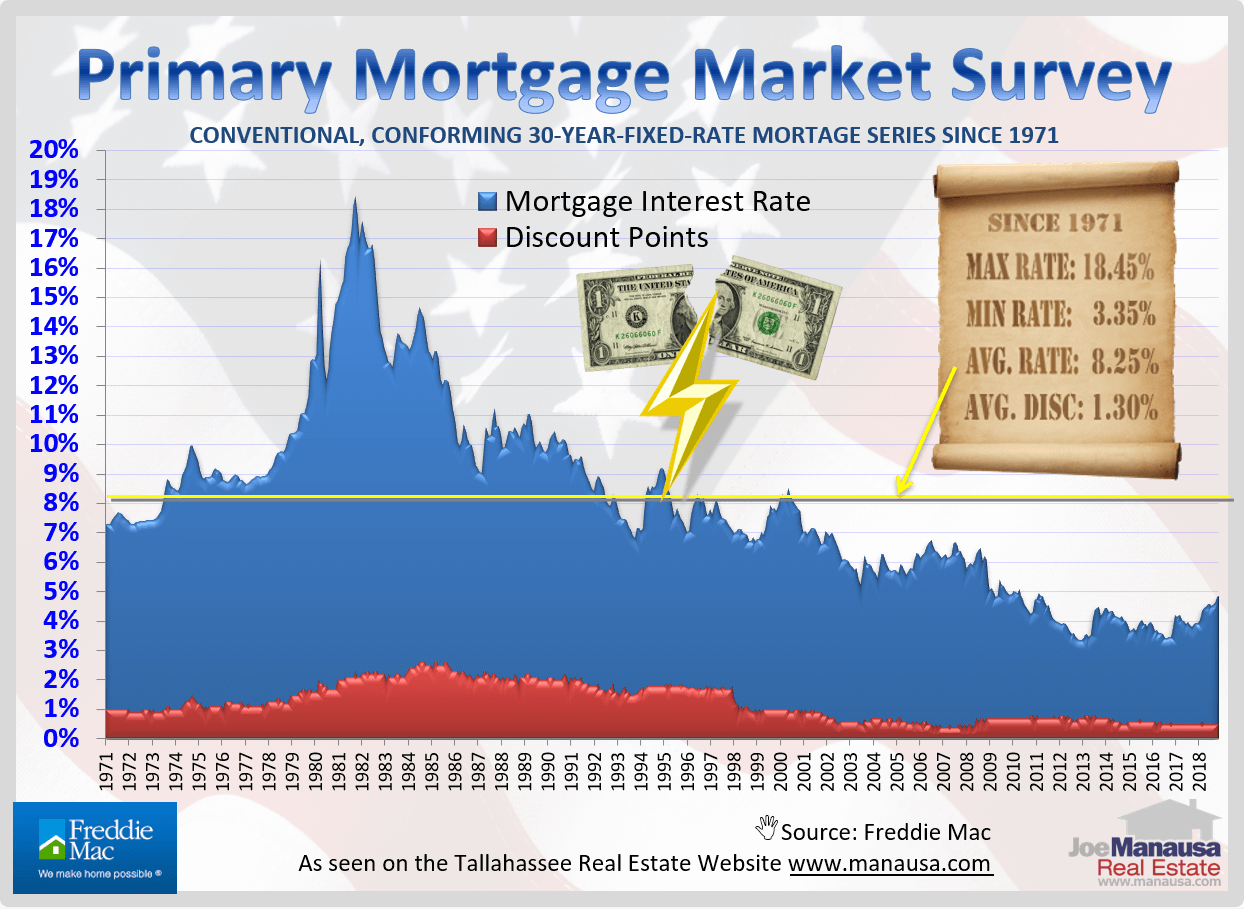 Every "expert" reporting on mortgage interest rates is forecasting an increase in 2019 and that it is likely when this year concludes, we will never again see rates dip below 5% again (never = ten or more years).
Today's rate has actually fallen since November, so early buyers will be motivated to lock into a low rate and buy before that lock expires. First quarter home buyers will borrow money below 5%, and year-end buyers will likely be looking at a rate in the mid-5s.
This will be a huge slow-down on the market, as buyers will find themselves with decreased buying power. The reduction in demand will also impact home sellers, as the out-of-control appreciation levels seen last year will face some pressure.
Ultimately, when mortgage interest rates rise at a significant level, it reduces appreciation rates due to falling demand. This is one of the "forces" on the market addressed in the opening paragraph.
Get Our Free Market Update
Other buyers, sellers, lenders, and real estate agents have this critical information, and now you can too!
Get immediate access to our most recent newsletter.
Let nearly 30 years of experience work for you with charts, graphs, and analysis of the Tallahassee housing market.
Each Monday morning we send out a simple, one-page report that provides a snapshot of the Tallahassee housing market. It only takes 2 minutes to read, but it gives you better market intelligence than most real estate agents possess. Just tell us where to send it below!
Low Inventory Of Homes Impacts Housing Market Forecast
Home values move based upon the availability of homes for sale. Currently, Tallahassee has just over 4 months supply of homes, which means that the majority of our housing market favors the seller and we should expect home values to rise at faster than the historically normal pace.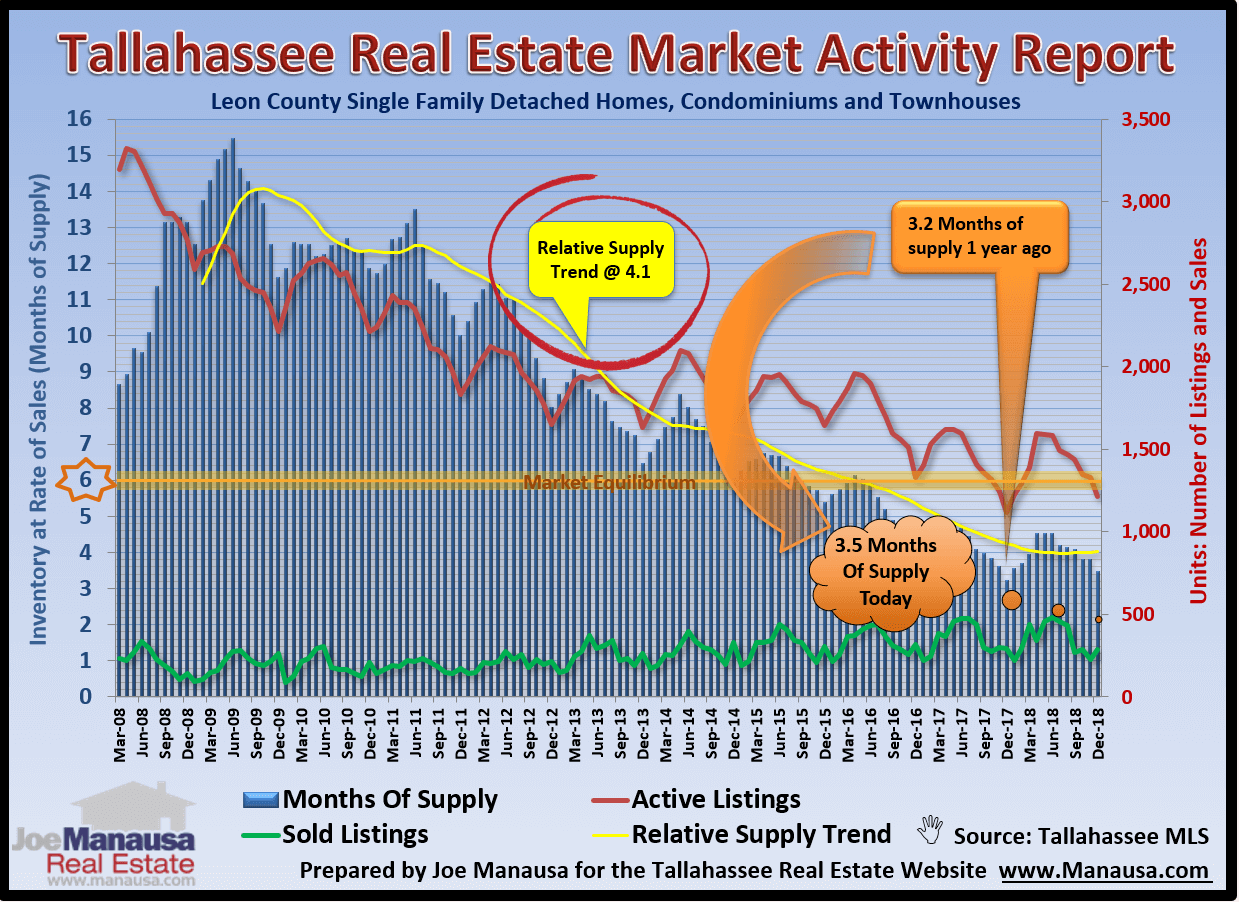 The graph above contains a lot of useful forecasting information. The blue bars show the relative supply of homes for sale (measured in months of supply) each month for the past ten years.
Notice how the relative supply has seasonal fluctuations, and January is normally the lowest level. This January, the relative supply of homes is actually higher than it was in January last year (the first time we've seen a year over year gain in ten years).
The yellow placard shows the non-seasonal relative supply sits at 4.1 months of supply, which is significantly lower than the 6 months of supply needed for a balanced market. This means buyers have far fewer options and must compete with each other for the inventory that exists.
The high level of competition among buyers means that we should expect to see home values move higher, and they will do so at a faster than normal rate.
2019 Housing Market Forecast
So we have two opposing forces in our market that make it difficult to produce a housing market forecast with a high degree of confidence. On one hand, rising interest rates suggests lower demand and thus pressure on prices. On the other hand, we have low inventory which will result in competition among buyers and thus high appreciation.
Ultimately, to make an accurate forecast for the 2019 housing market in Tallahassee, one has to decide how these conflicting factors will play out. Of course, there is the added factor that we have a new Governor and that there will be staff turnover and potentially a growth or decline of State jobs related to the new administration's policies.
I believe this means the following for 2019:
I expect to see the number of MLS sales fall between 3,700 and 4,400.

If I had to state a specific number, then I believe that rising interest rates will reduce the number of sales in 2019 to fewer than 4,000 homes sold in the Tallahassee MLS (there were just over 4,200 homes sold in Tallahassee in 2018).
Home inventory levels will rise, but the majority of the market will remain in a sellers' market and will see higher than normal (above 3.5%) appreciation rates.
Homes above $600K will continue to trade in a buyer's market and will not appreciate and only motivated sellers will move.
NE Tallahassee: Homes under $500K will move higher at a faster than normal rate.
NW Tallahassee: Homes under $250K will move higher at a faster than normal rate.
SE Tallahassee: Homes under $300K will move higher at a faster than normal rate.
SW Tallahassee: Normal appreciation levels for homes under $250K.
Overall in 2019, we should expect a good year for home sellers as it will likely be a year that ends up among the top eight best years ever for the number of homes sold in Tallahassee.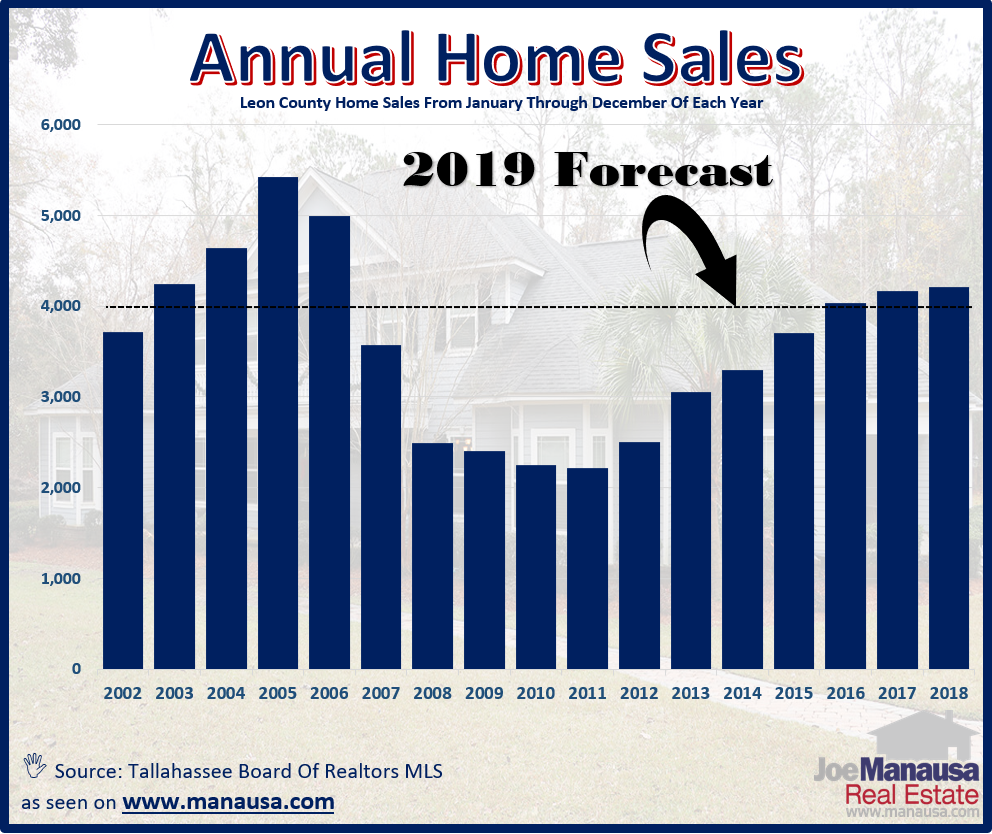 People who are planning to buy a home in 2019 should do so immediately in most cases. Those that are borrowing money will want to lock into current low mortgage interest rates. Cash buyers below $600K will want to move quickly too, as prices will continue to rise.
What Is Your Forecast For The 2019 Housing Market?
Do you have a different outlook for 2019 home sale in Tallahassee? We'd love to hear your thoughts. All you need to do is give us a call at (850) 366-8917, drop us a note, or leave a comment below and we'll address them in our next housing market report if appropriate.
Subscribe to Joe's Blog
Join 1000's of other subscribers that receive updates each day that we publish a new article. Filled with homes for sale, neighborhood analyses, and all the information home sellers and buyers need to make an informed decision. Just tell us who you are and where you'd like us to send new updates.