For Sale By Owner Hacks: Sell Your House Fast, Keep the Commission
Posted by Joe Manausa on Monday, July 10, 2023 at 6:00 AM
By Joe Manausa / July 10, 2023
Comment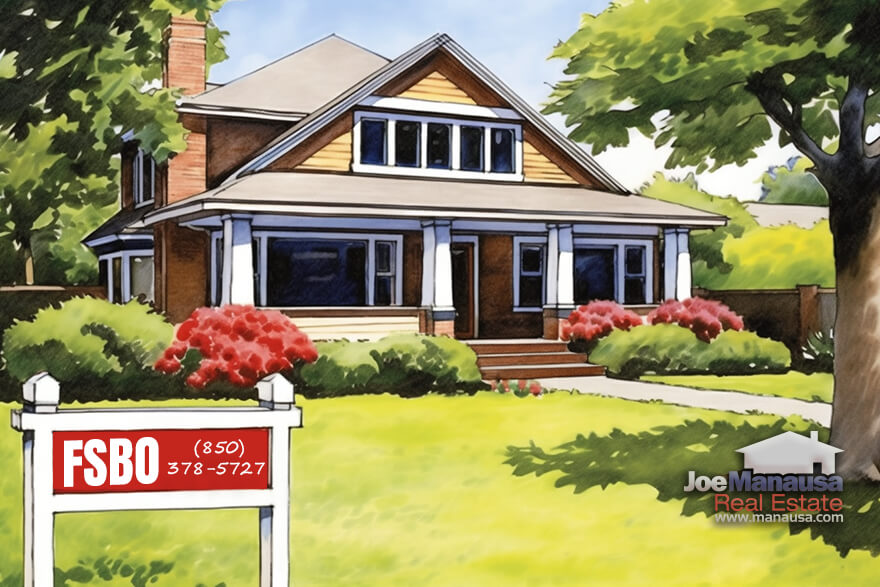 Discover the untold possibilities: Selling your home without a real estate broker. In a surprising twist, a seasoned real estate broker reveals that you have the power to navigate the sale on your own without the need for his services.
By taking the DIY route, not only can you save on commission fees, but you also have the potential to maximize your profits if you follow the right steps. However, it's essential to grasp the bigger picture and adopt the same strategies top agents employ in your local market. Merely venturing into the journey alone won't suffice; you must replicate the processes and results that an accomplished agent would typically carry out to achieve a successful "For Sale By Owner" transaction and secure the highest possible return.
Keep in mind this article is composed by a seasoned real estate broker who dares to reveal the industry's inner workings. Prepare to gain invaluable insights that challenge conventional wisdom and guide you toward success.
Some readers will follow this guidance and sell their homes independently, while others will see the required effort and choose to hire a broker they trust. I believe I will gain the trust of a healthy segment of readers who do not wish to go it alone.
Let's embark on this transformative journey, combining your determination with my industry expertise to achieve a successful home sale.
The Big Picture
Understanding the broader picture is crucial. How can you successfully sell your home at a desirable price while adhering to your desired timeline and goals? That's the overarching objective. It's not simply about selling your home for any amount; otherwise, you would engage the services of a real estate agent. No, the true aim is to walk away from the closing table with a higher net profit than you would gain by hiring the top local agent. That's the ultimate goal.
Two key elements of the big picture require your attention and understanding. Firstly, who exactly benefits from the commission you choose not to pay? Secondly, what precise actions must be taken to maximize your home's selling price?
Consider the question of commission savings. Many For Sale By Owner (FSBO) sellers promote their homes to buyers, emphasizing the absence of commissions. However, can both buyers and sellers genuinely save money when they sit on opposing sides of the bargaining table? Falling into the trap of adopting this weak marketing approach is a pitfall for novice home sellers. Instead, there is a more effective method of marketing your home without relying on the allure of "no commissions." In fact, more than 90% of buyers will have their own agents.
Now, let's discuss the commission you hope to save. When FSBO sellers are asked this question, they often mention figures like "6%." However, upon further inquiry, it becomes clear that they are willing to compensate agents who bring potential buyers. In essence, successful FSBOs typically aim to save around 3%, which amounts to a substantial sum given today's home prices.
So, how can you achieve your home's highest possible selling price? It's important to note that most real estate agents fail to grasp this point, meaning it's unlikely that a FSBO seller will discover without guidance. I recommend reading this article on effective home-selling techniques in today's digital age. The advent of technology has introduced nuances to the selling process that must be acknowledged; otherwise, sellers risk leaving money on the table at closing.
Without delving into intricate details, it is crucial for home sellers, whether undertaking a FSBO approach or assisted by a real estate broker, to embrace the concept of pre-marketing their homes. Pre-marketing in real estate involves strategic actions, and initiatives professionals take before a property is officially listed.
It aims to create awareness and generate interest among potential buyers, agents, and the local real estate community before the home is available. When executed effectively, multiple offers often emerge within days or even hours of the property hitting the market, granting the seller control and the ability to choose the most suitable buyer rather than engaging in protracted negotiations. Unfortunately, pre-marketing is a step often overlooked by FSBO sellers, resulting in sales prices that typically fall 15% to 18% lower than what could be achieved with a more comprehensive marketing plan.
8 FSBO Hacks To Sell Your House Fast While You Keep The Commission
Now that you recognize the significance of generating interest in your home before officially entering the market through pre-marketing, the next step is to implement the same eight processes that we, as real estate professionals, utilize daily to sell homes.
These invaluable tips encompass various aspects, from preparing and showcasing your home to effectively promoting it, handling inquiries from potential buyers, and finally, how to get your home under contract and then through to the closing table. By applying these eight FSBO hacks, you'll be on the path to achieving a successful and profitable sale.
Conduct Thorough Market Research
To determine a competitive and profitable listing price for your home, it's crucial to have a comprehensive understanding of the local real estate market, recent sales, and pricing trends. Fortunately, there are several approaches you can take to gain this understanding. Consider employing the following methods:
Online Valuation Tools: Numerous websites offer automated valuation models (AVMs) that estimate a property's value based on factors like recent sales, property characteristics, and market trends. While these tools can provide a rough estimate, it's important to note that they may not account for specific property details or market conditions. Therefore, their estimates should be taken as a starting point rather than a definitive value.

Local Market Conditions: Factors such as supply and demand, interest rates, economic conditions, and local amenities play a significant role in determining a property's value. Conduct thorough research and gain a deep understanding of the current market conditions in your area. This involves analyzing recent sales data, studying market trends, and considering any relevant factors specific to your location.

Consultation with Real Estate Professionals: Real estate agents and brokers possess extensive knowledge of the local market and can provide valuable insights into property values. Most of them will give you all the information you want in the hope they can earn your business. Once you discuss the sale of your home with two or three top agents in your market area, you'll understand what your home is worth and how to price it effectively in the market today.
By combining these approaches, you can develop a well-rounded understanding of your home's worth.
Keep Up With New Trends In Tallahassee!
Get The Tallahassee Real Estate Newsletter
Don't be the one that doesn't know what's going on when you sell a home or buy a home in Tallahassee.
Other buyers, sellers, lenders, and real estate agents have this critical information, and now you can too!
Get immediate access to our most recent newsletter.
Let more than 30 years of experience work for you with charts, graphs, and analysis of the Tallahassee housing market.
Enhance Curb Appeal & Stage The Home
Boosting Curb Appeal: Create a captivating first impression by enhancing the exterior of your home, including landscaping, cleanliness, and repairs. It's unfortunate that many FSBOs overlook this crucial aspect, as it often results in a significant financial loss. How? To command the highest possible price for your home, you need multiple buyers vying for your property, fostering a competitive environment (rather than engaging in downward negotiations with a single buyer). The exterior of your home, typically the primary image online, plays a vital role in generating initial interest from potential buyers.
If your home appears untidy or poorly maintained on the outside, buyers may assume the same about the interior. If the external appearance fails to capture their attention, they may never develop a genuine interest in exploring the inside. Educate yourself on effective curb appeal strategies and ensure that your home's exterior is enticing to buyers within your target price range. By implementing these techniques, you'll enhance the overall attractiveness of your property and increase its appeal to potential buyers.
Stage The Home: Staging the home is a crucial step in selling as it lets you showcase your property in its best possible light. The goal of staging is to create an inviting and appealing atmosphere that helps potential buyers envision themselves living in the space. Here's an in-depth explanation of the key elements involved in staging:
Decluttering: Removing excess clutter is essential to create a clean and spacious environment. Clear countertops, surfaces, and floors to provide a sense of openness and allow buyers to focus on the architectural features of the home. Consider packing away personal items, excess furniture, and any belongings that may distract buyers from visualizing their own lifestyle in the space.

Depersonalizing: By neutralizing the space, you allow potential buyers to envision their own personal style and preferences within the home. Remove family photos, personalized artwork, and any highly specific decor that may make it difficult for buyers to visualize the property as their own. The goal is to create a neutral canvas that appeals to a wide range of tastes.

Furniture Arrangement: Properly arranging furniture helps maximize the functionality and flow of each room. Create a natural and intuitive layout that highlights the space's best features and optimizes traffic flow. Rearrange or remove furniture pieces to create a sense of spaciousness and allow potential buyers to easily navigate the rooms.

Highlighting Features: Emphasize the key selling points of your home. Showcase architectural details, unique features, and any recent upgrades or renovations. Use strategic placement of furniture, lighting, and decor to draw attention to these aspects and create focal points that leave a lasting impression on potential buyers.

Lighting and Ambiance: Lighting plays a vital role in setting the right mood and ambiance. Make sure each room is well-lit, utilizing both natural and artificial light sources. Replace dim or outdated light fixtures if necessary and consider adding soft lighting elements such as lamps or candles to create a warm and inviting atmosphere.

Cleanliness and Maintenance: A meticulously clean home makes a significant impact on potential buyers. Ensure that every room is thoroughly cleaned, paying attention to details such as windows, floors, and fixtures. Address any necessary repairs or maintenance issues to present your home in its best condition.
By investing time and effort into staging your home, you can significantly enhance its overall appeal and create a positive impression on potential buyers. A well-staged home allows buyers to visualize themselves living in the space and can ultimately lead to a faster and more successful sale at a desirable price.
Professional Photography
Capturing professional-quality photos is a vital aspect of marketing your home effectively. Investing in high-resolution photos or enlisting a professional photographer's services can significantly enhance your property's visual presentation in online listings and attract potential buyers. Here's why it matters:
Visual Appeal: High-quality photos showcase your home's features, layout, and aesthetic appeal in the best possible light. Crisp, clear, and well-composed images grab the attention of buyers, making a positive first impression and generating interest.

Online Engagement: In today's digital age, online platforms play a central role in the home search process. Most buyers start their search online, and eye-catching photos are essential to stand out from the competition. Professional-quality images can captivate potential buyers, encouraging them to click on your listing and explore further.

Buyer Expectations: Buyers have high expectations when browsing online listings. They want to see accurate and visually appealing representations of the properties they are considering. By investing in professional-quality photos, you meet and exceed these expectations, conveying a sense of care and attention to detail.

Emotional Connection: High-resolution photos can evoke emotions and create a connection with potential buyers. Professionally captured images can highlight the unique features, ambiance, and potential of your home, allowing buyers to visualize themselves living there.

Increased Interest and Showings: Exceptional photos attract more attention, resulting in increased inquiries and showings. Buyers are more likely to schedule a viewing when they are impressed by the visual presentation of a property, giving you more opportunities to showcase your home and secure potential offers. Remember, to fetch top dollar, you need more people showing up to your house the day it hits the market!
Investment in professional-quality photos is an essential part of your marketing strategy. It is a worthwhile expenditure that can significantly enhance the appeal and perceived value of your home, leading to a higher level of buyer interest and a potentially faster and more successful sale.
Enticing Listing Description
Crafting an enticing listing description is crucial to effectively market your home and capture the attention of potential buyers. By carefully selecting your words and highlighting the unique features, amenities, and benefits of your home, you can create a compelling description that sets your property apart. Here's why it matters:
Captivating Attention: An enticing listing description grabs the attention of potential buyers, enticing them to learn more about your property. It is a persuasive introduction that piques their curiosity and compels them to explore further.

Highlighting Unique Selling Points: Your listing description is an opportunity to showcase what makes your home special. Focus on the unique features, architectural details, or any recent upgrades that set your property apart from others in the market. Emphasize the selling points that make your home stand out and appeal to potential buyers.

Painting a Vivid Picture: Use descriptive language to paint a vivid and engaging picture of your home. Help buyers visualize the space and imagine themselves living there. Highlight the layout flow, the rooms' ambiance, and the lifestyle your property can offer.

Showcasing Amenities and Benefits: Clearly articulate the amenities and benefits of your home that potential buyers would find attractive. Whether it's a spacious backyard, modern appliances, or proximity to desirable amenities such as schools, parks, or shopping centers, emphasize your property's advantages.

Setting Realistic Expectations: While making your listing description compelling, providing accurate and honest information is equally important. Set realistic expectations by providing factual details about the property's condition, size, and any noteworthy considerations that buyers should know.

Inviting Inquiries and Showings: A well-crafted listing description can generate interest and inquiries from motivated buyers. By effectively communicating your home's unique features and benefits, you increase the likelihood of attracting serious buyers who are genuinely interested in scheduling viewings.
Remember, your listing description is a powerful tool to make a positive first impression and generate interest in your home. By crafting a compelling and detailed description highlighting the unique selling points, amenities, and benefits, you can engage potential buyers and increase the chances of a successful sale.
Advertise Widely
Advertising is a crucial strategy to reach a broad audience of potential buyers when selling your home. You can maximize your property's exposure by utilizing various online platforms, social media channels, and FSBO-specific websites. Here's why it matters:
Broad Audience Reach: Advertising on online platforms and social media allows you to tap into a vast and diverse pool of potential buyers. These platforms have extensive user bases and offer targeted advertising options, enabling you to reach individuals who may be interested in your specific property type or location.

Cost-Effective Marketing: Online advertising often provides cost-effective options compared to traditional methods. With careful planning and strategic targeting, you can allocate your advertising budget efficiently to maximize its impact and reach the right audience.

Leveraging Pre-Marketing Efforts: Top real estate agents typically have an advantage over FSBO sellers as we invest tens of thousands of dollars monthly in pre-marketing activities to create a large pool of interested buyers. By utilizing online platforms and social media, FSBO sellers can leverage their close friends and connections to help share their listing, expanding the reach of their pre-marketing efforts.

Harnessing the Power of Social Media: Key social media channels such as Instagram, Facebook, Twitter, LinkedIn, YouTube, and Pinterest offer excellent opportunities to promote your property. These platforms have a wide user base and allow for various forms of content sharing, including photos, videos, and informative posts. Encourage your close friends to share your listing on these channels, leveraging their networks to increase visibility and attract potential buyers.
By advertising widely across online platforms and social media channels, you can significantly increase the exposure of your property to a larger audience. This allows you to tap into the benefits of pre-marketing and the potential advantages that real estate brokers typically enjoy, helping you attract more potential buyers and increase the chances of a successful sale.
Advertising plays a significant role in distinguishing between going it alone versus hiring a broker. A common tendency among sellers aiming to "save the commission" is to also skimp on advertising expenditures. However, this often results in a limited pool of potential buyers, which is a key factor contributing to the underperformance of FSBOs during the selling process.
But here's the crucial point: avoiding this trap and achieving a different outcome. By actively engaging your sphere of influence on social media and enlisting their support in spreading the word about your property, you can invigorate your marketing efforts and expand your reach. Statistics show that there is a high likelihood that the buyer of your home will be known by some of your friends, so engage your friends in your marketing efforts!
Respond Promptly And Professionally
Being attentive to inquiries, promptly responding to buyer questions, and maintaining a professional and helpful demeanor throughout the selling process is vital to success. In the real estate industry, this is often referred to as the "speed to lead." It is crucial to recognize that selling a home involves competition, and timely responsiveness can make all the difference in securing a sale rather than having another month's mortgage payment. Here's why it matters:
Competition Awareness: Understanding that your home is not the only option on the market is essential. Buyers have choices, and their inquiries indicate potential interest. By promptly addressing their questions and concerns, you demonstrate your attentiveness and stand out from the competition.

Buyer Expectations: In today's fast-paced world, buyers expect quick responses. Delayed or unresponsive communication can lead to frustration and cause potential buyers to lose interest or turn their attention to other listings. Responding promptly signals professionalism, reliability, and respect for their time.

Maximizing Opportunities: Timely responses allow you to capitalize on potential opportunities. Buyers may have limited timeframes or be considering multiple properties simultaneously. By promptly addressing their inquiries, you increase the likelihood of scheduling viewings, engaging in negotiations, and ultimately securing a sale.

Positive Impression: Prompt and helpful communication creates a positive impression of you as a seller. It establishes trust, instills confidence in the transaction, and contributes to a smooth and professional experience for both parties involved.

Easy Showings: Facilitating easy access for potential buyers to view your home is crucial in maximizing its visibility and increasing the likelihood of a successful sale. The primary reason FSBOs often struggle to sell their homes is buyers' difficulty scheduling showings. As a FSBO seller, it is essential to have a clear plan in place to accommodate showings even when you are unavailable to coordinate them.
Remember, being attentive, responsive, and maintaining a professional and helpful demeanor throughout the selling process can significantly impact your success. By prioritizing the "speed to lead" and promptly addressing inquiries, you enhance your chances of attracting serious buyers, securing a sale, and achieving your desired outcome.
Negotiation
Effective negotiation skills are crucial to achieving the most profitable outcome when selling your home. You can take control of the negotiation process by brushing up on these skills, understanding your bottom line, and being prepared to negotiate offers. Here's why it matters:
Take Control: Like golf bets won on the first tee, real estate negotiation often hinges on the initial structure. As the home seller, you can set the tone and establish your desired outcome from the start. If you set your price slightly below what your home is worth, buyers will fight for the right to be the top bidder. But if you price your home more than it is worth, you are delegating control to the one buyer who knows nobody else will want it at your asking price.

Strategic Decision-Making: Understanding your bottom line, which is the minimum price you are willing to accept, is essential. This knowledge empowers you to make informed decisions during negotiations and avoid settling for less than what you believe your property is worth. Having a clear understanding of your financial goals and boundaries enables you to negotiate from a position of strength.

Maximize Profitability: Effective negotiation skills can help you secure the most profitable outcome. By skillfully presenting your property's value, responding to offers, and engaging in strategic give-and-take, you increase the likelihood of achieving a higher sale price and favorable terms.

Flexibility and Preparation: Negotiations require flexibility and preparation. Anticipate different scenarios and be ready to adapt your negotiation strategy accordingly. This includes considering counteroffers, exploring creative solutions, and maintaining open communication with potential buyers.
Remember, mastering negotiation skills is an important aspect of selling your home. By taking control of the negotiation process, understanding your bottom line, and being prepared to negotiate effectively, you increase your chances of securing top dollar for your property and achieving a successful outcome.
Ensure Legal And Financial Compliance
Familiarizing yourself with local laws, regulations, taxes, contract forms, and documentation requirements is crucial when selling a home to ensure a smooth and legally compliant transaction. Here's why it matters:
Compliance with Legal Obligations: Each locality has specific laws and regulations governing real estate transactions. By understanding these requirements, you can ensure that you fulfill your legal obligations as a seller. This includes adhering to disclosure requirements, complying with zoning and building codes, and following any other relevant regulations. It won't do you any good to save a commission if you have to give it to the buyer (later) due to a failed disclosure requirement!

Mitigating Legal Risks: Being aware of local laws helps mitigate potential legal risks of selling your home. It minimizes the chances of facing disputes, lawsuits, or other legal complications arising from non-compliance or lack of knowledge.

Streamlining the Transaction Process: Understanding the necessary documentation and paperwork streamlines the transaction process. It allows you to gather and prepare the required documents in advance, avoiding delays and ensuring a smoother closing process.

Protecting Your Interests: Familiarity with local laws empowers you to protect your interests as a seller. It ensures you are well informed about your rights, responsibilities, and potential liabilities during the sale. This knowledge enables you to make informed decisions and negotiate from a position of strength.

Building Trust with Buyers: Demonstrating your knowledge of local laws and regulations builds trust with potential buyers. It reassures them that you are committed to a transparent and legally compliant transaction, fostering confidence in the integrity of the sale.

Seeking Professional Guidance: If needed, consider seeking professional guidance from a real estate attorney or a local real estate professional who can provide specific insights and advice based on your location. They can help you navigate complex legal requirements and ensure that your transaction complies with all necessary regulations.
You ensure a smooth and legally compliant transaction by familiarizing yourself with local laws, regulations, and documentation requirements. This knowledge protects your interests, minimizes risks, and instills confidence in both buyers and professionals involved in the sale.
You Can Succeed As A FSBO
Successfully selling your home without hiring a real estate agent is indeed a challenging endeavor, but with the right knowledge, strategies, and mindset, it is entirely possible to achieve a profitable and rewarding outcome. Throughout this article, we have explored key lessons and tips to empower you on your journey as a FSBO seller.
Understanding the big picture is crucial. You can make informed decisions throughout the selling process by comprehending how to sell your home at a high price while meeting your desired timeframe and goals. Conducting thorough market research, enhancing curb appeal, staging your home, capturing professional-quality photos, and writing an enticing listing description are some critical steps to attract potential buyers and stand out in the market.
Additionally, we emphasized the importance of advertising widely to reach a broad audience of potential buyers. Leveraging online platforms, social media channels, and FSBO-specific websites can significantly enhance your property's exposure and increase your chances of securing a successful sale.
Furthermore, we highlighted the significance of being attentive to inquiries, promptly responding to buyer questions, and maintaining a professional and helpful demeanor. By providing excellent customer service and being proactive in communication, you establish trust and create a positive experience for potential buyers.
Lastly, we stressed the need to negotiate effectively, understand your bottom line, and be prepared to negotiate offers to achieve the most profitable outcome. Mastering negotiation skills and taking control of the negotiation process can maximize the sale price of your home and help you achieve your financial goals.
As you embark on this FSBO journey, remember to familiarize yourself with local laws, regulations, and documentation requirements. Ensuring a smooth and legally compliant transaction protects your interests and builds trust with potential buyers.
Selling your home without a real estate agent may require additional effort, but the rewards can be substantial. By taking advantage of the knowledge and strategies presented in this article, you have the potential to successfully navigate the selling process, secure top dollar for your home, and embark on the next chapter of your life.
Good luck on your FSBO journey, and may it be filled with success, satisfaction, and a profitable home sale. We encourage you to share your experiences by leaving a comment below once you have successfully sold your home. Your insights can inspire and guide others who are navigating the FSBO process.
There are a lot of people who endorse Joe for the job of selling your home, from Barbara Corcoran (Star of ABC's Shark Tank) to Preston Scott (host of Tallahassee's top daily "Audio Magazine," as well as the thousands of happy customers Joe has helped in the past. Listen why!