Why Your Agent Must Have The Best Real Estate Website
Posted by Joe Manausa on Monday, July 22, 2019 at 5:55 AM
By Joe Manausa / July 22, 2019
Comment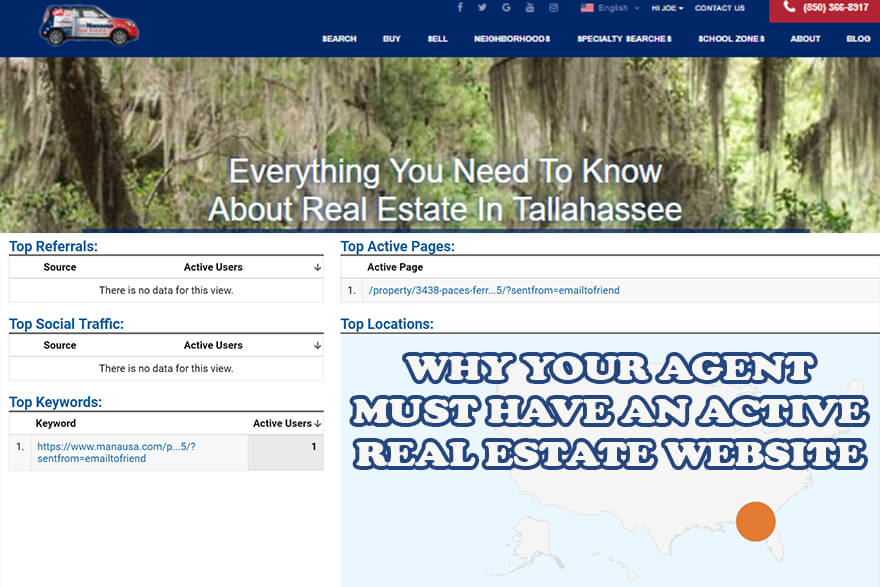 When it comes time to choose an agent for the job of selling your home, you will be best served if you hire the one with the best real estate website.
Today's post contains a sample property search (which can be expanded to search all homes for sale in Tallahassee) as well as a graphic that demonstrates what a great website can do that the others cannot do.
The Best Real Estate Website
There are many factors that you could consider when determining the "best" real estate website, but the top 2 are the ones you should favor most if you plan on selling a home.
The key to getting top dollar when selling your home is to ensure that it is regularly being marketed to the people most likely to buy it. While there are many national websites that do a good job of exposing a home, the fact is that the majority of the "ready buyers" are not on those sites. They have selected a top local website for the additional information that they can find that the big sites just don't know about.
The local site has to have the following two elements to be considered "the best."
1. The site must have a ton of traffic. It does not matter how "good" an agent's website is if nobody is visiting it. It takes a massive amount of offsite marketing to drive the traffic you need as a home seller to properly expose your home. A low-traffic site is no better than a billboard in a cornfield facing away from the interstate. It might be pretty, but it has no value to a home seller.
2. The site must have an excellent, responsive, mobile property search tool. The majority of homebuyers are searching for their next home on their mobile phones, so the search tool on the best real estate website will be built "mobile-first," meaning the engineers who designed the website created it primarily for mobile visitors.
There are a lot of other important features like neighborhood reports and other local information that national websites do not have, but the two points identified above are definite "must-haves."
The final section of our post shows an example of how the two points listed above come together to add to the exposure of your home when it's listed for sale on the best real estate website.
When I need real estate advice in Tallahassee, I call Joe Manausa. His innovative marketing attracts hundreds of buyers every month which creates more demand for your home, selling it faster and for more money. He guarantees to sell it on your timeline or he'll buy it! Call the agent I trust, Joe Manausa, and avoid the drama.
The Best Real Estate Website Works For Home Sellers
A highly trafficked real estate website is going to create opportunities that the others miss out on all the time. The following image comes from the analytics section of our website, and it shows how our social media marketing effort has increased the exposure for one of the home sellers who hired us to market and sell their home.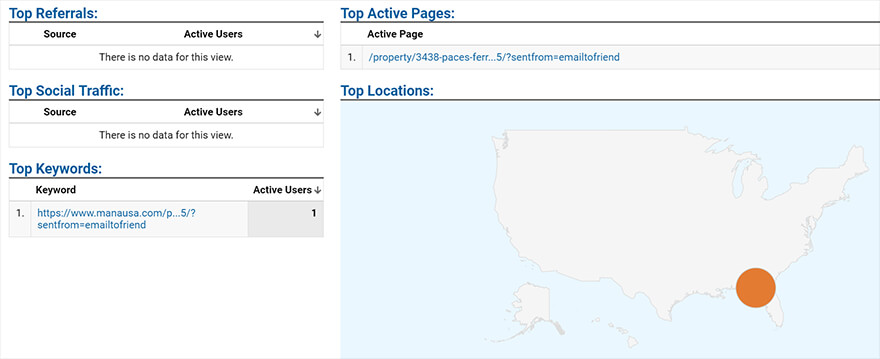 The image above shows three important pieces of information. First, there is a visitor on our website from Tallahassee. Second, are looking at this property. Third, they came to our website by clicking a link in an email sent to them by another visitor who found the property and thought they might like it.
Massive marketing generates tons of traffic, and when combined with the best real estate website, converts visitors into co-marketers of our listings. They share properties with friends and family members who, in turn, visit the site as additional exposure for your home.
While many real estate agent websites have the ability to email and share property listings, they fail because agents just don't spend the amount of money or do the marketing required to generate tons of traffic. In fact, we spend more money marketing our listings each month than most agents earn in a year. And our best Tallahassee real estate website proves it.
We have thousands of people using our property search tool every day, and examples like the one shown above are commonplace. So if you are thinking about selling a home in Tallahassee, hire the real estate agent that Barbara Corcoran uses and recommends for our area!
Real Estate Market Information Can Be Overwhelming
That's why Joe breaks the data down into easy-to-understand concepts. Whether you're buying, selling, investing or just interested in the market, sign up for Joe's blog to get the latest Tallahassee real estate updates, straight to your inbox.