Has The Average Home Value In Tallahassee Peaked?
Posted by Joe Manausa on Tuesday, December 3, 2019 at 5:58 AM
By Joe Manausa / December 3, 2019
Comment
Average home values in the Tallahassee real estate market continue to push higher, now up 4.1% over last year's average. But have home values gone too high?
High home values are good for homeowners, as they are gaining equity while enjoying the place they call "home." Rising values are actually good for buyers, as it is a sign that they are not risking their investment when they decide to buy a new house.
Before we get to today's report on historic home values and where they are heading, let's first start by looking at some of the best values in today's Tallahassee real estate market.
Great Values On Tallahassee Homes For Sale
The following list of homes for sale show great values across most price ranges in Tallahassee. The list is dynamic, meaning we will be adding and removing properties as they become (or no longer are) available.
Average Home Values In Tallahassee
The following graph plots average home values from 1991 through November in Tallahassee.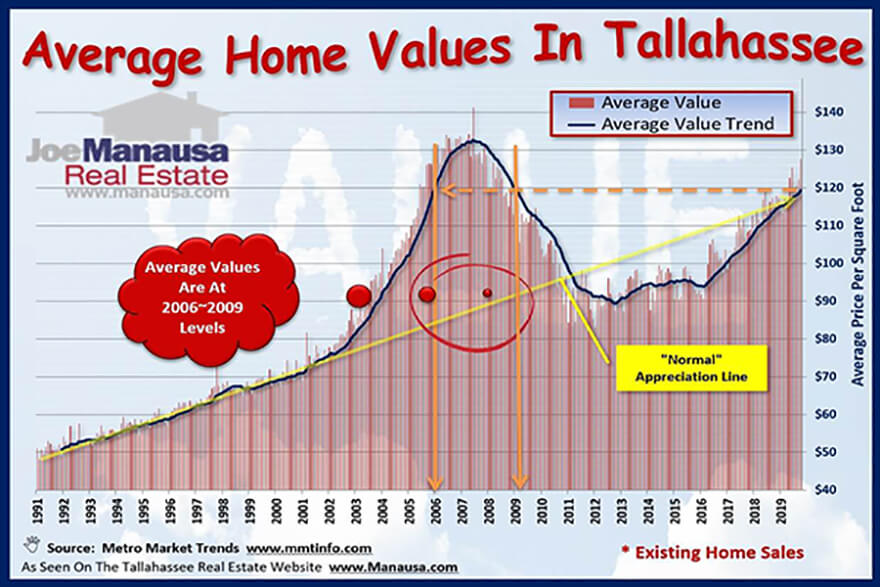 Average home values (measured in price per square foot) are shown as red vertical bars. The blue line shows the one year trend (the average over the most recent 12 months) and the yellow line shows that today's average appears to be in line with the appreciation rate in the Tallahassee real estate market from the 1990s.
Current values are higher than those prior to 2006 as well as those after 2009 (the years that the real estate market exploded). So the big question of whether or not today's home values are too high seems to be "no, not at all." They are in-line with what our historical appreciation rate would forecast.
Noto Recommends You Read Joe's Book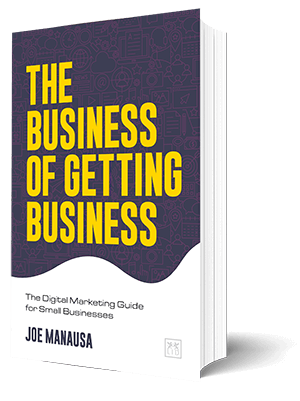 "Location, location, location' is no longer a competitive advantage. Digital marketing and going direct to consumer have made all geographical boundaries obsolete. The Business of Getting Business is a must-read modern-day survival guide for any local business to get to the next decade. Local businesses are on death ground.
They can either take a stand and re-invent themselves by embracing the digital frontier and have a chance to survive the overwhelming odds of digital direct-to-consumer capabilities that have erased all local and national business distinctions, or they can choose business as usual and accept certain death.
The Business of Getting Business is the critical survival guide for those that choose to dig in and fight."
– Anthony Noto, CEO, SoFi and former COO, Twitter
Get the book that explains it all, in a manner that is understanding to all, even technology neophytes. It's available on Amazon, a trusted source for consumers.
What Will Home Values Do Next?
I suspect we will see higher-than-historically-normal appreciation growth in the coming years due to the relatively low supply of homes. As anybody who has taken a basic course in economics knows, when supply is low and demand is high, values (prices) rise.
Tallahassee, like most other real estate markets, is split between the lower-end end where builders are having a hard time delivering inventory, and the higher-end, where supply is already too high.
This means the lower-end of the market is appreciating rapidly, while the higher-end of the market is actually dealing with over-supply and declining values. If the higher-end homes continue to see inventory reductions to the point that it joins the sellers' market, then we'll see appreciation (average home value movement) rise even faster. But I don't believe that will happen. The higher-end of the market will continue to bring the average down somewhat.
Does this make sense to you? If you have thoughts on the future of home value movement in the Tallahassee real estate market, you can leave a comment below, give us a call at (850) 366-8917, or drop us a note and we'll further the discussion from there.
As a local born and raised in Tallahassee with a focus on customer service, I promise you'll find great success when working with Joe Manausa Real Estate, just as have our past customers. You can thousands of their reviews reported on Google, Facebook and Zillow right here: Real Estate Agent Reviews Tallahassee.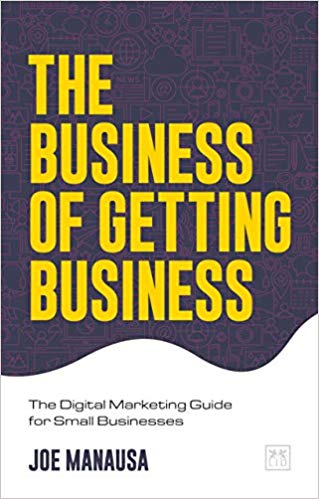 Have you heard about my new book "The Business of Getting Business?" It's a comprehensive guide for small businesses to help them make the move to digital. For those of us who want to survive and thrive in a world where large corporations are taking over, it is a must-read.
You can find it on Amazon (It will be published in Feb 2020, reserve your copy today at a pre-published rate).