Housing Market Conditions In 2020 Starts With Shortage Of Inventory
Posted by Joe Manausa on Monday, January 27, 2020 at 5:59 AM
By Joe Manausa / January 27, 2020
Comment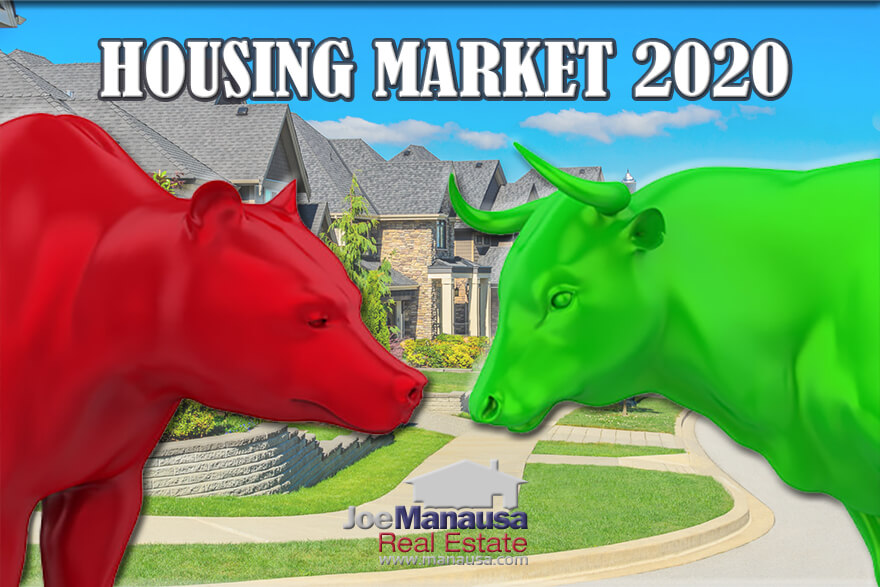 Housing market conditions in 2020 will be defined by inventory and mortgage interest rates. Currently, we have near-historic low rates but also near-historic low inventory.
These opposing forces on the direction of the Tallahassee real estate market this year will decide whether the market posts a ninth consecutive annual increase in home sales or if we'll see a reversion due to rising prices and too few homes for sale.
As much of the future of housing market conditions in Tallahassee dwells on low inventory, let's start with a quick list of homes for sale where each was listed in the Tallahassee MLS in the past three days.
Homes Just Listed In The Past 3 Days
Tallahassee Real Estate Market Conditions
As reported in our previous housing market update, overall conditions last year were very good. Lower mortgage interest rates boosted buying power and we saw more buyers than usual in the second half of the year. So how did the 2019 housing market compare with other years?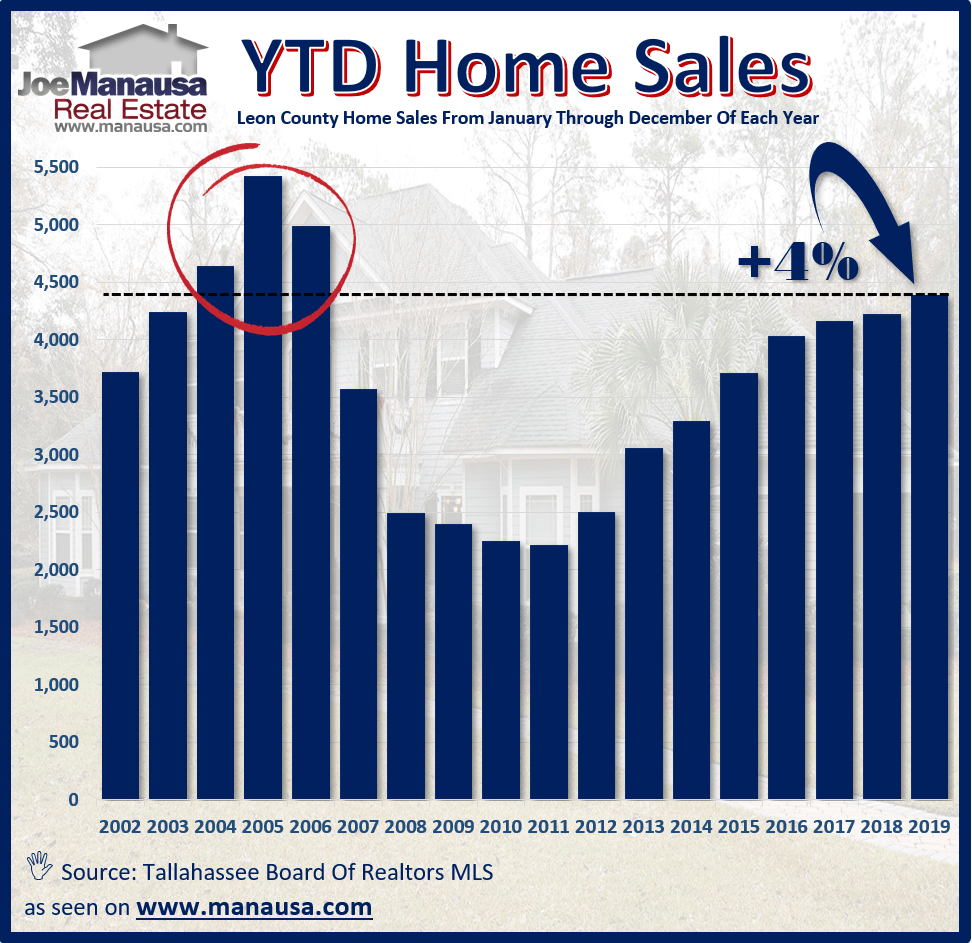 The real estate graph above shows us that housing market conditions have been steadily improving since the bottom of the market in 2011. A few key observations include:
Tallahassee has enjoyed 8 straight years of growth in annual home sales
The housing market moved 4% higher last year
2019 was the fourth-best year on record for annual home sales
Demand continued strongly in December, with year-over-year home sales posting a 15% gain in the final month of the year. If this demand pushes forward into 2020, we might just run out of inventory in many of the sub-median price ranges!
Keep Up With New Trends In Tallahassee!
Get The Tallahassee Real Estate Newsletter
Don't be the one that doesn't know what's going on when you sell a home or buy a home in Tallahassee.
Other buyers, sellers, lenders, and real estate agents have this critical information, and now you can too!
Get immediate access to our most recent newsletter.
Let nearly 30 years of experience work for you with charts, graphs, and analysis
of the Tallahassee housing market.
Forecast Housing Market Conditions
The best way to evaluate the condition of the housing market when you buy or sell a home includes a study of the relative supply and demand for homes for sale.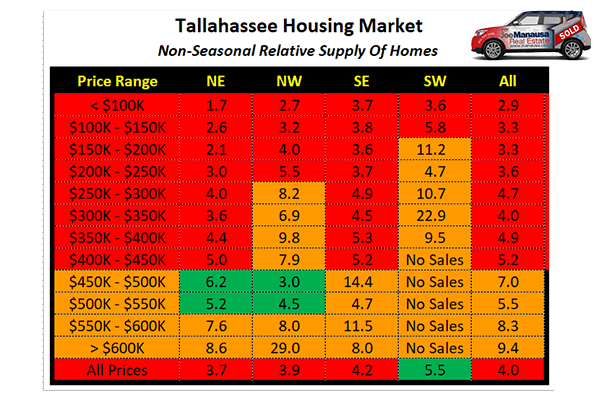 The table above shows the non-seasonal relative supply of homes. The "non-seasonal" means that we have removed the impact of seasonality in real estate by using the average supply over the past twelve months as well as the average number of homes sold over the past twelve months to determine the relative supply of homes.
"Relative" means we are measuring the supply of homes for sale and comparing it to the current rate of demand.
The relative supply is reported numerically in months of supply where historically we have considered 6.0 months of supply to represent a balanced market (market equilibrium, shaded green in the table above). When the market is balanced, neither the seller nor the buyer in a transaction has an inventory-related advantage over the other.
By the way, the green shading in NW is not an accident, these low numbers are primarily due to low liquidity and will change fairly rapidly with supply change. It would also be fair to have this shaded red.
Below 5.5 months of supply (red shaded area in the table above), housing market conditions favor home sellers, as there is far more demand than supply.

Above 6.5 months of supply (orange shaded area in the table above), housing market conditions favor home buyers, as there is far more supply than demand.
Low Relative Supply Impacts Housing Market Conditions
There's a lot of red in the table above, and it might even be redder than you initially gathered upon first glance of the table. Visibly, 22 of the 48 cells that comprise the four areas of the Tallahassee real estate market are showing red (46%). Yet there's a whole lot more than 46% of home buyers that are purchasing in a seller's market.
Consider how Tallahassee's four quadrants are performing when you observe the median price (median is the middle priced home in the market, not the average) of homes. Further, what about looking at the third quartile of homes?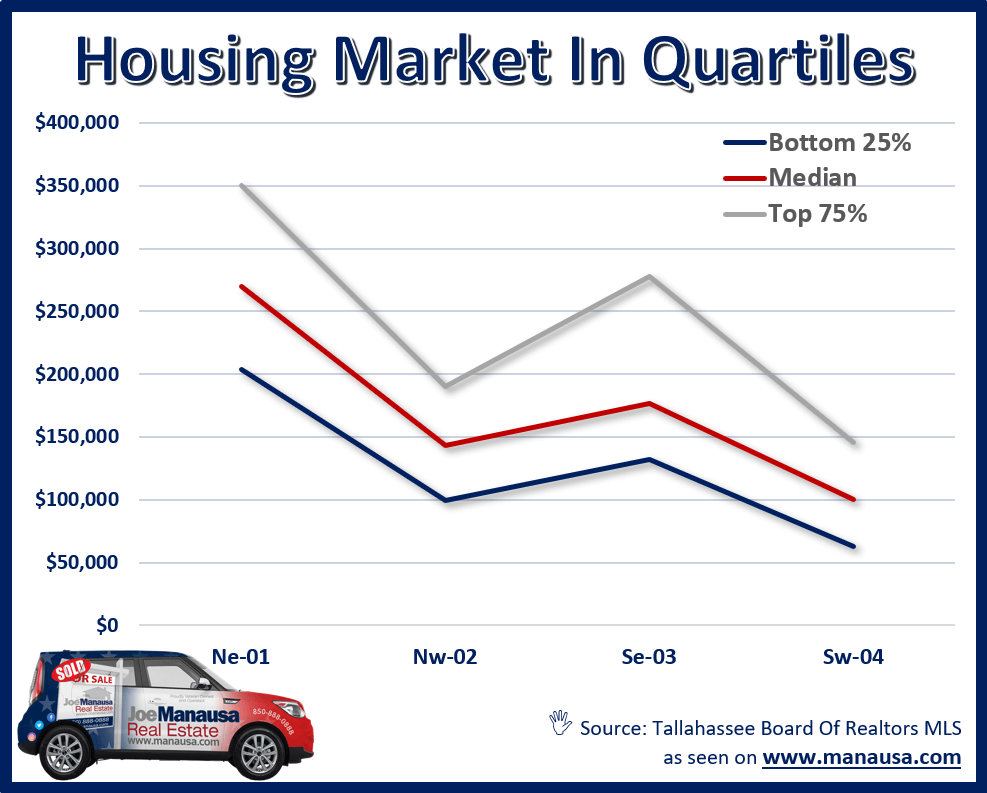 So what exactly does the quartile graph tell us? If you look at the base of the graph, each quadrant of Tallahassee is shown from left to right. Above each quadrant are three quartiles representing the price at which each quartile is reached.
From bottom to top, the blue line shows the price where 25% of the market is reached. The red line shows the median price point, and the gray line reveals the 75th percentile where 75% of the market is at that price or below.
NE Tallahassee: 75% of homes sold in 2019 were priced under $350K
NW Tallahassee: 75% of homes

sold in 2019 were priced

under $190K
SE Tallahassee: 75% of homes

sold in 2019 were priced

under $280K
SW Tallahassee: 75% of homes

sold in 2019 were priced

under $150K
If you refer back to the table several paragraphs ago, you will see that each of these points above is in the "red" zone in the table. So at a minimum from the graph and table above, we know that more than 75% of the homes for sale in Tallahassee are competing in a low-inventory buyer's market.
Perhaps sometime (when I've got some spare time), I will set up an equation to figure out exactly how much of the market is in a buyers market. If you think you know how to do this in excel, please leave me a comment below or drop me a note and I'll update this post as soon as humanly possible.
So our forecast for housing market conditions in 2020 is fast and furious for more than 75% of the inventory. Remember, just because there are many buyers, you still need to execute a full omnichannel marketing plan to ensure that ALL the competition for your home is assembled at the same time.
The right marketing plan will generate multiple offers, enabling you to squeeze all the equity from your home, as opposed to just selling it to the first person who knew it was for sale. Remember, it's easier to negotiate the sale of your home if more than 1 person wants it!
Be Informed, Go Local
As a reminder, I'm a local; born and raised in Tallahassee with a focus on customer service, I promise you'll find great success when working with Joe Manausa Real Estate, just as have our past customers. You can read thousands of their reviews reported on Google, Facebook and Zillow right here: Real Estate Agent Reviews Tallahassee.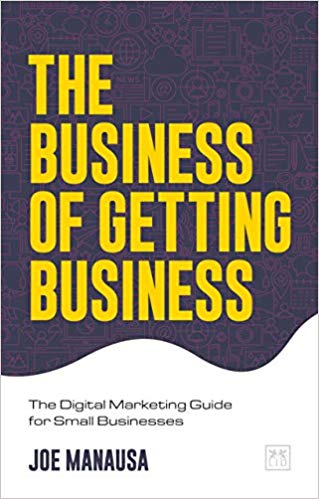 Have you heard about my new book "The Business of Getting Business?" It's a comprehensive guide for small businesses to help them make the move to digital. For those of us who want to survive and thrive in a world where large corporations are taking over, it is a must-read. It's also the perfect guide for how to sell a home in the digital age.
You can find it on Amazon (It will be published in Feb 2020, reserve your copy today at a pre-published rate).
Real Estate Market Information Can Be Overwhelming
That's why Joe breaks the data down into easy-to-understand concepts. Whether you're buying, selling, investing or just interested in the market, sign up for Joe's blog to get the latest Tallahassee real estate updates, straight to your inbox.