Mortgage Interest Rates 20% Lower Than Last January
Posted by Joe Manausa on Monday, January 13, 2020 at 5:59 AM
By Joe Manausa / January 13, 2020
Comment
Mortgage interest rates are currently 20% below where they were one year ago, perhaps a signal that the housing market could push higher.
Contrarily, the supply of homes for sale in Tallahassee is also 20% lower than in January 2019, which could easily lead to the slowing of the market as buyers await new inventory.
Whether you own a home or are thinking of buying a home, current conditions suggest you should take action.
When we look at mortgage rates going back to 1971, we see that today's rates are very, very close to the lowest they have ever been.
Historic Mortgage Interest Rates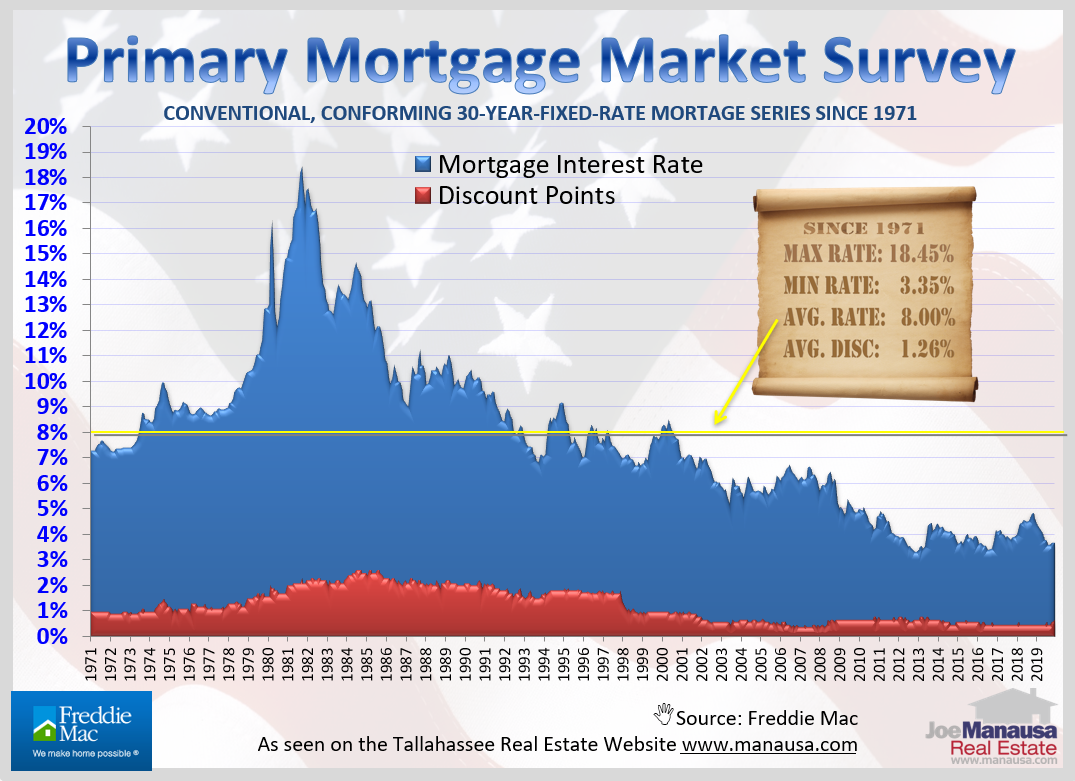 The fifty-year average mortgage interest rate has dropped to an even 8.00%, which means today's rates remain below 1/2 of the historical norm! Whether you are buying a home today or you just are considering a refinance, you should definitely speak with a local mortgage lender to determine your options.
For those with homes already, look at what they will offer you for a no-cost refinance (which is merely a refinance where they roll closing costs into the loan but you end up with a lower rate). History suggests that rates will move higher, so grab some of this cheap money while you still can, if it makes sense.
If you are in the process of buying a home, the prudent move is to move fast. We've seen rates move slightly higher over the past three months, and every tick higher either means a higher monthly payment or a lower buying power.
But that's not all. Let's look at how mortgage interest rates and the declining supply of homes for sale will impact buyers in 2020.
Should you lock-in a rate with your mortgage lender?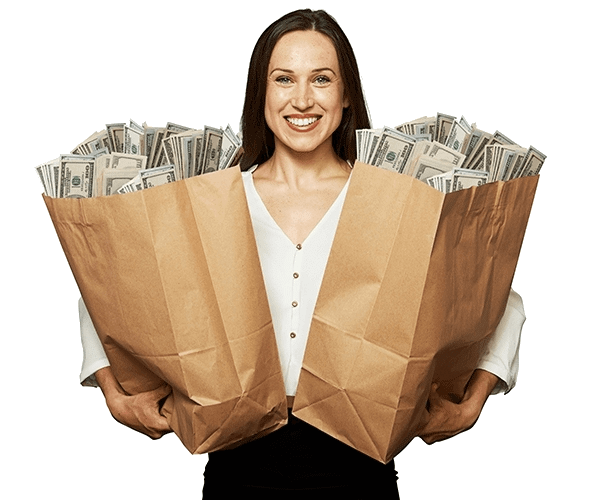 Shopping for "money" is tough, there are tips and tricks you should know, like "when to lock your rate."
The best way to find out is to discuss your present needs and compare them to current conditions in the mortgage market. You need to speak with an expert, somebody you can trust.
Simply provide your contact information below and we will help you evaluate the best time and way to utilize a mortgage interest rate lock.
If we make the assumption that rates are going to rise and inventory is going to remain tight, then I can share with you what will happen to many buyers.
They are going to take the wrong approach to the home buying process and end up taking too long to get the right home under contract.
How Rising Mortgage Interest Rates Impact Buying Power
Let's say you go out and start shopping for homes that you can purchase with a $300,000 loan. You spend your time and you don't make any rash decisions. When you find "the one," you make what you feel like is a good offer.
After you submit your offer, you are told that yours is one of several offers and you are asked to sweeten the offer if you want a chance at the home. So what do you do? Who do you get advice from? Do you ask your lender? Your real estate buyer's agent? Who has the experience, as well as your trust, to guide you on this?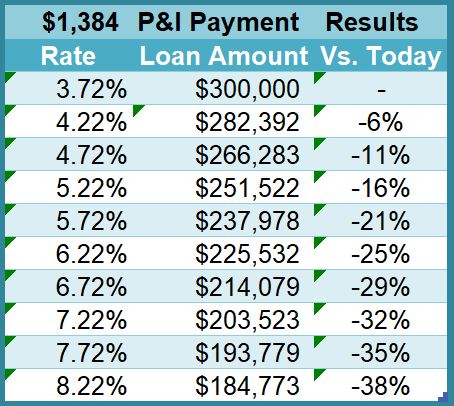 Well, if you are like most buyers, you did not choose your buyer's agent wisely and you now are in a no-win situation. In fact, most buyers in today's market fail on their first offer because they did not have a negotiation strategy that was based upon market conditions. They started the process all wrong and it ended poorly.
In this example, you fail to get the first home, time is lost, and mortgage interest rates have risen
The table on the right demonstrates the impact of a delay in purchasing when mortgage interest rates are rising. A 1/2% move in rates means you now have to bring an additional $18K in cash to closing in order to qualify for the same home.
In other words, you have lost 6% of your buying power because of the delay caused by your lack of understanding of the home buying process in today's market.
Now, another way to view this same scenario under different conditions is to look at the impact of your monthly mortgage payment. Let's change the assumption above to one where you can afford a more expensive home, you just want to keep your home price around $300,000.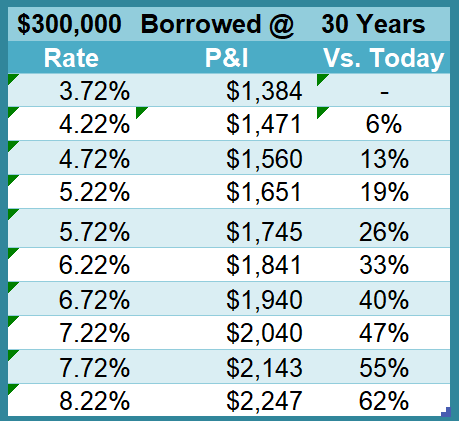 All of the processes and events unfold in this scenario as they did in the one prior, and thus you find yourself delayed in the purchase of your new home.
Since you can afford to spend more on the home, it has not truly impacted your buying power, rather it will now cause you to spend more on your monthly mortgage payment due to the higher rate.
The table on the left shows with an increase of the mortgage interest rate of 1/2%, your payment will go up 6% (in this case $87 per month or $1,044 per year, which is $31,320 of the life of the mortgage). Remember, current rates are near historic lows, and one of these days we will see them move higher (likely above today's rate for the remainder of our lives).
So how quickly can mortgage interest rates change? Take a look at the graph above. In 1971, rates were 7 1/8% and in less than 3 years, they were topping 10%! So what would an increase of 3% do to for a buyer or refinance today?
Instead of being able to afford $300,000, a buyer would see buying-power reduced 29% to $214,079! And remember, low inventory means that values are moving much higher, so that $214K home was likely $200K when the buyer first started shopping 3 years prior!
Another way to view the impact is with the mortgage payment. A 3% increase in the mortgage interest rate would move the payment 40% higher! Instead of paying $1,384 per month, the higher payment would now be $1,940 per month.
That is $556 more per month, $6,672 more per year, and a whopping $200K more during the life of the loan. Seriously, this could happen, and it has several times before in the past 50 years.
Whether buying or refinancing, lock-in to today's cheap money before it's gone.
Noto Recommends You Read Joe's Book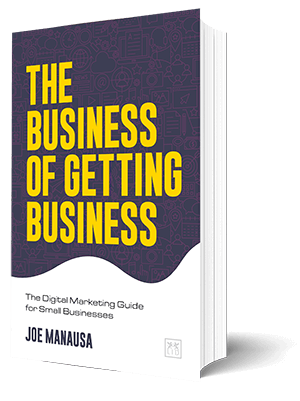 "Location, location, location' is no longer a competitive advantage. Digital marketing and going direct to consumer have made all geographical boundaries obsolete. The Business of Getting Business is a must-read modern-day survival guide for any local business to get to the next decade. Local businesses are on death ground.
They can either take a stand and re-invent themselves by embracing the digital frontier and have a chance to survive the overwhelming odds of digital direct-to-consumer capabilities that have erased all local and national business distinctions, or they can choose business as usual and accept certain death.
The Business of Getting Business is the critical survival guide for those that choose to dig in and fight."
– Anthony Noto, CEO, SoFi and former COO, Twitter
Get the book that explains it all, in a manner that is understanding to all, even technology neophytes. It's available on Amazon, a trusted source for consumers.
Did our mortgage interest rate report leave you with unanswered questions? If so, you can give us a call at (850) 366-8917 or drop us a note and we'll help you with your specific Tallahassee real estate needs.
As a local born and raised in Tallahassee, with a focus on customer service, I promise you'll find great success when working with Joe Manausa Real Estate, just as have our past customers. You can thousands of their reviews reported on Google, Facebook and Zillow right here: Real Estate Agent Reviews Tallahassee.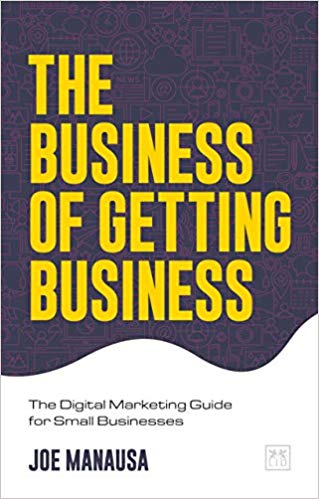 Have you heard about my new book "The Business of Getting Business?" It's a comprehensive guide for small businesses to help them make the move to digital. For those of us who want to survive and thrive in a world where large corporations are taking over, it is a must-read.
You can find it on Amazon (It will be published in Feb 2020, reserve your copy today at a pre-published rate).
Please Do Us A Small Favor
We work very hard to produce daily content for our long-time readers and first-time visitors. We provide this information for free, hoping to earn your respect and trust and the right to one-day help you when selling or buying a home. Can we get your help spreading the word about our blog?
If you like the content, would you please like it or share it using the Facebook button at the beginning of the post? This simple action will be greatly appreciated! THANK YOU!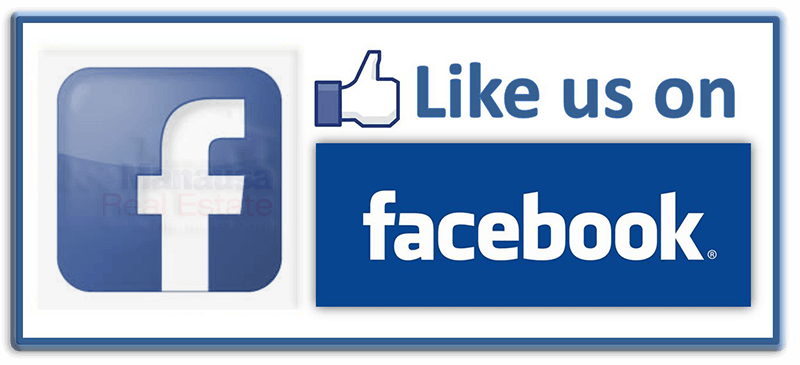 Also like us on Facebook at https://www.facebook.com/joemanausarealestate/