What Percentage Did Home Sellers Receive When Selling A Home?
Posted by Joe Manausa on Monday, December 30, 2019 at 5:50 AM
By Joe Manausa / December 30, 2019
Comment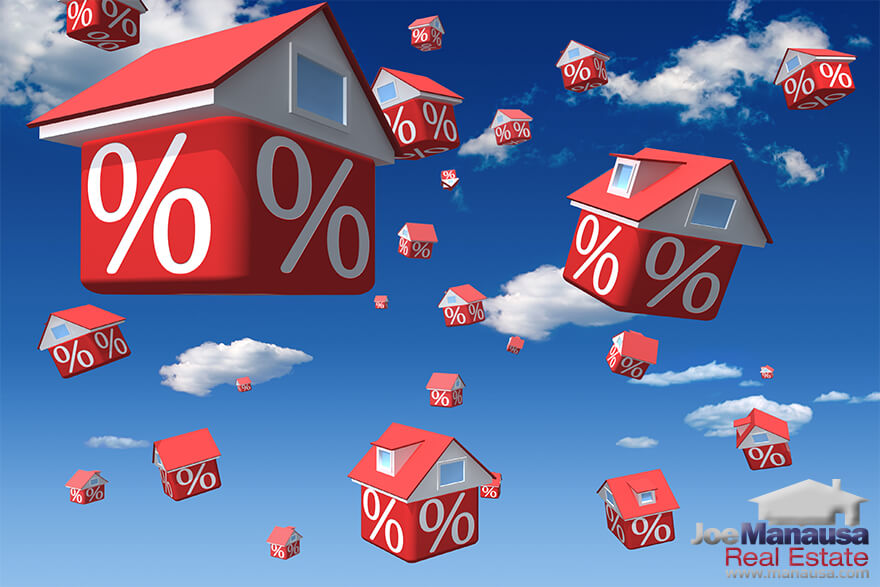 It's a seller's market in real estate almost everywhere around the US, so you would think that most home sellers would be having their way in the market.
Unfortunately, that is not the case.
Let's take a look at how home sellers have done over the past four years, and then I'll share with you the reasons they are not getting all the equity from their homes.
What Home Sellers Received When Selling A Home
The following graph was assembled from home sales for the past four years, comparing the final sales price to the original asking price.
The company names in the graph have been removed, but it's important to know that the top 16 companies in Tallahassee are shown, representing roughly one-third of all homes sold, sorted from highest to lowest performance.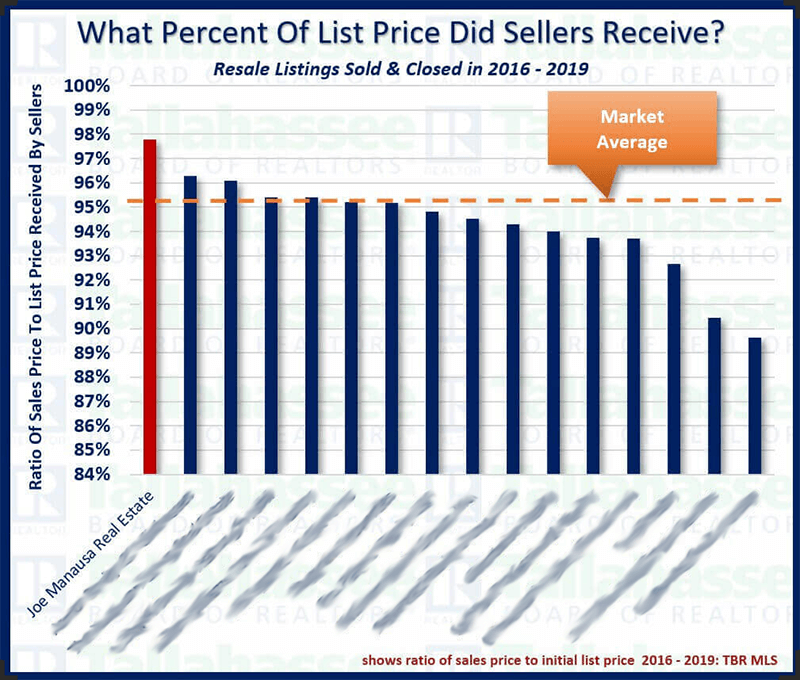 Notes On Performance
Obviously, we are proud to be the company that delivers more to home sellers than any of the other top producing companies in town, but there is a lot more to glean from the graph above:
The market average for all existing-home sales is just over 95.1%. Let's put that into perspective. As an example, on average, a $300,000 home listed for sale would fetch $285K from the average producing company.
Only five of the top sixteen companies are performing at market average or better, meaning nearly 70% of the top companies are delivering below-market results! Take the time to carefully consider the company that you hire, it matters!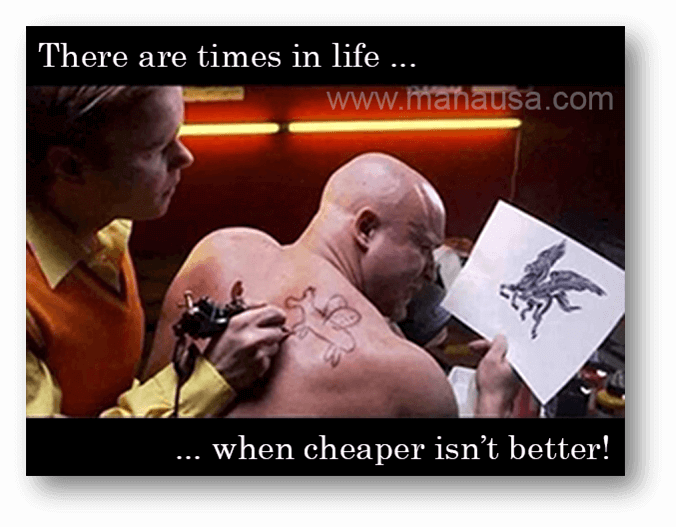 Many home sellers think they are saving money by hiring a discount company. Why pay 6% if somebody else will do it for 5%? Well, (again using the $300,000 example), on average, you would have received $293,400 had you hired my company, versus $268,500 had you hired company #16. The 1% you saved in fees ($3,000) would have cost you $20,721!
When I need real estate advice in Tallahassee, I call Joe Manausa. His innovative marketing attracts hundreds of buyers every month which creates more demand for your home, selling it faster and for more money. He guarantees to sell it on your timeline or he'll buy it! Call the agent I trust, Joe Manausa, and avoid the drama.
The Games Real Estate Agents Play
Believe it or not, the graph above took hundreds of hours to produce. This is not something that can be easily assembled from information pulled directly from the Tallahassee MLS. Why?
Because real estate agents play a lot of games. Sometimes the games are done in an honest attempt to help their home sellers. Other times, they are done to "fool" people pulling reports from the MLS. Let's look at a few examples:
Relisting A Property: Many agents cancel and relist properties that are not selling. They do this in order to "reset" the listing date, hoping to fool other agents and prospective buyers about the newness of the listing. Some believe that this will make the home seem more desirable than one that has languished on the market.

Cancel Upon Contract: Other times, when agents get an offer on a home, they cancel the listing and create a new one, and that new one is immediately moved to a status of "contingent" or "pending," meaning the home is under contract. When it finally does sell, that closed listing will appear as if it were only on the market for one day. There are numerous cases of homes that took YEARS to sell that appear in the MLS as homes that sold in one day. I believe this is done in order to fool other agents who pull reports from the MLS.
Regardless, there are many games that real estate agents play, and for this reason, Joe Manausa Real Estate painstakingly maintains historic data files on the MLS. No matter how many games are played, we are always able to track the initial listing date and price of the property to be used in tracking important information as you found in the graph above.
It is why we know the actual ratio of the sales price to the original list price, as opposed to what the MLS would report based upon the changes that have been made by agents.
Why Sellers Are Not Getting Their Equity In A Seller's Market
As promised in the opening of this article, I said I would share with you the reasons why home sellers are not getting all the equity from their homes. The answer is simple ... they are trying to sell their homes using outdated processes. The internet has changed the game for home sellers, so they need to deploy an omnichannel marketing plan to engage more buyers.
If you would like to really understand how to properly market a home for sale in the digital age, we have produced THIS PAGE on our site to walk you through our process. The results in the graph above are not an accident, we do more to sell a home for top dollar than anybody else in Tallahassee.
Would you like to learn more about getting all of the equity from your home? You can leave a comment below, give us a call at (850) 366-8917, or drop us a note and we'll further the discussion from there.
As a local born and raised in Tallahassee with a commitment to customer service, I promise you'll find great success when working with Joe Manausa Real Estate, just as have our past customers. You can thousands of their reviews reported on Google, Facebook and Zillow right here: Real Estate Agent Reviews Tallahassee.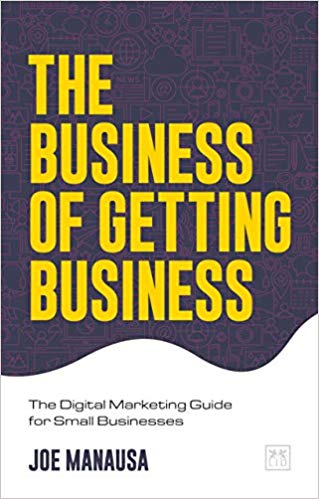 Have you heard about my new book "The Business of Getting Business?" It's a comprehensive guide for small businesses to help them make the move to digital. For those of us who want to survive and thrive in a world where large corporations are taking over, it is a must-read.
You can find it on Amazon (It will be published in Feb 2020, reserve your copy today at a pre-published rate).
Subscribe to Joe's Blog
Join 1000's of other subscribers that receive updates each day that we publish a new article. Filled with homes for sale, neighborhood analyses, and all the information home sellers and buyers need to make an informed decision. Just tell us who you are and where you'd like us to send new updates.