Is This Really What A Housing Recovery Looks Like?
Posted by Joe Manausa on Monday, November 26, 2012 at 12:49 PM
By Joe Manausa / November 26, 2012
1 Comment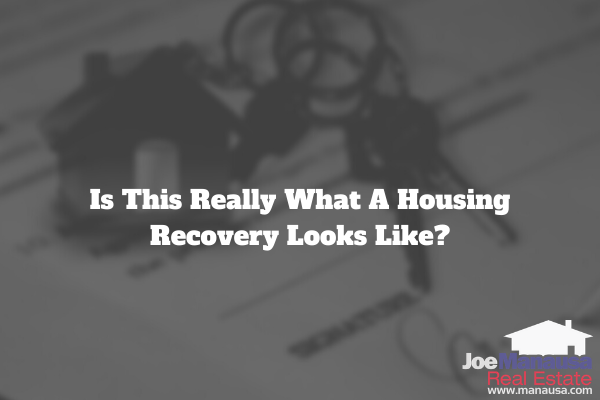 It has been six long years since the market began to unravel and we are still awaiting a housing recovery that many around the Country say is occurring.
Sure, there are some positive things happening in the Tallahassee real estate market, but I'm very suspicious about the way this housing recovery appears to be forming.
You see, there is a statistic that nobody is reporting, and I even suspect most real estate professionals do not even know it exists.
Housing Recovery Starts With Supply And Demand
A housing recovery must begin with a balancing between the supply and demand for homes in each local real estate market.
Because the real estate market is fluid and rather slow moving, I believe a housing recovery will present itself in stages and should be readily apparent to those of us who are watching closely.
All around the country (including Tallahassee) we have been hearing reports about the falling supply of homes for sale, and we all are getting excited as this is one critical stage of a housing recovery. The following real estate graph shows the number of homes listed each month, as well as the number of homes sold each month.
Housing Recovery Numbers Are Missing
When I look at the (positive) numbers in the graph above, it is exciting to see that the number of new listings each month now is roughly the same as the number of sales each month. The last five years has certainly closed the great divide between the two.
While this is a much needed improvement, my concern is the way in which it has been accomplished. Instead of seeing the number of sales rise up to meet the supply, we've seen the supply side drop down to meet demand.
Some of this is expected, as home builders reduced the number of homes coming to the market. But far less than 1/2 of the decline in home listings can be attributed to the slowing of new construction, the majority is occurring for another reason. And this is a cause for concern.
Fewer people are trying to sell a home right now, and that means we are stock-piling (pent-up) supply. One way or another, the people that want to sell a home and move will need to enter the market in the coming years.
Many are holding on to sell when prices return, yet home values are still depreciating due to the continued imbalance between supply and demand.
Homeowners who are sitting on the sideline waiting need to plan to live in their present homes for many more years. Those who suspect they cannot hold out for more than a year or two would be better off selling now at a higher price.
Homeowners Need To Plan Their Move
If you are not sure about what to do, why not sit down with a highly qualified real estate professional that can help you assess your current situation and compare it to your desired situation.
The key is understanding the real imbalance between supply and demand in your price range, and your niche in the local housing market. I can help you do both.
Simply drop me a note to schedule a time to review your specific situation and goals, and regardless of the decision that you make, you will be glad that you finally have a plan for your own housing recovery.
Please Do Us A Small Favor
We work very hard to produce daily content for our long-time readers and first-time visitors. We provide this information for free, hoping to earn your respect and trust and the right to one-day help you when selling or buying a home. Can we get your help spreading the word about our blog?
If you like the content, would you please like it or share it using the Facebook button at the beginning of the post? This simple action will be greatly appreciated! THANK YOU!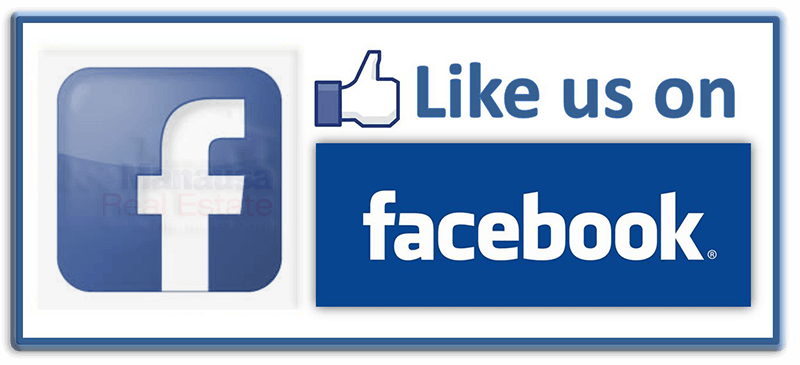 Also like us on Facebook at https://www.facebook.com/joemanausarealestate/
Joe Wrote The Book On How To Sell A Home Today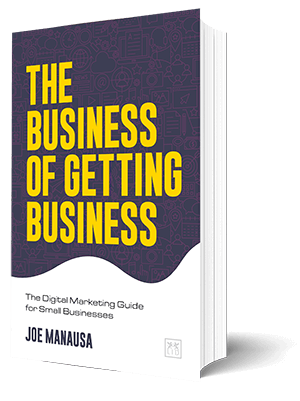 "Location, location, location' is no longer a competitive advantage. Digital marketing and going direct to consumer have made all geographical boundaries obsolete. The Business of Getting Business is a must-read modern-day survival guide for any local business to get to the next decade. Local businesses are on death ground.
They can either take a stand and re-invent themselves by embracing the digital frontier and have a chance to survive the overwhelming odds of digital direct-to-consumer capabilities that have erased all local and national business distinctions, or they can choose business as usual and accept certain death.
The Business of Getting Business is the critical survival guide for those that choose to dig in and fight."
– Anthony Noto, CEO, SoFi and former COO, Twitter
Get the book that explains it all, in a manner that is understanding to all, even technology neophytes. It's available on Amazon, a trusted source for consumers.

Think all REALTORS are alike?
Read what people are saying about working with Joe Manausa Real Estate! You can see thousands of real customer reviews reported on Google, Facebook and Zillow at this link: CLICK HERE FOR REAL ESTATE AGENT REVIEWS.