Are Wages Keeping Up With The Housing Market?
Posted by Joe Manausa on Monday, September 12, 2022 at 5:51 AM
By Joe Manausa / September 12, 2022
Comment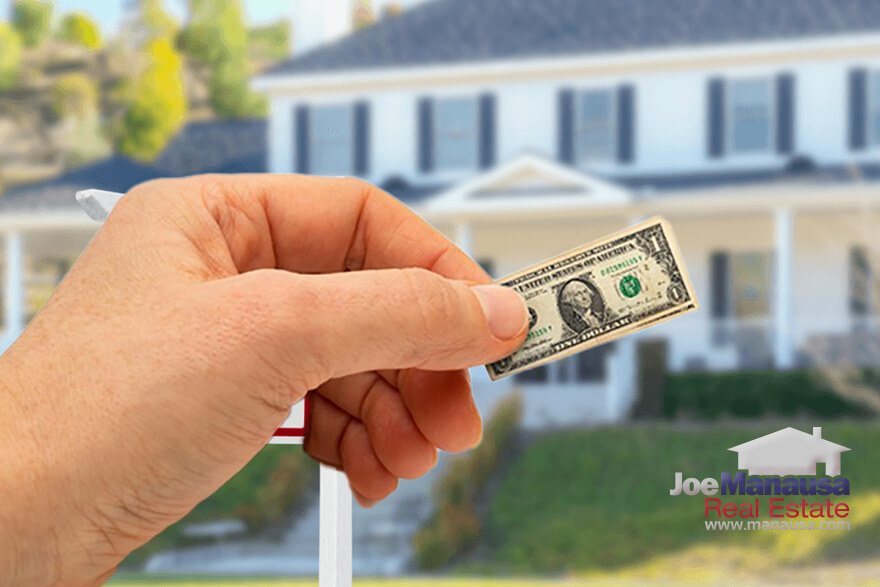 Home prices are higher. Mortgage interest rates are higher. But does that mean that home affordability is tanking?
To answer this question, I have produced an analysis that examines the cost of buying and owning a home today compared to the past 45 years. A recent reader recommended that I adjust current monthly mortgage payments with wage-inflation data to answer this question, which is what I have done.
Wages have risen, but have they risen as fast as home prices and mortgage interest rates? Follow along with me through this short post, you might be surprised with the answer.
Median Home Price Continues Higher
This graph plots the US median home price each quarter from January 1987 through June 2022.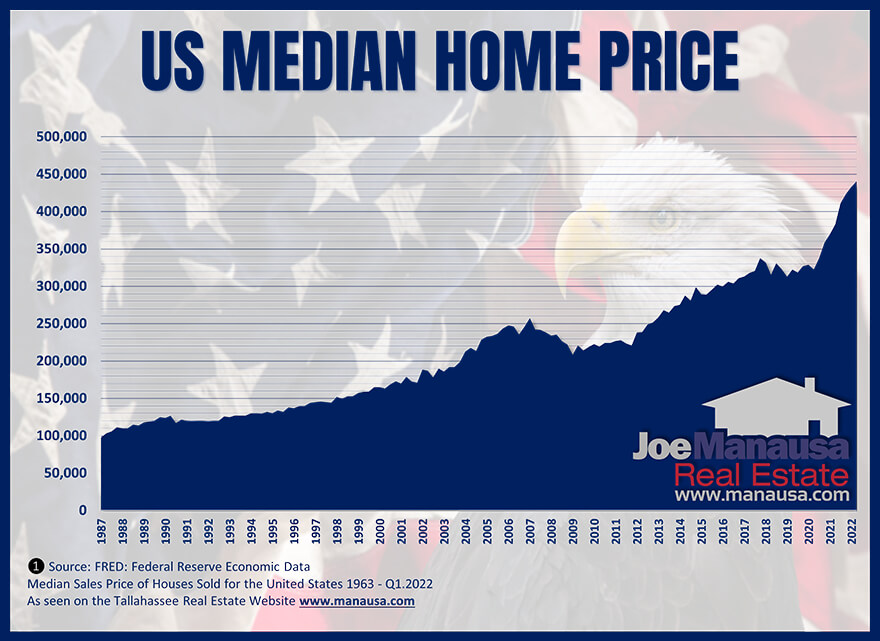 The fact that home prices are rising is not newsworthy, but a picture of the growth they have encountered is enough to take your breath away. Through June, the median US home price was $440,300, a rise of more than 15% from a year ago when the median home price was $382,600.
As I have addressed in numerous other reports, the US has not been producing enough new homes to house its growing population. This is confirmed with both home prices and rents soaring due to the limited supply of homes.
Rising prices is one major factor in the decline of home affordability, and the next graph shows us the double-whammy second factor that is hurting home affordability too.
Mortgage Interest Rates Are Double Last Year's Rate
This graph plots the 30-year fixed mortgage interest rate for the past 50+ years.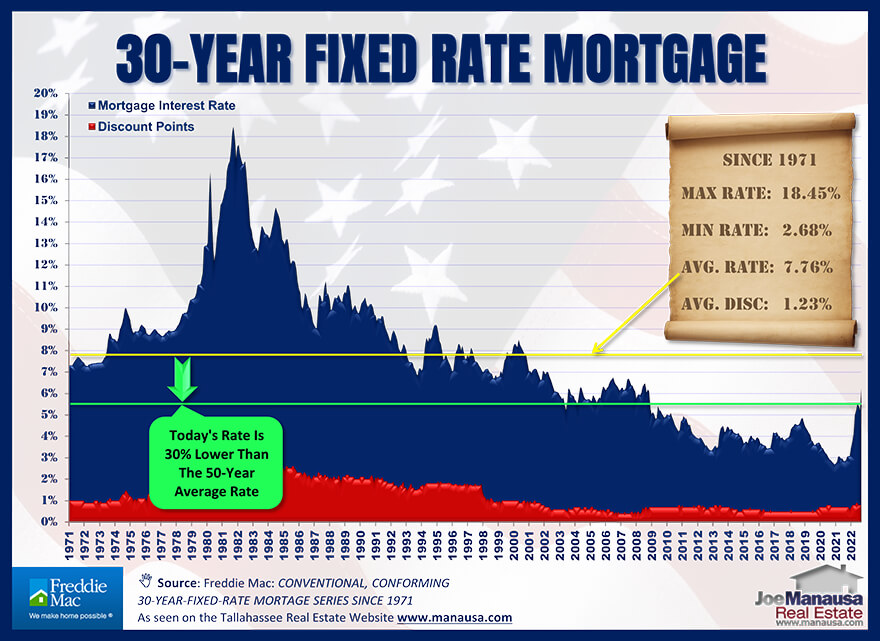 A cursory examination of the graph shows that today's rate is still well below the 50-year average. Unfortunately, while rates are still relatively low, they are now more than double the one-year-ago rate. This has created sticker shock in the housing market, and home sales have tumbled.
Take a close look at the long-term trend. Generally speaking, we have enjoyed declining rates since the 1980s, and this has been a huge boon to home affordability. There are several generations of Americans who have purchased homes and refinanced them over the years to obtain cash for living expenses.
Additionally, we have seen generations of move-up buyers who were able to use the equity generated from their homes (combined with lower mortgage interest rates) to buy superior homes. With rates having hit all-time lows last year, it might be a long time before the move-up buyer market returns in force.
Keep Up With New Trends In Tallahassee!
Get The Tallahassee Real Estate Newsletter
Don't be the one that doesn't know what's going on when you sell a home or buy a home in Tallahassee.
Other buyers, sellers, lenders, and real estate agents have this critical information, and now you can too!
Get immediate access to our most recent newsletter.
Let more than 30 years of experience work for you with charts, graphs, and analysis of the Tallahassee housing market.
Home Affordability Has Deteriorated
This graph shows how both rising prices and rising mortgage interest rates have impacted the monthly mortgage payment a median homeowner is making.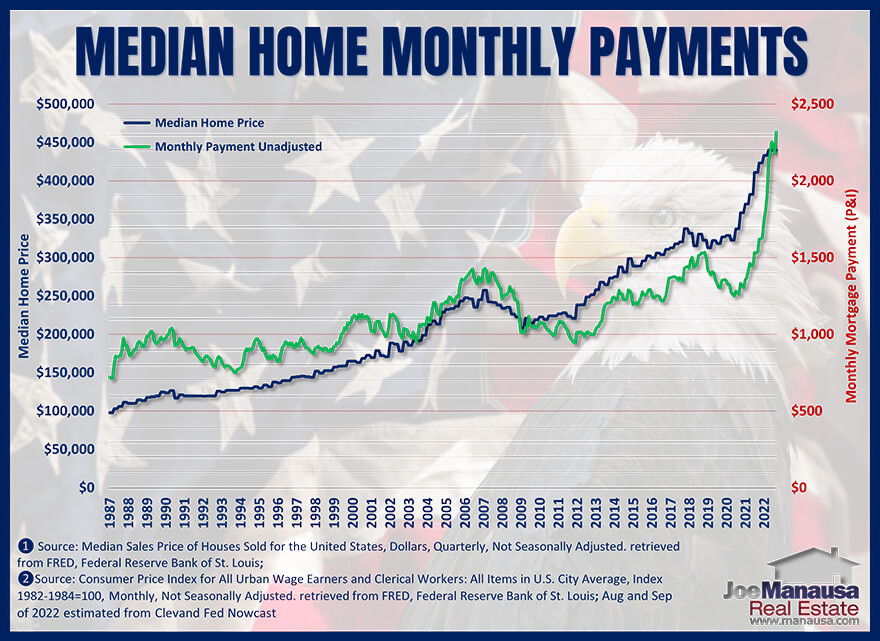 The median home price is plotted in blue and reported on the left vertical axis, while the monthly mortgage payment in green (principal and interest) is reported on the right vertical axis.
The median monthly mortgage payment has grown 233% since 1987, from $750 to over $2,500 per month. More importantly, much of that growth has occurred in just the past two years.
US Wage Inflation Is Accelerating
This graph plots US wage inflation since 1987.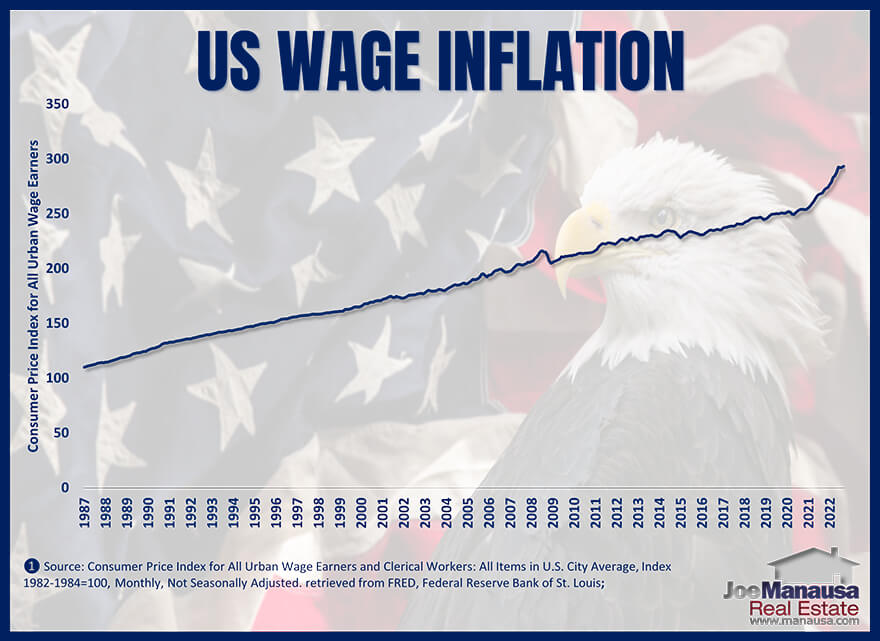 The graph above plots the consumer price index for all urban wage earners and clerical workers.
It is one thing to say that mortgage payments have grown, but inflation has caused the price of everything to grow. Note how sharply wages have turned higher in the past two years.
We can use the information in the graph above to compare how mortgage payments have moved relative to wages. We know people are earning more and spending more, but which is prevailing for their housing budgets? Our next graph reveals the effective growth rate of mortgage payments since 1987.
Wage-Adjusted Monthly Mortgage Payments Nearing High
This graph, similar to the previous graph, plots the median home price and the median monthly mortgage payment and adds the wage inflation-adjusted median monthly mortgage payment.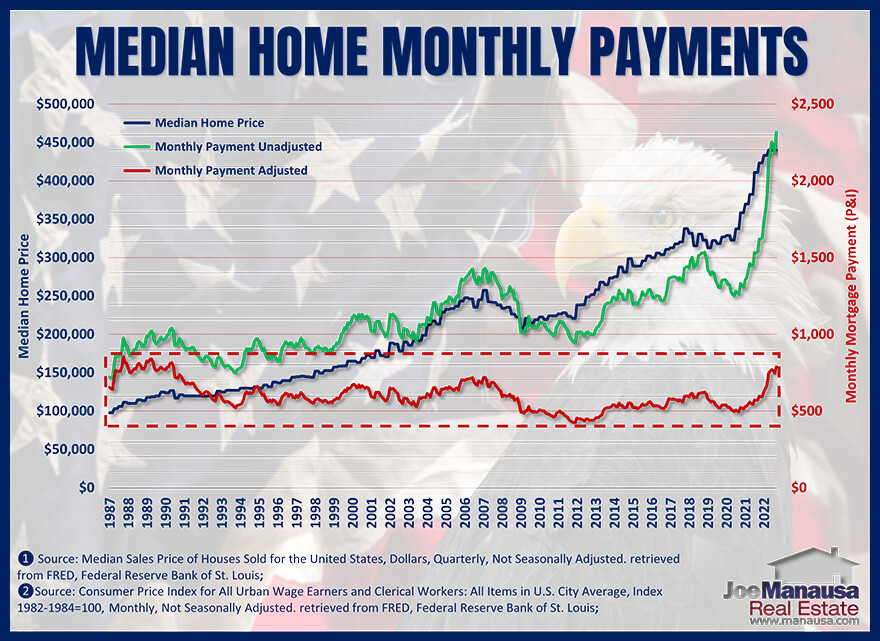 When adjusted with the consumer price index for all wage earners, the monthly mortgage payment (red line) is far less extreme than the unadjusted payments. Our next graph zooms in on this payment.
Wage-Adjusted Monthly Mortgage Payments
The final graph in our report shows how the wage-adjusted monthly mortgage payment has changed since 1987.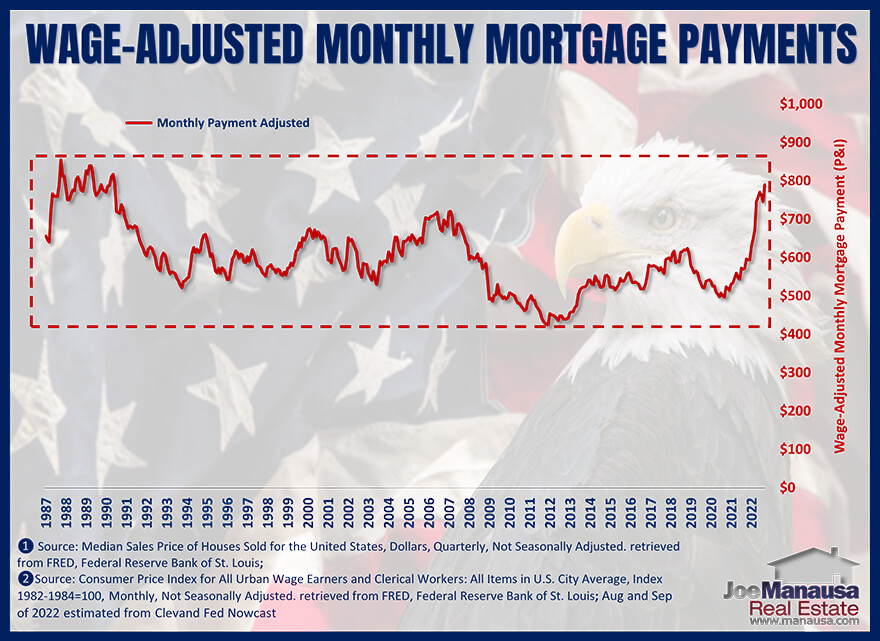 When adjusted as we have done in the graph, the monthly mortgage payment is represented in 1987 dollars. Surprisingly, today's crazy-high mortgage payments have not yet established a new high. Payments from 1988 through 1990 were often higher than today's payments.
What I find most interesting is how low wage-adjusted mortgage payments dropped at the end of 2011. In November of 2011, the wage-adjusted mortgage payment was less than 1/2 of the high reached in 1988. This reminds us how good the housing market has been recently, so we should expect tougher times ahead.
Are Wages Keeping Up With The Housing Market?
Based on the data explored today, it is clear that wages HAVE kept up with the soaring prices of the housing market. Monthly mortgage payments today are consistent with payments 35 years ago and are only slightly higher than payments 15 years ago. One could argue that we've had it really good of late.
But will this trend continue?
I believe that it will, but things are going to get worse before they get better.
We should all brace for rising mortgage interest rates. The Fed has made it pretty clear that they are expecting to raise the Fed Funds rate several more times to curb inflation. This means that today's shocking home affordability levels are likely to be better than what buyers will face in 2023.
As far as wages go, it's a variable outside of my field of study. I can provide anecdotal evidence as a small business owner that I'm seeing wages much higher today than what we saw just two years ago. Starting salaries are far higher, pushing all salaries northward as well.
When you consider that many states have increased their minimum wage levels at rates far higher than the historical norm, I believe you should expect to see continued acceleration in wage growth. How the Fed reigns in inflation without trumping wage inflation is a question beyond my fields of study.
The effectiveness of the Fed's strategy over the next five years will have a great impact on home affordability in the years to come. Keep checking back with us from time to time, and we'll keep you in the know for housing.
There are a lot of people who endorse Joe for the job of selling your home, from Barbara Corcoran (Star of ABC's Shark Tank) to Preston Scott (host of Tallahassee's top daily "Audio Magazine," as well as the thousands of happy customers Joe has helped in the past. Listen why!