Meadowbrook Listings & Home Sales Report September 2022
Posted by Joe Manausa on Friday, September 9, 2022 at 5:57 AM
By Joe Manausa / September 9, 2022
Comment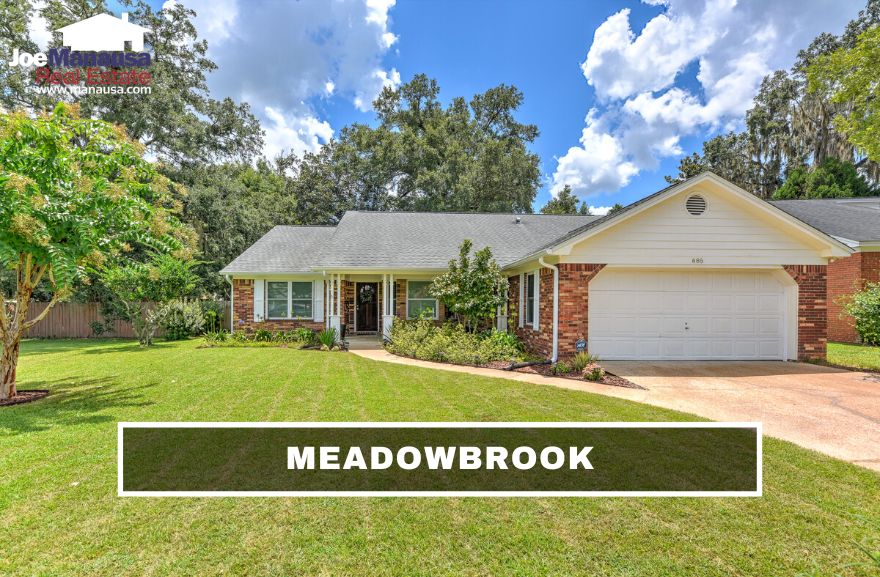 Meadowbrook is a popular Northeast Tallahassee neighborhood located near the intersection of Mahan Drive and Capital Circle NE.
Containing 280 single-family detached three and four-bedroom homes on 1/5th-acre sized lots, Meadowbrooke residents enjoy quick access to shopping, dining, parks, and most major traffic corridors in and around Tallahassee.
Homes For Sale In Meadowbrook
Meadowbrook Schools
Meadowbrook is zoned for these Leon County public schools:
The following report shows home price trend graphs, home value trend graphs, and home size trend graphs for Meadowbrook and concludes with a table of all closed home sales in Meadowbrook going back to 1991.
For each of the three real estate graphs found below, you will find the number of closed home sales for each year (red columns, measured on the left vertical axis) and an important real estate statistic shown in blue (measured on the right vertical axis).
It is important to note that the narrative below is for sales through December for all previous years but through one week of September 2022. The graphs and the closed sales table will be continuously updated in the future (meaning bookmark this page if you always want to know the current status of homes in Meadowbrook).
Meadowbrook Home Prices
The average home price in Meadowbrook has risen just over 1% thus far in 2022, though as you will discover in the lower segments of this report, home values in Meadowbrook are soaring.
The average home price in Meadowbrook is $274K.
Currently, there are three homes for sale in Meadowbrook, including this home and this home that were "Just-Listed."
Meadowbrook Home Values
The average home value in Meadowbrook has risen more than 17% through eight months of 2022, but not all of this is attributed to real estate appreciation.
The average value of a home sold in Meadowbrook thus far in 2022 is $184 per square foot.
Keep Up With New Trends In Tallahassee!
Get The Tallahassee Real Estate Newsletter
Don't be the one that doesn't know what's going on when you sell a home or buy a home in Tallahassee.
Other buyers, sellers, lenders, and real estate agents have this critical information, and now you can too!
Get immediate access to our most recent newsletter.
Let more than 30 years of experience work for you with charts, graphs, and analysis of the Tallahassee housing market.
Meadowbrook Home Sizes
The average size of homes sold in Meadowbrook typically falls between 1,550 to 1,850 square feet, but this year we've seen smaller homes sold.
The average size of the three homes sold thus far in 2022 was 1,489 square feet.
Meadowbrook Home Sales
The following list shows more than 490 home sales in Meadowbrook going back to 1991.
| Address | Price | Price/SQF | Closing Date | Year Built | SQF | Sale Type |
| --- | --- | --- | --- | --- | --- | --- |
| 743 Red Fern Road | $345,000 | $196 | 2023-09-15 | 1985 | 1,760 | Resale |
| 664 Riggins Road | $290,000 | $168 | 2023-08-25 | 1988 | 1,725 | Resale |
| 680 Lupine Lane | $340,000 | $182 | 2023-08-18 | 1988 | 1,869 | Resale |
| 715 Red Fern Road | $312,000 | $158 | 2023-08-02 | 1989 | 1,981 | Resale |
| 681 Lupine Lane | $366,000 | $236 | 2023-05-16 | 1989 | 1,554 | Resale |
| 740 Violet Street | $265,000 | $178 | 2023-05-05 | 1986 | 1,490 | Resale |
| 743 Red Fern Road | $168,000 | $95 | 2023-04-06 | 1985 | 1,760 | Resale |
| 743 Red Fern Rd | $152,000 | $105 | 2023-03-31 | 1985 | 1,445 | Resale |
| 2434 Buttonbush Court | $350,000 | $174 | 2023-02-24 | 1994 | 2,012 | Resale |
| 728 Lupine Lane | $324,000 | $191 | 2023-02-13 | 1985 | 1,694 | Resale |
| 866 Violet Street | $360,000 | $194 | 2023-01-10 | 1995 | 1,855 | Resale |
| 743 Violet Street | $255,000 | $153 | 2022-12-15 | 1991 | 1,668 | Resale |
| 2414 Beautyberry Court | $317,500 | $204 | 2022-12-02 | 1994 | 1,553 | Resale |
| 2424 Basswood Lane | $280,000 | $158 | 2022-11-18 | 1995 | 1,767 | Resale |
| 685 Lupine Lane | $333,000 | $180 | 2022-11-10 | 1990 | 1,845 | Resale |
| 716 Violet Street | $325,000 | $179 | 2022-10-12 | 1986 | 1,818 | Resale |
| 751 Red Fern Road | $270,000 | $183 | 2022-08-05 | 1995 | 1,474 | Resale |
| 740 Red Fern Road | $310,000 | $199 | 2022-07-01 | 1984 | 1,556 | Resale |
| 776 Lupine Lane | $243,000 | $169 | 2022-01-19 | 1984 | 1,438 | Resale |
| 771 Lupine Lane | $297,500 | $165 | 2021-12-27 | 1984 | 1,808 | Resale |
| 761 Lupine Lane | $237,000 | $158 | 2021-12-06 | 1983 | 1,503 | Resale |
| 732 Lupine Lane | $280,000 | $142 | 2021-10-01 | 1985 | 1,978 | Resale |
| 772 Lupine Lane | $265,000 | $178 | 2021-08-13 | 1984 | 1,491 | Resale |
| 2421 Wintergreen Road | $273,000 | $176 | 2021-07-26 | 1984 | 1,553 | Resale |
| 688 Lupine Lane | $265,000 | $153 | 2021-06-30 | 1990 | 1,731 | Resale |
| 2300 Aster Way | $210,000 | $131 | 2021-06-10 | 1983 | 1,595 | Resale |
| 2504 Bluebell Place | $260,000 | $134 | 2021-05-27 | 1983 | 1,936 | Resale |
| 689 Riggins Road | $290,000 | $170 | 2021-04-17 | 1988 | 1,706 | Resale |
| 712 Lupine Lane | $262,000 | $173 | 2021-03-01 | 1985 | 1,512 | Resale |
| 710 Riggins Road | $336,000 | $143 | 2021-02-08 | 1988 | 2,354 | Resale |
| 740 Red Fern Road | $257,500 | $165 | 2020-11-16 | 1984 | 1,556 | Resale |
| 2422 Beautyberry Court | $280,000 | $146 | 2020-10-01 | 1996 | 1,913 | Resale |
| 2408 Wintergreen Road | $229,000 | $141 | 2020-08-07 | 1982 | 1,620 | Resale |
| 2414 Beautyberry Court | $242,500 | $156 | 2020-07-21 | 1994 | 1,553 | Resale |
| 762 Lupine Lane | $235,000 | $108 | 2020-07-15 | 1983 | 2,168 | Resale |
| 2438 Buttonbush Court | $261,000 | $136 | 2020-06-05 | 1994 | 1,918 | Resale |
| 866 Violet Street | $289,000 | $156 | 2020-05-29 | 1995 | 1,855 | Resale |
| 2388 Wintergreen Road | $230,000 | $158 | 2020-05-27 | 1984 | 1,452 | Resale |
| 2437 Beautyberry Court | $273,900 | $129 | 2020-04-17 | 1996 | 2,128 | Resale |
| 741 Lupine Lane | $215,000 | $138 | 2020-03-30 | 1983 | 1,557 | Resale |
| 738 Riggins Road | $230,000 | $161 | 2020-03-10 | 1982 | 1,432 | Resale |
| 2403 Wintergreen Road | $245,000 | $125 | 2020-03-06 | 1983 | 1,960 | Resale |
| 2416 Formosa Drive | $269,900 | $128 | 2019-05-28 | 2006 | 2,102 | Resale |
| 2423 Buttonbush Court | $241,000 | $129 | 2019-05-28 | 1995 | 1,862 | Resale |
| 2371 Wintergreen | $180,000 | $117 | 2019-05-10 | 1984 | 1,542 | Resale |
| 2417 Beautyberry Court | $245,000 | $129 | 2019-05-02 | 1995 | 1,895 | Resale |
| 731 Violet Street | $174,900 | $105 | 2019-04-30 | 1986 | 1,673 | Resale |
| 2440 Basswood Ln. | $245,000 | $126 | 2019-03-11 | 1996 | 1,950 | Resale |
| 729 Lupine Lane | $197,000 | $114 | 2019-01-25 | 1987 | 1,728 | Resale |
| 2509 Bluebell Place | $225,000 | $121 | 2019-01-18 | 1987 | 1,856 | Resale |
| 715 Red Fern Road | $235,000 | $119 | 2018-12-03 | 1989 | 1,981 | Resale |
| 727 Violet Street | $198,000 | $131 | 2018-11-21 | 1986 | 1,513 | Resale |
| 863 Violet Street | $216,000 | $137 | 2018-09-28 | 1994 | 1,578 | Resale |
| 740 Violet Street | $192,500 | $129 | 2018-09-27 | 1986 | 1,490 | Resale |
| 2422 Beautyberry Ct | $200,000 | $104 | 2018-09-24 | 1996 | 1,913 | Resale |
| 727 Red Fern Rd Road | $183,000 | $126 | 2018-09-12 | 1985 | 1,458 | Resale |
| 831 Violet St | $209,000 | $115 | 2018-09-04 | 1996 | 1,816 | Resale |
| 722 Riggins Road | $215,000 | $135 | 2018-07-19 | 1988 | 1,598 | Resale |
| 2403 Wintergreen Road | $235,000 | $120 | 2018-07-18 | 1983 | 1,960 | Resale |
| 2435 Basswood Lane | $240,000 | $112 | 2018-07-06 | 1996 | 2,135 | Resale |
| 712 Lupine Lane | $200,000 | $132 | 2018-06-15 | 1985 | 1,512 | Resale |
| 751 Red Fern Road | $205,000 | $139 | 2018-05-25 | 1995 | 1,474 | Resale |
| 704 Red Fern Road | $219,500 | $117 | 2018-05-24 | 1988 | 1,872 | Resale |
| 738 Riggins Rd | $199,500 | $124 | 2018-05-11 | 1982 | 1,608 | Resale |
| 2439 Buttonbush | $205,000 | $132 | 2018-04-03 | 1994 | 1,553 | Resale |
| 721 Lupine Lane | $220,000 | $145 | 2018-03-28 | 1986 | 1,521 | Resale |
| 767 Violet St | $87,500 | $56 | 2018-03-28 | 1992 | 1,556 | Resale |
| 728 Lupine Ln | $205,000 | $121 | 2018-03-16 | 1985 | 1,694 | Resale |
| 2396 Wintergreen Rd | $173,000 | $124 | 2018-02-26 | 1982 | 1,392 | Resale |
| 762 Lupine Lane | $215,000 | $99 | 2017-11-30 | 1983 | 2,168 | Resale |
| 875 Violet Street | $210,000 | $101 | 2017-09-22 | 1994 | 2,088 | Resale |
| 680 Lupine Lane | $197,738 | $106 | 2017-09-20 | 1988 | 1,869 | Resale |
| 737 Lupine Lane | $215,000 | $123 | 2017-08-11 | 1987 | 1,743 | Resale |
| 768 Lupine Lane | $222,500 | $117 | 2017-07-28 | 1983 | 1,898 | Resale |
| 2302 Aster Way | $175,000 | $125 | 2017-06-07 | 1983 | 1,395 | Resale |
| 681 Lupine Ln | $210,000 | $145 | 2017-06-01 | 1989 | 1,450 | Resale |
| 2504 Bluebell Place | $188,000 | $97 | 2017-05-31 | 1983 | 1,936 | Resale |
| 734 Riggins Road | $234,900 | $144 | 2017-05-26 | 1988 | 1,630 | Resale |
| 664 Riggins Road | $198,000 | $115 | 2017-05-25 | 1988 | 1,725 | Resale |
| 2438 Beautyberry Court | $249,500 | $131 | 2017-04-03 | 1994 | 1,898 | Resale |
| 756 Silver Maple Drive | $155,000 | $92 | 2017-03-10 | 1984 | 1,684 | Resale |
| 751 Lupine Lane | $195,000 | $122 | 2017-02-24 | 1983 | 1,594 | Resale |
| 734 Riggins Rd | $138,000 | $85 | 2016-12-14 | 1988 | 1,630 | Resale |
| 2419 Buttonbush Court | $220,000 | $114 | 2016-12-12 | 1994 | 1,922 | Resale |
| 685 Lupine Ln | $215,000 | $117 | 2016-12-02 | 1990 | 1,845 | Resale |
| 685 Lupine Lane | $215,000 | $117 | 2016-12-02 | 1990 | 1,845 | Resale |
| 771 Violet St | $193,350 | $111 | 2016-10-25 | 1992 | 1,744 | Resale |
| 751 Violet St. | $182,500 | $126 | 2016-10-07 | 1991 | 1,448 | Resale |
| 693 Riggins Road | $185,000 | $93 | 2016-09-16 | 1989 | 2,000 | Resale |
| 733 Riggins Road | $191,000 | $125 | 2016-09-09 | 1989 | 1,524 | Resale |
| 2388 Wintergreen Road | $197,000 | $136 | 2016-08-12 | 1984 | 1,452 | Resale |
| 2428 Basswood Lane | $250,000 | $119 | 2016-07-25 | 1995 | 2,101 | Resale |
| 739 Violet St | $170,000 | $130 | 2016-07-11 | 1991 | 1,308 | Resale |
| 2430 Beautyberry Court | $178,000 | $100 | 2016-06-24 | 1996 | 1,776 | Resale |
| 743 Violet St | $170,000 | $102 | 2016-05-11 | 1991 | 1,668 | Resale |
| 689 Riggins Road | $235,000 | $138 | 2016-04-01 | 1988 | 1,706 | Resale |
| 2440 Basswood Lane | $152,500 | $78 | 2016-03-14 | 1996 | 1,950 | Resale |
| 2371 Wintergreen Road | $165,000 | $107 | 2016-03-14 | 1984 | 1,542 | Resale |
| 707 Violet Street | $123,000 | $80 | 2016-02-05 | 1989 | 1,533 | Resale |
| 2412 Wintergreen Road | $156,000 | $98 | 2016-01-27 | 1983 | 1,600 | Resale |
| 2301 Aster Way | $165,000 | $105 | 2015-12-04 | 1981 | 1,576 | Resale |
| 701 Lupine Lane | $150,000 | $86 | 2015-09-21 | 1985 | 1,746 | Resale |
| 740 Violet Street | $154,000 | $103 | 2015-03-31 | 1986 | 1,490 | Resale |
| 736 Lupine Lane | $178,500 | $105 | 2015-03-31 | 1986 | 1,705 | Resale |
| 744 Silver Maple Dr | $163,500 | $92 | 2015-03-27 | 1984 | 1,768 | Resale |
| 2408 Wintergreen Road | $155,500 | $96 | 2015-03-04 | 1982 | 1,620 | Resale |
| 2439 Buttonbush Ct | $71,100 | $45 | 2015-02-26 | 1994 | 1,553 | Resale |
| 2396 Wintergreen Rd | $149,000 | $107 | 2015-01-30 | 1982 | 1,392 | Resale |
| 751 Lupine Ln | $165,000 | $103 | 2015-01-23 | 1983 | 1,608 | Resale |
| 748 Violet St | $109,000 | $70 | 2015-01-16 | 1989 | 1,555 | Resale |
| 736 Violet St | $135,530 | $89 | 2015-01-08 | 1988 | 1,519 | Resale |
| 707 Red Fern Rd | $208,000 | $101 | 2014-12-19 | 1989 | 2,069 | Resale |
| 799 Violet St | $116,100 | $91 | 2014-12-16 | 1984 | 1,274 | Resale |
| 2419 Buttonbush Ct | $154,000 | $82 | 2014-12-12 | 1994 | 1,877 | Resale |
| 741 Lupine Ln | $158,500 | $102 | 2014-10-24 | 1983 | 1,557 | Resale |
| 700 Lupine Ln | $175,000 | $101 | 2014-09-02 | 1988 | 1,734 | Resale |
| 689 Lupine Ln | $240,000 | $86 | 2014-08-29 | 1989 | 2,805 | Resale |
| 862 Violet St | $220,000 | $119 | 2014-08-22 | 1994 | 1,850 | Resale |
| 2425 Beautyberry Ct | $189,000 | $102 | 2014-07-23 | 1996 | 1,851 | Resale |
| 748 Red Fern Rd | $125,000 | $79 | 2014-07-07 | 1984 | 1,590 | Resale |
| 2415 Basswood Ln | $207,000 | $108 | 2014-06-20 | 1995 | 1,916 | Resale |
| 772 Lupine Ln | $153,000 | $103 | 2014-06-18 | 1984 | 1,491 | Resale |
| 2308 Aster Way | $175,900 | $81 | 2014-05-29 | 1984 | 2,172 | Resale |
| 700 Violet St | $180,000 | $101 | 2014-05-29 | 1988 | 1,781 | Resale |
| 747 Riggins Rd | $125,000 | $78 | 2014-03-03 | 1983 | 1,600 | Resale |
| 2414 Beautyberry Ct | $167,000 | $108 | 2014-02-28 | 1994 | 1,553 | Resale |
| 798 Violet St | $138,000 | $98 | 2013-08-30 | 1984 | 1,407 | Resale |
| 738 Riggins Rd | $133,000 | $93 | 2013-06-14 | 1982 | 1,432 | Resale |
| 2418 Buttonbush Ct | $182,500 | $96 | 2013-04-12 | 1994 | 1,894 | Resale |
| 2437 Beautyberry Ct | $170,000 | $80 | 2013-03-26 | 1996 | 2,128 | Resale |
| 727 Violet St | $150,000 | $99 | 2013-03-20 | 1986 | 1,513 | Resale |
| 715 Red Fern Rd | $208,000 | $105 | 2012-12-28 | 1989 | 1,981 | Resale |
| 2403 Wintergreen Rd | $162,500 | $83 | 2012-09-27 | 1983 | 1,960 | Resale |
| 2301 Aster Way | $157,000 | $100 | 2012-09-25 | 1981 | 1,576 | Resale |
| 672 Riggins Rd | $185,000 | $91 | 2012-08-31 | 1989 | 2,024 | Resale |
| 722 Riggins Rd | $155,000 | $97 | 2012-06-29 | 1988 | 1,598 | Resale |
| 732 Lupine Ln | $156,500 | $105 | 2012-06-29 | 1985 | 1,488 | Resale |
| 733 Lupine Ln | $135,000 | $92 | 2011-12-14 | 1986 | 1,473 | Resale |
| 2388 Wintergreen Rd | $168,000 | $132 | 2011-08-30 | 1984 | 1,268 | Resale |
| 2422 Beautyberry Ct | $195,000 | $102 | 2011-08-12 | 1996 | 1,913 | Resale |
| 2509 Bluebell Pl | $153,100 | $82 | 2011-05-31 | 1987 | 1,856 | Resale |
| 749 Lupine Ln | $169,900 | $92 | 2011-03-17 | 1985 | 1,849 | Resale |
| 859 Violet St | $169,000 | $95 | 2010-12-15 | 1994 | 1,770 | Resale |
| 2371 Wintergreen Rd | $172,000 | $132 | 2010-11-16 | 1984 | 1,304 | Resale |
| 763 Violet St | $175,000 | $121 | 2010-06-21 | 1991 | 1,442 | Resale |
| 729 Lupine Ln | $150,000 | $104 | 2010-05-20 | 1987 | 1,440 | Resale |
| 2366 May Apple Ct | $185,000 | $107 | 2010-04-23 | 1986 | 1,729 | Resale |
| 721 Silver Maple Dr | $161,600 | $107 | 2010-04-22 | 1984 | 1,505 | Resale |
| 2301 Aster Way | $177,000 | $112 | 2009-12-16 | 1981 | 1,576 | Resale |
| 700 Violet St | $200,000 | $112 | 2009-10-19 | 1988 | 1,781 | Resale |
| 2403 Wintergreen Rd | $199,900 | $102 | 2009-10-08 | 1983 | 1,960 | Resale |
| 2424 Wintergreen Rd | $175,000 | $110 | 2009-09-30 | 1983 | 1,592 | Resale |
| 2361 May Apple Ct | $168,000 | $108 | 2009-06-15 | 1985 | 1,558 | Resale |
| 751 Lupine Ln | $170,000 | $106 | 2009-06-11 | 1983 | 1,608 | Resale |
| 744 Silver Maple Dr | $185,000 | $119 | 2009-05-29 | 1984 | 1,558 | Resale |
| 2419 Buttonbush Ct | $215,000 | $115 | 2009-02-27 | 1994 | 1,877 | Resale |
| 875 Violet St | $200,500 | $124 | 2009-02-20 | 1994 | 1,623 | Resale |
| 2426 Buttonbush Ct | $250,000 | $116 | 2008-12-16 | 1996 | 2,156 | Resale |
| 871 Violet St | $214,900 | $127 | 2008-12-02 | 1994 | 1,694 | Resale |
| 2505 Bluebell Pl | $234,000 | $132 | 2008-10-06 | 1989 | 1,776 | Resale |
| 2417 Beautyberry Ct | $234,000 | $123 | 2008-08-27 | 1995 | 1,895 | Resale |
| 684 Violet St | $191,500 | $134 | 2008-08-22 | 1991 | 1,433 | Resale |
| 742 Riggins Rd | $199,600 | $108 | 2008-07-07 | 1983 | 1,856 | Resale |
| 751 Violet St | $190,000 | $131 | 2008-06-12 | 1991 | 1,448 | Resale |
| 672 Riggins Rd | $278,000 | $137 | 2008-05-27 | 1989 | 2,024 | Resale |
| 2425 Beautyberry Ct | $222,000 | $120 | 2008-04-28 | 1996 | 1,851 | Resale |
| 2414 Beautyberry Ct | $194,000 | $125 | 2008-04-18 | 1994 | 1,553 | Resale |
| 2434 Buttonbush Ct | $249,000 | $123 | 2008-03-17 | 1994 | 2,017 | Resale |
| 728 Red Fern Rd | $165,000 | $114 | 2008-02-27 | 1984 | 1,442 | Resale |
| 721 Silver Maple Dr | $179,900 | $120 | 2008-01-30 | 1984 | 1,505 | Resale |
| 692 Lupine Ln | $215,000 | $141 | 2007-09-20 | 1989 | 1,520 | Resale |
| 729 Riggins Rd | $208,300 | $129 | 2007-09-04 | 1989 | 1,617 | Resale |
| 680 Violet St | $230,000 | $125 | 2007-07-10 | 1989 | 1,840 | Resale |
| 2388 Wintergreen Rd | $186,000 | $145 | 2007-07-05 | 1984 | 1,281 | Resale |
| 689 Riggins Rd | $220,000 | $129 | 2007-05-15 | 1988 | 1,706 | Resale |
| 750 Riggins Rd | $224,500 | $123 | 2007-04-06 | 1983 | 1,822 | Resale |
| 2302 Aster Way | $195,000 | $140 | 2007-03-09 | 1983 | 1,395 | Resale |
| 2422 Formosa Dr | $299,000 | $127 | 2006-12-15 | 1989 | 2,360 | Resale |
| 743 Violet St | $197,500 | $137 | 2006-10-26 | 1991 | 1,440 | Resale |
| 736 Silver Maple Dr | $160,000 | $110 | 2006-09-29 | 1984 | 1,451 | Resale |
| 684 Violet St | $180,000 | $126 | 2006-09-26 | 1991 | 1,433 | Resale |
| 681 Lupine Ln | $180,000 | $125 | 2006-09-22 | 1989 | 1,436 | Resale |
| 2431 Basswood Ln | $250,000 | $141 | 2006-07-28 | 1995 | 1,778 | Resale |
| 799 Violet St | $219,900 | $171 | 2006-07-21 | 1984 | 1,287 | Resale |
| 672 Riggins Rd | $270,000 | $133 | 2006-07-07 | 1989 | 2,024 | Resale |
| 734 Silver Maple Dr | $220,000 | $128 | 2006-06-30 | 1985 | 1,717 | Resale |
| 728 Red Fern Rd | $181,000 | $126 | 2006-06-22 | 1984 | 1,442 | Resale |
| 863 Violet St | $223,000 | $141 | 2006-06-14 | 1994 | 1,578 | Resale |
| 762 Lupine Ln | $260,000 | $120 | 2006-05-31 | 1983 | 2,168 | Resale |
| 772 Lupine Ln | $185,000 | $124 | 2006-03-09 | 1984 | 1,491 | Resale |
| 710 Riggins Rd | $265,000 | $130 | 2006-02-24 | 1988 | 2,034 | Resale |
| 851 Violet St | $214,900 | $128 | 2006-02-14 | 1994 | 1,674 | Resale |
| 2416 Formosa Dr | $295,000 | $140 | 2006-02-06 | 2006 | 2,102 | Resale |
| 2370 May Apple Ct | $229,000 | $113 | 2005-12-23 | 1984 | 2,022 | Resale |
| 2439 Buttonbush Ct | $195,000 | $126 | 2005-12-19 | 1994 | 1,553 | Resale |
| 767 Lupine Ln | $185,000 | $117 | 2005-12-02 | 1985 | 1,581 | Resale |
| 2415 Basswood Ln | $225,000 | $117 | 2005-09-15 | 1995 | 1,916 | Resale |
| 710 Riggins Rd | $236,500 | $116 | 2005-09-01 | 1988 | 2,040 | Resale |
| 2407 Wintergreen Rd | $119,000 | $78 | 2005-08-23 | 1983 | 1,530 | Resale |
| 743 Violet St | $185,000 | $128 | 2005-08-17 | 1991 | 1,440 | Resale |
| 2429 Beautyberry Ct | $226,000 | $116 | 2005-08-08 | 1996 | 1,940 | Resale |
| 2513 Bluebell Pl | $215,000 | $92 | 2005-07-21 | 1985 | 2,332 | Resale |
| 711 Red Fern Rd | $189,000 | $106 | 2005-07-13 | 1989 | 1,786 | Resale |
| 754 Silver Maple Dr | $165,000 | $114 | 2005-05-31 | 1984 | 1,443 | Resale |
| 2505 Bluebell Pl | $179,100 | $101 | 2005-05-09 | 1989 | 1,776 | Resale |
| 768 Lupine Ln | $179,900 | $95 | 2005-04-29 | 1983 | 1,898 | Resale |
| 712 Violet St | $171,500 | $88 | 2005-04-19 | 1986 | 1,959 | Resale |
| 747 Riggins Rd | $181,900 | $114 | 2005-04-15 | 1983 | 1,600 | Resale |
| 761 Lupine Ln | $141,500 | $95 | 2005-04-14 | 1983 | 1,489 | Resale |
| 2509 Bluebell Pl | $192,500 | $104 | 2005-03-31 | 1987 | 1,856 | Resale |
| 685 Lupine Ln | $189,900 | $104 | 2005-03-15 | 1990 | 1,831 | Resale |
| 747 Violet St | $220,000 | $92 | 2005-03-15 | 1991 | 2,392 | Resale |
| 2308 Aster Way | $159,000 | $73 | 2005-01-21 | 1984 | 2,172 | Resale |
| 744 Silver Maple Dr | $173,500 | $111 | 2004-12-30 | 1984 | 1,570 | Resale |
| 771 Violet St | $170,000 | $110 | 2004-12-10 | 1992 | 1,551 | Resale |
| 862 Violet St | $210,000 | $114 | 2004-11-19 | 1994 | 1,850 | Resale |
| 2418 Buttonbush Ct | $183,000 | $97 | 2004-11-18 | 1994 | 1,894 | Resale |
| 715 Red Fern Rd | $199,000 | $100 | 2004-09-23 | 1989 | 1,981 | Resale |
| 2425 Beautyberry Ct | $196,500 | $106 | 2004-09-10 | 1996 | 1,851 | Resale |
| 851 Violet St | $180,000 | $108 | 2004-08-30 | 1994 | 1,674 | Resale |
| 721 Riggins Rd | $210,000 | $90 | 2004-07-15 | 1989 | 2,328 | Resale |
| 743 Violet St | $130,000 | $90 | 2004-07-02 | 1991 | 1,440 | Resale |
| 776 Lupine Ln | $161,900 | $113 | 2004-06-30 | 1984 | 1,438 | Resale |
| 855 Violet St | $175,000 | $105 | 2004-06-25 | 1994 | 1,662 | Resale |
| 707 Red Fern Rd | $206,000 | $101 | 2004-06-22 | 1989 | 2,041 | Resale |
| 2424 Wintergreen Rd | $154,000 | $97 | 2004-05-14 | 1983 | 1,592 | Resale |
| 2431 Basswood Ln | $189,900 | $107 | 2004-05-12 | 1995 | 1,778 | Resale |
| 679 Lupine Ln | $198,500 | $95 | 2004-05-05 | 1989 | 2,080 | Resale |
| 736 Lupine Ln | $165,500 | $97 | 2004-04-23 | 1986 | 1,705 | Resale |
| 2407 Wintergreen Rd | $121,000 | $79 | 2004-04-07 | 1983 | 1,530 | Resale |
| 2428 Basswood Ln | $192,000 | $103 | 2004-04-01 | 1995 | 1,873 | Resale |
| 688 Riggins Rd | $194,400 | $91 | 2004-03-24 | 1988 | 2,144 | Resale |
| 776 Lupine Ln | $160,000 | $111 | 2004-03-19 | 1984 | 1,438 | Resale |
| 672 Riggins Rd | $188,900 | $93 | 2004-02-27 | 1989 | 2,024 | Resale |
| 700 Riggins Rd | $195,000 | $80 | 2004-02-04 | 1988 | 2,427 | Resale |
| 767 Lupine Ln | $145,900 | $92 | 2004-01-15 | 1985 | 1,581 | Resale |
| 668 Riggins Rd | $170,000 | $83 | 2003-11-21 | 1989 | 2,045 | Resale |
| 724 Lupine Ln | $164,000 | $114 | 2003-11-14 | 1986 | 1,444 | Resale |
| 2302 Aster Way | $138,500 | $99 | 2003-10-28 | 1983 | 1,395 | Resale |
| 2439 Buttonbush Ct | $43,500 | $28 | 2003-09-20 | 1994 | 1,553 | Resale |
| 2414 Beautyberry Ct | $155,900 | $100 | 2003-09-19 | 1994 | 1,553 | Resale |
| 700 Violet St | $155,000 | $87 | 2003-09-16 | 1988 | 1,781 | Resale |
| 2433 Beautyberry Ct | $179,000 | $101 | 2003-09-05 | 1996 | 1,779 | Resale |
| 721 Lupine Ln | $125,000 | $83 | 2003-07-08 | 1986 | 1,509 | Resale |
| 701 Lupine Ln | $138,900 | $80 | 2003-07-02 | 1985 | 1,746 | Resale |
| 2417 Beautyberry Ct | $172,000 | $91 | 2003-07-01 | 1995 | 1,895 | Resale |
| 718 Riggins Rd | $163,000 | $82 | 2003-07-01 | 1988 | 1,978 | Resale |
| 2367 May Apple Ct | $139,500 | $93 | 2003-06-27 | 1984 | 1,494 | Resale |
| 2421 Beautyberry Ct | $165,900 | $87 | 2003-06-18 | 1996 | 1,898 | Resale |
| 721 Silver Maple Dr | $137,000 | $159 | 2003-03-28 | 1984 | 864 | Resale |
| 728 Violet St | $149,900 | $83 | 2003-01-15 | 1988 | 1,815 | Resale |
| 750 Silver Maple Dr | $121,500 | $80 | 2002-12-02 | 1984 | 1,510 | Resale |
| 687 Violet St | $167,000 | $86 | 2002-11-22 | 1991 | 1,932 | Resale |
| 2302 Aster Way | $126,500 | $91 | 2002-11-12 | 1983 | 1,395 | Resale |
| 685 Lupine Ln | $149,000 | $81 | 2002-10-25 | 1990 | 1,831 | Resale |
| 859 Violet St | $146,500 | $83 | 2002-09-04 | 1994 | 1,770 | Resale |
| 827 Violet St | $137,000 | $88 | 2002-08-26 | 1996 | 1,553 | Resale |
| 732 Lupine Ln | $145,000 | $97 | 2002-08-20 | 1985 | 1,488 | Resale |
| 871 Violet St | $143,000 | $84 | 2002-08-09 | 1994 | 1,694 | Resale |
| 728 Red Fern Rd | $119,000 | $83 | 2002-06-28 | 1984 | 1,442 | Resale |
| 2388 Wintergreen Rd | $115,900 | $90 | 2002-06-26 | 1984 | 1,281 | Resale |
| 688 Riggins Rd | $167,000 | $78 | 2002-06-14 | 1988 | 2,144 | Resale |
| 711 Violet St | $113,000 | $73 | 2002-05-31 | 1988 | 1,552 | Resale |
| 759 Lupine Ln | $139,000 | $60 | 2002-05-31 | 1983 | 2,310 | Resale |
| 791 Violet St | $102,000 | $66 | 2002-05-23 | 1984 | 1,534 | Resale |
| 2368 Wintergreen Rd | $139,800 | $79 | 2002-05-03 | 1985 | 1,764 | Resale |
| 799 Violet St | $110,000 | $85 | 2002-04-22 | 1984 | 1,287 | Resale |
| 831 Violet St | $153,000 | $84 | 2002-04-19 | 1996 | 1,816 | Resale |
| 732 Violet St | $117,000 | $75 | 2002-01-11 | 1988 | 1,553 | Resale |
| 875 Violet St | $129,500 | $80 | 2001-12-13 | 1994 | 1,623 | Resale |
| 733 Silver Maple Dr | $135,000 | $88 | 2001-11-30 | 1985 | 1,531 | Resale |
| 754 Silver Maple Dr | $118,500 | $82 | 2001-10-25 | 1984 | 1,443 | Resale |
| 2372 Wintergreen Rd | $113,800 | $71 | 2001-09-07 | 1985 | 1,608 | Resale |
| 2366 May Apple Ct | $125,300 | $72 | 2001-08-31 | 1986 | 1,729 | Resale |
| 695 Violet St | $124,000 | $68 | 2001-08-29 | 1988 | 1,835 | Resale |
| 866 Violet St | $143,500 | $77 | 2001-08-29 | 1995 | 1,855 | Resale |
| 712 Violet St | $137,000 | $70 | 2001-08-27 | 1986 | 1,959 | Resale |
| 739 Violet St | $115,500 | $89 | 2001-07-31 | 1991 | 1,296 | Resale |
| 2432 Basswood Ln | $152,000 | $78 | 2001-07-26 | 1995 | 1,940 | Resale |
| 2419 Buttonbush Ct | $149,000 | $79 | 2001-07-16 | 1994 | 1,877 | Resale |
| 715 Red Fern Rd | $136,000 | $69 | 2001-06-22 | 1989 | 1,981 | Resale |
| 708 Violet St | $131,000 | $81 | 2001-06-15 | 1986 | 1,622 | Resale |
| 720 Violet St | $133,700 | $76 | 2001-05-31 | 1987 | 1,769 | Resale |
| 711 Red Fern Rd | $123,800 | $69 | 2001-05-17 | 1989 | 1,786 | Resale |
| 714 Riggins Rd | $155,000 | $75 | 2001-04-13 | 1989 | 2,059 | Resale |
| 2509 Bluebell Pl | $132,500 | $71 | 2001-03-30 | 1987 | 1,856 | Resale |
| 721 Silver Maple Dr | $125,500 | $72 | 2001-03-30 | 1984 | 1,745 | Resale |
| 736 Violet St | $115,000 | $76 | 2001-03-20 | 1988 | 1,519 | Resale |
| 2439 Buttonbush Ct | $136,000 | $88 | 2001-03-01 | 1994 | 1,553 | Resale |
| 689 Riggins Rd | $135,000 | $79 | 2001-02-07 | 1988 | 1,706 | Resale |
| 839 Violet St | $129,500 | $83 | 2001-02-05 | 1996 | 1,563 | Resale |
| 752 Red Fern Rd | $120,000 | $78 | 2000-12-27 | 1984 | 1,537 | Resale |
| 743 Red Fern Rd | $81,300 | $56 | 2000-12-22 | 1985 | 1,445 | Resale |
| 2370 May Apple Ct | $142,000 | $70 | 2000-11-27 | 1984 | 2,022 | Resale |
| 724 Silver Maple Dr | $115,000 | $73 | 2000-11-22 | 1984 | 1,576 | Resale |
| 697 Riggins Rd | $142,000 | $71 | 2000-11-15 | 1989 | 2,014 | Resale |
| 732 Red Fern Rd | $124,000 | $70 | 2000-11-08 | 1992 | 1,764 | Resale |
| 733 Riggins Rd | $123,500 | $81 | 2000-11-03 | 1989 | 1,524 | Resale |
| 2438 Beautyberry Ct | $157,000 | $83 | 2000-10-31 | 1994 | 1,898 | Resale |
| 2424 Wintergreen Rd | $107,500 | $68 | 2000-10-27 | 1983 | 1,592 | Resale |
| 2376 Wintergreen Rd | $111,000 | $76 | 2000-10-19 | 1984 | 1,463 | Resale |
| 711 Violet St | $109,000 | $70 | 2000-09-20 | 1988 | 1,552 | Resale |
| 693 Riggins Rd | $144,000 | $72 | 2000-09-15 | 1989 | 2,004 | Resale |
| 871 Violet St | $129,900 | $77 | 2000-09-06 | 1994 | 1,694 | Resale |
| 684 Riggins Rd | $145,000 | $75 | 2000-08-17 | 1989 | 1,929 | Resale |
| 2440 Basswood Ln | $145,800 | $75 | 2000-07-20 | 1996 | 1,950 | Resale |
| 2416 Basswood Ln | $149,900 | $79 | 2000-07-13 | 1994 | 1,887 | Resale |
| 733 Riggins Rd | $105,000 | $69 | 2000-06-21 | 1989 | 1,524 | Resale |
| 2427 Buttonbush Ct | $140,000 | $86 | 2000-05-31 | 1994 | 1,635 | Resale |
| 2429 Beautyberry Ct | $157,000 | $81 | 2000-05-05 | 1996 | 1,940 | Resale |
| 741 Lupine Ln | $116,900 | $76 | 2000-04-28 | 1983 | 1,543 | Resale |
| 719 Violet St | $110,000 | $64 | 2000-03-31 | 1986 | 1,727 | Resale |
| 2427 Wintergreen Rd | $121,000 | $86 | 2000-03-31 | 1987 | 1,415 | Resale |
| 855 Violet St | $128,500 | $77 | 2000-03-30 | 1994 | 1,662 | Resale |
| 2403 Wintergreen Rd | $129,900 | $66 | 2000-03-15 | 1983 | 1,960 | Resale |
| 717 Silver Maple Dr | $116,000 | $76 | 2000-03-06 | 1986 | 1,533 | Resale |
| 701 Lupine Ln | $110,000 | $63 | 2000-02-14 | 1985 | 1,746 | Resale |
| 2505 Bluebell Pl | $133,200 | $75 | 2000-02-07 | 1989 | 1,776 | Resale |
| 697 Riggins Rd | $100,000 | $50 | 2000-01-22 | 1989 | 2,014 | Resale |
| 721 Silver Maple Dr | $108,000 | $62 | 1999-12-10 | 1984 | 1,745 | Resale |
| 2439 Basswood Ln | $156,500 | $81 | 1999-11-19 | 1995 | 1,941 | Resale |
| 2427 Basswood Ln | $144,900 | $75 | 1999-11-16 | 1995 | 1,924 | Resale |
| 724 Violet St | $128,000 | $68 | 1999-10-29 | 1987 | 1,887 | Resale |
| 2434 Beautyberry Ct | $153,000 | $74 | 1999-10-28 | 1996 | 2,064 | Resale |
| 2437 Wintergreen Rd | $118,000 | $78 | 1999-09-10 | 1986 | 1,521 | Resale |
| 730 Riggins Rd | $126,900 | $71 | 1999-09-03 | 1988 | 1,795 | Resale |
| 742 Riggins Rd | $114,000 | $61 | 1999-08-04 | 1983 | 1,856 | Resale |
| 2416 Wintergreen Rd | $104,500 | $65 | 1999-07-28 | 1982 | 1,620 | Resale |
| 697 Lupine Ln | $60,000 | $21 | 1999-06-29 | 1990 | 2,846 | Resale |
| 2416 Basswood Ln | $149,500 | $79 | 1999-05-03 | 1994 | 1,887 | Resale |
| 768 Violet St | $125,000 | $71 | 1999-04-30 | 1990 | 1,754 | Resale |
| 679 Lupine Ln | $148,000 | $71 | 1999-04-16 | 1989 | 2,080 | Resale |
| 700 Riggins Rd | $151,000 | $62 | 1999-04-06 | 1988 | 2,427 | Resale |
| 827 Violet St | $122,000 | $79 | 1999-03-01 | 1996 | 1,553 | Resale |
| 745 Lupine Ln | $113,900 | $64 | 1999-02-26 | 1985 | 1,792 | Resale |
| 2428 Wintergreen Rd | $132,300 | $65 | 1999-02-20 | 1985 | 2,038 | Resale |
| 2422 Buttonbush Ct | $143,000 | $79 | 1998-12-30 | 1995 | 1,808 | Resale |
| 867 Violet St | $125,000 | $80 | 1998-12-09 | 1994 | 1,553 | Resale |
| 2427 Basswood Ln | $142,500 | $74 | 1998-11-23 | 1995 | 1,924 | Resale |
| 734 Silver Maple Dr | $119,900 | $70 | 1998-10-19 | 1985 | 1,717 | Resale |
| 724 Lupine Ln | $114,900 | $80 | 1998-09-30 | 1986 | 1,444 | Resale |
| 711 Red Fern Rd | $129,900 | $73 | 1998-09-30 | 1989 | 1,786 | Resale |
| 2368 Wintergreen Rd | $128,000 | $73 | 1998-09-29 | 1985 | 1,764 | Resale |
| 775 Violet St | $102,500 | $69 | 1998-08-19 | 1994 | 1,487 | Resale |
| 772 Lupine Ln | $106,000 | $71 | 1998-07-31 | 1984 | 1,491 | Resale |
| 704 Red Fern Rd | $125,000 | $67 | 1998-07-24 | 1988 | 1,872 | Resale |
| 759 Lupine Ln | $110,000 | $48 | 1998-07-09 | 1983 | 2,310 | Resale |
| 2422 Beautyberry Ct | $153,900 | $80 | 1998-06-26 | 1996 | 1,913 | Resale |
| 2428 Basswood Ln | $142,500 | $76 | 1998-05-08 | 1995 | 1,873 | Resale |
| 718 Riggins Rd | $144,500 | $73 | 1998-05-08 | 1988 | 1,978 | Resale |
| 859 Violet St | $131,000 | $74 | 1998-05-06 | 1994 | 1,770 | Resale |
| 756 Violet St | $90,000 | $60 | 1998-04-30 | 1987 | 1,508 | Resale |
| 2420 Wintergreen Rd | $130,000 | $79 | 1998-04-02 | 1984 | 1,655 | Resale |
| 2423 Basswood Ln | $142,000 | $72 | 1998-03-30 | 1995 | 1,968 | Resale |
| 859 Violet St | $131,000 | $74 | 1998-03-09 | 1994 | 1,770 | Resale |
| 712 Lupine Ln | $109,900 | $73 | 1998-02-19 | 1985 | 1,512 | Resale |
| 696 Lupine Ln | $110,000 | $69 | 1998-01-27 | 1988 | 1,602 | Resale |
| 680 Lupine Ln | $119,000 | $64 | 1997-12-22 | 1988 | 1,869 | Resale |
| 2408 Wintergreen Rd | $118,000 | $73 | 1997-10-09 | 1982 | 1,620 | Resale |
| 851 Violet St | $124,900 | $75 | 1997-09-30 | 1994 | 1,674 | Resale |
| 689 Riggins Rd | $120,100 | $70 | 1997-09-25 | 1988 | 1,706 | Resale |
| 747 Violet St | $36,500 | $26 | 1997-09-05 | 1991 | 1,410 | Resale |
| 733 Silver Maple Dr | $105,500 | $69 | 1997-07-17 | 1985 | 1,531 | Resale |
| 2361 May Apple Ct | $115,000 | $104 | 1997-07-15 | 1985 | 1,110 | Resale |
| 716 Violet St | $125,000 | $69 | 1997-07-02 | 1986 | 1,818 | Resale |
| 712 Violet St | $129,900 | $66 | 1997-06-30 | 1986 | 1,959 | Resale |
| 748 Violet St | $107,500 | $69 | 1997-06-27 | 1989 | 1,555 | Resale |
| 714 Riggins Rd | $148,000 | $72 | 1997-06-23 | 1989 | 2,059 | Resale |
| 743 Red Fern Rd | $91,500 | $63 | 1997-06-13 | 1985 | 1,445 | Resale |
| 2509 Bluebell Pl | $126,900 | $68 | 1997-05-30 | 1987 | 1,856 | Resale |
| 733 Silver Maple Dr | $100,000 | $65 | 1997-05-19 | 1985 | 1,531 | Resale |
| 827 Violet St | $117,300 | $76 | 1997-05-19 | 1996 | 1,553 | New |
| 2303 Aster Way | $97,000 | $68 | 1997-01-28 | 1983 | 1,428 | Resale |
| 2429 Beautyberry Ct | $151,000 | $78 | 1996-12-31 | 1996 | 1,940 | New |
| 711 Violet St | $96,200 | $62 | 1996-12-27 | 1988 | 1,552 | Resale |
| 2437 Wintergreen Rd | $104,000 | $68 | 1996-12-19 | 1986 | 1,521 | Resale |
| 2505 Bluebell Pl | $109,000 | $61 | 1996-12-11 | 1989 | 1,776 | Resale |
| 2436 Basswood Ln | $138,500 | $82 | 1996-11-21 | 1995 | 1,689 | Resale |
| 2427 Buttonbush Ct | $127,500 | $78 | 1996-11-15 | 1994 | 1,635 | Resale |
| 771 Violet St | $111,000 | $72 | 1996-11-14 | 1992 | 1,551 | Resale |
| 699 Violet St | $103,500 | $71 | 1996-10-31 | 1989 | 1,456 | Resale |
| 2418 Buttonbush Ct | $139,900 | $74 | 1996-10-23 | 1994 | 1,894 | Resale |
| 759 Lupine Ln | $108,000 | $47 | 1996-09-11 | 1983 | 2,310 | Resale |
| 831 Violet St | $138,800 | $76 | 1996-08-30 | 1996 | 1,816 | New |
| 2437 Beautyberry Ct | $156,700 | $74 | 1996-08-28 | 1996 | 2,128 | New |
| 2508 Bluebell Pl | $86,000 | $62 | 1996-08-15 | 1987 | 1,382 | Resale |
| 2434 Beautyberry Ct | $152,700 | $74 | 1996-08-09 | 1996 | 2,064 | New |
| 2422 Beautyberry Ct | $148,200 | $77 | 1996-07-31 | 1996 | 1,913 | New |
| 691 Violet St | $104,000 | $74 | 1996-07-30 | 1991 | 1,405 | Resale |
| 763 Violet St | $98,800 | $69 | 1996-07-26 | 1991 | 1,442 | Resale |
| 718 Riggins Rd | $136,000 | $69 | 1996-07-26 | 1988 | 1,978 | Resale |
| 839 Violet St | $121,900 | $78 | 1996-06-27 | 1996 | 1,563 | New |
| 2433 Beautyberry Ct | $137,500 | $77 | 1996-06-19 | 1996 | 1,779 | New |
| 2435 Basswood Ln | $152,400 | $71 | 1996-05-15 | 1996 | 2,135 | New |
| 2426 Buttonbush Ct | $161,000 | $75 | 1996-05-06 | 1996 | 2,156 | New |
| 2421 Beautyberry Ct | $139,500 | $73 | 1996-05-03 | 1996 | 1,898 | New |
| 2425 Beautyberry Ct | $141,700 | $77 | 1996-04-19 | 1996 | 1,851 | New |
| 2397 Wintergreen Rd | $125,000 | $67 | 1996-03-29 | 1983 | 1,862 | Resale |
| 2430 Beautyberry Ct | $128,000 | $72 | 1996-02-09 | 1996 | 1,776 | New |
| 862 Violet St | $142,000 | $77 | 1996-02-07 | 1994 | 1,850 | Resale |
| 2440 Basswood Ln | $136,000 | $70 | 1996-02-01 | 1996 | 1,950 | New |
| 2431 Basswood Ln | $133,900 | $75 | 1995-12-29 | 1995 | 1,778 | New |
| 2430 Buttonbush Ct | $123,100 | $74 | 1995-12-22 | 1995 | 1,665 | New |
| 835 Violet St | $123,100 | $76 | 1995-12-21 | 1995 | 1,610 | New |
| 2415 Basswood Ln | $147,300 | $77 | 1995-12-15 | 1995 | 1,916 | New |
| 2436 Basswood Ln | $131,900 | $78 | 1995-12-14 | 1995 | 1,689 | New |
| 2420 Wintergreen Rd | $108,000 | $65 | 1995-12-04 | 1984 | 1,655 | Resale |
| 2423 Basswood Ln | $137,700 | $70 | 1995-11-22 | 1995 | 1,968 | New |
| 2432 Basswood Ln | $140,000 | $72 | 1995-10-31 | 1995 | 1,940 | New |
| 2428 Basswood Ln | $139,900 | $75 | 1995-10-27 | 1995 | 1,873 | New |
| 2438 Beautyberry Ct | $145,100 | $76 | 1995-10-06 | 1994 | 1,898 | New |
| 704 Lupine Ln | $105,000 | $65 | 1995-09-22 | 1986 | 1,610 | Resale |
| 2427 Basswood Ln | $118,300 | $61 | 1995-08-28 | 1995 | 1,924 | New |
| 732 Red Fern Rd | $117,000 | $66 | 1995-08-23 | 1992 | 1,764 | Resale |
| 843 Violet St | $126,500 | $74 | 1995-08-01 | 1995 | 1,713 | New |
| 2423 Buttonbush Ct | $133,500 | $71 | 1995-07-25 | 1995 | 1,892 | New |
| 2419 Basswood Ln | $139,000 | $71 | 1995-06-29 | 1995 | 1,950 | New |
| 771 Lupine Ln | $105,000 | $58 | 1995-06-22 | 1984 | 1,808 | Resale |
| 689 Riggins Rd | $116,000 | $68 | 1995-06-19 | 1988 | 1,706 | Resale |
| 755 Violet St | $72,000 | $33 | 1995-06-13 | 1995 | 2,166 | New |
| 2439 Basswood Ln | $155,800 | $80 | 1995-04-28 | 1995 | 1,941 | New |
| 2426 Beautyberry Ct | $151,900 | $82 | 1995-04-28 | 1995 | 1,850 | New |
| 866 Violet St | $133,000 | $72 | 1995-04-26 | 1995 | 1,855 | New |
| 695 Violet St | $104,000 | $57 | 1995-04-17 | 1988 | 1,835 | Resale |
| 2417 Beautyberry Ct | $134,600 | $71 | 1995-04-06 | 1995 | 1,895 | New |
| 2422 Buttonbush Ct | $137,700 | $76 | 1995-03-31 | 1995 | 1,808 | New |
| 759 Lupine Ln | $98,400 | $43 | 1995-03-07 | 1983 | 2,310 | Resale |
| 2434 Buttonbush Ct | $134,900 | $67 | 1995-03-01 | 1994 | 2,017 | New |
| 2424 Basswood Ln | $123,400 | $70 | 1995-02-27 | 1995 | 1,767 | New |
| 693 Riggins Rd | $127,000 | $63 | 1995-02-17 | 1989 | 2,004 | Resale |
| 693 Riggins Rd | $127,000 | $63 | 1995-02-17 | 1989 | 2,004 | Resale |
| 751 Red Fern Rd | $81,000 | $41 | 1995-02-08 | 1995 | 1,966 | New |
| 2439 Buttonbush Ct | $119,800 | $77 | 1995-02-02 | 1994 | 1,553 | New |
| 733 Silver Maple Dr | $90,600 | $59 | 1995-01-23 | 1985 | 1,531 | Resale |
| 2443 Buttonbush Ct | $123,700 | $74 | 1995-01-04 | 1994 | 1,669 | New |
| 2431 Buttonbush Ct | $135,200 | $69 | 1995-01-04 | 1994 | 1,961 | New |
| 2442 Buttonbush Ct | $131,500 | $70 | 1995-01-03 | 1994 | 1,884 | New |
| 871 Violet St | $118,000 | $70 | 1994-12-27 | 1994 | 1,694 | New |
| 2435 Buttonbush Ct | $135,000 | $71 | 1994-12-20 | 1994 | 1,893 | New |
| 859 Violet St | $115,000 | $65 | 1994-12-19 | 1994 | 1,770 | New |
| 2418 Beautyberry Ct | $138,200 | $71 | 1994-12-06 | 1994 | 1,943 | New |
| 847 Violet St | $115,900 | $77 | 1994-12-01 | 1994 | 1,509 | New |
| 851 Violet St | $111,900 | $67 | 1994-12-01 | 1994 | 1,674 | New |
| 745 Lupine Ln | $96,000 | $54 | 1994-11-28 | 1985 | 1,792 | Resale |
| 720 Lupine Ln | $104,000 | $62 | 1994-11-02 | 1985 | 1,672 | Resale |
| 715 Violet St | $117,500 | $62 | 1994-10-24 | 1990 | 1,889 | Resale |
| 707 Violet St | $89,500 | $58 | 1994-10-20 | 1989 | 1,533 | Resale |
| 707 Riggins Rd | $139,800 | $57 | 1994-08-05 | 1992 | 2,464 | Resale |
| 729 Riggins Rd | $102,000 | $63 | 1994-08-03 | 1989 | 1,617 | Resale |
| 704 Lupine Ln | $95,900 | $60 | 1994-06-29 | 1986 | 1,610 | Resale |
| 739 Violet St | $94,000 | $73 | 1994-06-13 | 1991 | 1,296 | Resale |
| 727 Red Fern Rd | $87,500 | $61 | 1994-04-20 | 1985 | 1,444 | Resale |
| 2372 Wintergreen Rd | $85,000 | $53 | 1994-04-20 | 1985 | 1,608 | Resale |
| 749 Lupine Ln | $94,000 | $51 | 1994-03-31 | 1985 | 1,849 | Resale |
| 2303 Aster Way | $79,000 | $55 | 1994-03-14 | 1983 | 1,428 | Resale |
| 696 Lupine Ln | $92,000 | $57 | 1993-12-29 | 1988 | 1,602 | Resale |
| 719 Violet St | $92,000 | $53 | 1993-11-04 | 1986 | 1,727 | Resale |
| 750 Silver Maple Dr | $90,800 | $60 | 1993-08-31 | 1984 | 1,510 | Resale |
| 2427 Wintergreen Rd | $94,000 | $66 | 1993-08-31 | 1987 | 1,415 | Resale |
| 2302 Aster Way | $84,000 | $60 | 1993-08-13 | 1983 | 1,395 | Resale |
| 697 Riggins Rd | $108,000 | $54 | 1993-08-03 | 1989 | 2,014 | Resale |
| 744 Red Fern Rd | $105,000 | $51 | 1993-07-21 | 1984 | 2,076 | Resale |
| 749 Silver Maple Dr | $99,500 | $58 | 1993-07-01 | 1986 | 1,704 | Resale |
| 732 Violet St | $91,000 | $59 | 1993-06-30 | 1988 | 1,553 | Resale |
| 707 Red Fern Rd | $111,000 | $54 | 1993-06-24 | 1989 | 2,041 | Resale |
| 720 Violet St | $90,000 | $51 | 1993-06-23 | 1987 | 1,769 | Resale |
| 799 Violet St | $90,900 | $71 | 1993-05-27 | 1984 | 1,287 | Resale |
| 728 Red Fern Rd | $85,000 | $59 | 1993-05-04 | 1984 | 1,442 | Resale |
| 741 Lupine Ln | $89,000 | $58 | 1993-04-29 | 1983 | 1,543 | Resale |
| 767 Violet St | $86,000 | $55 | 1993-01-11 | 1992 | 1,555 | New |
| 700 Violet St | $100,500 | $56 | 1992-11-23 | 1988 | 1,781 | Resale |
| 2367 May Apple Ct | $90,000 | $60 | 1992-10-02 | 1984 | 1,494 | Resale |
| 2392 Wintergreen Rd | $82,000 | $55 | 1992-09-25 | 1985 | 1,484 | Resale |
| 747 Violet St | $79,900 | $57 | 1992-09-22 | 1991 | 1,410 | Resale |
| 710 Riggins Rd | $102,000 | $50 | 1992-09-04 | 1988 | 2,040 | Resale |
| 771 Lupine Ln | $89,000 | $49 | 1992-09-03 | 1984 | 1,808 | Resale |
| 752 Red Fern Rd | $77,500 | $50 | 1992-08-18 | 1984 | 1,537 | Resale |
| 676 Riggins Rd | $104,900 | $53 | 1992-08-14 | 1990 | 1,970 | Resale |
| 736 Violet St | $75,000 | $49 | 1992-08-05 | 1988 | 1,519 | Resale |
| 763 Violet St | $79,900 | $55 | 1992-08-04 | 1991 | 1,442 | Resale |
| 743 Violet St | $74,000 | $51 | 1992-07-24 | 1991 | 1,440 | New |
| 668 Riggins Rd | $105,500 | $52 | 1992-07-06 | 1989 | 2,045 | Resale |
| 771 Violet St | $89,900 | $58 | 1992-05-19 | 1992 | 1,551 | New |
| 759 Violet St | $84,900 | $53 | 1992-05-11 | 1992 | 1,588 | Resale |
| 2397 Wintergreen Rd | $97,000 | $52 | 1992-05-01 | 1983 | 1,862 | Resale |
| 2377 Wintergreen Rd | $83,500 | $57 | 1992-04-21 | 1985 | 1,465 | Resale |
| 708 Violet St | $85,500 | $53 | 1992-04-14 | 1986 | 1,622 | Resale |
| 718 Riggins Rd | $107,900 | $55 | 1992-03-26 | 1988 | 1,978 | Resale |
| 744 Violet St | $71,620 | $45 | 1992-03-20 | 1992 | 1,583 | New |
| 2428 Wintergreen Rd | $85,000 | $42 | 1992-03-10 | 1985 | 2,038 | Resale |
| 683 Violet St | $80,000 | $56 | 1992-02-10 | 1992 | 1,437 | New |
| 729 Lupine Ln | $87,900 | $61 | 1992-01-29 | 1987 | 1,440 | Resale |
| 684 Violet St | $88,900 | $62 | 1992-01-03 | 1991 | 1,433 | Resale |
| 745 Lupine Ln | $92,000 | $51 | 1992-01-02 | 1985 | 1,792 | Resale |
| 739 Violet St | $80,800 | $62 | 1991-12-26 | 1991 | 1,296 | Resale |
| 714 Riggins Rd | $39,600 | $19 | 1991-12-04 | 1989 | 2,059 | Resale |
| 712 Lupine Ln | $79,800 | $53 | 1991-12-03 | 1985 | 1,512 | Resale |
| 740 Red Fern Rd | $80,300 | $52 | 1991-12-02 | 1984 | 1,544 | Resale |
| 691 Violet St | $81,400 | $58 | 1991-11-27 | 1991 | 1,405 | Resale |
| 756 Silver Maple Dr | $96,000 | $58 | 1991-11-20 | 1984 | 1,660 | Resale |
| 760 Violet St | $83,500 | $61 | 1991-11-14 | 1991 | 1,374 | Resale |
| 745 Silver Maple Dr | $84,000 | $50 | 1991-11-07 | 1984 | 1,666 | Resale |
| 2371 Wintergreen Rd | $95,500 | $73 | 1991-09-27 | 1984 | 1,317 | Resale |
| 687 Violet St | $76,000 | $39 | 1991-08-30 | 1991 | 1,932 | Resale |
| 2427 Wintergreen Rd | $86,000 | $61 | 1991-08-26 | 1987 | 1,415 | Resale |
| 762 Lupine Ln | $96,000 | $44 | 1991-07-22 | 1983 | 2,168 | Resale |
| 2361 May Apple Ct | $88,000 | $79 | 1991-07-18 | 1985 | 1,110 | Resale |
| 2370 May Apple Ct | $84,000 | $42 | 1991-07-01 | 1984 | 2,022 | Resale |
| 751 Riggins Rd | $87,000 | $54 | 1991-06-25 | 1983 | 1,620 | Resale |
| 712 Red Fern Rd | $92,000 | $51 | 1991-05-30 | 1988 | 1,800 | Resale |
| 732 Lupine Ln | $87,500 | $59 | 1991-04-26 | 1985 | 1,488 | Resale |
| 2388 Wintergreen Rd | $77,300 | $60 | 1991-04-24 | 1984 | 1,281 | Resale |
| 2368 Wintergreen Rd | $89,000 | $50 | 1991-03-26 | 1985 | 1,764 | Resale |
| 680 Riggins Rd | $98,000 | $54 | 1991-02-04 | 1989 | 1,821 | Resale |
| 724 Violet St | $91,900 | $49 | 1991-01-07 | 1987 | 1,887 | Resale |