Take A Look At The Top 1% Of Tallahassee's Housing Market
Posted by Joe Manausa on Monday, August 12, 2019 at 5:57 AM
By Joe Manausa / August 12, 2019
Comment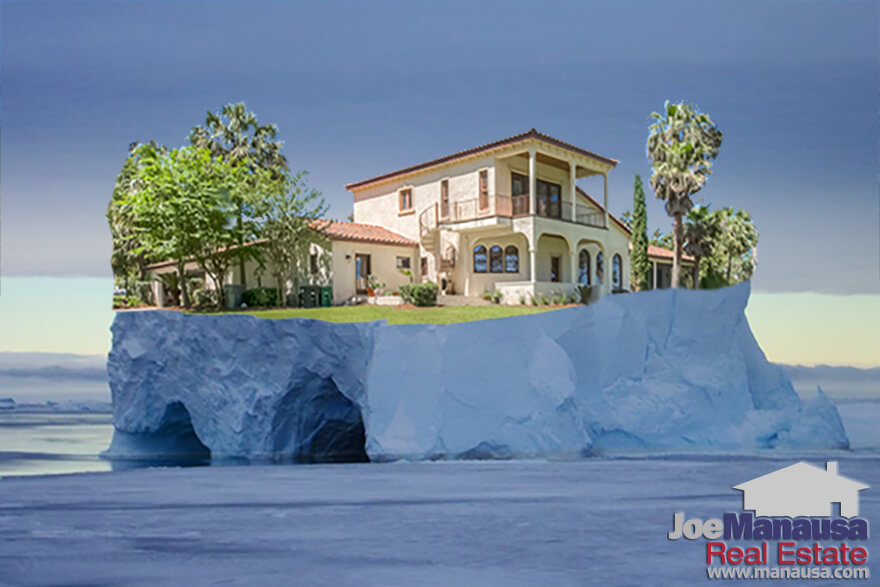 There's no set rule on when to apply the tag of "luxury home" in Tallahassee, so I've arbitrarily set it at homes priced among the top 1% in our real estate market.
Today's post shows you the top 1% and then (for the rest of us) shows the breakdown of how much buyers are paying for homes this year. We examine market conditions for high-end homes as well. Enjoy.
If you'd like to see the one in the image above (Iceberg not included), just click on this link.
The Top 1% Of Homes For Sale By Price In Tallahassee
Top One Percent Starts At $800K
When we plot the graph of this year's home sales, broken down into price ranges of $50K each, we see that 99% of all home sales fall below $800,000.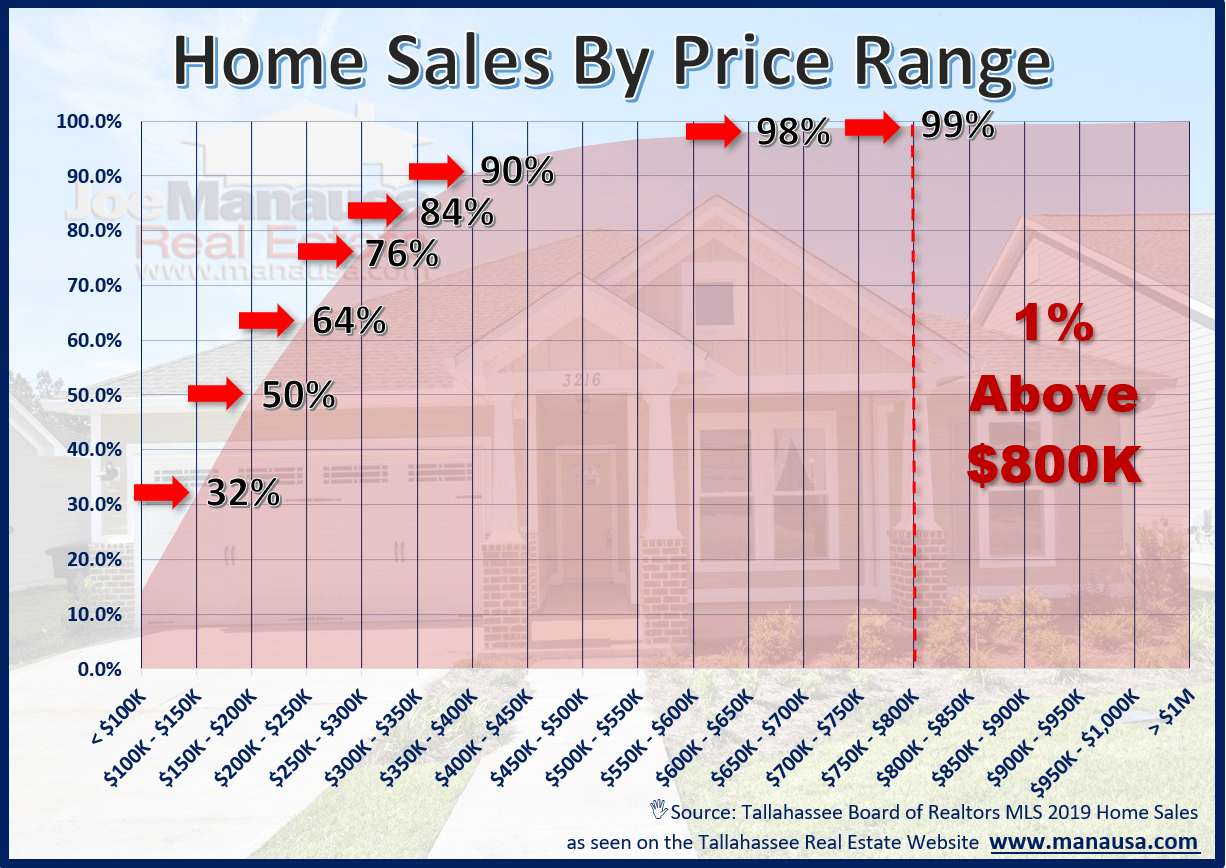 In case you don't find yourself in that rare group, it's OK, that's where 99% of the rest of us live. The following information can be observed in the graph above:
32% of homebuyers paid less than $150K
50% of homebuyers paid less than $200K
64%

of homebuyers paid less than $250K

76%

of homebuyers paid less than $300K

84%

of homebuyers paid less than $350K

90%

of homebuyers paid less than $400K

98%

of homebuyers paid less than $650K
So our market is split at $200,000, and only 10% of this year's homebuyers spent above $400K. What's scary about the "$400K" number is it won't be long before our homebuilders cannot build a new home for less than $400,000.
Is Your Agent Too Broke To Be Your Broker?
Most Real Estate Agents Have No Marketing Budget
The average real estate agent in Tallahassee will only sell five homes this year, and more than half will sell two or fewer. This means they do not earn enough money to spend the significant amount it takes to attract MANY buyers to your home.
They certainly cannot spend the type of money needed each day to promote your home and generate the buzz you need to attract MULTIPLE buyers.
We are effective. And we spend more money each month marketing our listings than most agents earn in a year.
Let us show you how we can get your home sold for MORE MONEY than anybody else in the market!
Contact Joe to start your home selling preparation, you'll be glad you did!
Current Market Conditions For Homes Over $800,000
When we look at the market for luxury homes in Tallahassee (the top 1%), the market is as good as we have ever seen. But the market is sending mixed signals right now.
On one hand, the past 18 months has seen the most luxury homes sell ever over a similar period of time. On the other hand, inventory is still so high that it is a strong buyers' market. Currently, there is twelve months supply of homes for sale over $800K, double the amount necessary for a balanced market.
Simply put, if zero new homes are built at this price range, and if nobody else with an $800K or higher home enters the market, it will take twelve months to sell everything. Of course, those two conditions will not occur, so that means nearly half of these current sellers are likely to find themselves unsold one year from today.
How To Sell A Home For More Than $800,000
To successfully sell a home at the top of the market, it is critical that you receive massive exposure on a consistent basis. It takes a large investment from your listing agent to continue to promote a luxury home (while only a handful is selling each month).
Make sure you take the time to interview agents and have them show you how your home will be marketed to the online consumer. If you hear things like "MLS," "newspaper," "open houses," or "agent marketing," you need to find somebody else. The consumer is digital, your marketing needs to dominate the digital realm as well. You can see more about how we market a home online here.
I hope our August 2019 report on luxury homes has given you the information you were looking for. If not, you can give us a call at (850) 366-8917 or drop us a note and we'll help you with your specific Tallahassee real estate needs.
As a local born and raised in Tallahassee with a focus on customer service, I promise you'll find great success when working with Joe Manausa Real Estate, just as have our past customers. You can thousands of their reviews reported on Google, Facebook and Zillow right here: Real Estate Agent Reviews Tallahassee.
Real Estate Market Information Can Be Overwhelming
That's why Joe breaks the data down into easy-to-understand concepts. Whether you're buying, selling, investing or just interested in the market, sign up for Joe's blog to get the latest Tallahassee real estate updates, straight to your inbox.