The Truth About A Dubious Real Estate Statistic: What You Need to Know
Posted by Joe Manausa on Monday, April 3, 2023 at 6:00 AM
By Joe Manausa / April 3, 2023
Comment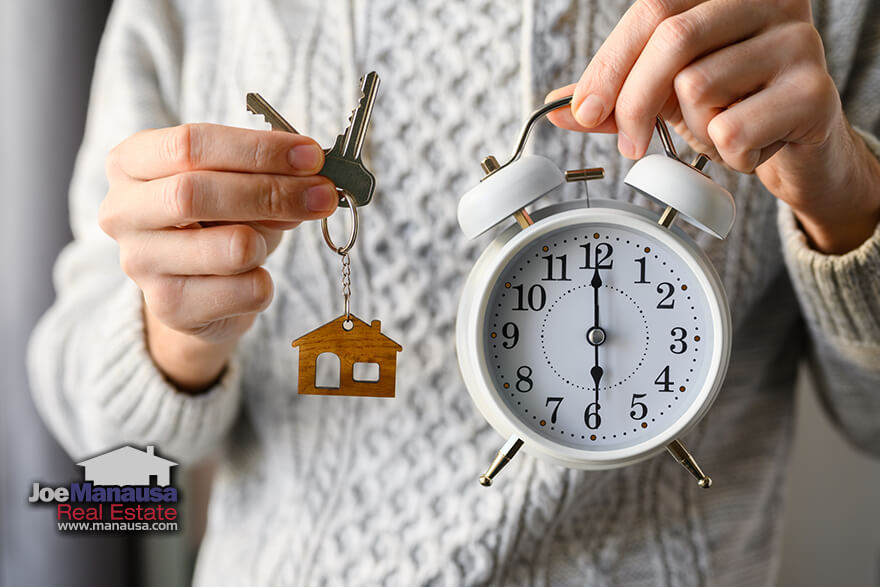 You have likely come across the well-known quote attributed to Mark Twain, the celebrated American humorist and author, which asserts that "there are three kinds of lies: lies, damned lies, and statistics."
In real estate, several damned lies masquerade as statistics. They are routinely reported to consumers every day, and not just by ignorant real estate agents who have no formal math education, but by experienced real estate agents and large real estate portals with people managing the databases who must know better.
When it comes to buying or selling a home, it's important to recognize false or misleading statistics that can lead to costly mistakes. Knowing how to spot these traps will help you make informed decisions and get the best value for your property. By understanding the current market conditions, you'll be empowered to negotiate confidently and avoid being taken advantage of.
In today's report, we will review the biggest bogus statistic routinely quoted by real estate agents (and real estate web reporters too). As I address today's issue, please give me some time to explain. I have found people to be somewhat defensive of these beliefs, but those who take in this entire article will come around to a new understanding of an important issue and why it persists today:
How Long Does It Take To Sell A House?
Let's start with a graph from real estate giant Redfin. Redfin, a publicly traded real estate portal that produces some of the timeliest real estate market data, allows visitors to view local and national housing market data.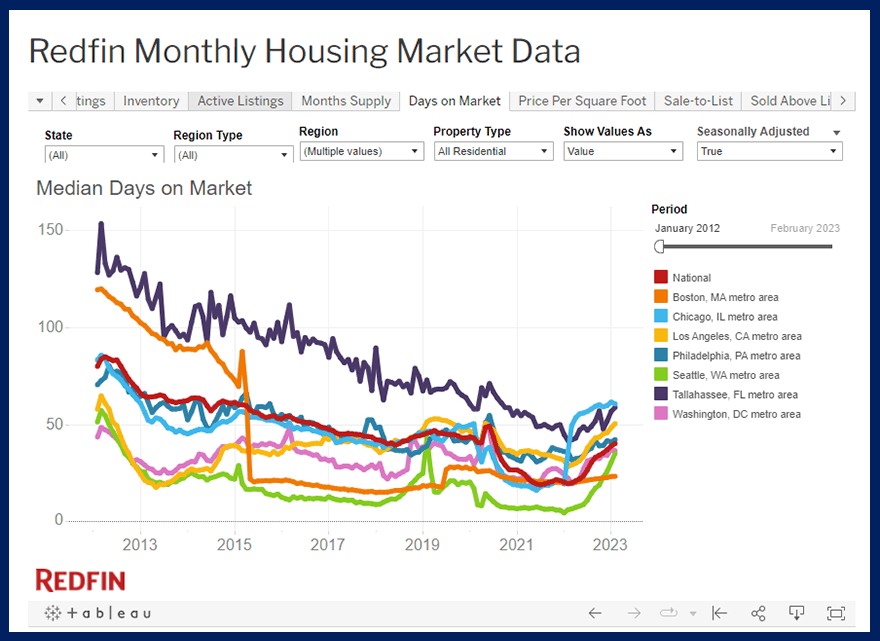 This graph plots the median days on the market nationally and in some local markets. We want to focus on the national time on the market (red line) and the Tallahassee time on the market.
The reason that Tallahassee is important is that I have the local data from Tallahassee that Redfin uses to calculate the median market time for homes sold in Tallahassee. Unlike Redfin, I've meticulously picked through the data for accuracy and created the graph below with the "real" time on the market in Tallahassee.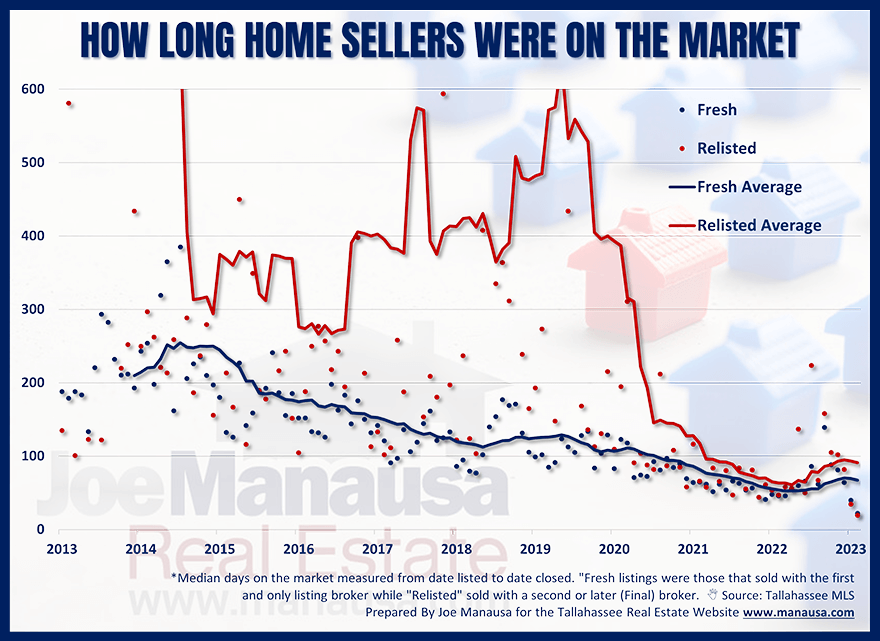 As you can see, my graph reports a different median time on the market than the one Redfin produced. In fact, the accurate measurement of market time typically shows several more months than what MLS reports advise.
In the next few paragraphs, I will explain two very important points that we can learn from the opposing views on market time. First, Redfin knowingly continues to report incorrect conclusions; and second, market-time measurements no longer matter (meaning the concept of market time is no longer valid).
Market Time Is Under-Reported
The graph above was painstakingly assembled after hundreds of hours of data scrubbing in order to accurately measure the median time on the market for home sellers (which is the mathematical answer to the question "how long does it take to sell a home today?" Here's what you need to know:
Garbage In = Garbage Out.
That's one of the first lessons I picked up as I pursued my undergraduate degree in computer science at West Point. Computers might be able to answer any question, but if you give them bogus data, they will respond with faulty conclusions.
Here's an example of how market time gets discombobulated within the MLS systems.
Agent "Mary" tells home sellers that her average market time is 17 days. She can pull a report from the Tallahassee MLS and sure enough, it shows that, on average, Mary takes 17 days to sell a home. But I know better (and so should Redfin).
Mary wants her statistics to tell a different story than her actions reveal. Mary routinely cancels her listings every week and then creates new versions of the same listings. This "resets" the market time to zero days, and Mary tells her home sellers that buyers will think the listing is brand new and thus want to see it. In reality, buyers are not stupid; they pay very close attention to the market when they are ready to make a purchase. Mary doesn't want her market time statistics to show the actual months and years she often takes to sell a home.
Now, in this example, imagine that half of the real estate agents in the Tallahassee MLS do something similar to Mary, manipulating the market time on their listings by canceling and restarting listings. How do we track true market time accurately?
For MLSs and Redfin, market time is tracked as the number of days it took a home to sell from the final new listing entry created by the listing agent.
All the days from the canceled listings are not counted. Thus, Redfin and MLS reports on market time are entirely garbage.
On top of the deliberate manipulation, roughly 1/3rd of all listings sold in the MLS are homes that used to be listed with another real estate company. The listings typically were active for six months. So let's go back to our example with Agent Mary. Before Mary listed the property, it had been listed by Agent Bob for six months but had failed to sell. The seller fired Agent Bob and hired Agent Mary. All the time on the market with Agent Bob never is considered for market time.
Let's say that Mary sold a home in month number four (and that's after six months with Agent Bob). If Mary cancels the listing after getting an offer and then puts in the new listing and immediately marks it as under contract, the ten months (or 300 days) of market time is recorded as zero days in the MLS. Wouldn't you think a proper market time formula would include all days the home had been listed for sale?
Nobody, including my graph above, counts the days on the market for homes that failed to sell. And I'm the only real estate professional I'm aware of tracking market time by fixing the listing date on the final listing entry.
Now you understand why a Redfin Median Days On Market Report shows Tallahassee has dropped from over 150 days of market time down to about 60 days, but our audited report using actual listing and contract dates shows more than 200 days improving to about 50 days for "fresh" sellers (those that sold with their first listing broker) and over 600 days down to about 100 days for "Relisted" sellers (and remember, there were 180 days with at least one broker prior).
Today's market time could be estimated as (50 X 2/3rds + (100+180 ) X 1/3) = 127 days as the median market time in Tallahassee (roughly double the number the Redfin report states). So we know that Redfin is way off in Tallahassee, don't you think they're dealing with similar accountability issues in other markets?
If you are employed by a major data portal such as Redfin and have completed basic math courses in college, you probably recognize that market time data has been altered and should not be shared by Redfin as valid market feedback. This is also true for real estate agents who assign importance to market time measurements.
Now that you understand how garbage in = garbage out in market time measurement, I think this might surprise you:
It doesn't matter anyway!
Market Time Is Bogus
Indeed, the concept of market time has become outdated since the world transitioned to digital platforms.

Before the internet of things, legitimate bottlenecks and time factors created a real market time worth measuring. Market time was the number of days it took for listings to reach most of their buyer pools.
There was a lot of work processing a listing for marketing, which is much easier today. We had to measure a home and take pictures to be used in marketing. Film needed to be developed, and ad copy needed to be created and mailed to a publisher. If a new listing hit the market a day after a publication deadline, it could be two months before a home hit the market.
This means that we had this period of time (market time or time on the market) where the home was available, and yet we had not reached the majority of buyers who might be interested in the home. So what did we do?
We explained to home sellers that we needed roughly 60 days on the market to reach all buyers. Most agents just listed the property at a price a little higher than its value and then, after 60 days, lowered the price until the home was sold. This allowed the home to be distributed to its entire buyer pool, and the seller did not get aggressive until the home was completely distributed.
Today, that 60-day window to reach the majority of buyers for a home is now less than four days. We can take pictures with a phone and upload them into the MLS immediately. The MLS distributes the listings through an IDX feed to major real estate websites in a matter of hours or days, so publishing deadlines are no longer the major bottleneck in the marketing process.
Market time is a bogus, useless statistic because it lost relevance once marketing systems went digital. And this begs an important question for you, dear reader:
Now that you understand the real deal on market time, how should you react when you interview a real estate agent to sell your home and the agent spends time explaining market time to you? You have to wonder ....
Is the agent unaware that marketing systems have gone digital? Does the agent plan to publish your home in the newspaper after their film is developed?
Or are they using manipulated data to impress you with a garbage statistic they think you do not understand?
Or, are they just lazy, not having kept up with the minor and major changes in the housing market?
Regardless of your answer, should any of these behaviors be listed among those you wish your agent to display? Do you want an ignorant agent? A dishonest agent? Or a lazy agent? I hope not, you'll be competing in a housing market where some of the other buyers and sellers have wisely armed themselves with well-trained, honorable agents.
Most home sellers and home buyers alike do not realize their agent selection is important until negotiations get underway. That's when sellers and buyers ask the agent for important guidance.
When it is time to seek this guidance, ensure you have hired a real estate agent who has not won your business with trumped-up bogus statistics that became invalid nearly 20 years ago! Stick with a modern, honest, hard-working real estate agent, and you'll likely be better off after buying or selling a home.
There are a lot of people who endorse Joe for the job of selling your home, from Barbara Corcoran (Star of ABC's Shark Tank) to Preston Scott (host of Tallahassee's top daily "Audio Magazine," as well as the thousands of happy customers Joe has helped in the past. Listen why!