Sellers! Don't Let A Dollar Cost You Tens Of Thousands Of Dollars
Posted by Joe Manausa on Thursday, September 10, 2020 at 5:54 AM
By Joe Manausa / September 10, 2020
Comment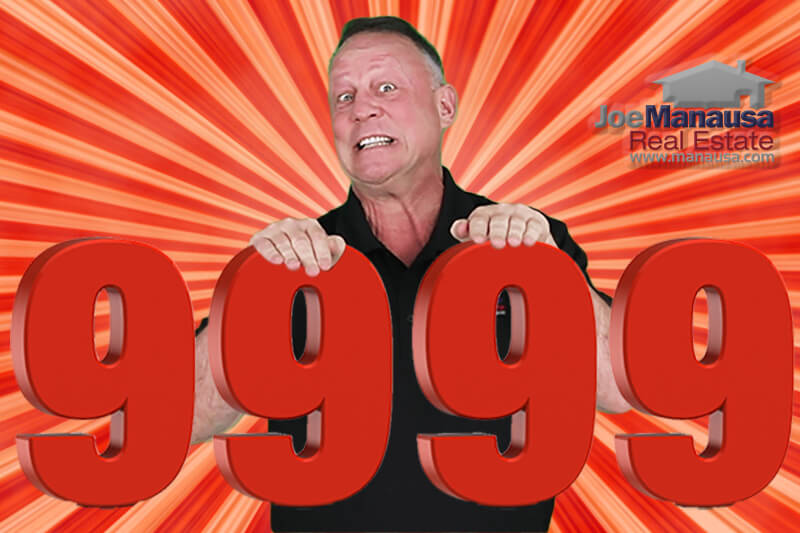 One of the most important decisions you will make for the marketing strategy when selling a home is when determining the initial asking price for your home. While I have discussed this in previous articles and videos, today I'm going to discuss a technique that I refer to as pricing on the 9s.
Recently, long-time reader "Chris" asked the following question about marketing a home for sale:
"If you have a home valued at 400k, would it be more beneficial to list it at $399k to make sure you fall within that lower search bracket? I have seen listings with asking prices like $399,999 and wondered if it was something that typically works?"
Yes Chris, it works.
It works AGAINST the seller. It shrinks the potential buyer pool for the home seller and reduce's the seller's chances of getting top dollar for the home. It is a bad idea.
If you watch read this post and watch the short video, you'll understand exactly why it hurts home sellers and why you should not hire an agent who suggests this type of home pricing strategy.
Video Response To Reader's Question
Understanding Best Practices Is Important For Sellers
It's not your job as the home seller to train a real estate agent on the best ways to sell a home. But you should be knowledgeable on best practices, as this knowledge will be important in helping you find the right agent to help you get top dollar for your home.
For most people, in most areas and price ranges, there is a very strong seller's market. This means that there are far more buyers than sellers, and it means getting a buyer for your home is not very hard to do.
But smart home sellers are not looking for a buyer. They are looking for multiple buyers. They want several buyers or more making offers as soon as a home hits the market.
This type of activity is the only way to ensure that you get top dollar when selling your home.
One quick way to tell if a listing agent has any formal marketing training is to check the asking prices he has on his listings. If you see something like $399,900 instead of $400,000, then you know there is a problem.
Whole Numbers Make A Whole Lot Of Sense
Pricing on the 9s, instead of on whole numbers, is a marketing technique used successfully in many industries. When you are ordering multiples of a commodity, pricing on the 9s makes the buyer feel the product is cheaper than what is actually being paid.
Gasoline is a great example of how pricing on the 9s works successfully. When you drive by the gas station and see that the price is $1.999, your brain registers that as gasoline that costs less than $2, even though it is only fractionally less.
Your memory locks in the location for that $1 gasoline, even though you're paying effectively $2. That's just smart marketing.
Pricing on the 9s works well when you are selling a product in bulk for similar reasons. Prospective consumers lock in that lower price and if you are the lowest, you certainly stand apart from the rest.
Speaking of standing apart from the rest, are you enjoying this article? If so, please take a moment to click on the Facebook "Like" icon, it will help us immensely. Thank you!
How Many Homes Are You Selling?
When it comes to selling real estate, you have to ask yourself, is it likely you're looking for a buyer who will be purchasing in bulk? Do you have thousands of homes to sell? Or are you simply trying to sell one home?
If you are like most sellers we talk to, you simply are trying to sell one home and you want to attract as many buyers as possible. Pricing on the 9s will actually limit your buyer pool so do not allow this!
I believe that agents who price on the 9s have no understanding of how to price a home to sell.
There are a lot of people who endorse Joe for the job of selling your home, from Barbara Corcoran (Star of ABC's Shark Tank) to Preston Scott (host of Tallahassee's top daily "Audio Magazine," as well as the thousands of happy customers Joe has helped in the past. Listen why!
I recently stumbled upon your latest Carrabelle listing. I must say, a home on Florida's Forgotten Coast is bound to be snatched up quickly. Best of luck with getting it under contract soon!

Posted by Barbara Corcoran on Thursday, June 15, 2023
How Did You Find Your Home?
To better understand whole-number pricing, think for a moment about the last time you bought a home. What process did you use? Did you use a property search tool online?
Unless you bought your home more than 15 years ago, I'm betting you did. And just about all the best buyers for your home will be using one too!
Let's look at an example to see how pricing on the 9s will impact the size of the buyer pool for your home. Remember, more buyers is the goal!
When you last purchased a home, let's say you were in the market for a $350K home. Did you search everything from $339,999 to $369,999? Or was $350,000 to $400,000 a likelier choice for you? Exactly.
That is what buyers are doing today. In fact, most property search tools are segmented by $25,000 or $50,000 search endpoints, so you cannot even search for a home that is priced on the 9s.
Use Buyer Behavior To Your Advantage
Homebuyers today search from a whole number to another whole number. So how does pricing on the 9s reduce the size of your buyer pool? Think about this. If you have your home listed for $399,999, how many buyers are you reaching that are searching from $400,000 to $425,000? (ZERO!)
Your home listed at $400,000 becomes the least expensive home in their search. But if you are listed at $399,900, you do not even appear in the search. By pricing on the nines, instead of with whole numbers, you have reduced the size of the buyers' pool and it is that segment of buyers who would see your home as the best-priced one available!
If somebody is searching $370K to $400K, your home will appear either way, whether you are priced at $400,000 or $399,999. Do you really think a buyer getting ready to spend $400,000 on a home will be compelled by the fact that yours is priced $1 less?
Don't Let $1 Cost You A Whole Lot More
Can you see how that $1 reduction in your price could cost you tens of thousands of dollars that multiple buyers can bring to negotiations?
In my 30 years selling homes in Tallahassee, I've never had a buyer come to me and say I want to see this home, it's priced below a certain amount. Nobody has brought me a listing, priced on the 9s, and said they thought it must be a great deal.
Most agents who recommend this technique just do not know what they are doing, and I bet they have no idea that they are reducing their sellers' chances of getting top dollar for the home.
Do not exclude your home from a search range because your agent thinks that pricing on the 9s will "trick" a buyer into thinking the home is priced lower. Demand that your agent price your home for sale using whole numbers, it will get your home exposed to a greater number of buyers.
Your Local Expert In Tallahassee
When moving to, in, or from Tallahassee, you will fare better if you work with a local expert. We are here to help. If you have further questions on the Tallahassee real estate market, you can leave a comment below, give us a call at (850) 366-8917, or drop us a note and we'll give you the local information needed to ensure a successful, smooth transaction.
As a local born and raised in Tallahassee with a focus on customer service, I promise you'll find great success when working with Joe Manausa Real Estate, just as have our past customers. You can read thousands of their reviews reported on Google, Facebook and Zillow right here: Real Estate Agent Reviews Tallahassee.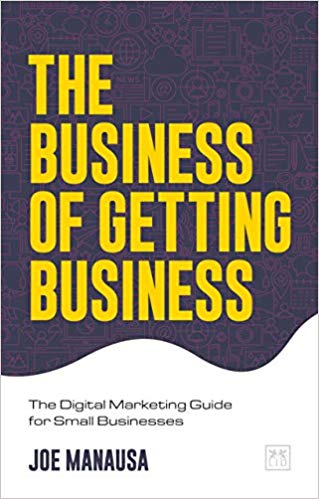 Have you heard about my new book "The Business of Getting Business?" It's a comprehensive guide for small businesses to help them make the move to digital. For those of us who want to survive and thrive in a world where large corporations are taking over, it is a must-read. It's also the perfect guide for how to sell a home in the digital age. You can find The Business Of Getting Business by clicking on any of the trusted retailers below.

Think all REALTORS are alike?
Read what people are saying about working with Joe Manausa Real Estate! You can see thousands of real customer reviews reported on Google, Facebook and Zillow at this link: CLICK HERE FOR REAL ESTATE AGENT REVIEWS.