Pre-Approved Mortgage Versus Pre-Qualfied
Posted by Joe Manausa on Monday, June 22, 2020 at 5:55 AM
By Joe Manausa / June 22, 2020
Comment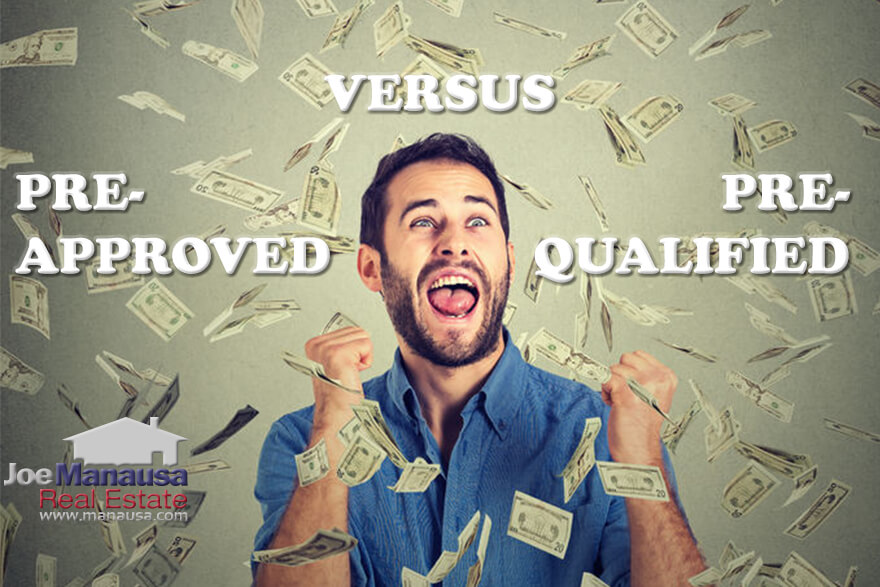 Yesterday, 8 buyers made an offer on a property we had listed for sale. Today, 7 of them have to start all over again looking for the dream home that they thought they had found.
You might think that each losing buyer may have made too low an offer, but the fact is that 3 of them had offered an amount higher than where the winner started. So where did they go wrong?
Don't Market These Mortgage Mistakes!
It's all about the preparation, and one step in that preparation is getting a mortgage pre-approval. These 3 buyers were not prepared to make a winning offer, so they never really had a chance to get the home.
In today's post, we are going to answer the question: "What's the difference between a mortgage pre-qualification and a mortgage pre-approval?"
This is important because a homebuyer who has secured financing (or removed financing as a condition of purchase) is far more attractive to a home seller than one whose offer is conditioned on financing, and therefore might be able to negotiate a better deal. Watch the video below, I explain everything you need to know about the mortgage pre-approval process.
Real Estate FAQ Video
Mortgage Pre-Qualification
In order to get pre-qualified for a loan, you only need to have a conversation with a mortgage originator. He or she will ask you questions and you will answer them to the best of your knowledge.
Nothing that you say will require proof in order to get a qualification, so the value of the qualification is only as good as the value of your information.
Some questions that you will be asked include your current credit score, your monthly financial obligations, and the amount of debt that you carry on anything that you own.
After you have answered these questions, the originator will give you an opinion on an amount for which you will qualify and will likely advise you on the types of loan programs that you should consider. He or she will typically be prepared to produce a "pre-qualification" letter that you can you use to accompany your offer on a home.
The letter serves to make the home seller confident in your ability to close on the home. Unfortunately, in today's highly competitive market, it will do quite the opposite when the seller has a good agent.
Remember, a pre-qualification is merely an un-documented conversation, so the value of a piece of paper explaining this has very little to offer a seller who might be receiving cash offers and offers from pre-approved buyers.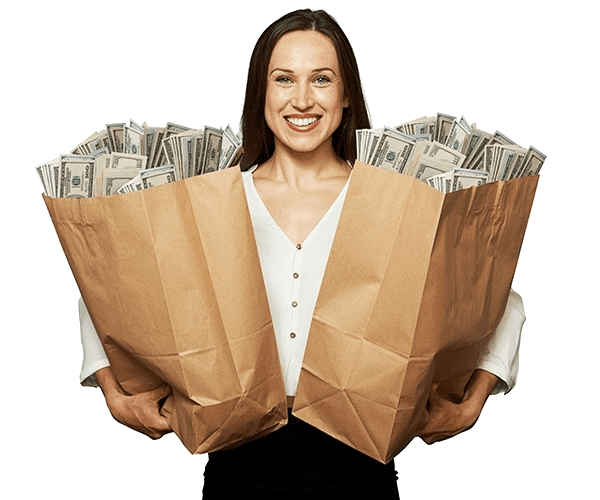 Use a "TBD" loan to give home sellers what they want. Cash! And a fast closing date.
Get fully underwritten approval before you go to contract. This means that your loan is only conditional on your inspection and appraisal. Let us show you how!
Mortgage Pre-Approval
Unlike a pre-qualification which is merely an opinion based upon a conversation, a pre-approval is a specific and upfront FORENSIC look at a borrower's entire profile. It is not based upon opinion, rather it digs into your complete financial résumé.
Let's examine some specific areas that will be researched in order to get you prequalified for a home mortgage loan.
Tri-Merge Credit Report
It starts with a credit report, and it's the full-monty! The originator will pull what is called a Tri-Merge mortgage credit report from all 3 credit reporting agencies. These three scores will be gathered and the lender will use the MIDDLE score to determine a borrower's score for the loan.
The lender will throw out the high and low score and judge the loan based on the remaining score. One thing to remember is apps like Credit Karma, My FICO and Credit Wise use a different credit scoring model than are used currently by the mortgage industry, so your credit score for your loan could well be different than you think it is.
The actual credit score is only part of this evaluation.
Credit History
Beyond the score, the lender will examine the actual credit inside the report to look at things like current or previous mortgages, student loan payments which are a HUGE deal depending on the program, any derogatory accounts especially in the last 12-24 months as well as any collections, charge offs, bankruptcy, short sales, foreclosures, judgment/Liens and in the current environment, forbearance.
All of these can impact your ability to borrow, so a thorough pre-approval process looks at everything in your credit history.
Employment History
The lender will also examine your recent 24-month work history to include a review of W-2's and year to date pay stubs.
The loan officer will also determine if the borrower is considered self-employed, in which case, a review of the previous 2 years' personal and business returns are required as well as a year to date profit and loss.
The borrower can receive a W-2 and still be required to submit tax returns if deemed self-employed. Loans in general require a 24-month work history. Schooling / Degrees / Internships in the same industry can be considered part of the work history.
Residence History
You will also need to provide a 24-month residence history which includes what you pay for your housing expense. This is important to determine what the borrower has been paying vs what the new housing payment may be.
The difference is called payment shock which is part of an underwriter's review for the ability to repay the loan. The lender is looking for whether there is a big increase in housing payment (greater than 20-25%) and if so the borrower able to save money with the current lower payment.
The logic is if you're not able to save money today with a lower housing expense, it may be difficult to change spending habits and make a larger housing payment for the new home.
Assets
The lender will also look at assets. Do you have monies saved for down payment or closing costs? Or will you be getting a gift from a relative?
One of the most important things when evaluating your bank statements is if there are any large deposits that are not payroll related. The lender will want to know if the money in your account was earned from your pay or from random deposits from other sources that will need to be explained.
If the deposit isn't from payroll, the lender requires a source of funds documentation for any large deposits on bank statements (defined as a deposit of more than 25% of the borrower's monthly income) to confirm that the monies were not borrowed.
Self Employed And Rental Income
If the borrower is self-employed or has rental properties, the lender will calculate self-employed and or rental income/losses according to current program guidelines.
It is important to work with a lender who accurately calculates these in order to avoid last-minute issues when the file is reviewed for final approval. This is one area where we see some of the national lenders falter and end up leaving a borrower without a loan on the closing day.
Declarations
One of the most overlooked parts of the process is the declarations area of the mortgage application.
These are where you are questioned about whether or not you owe child support or alimony, whether you have had a home go back through foreclosure, and whether or not you borrowed any money for a down payment?
These are issues that reduce your credit-worthiness and can lead to either a lower loan amount or even disapproval.
The Loan Application
Once all of this collected information is entered into the loan application (which you sign) and it is forensically reviewed, the file is ready to be considered for available programs.
You see, there are many lenders out there and many loan programs with each lender, so a good loan originator wants to run your loan application across all the potential loan programs to find the one that best fits your needs.
Automated Underwriting
Once these programs have been determined, the loan officer will then run the last part of the pre-approval; this is called AUS (AUTOMATED UNDERWRITING SYSTEM).
Fannie Mae's version is called DU for "Desktop Underwriter" and Freddie Mac's is called LP for "Loan Product Advisor". These are computer programs that underwrite the application.
While the results of these automated underwriters are not guaranteed, they are highly relied upon methods to determine if the application in total as submitted would be considered eligible for financing if the data entered is correct.
Once all of the above is complete, the loan officer will review the entire file with the customer and make recommendations of programs available to the applicant. At this point, a pre-approval letter can be issued.
Pre-Qualification Is Thorough
Now, can you see how much more involved and time-consuming a pre-approval is compared with the simple pre-qualification? The fact of the matter is that borrowers who bring pre-qualification letters with their offers are bringing a worthless document because the lender has done no due-diligence to support the letter.
Take the time to work through the pre-approval process so that your offer is giving the highest value from smart home sellers.
Thanks To Mitch Wright
Just a quick shout-out to Mitch Wright of Bay Capital Mortgage for his help on this article!

Your Local Expert In Tallahassee
When moving to, in, or from Tallahassee, you will fare better if you work with a local expert. We are here to help. If you have further questions on the Tallahassee real estate market, you can leave a comment below, give us a call at (850) 366-8917, or drop us a note and we'll give you the local information needed to ensure a successful, smooth transaction.
As a local born and raised in Tallahassee with a focus on customer service, I promise you'll find great success when working with Joe Manausa Real Estate, just as have our past customers. You can read thousands of their reviews reported on Google, Facebook and Zillow right here: Real Estate Agent Reviews Tallahassee.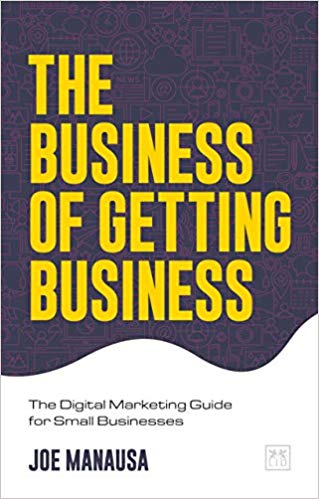 Have you heard about my new book "The Business of Getting Business?" It's a comprehensive guide for small businesses to help them make the move to digital. For those of us who want to survive and thrive in a world where large corporations are taking over, it is a must-read. It's also the perfect guide for how to sell a home in the digital age. You can find The Business Of Getting Business by clicking on any of the trusted retailers below.

Think all REALTORS are alike?
Read what people are saying about working with Joe Manausa Real Estate! You can see thousands of real customer reviews reported on Google, Facebook and Zillow at this link: CLICK HERE FOR REAL ESTATE AGENT REVIEWS.
I recently stumbled upon your latest Carrabelle listing. I must say, a home on Florida's Forgotten Coast is bound to be snatched up quickly. Best of luck with getting it under contract soon!

Posted by Barbara Corcoran on Thursday, June 15, 2023