Ox Bottom Manor Listings and Home Sales December 2021
Posted by Joe Manausa on Wednesday, December 8, 2021 at 5:57 AM
By Joe Manausa / December 8, 2021
Comment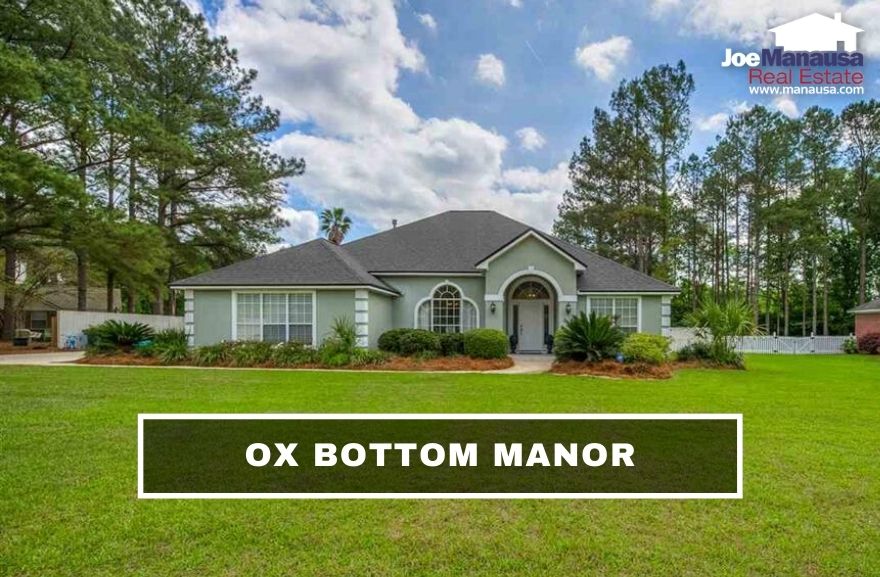 Ox Bottom Manor is a popular Northeast Tallahassee neighborhood filled with roughly six hundred five, four, and three-bedroom homes on generous half-acre lots.
Located north of Ox Bottom Road on the east side of Meridian Road in the middle of the 32312 zip code, Ox Bottom Manor is a top destination for buyers seeking executive-type homes.
Homes For Sale In Ox Bottom Manor
Ox Bottom Manor Schools
The A-rated Leon County Public Schools serving Ox Bottom Manor include:
In this report, we examine average home prices, average home values, and average home sizes in Ox Bottom Manor, and we have included a table of the most recent 1,000 closed home sales in Ox Bottom Manor too.
For the real estate graphs found in this report, you will find the number of closed home sales for each year (red columns, measured on the left vertical axis), and an important real estate statistic shown in blue (measured on the right vertical axis).
It is important to note that the narrative contained below is for sales through December for all previous years but through the first week of December in 2021. The graphs and the closed sales table will be continuously updated into the future (meaning bookmark this page if you always want to know the current status of homes in the Ox Bottom Manor).
Home Prices In Ox Bottom Manor
The average home price in Ox Bottom Manor has risen to $471K in 2021, soaring above last year's record-high average by nearly 13%.
Home sales activity in Ox Bottom Manor remains brisk. Currently, there are five homes for sale in Ox Bottom Manor and four of them are already under contract with buyers. Homes that are pre-marketed correctly here sell rapidly for top dollar!
Ox Bottom Manor Home Values
The average home value in Ox Bottom Manor has risen nearly 10% thus far in 2021, trailing the market slightly.
The value growth in Ox Bottom Manor over the past six years has resulted in setting another all-time high annual average at $177 per square foot.
There are a lot of people who endorse Joe for the job of selling your home, from Barbara Corcoran (Star of ABC's Shark Tank) to Preston Scott (host of Tallahassee's top daily "Audio Magazine," as well as the thousands of happy customers Joe has helped in the past. Listen why!
I recently stumbled upon your latest Carrabelle listing. I must say, a home on Florida's Forgotten Coast is bound to be snatched up quickly. Best of luck with getting it under contract soon!

Posted by Barbara Corcoran on Thursday, June 15, 2023
Average Home Size In Ox Bottom Manor
The average size of the homes sold in Ox Bottom Manor typically falls in a range of 2,300 to 2,700 square feet, and this year has been no different.
The 35 homes sold thus far in 2021 were measured at an average size of 2,619 square feet.
Home sales in Ox Bottom Manor
The following table shows the most recent 1,000 home sales in Ox Bottom Manor. Sort the table any way that you like. Click on any column heading to arrange the information in the specific order which you would like to see.
| Address | Price | Price/SQF | Closing Date | Year Built | SQF | Sale Type |
| --- | --- | --- | --- | --- | --- | --- |
| 6240 Whittondale Drive | $550,000 | $236 | 2023-09-22 | 1996 | 2,334 | Resale |
| 6006 Quail Ridge Drive | $347,600 | $115 | 2023-09-15 | 1990 | 3,027 | Resale |
| 315 Milestone Drive | $560,000 | $219 | 2023-09-11 | 1994 | 2,556 | Resale |
| 6424 Mallard Trace Drive | $567,000 | $254 | 2023-08-08 | 1994 | 2,231 | Resale |
| 558 Meadow Ridge Drive | $665,000 | $238 | 2023-07-21 | 1995 | 2,800 | Resale |
| 6019 Ox Bottom Manor Drive | $565,000 | $242 | 2023-06-05 | 1990 | 2,337 | Resale |
| 6391 Heritage Ridge Road | $509,000 | $189 | 2023-06-05 | 1994 | 2,698 | Resale |
| 6322 Sinkola Drive | $530,000 | $217 | 2023-05-16 | 1996 | 2,444 | Resale |
| 6269 Buck Run Circle | $585,000 | $232 | 2023-04-21 | 2013 | 2,525 | Resale |
| 6355 Belgrand Drive | $490,000 | $244 | 2023-03-01 | 1998 | 2,008 | Resale |
| 6355 Belgrand Dr | $490,000 | $244 | 2023-02-28 | 1998 | 2,008 | Resale |
| 6111 Ox Bottom Manor Drive | $550,000 | $159 | 2023-01-10 | 1990 | 3,467 | Resale |
| 215 Thornberg Drive | $675,900 | $223 | 2022-12-16 | 2000 | 3,028 | Resale |
| 397 Meadow Ridge Drive | $570,000 | $245 | 2022-11-10 | 1994 | 2,325 | Resale |
| 6377 Sinkola Drive | $469,900 | $221 | 2022-10-24 | 1996 | 2,131 | Resale |
| 210 Meadow Ridge | $550,000 | $208 | 2022-10-06 | 1994 | 2,646 | Resale |
| 472 Meadow Ridge Drive | $578,500 | $257 | 2022-10-03 | 1997 | 2,248 | Resale |
| 6304 Mallard Trace | $470,000 | $163 | 2022-09-20 | 1996 | 2,875 | Resale |
| 304 Milestone Drive | $485,000 | $211 | 2022-08-01 | 1990 | 2,298 | Resale |
| 311 Thornberg Drive | $625,000 | $122 | 2022-08-01 | 2004 | 5,124 | Resale |
| 304 Milestone Dr | $485,000 | $211 | 2022-07-29 | 1990 | 2,298 | Resale |
| 6297 Hines Hill Circle | $658,500 | $236 | 2022-07-08 | 1992 | 2,796 | Resale |
| 541 Meadow Ridge Drive | $650,000 | $213 | 2022-07-07 | 1997 | 3,045 | Resale |
| 347 Thornberg Drive | $607,500 | $225 | 2022-07-05 | 1996 | 2,700 | Resale |
| 367 Milestone Drive | $576,000 | $239 | 2022-06-30 | 1993 | 2,413 | Resale |
| 6104 Ox Bottom Manor Drive | $500,000 | $194 | 2022-06-27 | 1990 | 2,574 | Resale |
| 6287 Whittondale Drive | $535,000 | $217 | 2022-06-23 | 1994 | 2,466 | Resale |
| 534 Meadow Ridge Drive | $635,000 | $205 | 2022-06-17 | 1995 | 3,097 | Resale |
| 6295 Blackfox Way | $609,000 | $218 | 2022-05-06 | 1996 | 2,795 | Resale |
| 334 Thornberg Dr | $575,000 | $212 | 2022-04-28 | 1996 | 2,711 | Resale |
| 6335 Pickney Hill Road | $600,000 | $245 | 2022-04-28 | 1995 | 2,452 | Resale |
| 6347 Belgrand Drive | $467,000 | $200 | 2022-03-31 | 2003 | 2,338 | Resale |
| 549 Meadow Ridge Drive | $475,000 | $157 | 2022-03-30 | 1996 | 3,016 | Resale |
| 6300 Mallard Trace Dr | $274,900 | $106 | 2022-03-10 | 1993 | 2,585 | Resale |
| 6220 Whittondale Drive | $490,000 | $172 | 2022-02-25 | 1994 | 2,850 | Resale |
| 355 Milestone Drive | $400,010 | $170 | 2022-01-21 | 1994 | 2,357 | Resale |
| 465 Meadow Ridge Drive | $646,000 | $191 | 2022-01-19 | 1998 | 3,387 | Resale |
| 6317 Pickney Hill | $450,000 | $166 | 2021-12-27 | 1995 | 2,704 | Resale |
| 6118 Borderline Drive | $610,000 | $168 | 2021-12-15 | 1993 | 3,622 | Resale |
| 6400 Mallard Trace | $380,000 | $187 | 2021-11-05 | 1996 | 2,033 | Resale |
| 377 Meadow Ridge Drive | $400,000 | $188 | 2021-10-28 | 1994 | 2,127 | Resale |
| 166 Cotillion Circle | $385,000 | $181 | 2021-10-21 | 1995 | 2,132 | Resale |
| 417 Meadow Ridge Drive | $474,000 | $148 | 2021-10-14 | 1997 | 3,202 | Resale |
| 464 Meadow Ridge Drive | $498,000 | $188 | 2021-09-30 | 1997 | 2,642 | Resale |
| 363 Milestone Drive | $448,000 | $190 | 2021-09-24 | 1992 | 2,357 | Resale |
| 150 Meadow Ridge Drive | $520,000 | $187 | 2021-09-24 | 1995 | 2,786 | Resale |
| 6236 Hines Hill Circle | $475,000 | $204 | 2021-09-16 | 1992 | 2,330 | Resale |
| 6269 Buck Run Circle | $524,900 | $203 | 2021-09-02 | 2013 | 2,586 | Resale |
| 6306 Coach House Court | $350,000 | $153 | 2021-08-26 | 1993 | 2,294 | Resale |
| 413 Meadow Ridge Drive | $482,000 | $210 | 2021-08-23 | 1997 | 2,298 | Resale |
| 6125 Borderline Dr | $410,000 | $168 | 2021-08-20 | 1993 | 2,441 | Resale |
| 211 Meadow Ridge Drive | $725,000 | $195 | 2021-07-22 | 1991 | 3,715 | Resale |
| 6309 Pickney Hill Road | $600,000 | $208 | 2021-07-22 | 1995 | 2,888 | Resale |
| 6358 Glasgow Drive | $460,000 | $189 | 2021-07-19 | 1995 | 2,428 | Resale |
| 6228 Buck Run Cir | $790,000 | $180 | 2021-07-16 | 2009 | 4,367 | Resale |
| 278 Thornberg Drive | $440,000 | $178 | 2021-07-15 | 1997 | 2,478 | Resale |
| 6023 Quail Ridge Drive | $535,000 | $190 | 2021-07-06 | 1992 | 2,811 | Resale |
| 6379 Belgrand Drive | $575,000 | $183 | 2021-06-30 | 2006 | 3,150 | Resale |
| 509 Meadow Ridge Drive | $420,000 | $187 | 2021-06-18 | 2000 | 2,252 | Resale |
| 6320 Glasgow Drive | $585,000 | $191 | 2021-06-04 | 1997 | 3,061 | Resale |
| 6138 Borderline Dr | $465,000 | $179 | 2021-06-03 | 1989 | 2,586 | Resale |
| 6138 Borderline Drive | $465,000 | $180 | 2021-06-03 | 1989 | 2,586 | Resale |
| 6027 Quail Ridge Drive | $339,000 | $159 | 2021-05-27 | 1991 | 2,137 | Resale |
| 6244 Hines Hill Circle | $550,000 | $196 | 2021-05-14 | 1993 | 2,813 | Resale |
| 6334 Sinkola Dr | $150,000 | $63 | 2021-04-08 | 1997 | 2,376 | Resale |
| 6355 Mallard Trace | $384,900 | $203 | 2021-03-31 | 1993 | 1,900 | Resale |
| 6220 Buck Run Circle | $635,000 | $179 | 2021-03-31 | 2007 | 3,556 | Resale |
| 6272 Buck Run Circle | $458,000 | $177 | 2021-03-29 | 2007 | 2,591 | Resale |
| 6293 Black Fox Way | $430,000 | $137 | 2021-03-26 | 1996 | 3,143 | Resale |
| 434 Meadow Ridge Drive | $475,000 | $159 | 2021-03-19 | 1997 | 2,995 | Resale |
| 5969 Ox Bottom Manor Drive | $362,000 | $170 | 2021-03-05 | 1989 | 2,126 | Resale |
| 142 Thistlewood Ct. | $406,000 | $156 | 2021-02-19 | 1995 | 2,607 | Resale |
| 6316 Mallard Trace Drive | $424,900 | $179 | 2021-02-08 | 1995 | 2,370 | Resale |
| 6399 Belgrand Drive | $425,000 | $175 | 2021-01-29 | 1998 | 2,425 | Resale |
| 6239 Buck Run Circle | $565,000 | $164 | 2021-01-20 | 2007 | 3,443 | Resale |
| 6267 Whittondale Court | $450,000 | $190 | 2020-12-30 | 1994 | 2,371 | Resale |
| 457 Meadow Ridge Drive | $510,000 | $144 | 2020-11-13 | 1998 | 3,530 | Resale |
| 541 Meadow Ridge Drive | $530,000 | $178 | 2020-11-13 | 1997 | 2,984 | Resale |
| 6107 Ox Bottom Manor Drive | $416,000 | $184 | 2020-10-30 | 1993 | 2,259 | Resale |
| 188 Cotillian Circle | $390,000 | $175 | 2020-10-30 | 1995 | 2,231 | Resale |
| 6339 Sinkola Drive | $340,000 | $169 | 2020-10-23 | 1998 | 2,016 | Resale |
| 131 Cotillion Cir | $410,000 | $162 | 2020-09-30 | 1995 | 2,521 | Resale |
| 6284 Whittondale Drive | $430,000 | $178 | 2020-09-30 | 1995 | 2,416 | Resale |
| 405 Holly Hill Court | $419,000 | $128 | 2020-09-29 | 1995 | 3,268 | Resale |
| 315 Milestone Drive | $435,000 | $170 | 2020-09-29 | 1994 | 2,556 | Resale |
| 6129 Borderline Drive | $332,000 | $139 | 2020-09-04 | 1991 | 2,386 | Resale |
| 6359 Belgrand Drive | $339,900 | $169 | 2020-09-04 | 1998 | 2,008 | Resale |
| 6248 Hines Hill Circle | $506,900 | $186 | 2020-08-28 | 1994 | 2,730 | Resale |
| 6334 Sinkola Drive | $378,500 | $159 | 2020-08-26 | 1997 | 2,376 | Resale |
| 384 Meadow Ridge Drive | $425,000 | $148 | 2020-08-13 | 1999 | 2,872 | Resale |
| 205 Hawk Meadow Drive | $532,000 | $167 | 2020-08-12 | 1990 | 3,185 | Resale |
| 6314 Coach House Court | $549,000 | $149 | 2020-08-07 | 1993 | 3,689 | Resale |
| 300 Thornberg Drive | $429,000 | $170 | 2020-07-31 | 1996 | 2,519 | Resale |
| 345 Meadow Ridge Drive | $395,000 | $153 | 2020-07-10 | 1994 | 2,574 | Resale |
| 6242 Buck Run Circle | $450,000 | $181 | 2020-07-10 | 2013 | 2,483 | Resale |
| 6290 Black Fox Way | $499,999 | $168 | 2020-07-10 | 2000 | 2,974 | Resale |
| 6335 Pickney Hill Road | $450,000 | $184 | 2020-07-09 | 1995 | 2,452 | Resale |
| 6279 Whittondale Drive | $332,350 | $135 | 2020-06-19 | 1994 | 2,470 | Resale |
| 175 Meadow Ridge Drive | $519,000 | $163 | 2020-06-15 | 1993 | 3,190 | Resale |
| 6116 Ox Bottom Manor Drive | $327,000 | $146 | 2020-06-12 | 1992 | 2,240 | Resale |
| 6295 Blackfox Way | $470,000 | $168 | 2020-05-29 | 1996 | 2,795 | Resale |
| 6316 Pickney Hill Road | $392,000 | $155 | 2020-05-26 | 1995 | 2,536 | Resale |
| 135 Thistlewood Court | $400,000 | $161 | 2020-05-08 | 1995 | 2,481 | Resale |
| 187 Meadow Ridge Dr | $392,500 | $161 | 2020-04-30 | 1993 | 2,433 | Resale |
| 6261 Buck Run Circle | $470,000 | $160 | 2020-04-30 | 2009 | 2,931 | Resale |
| 449 San Martin Drive | $379,000 | $172 | 2020-04-30 | 2000 | 2,201 | Resale |
| 6146 Borderline Drive | $392,000 | $158 | 2020-04-22 | 1990 | 2,475 | Resale |
| 377 Meadow Ridge Drive | $352,000 | $165 | 2020-04-17 | 1994 | 2,127 | Resale |
| 6382 Belgrand Drive | $425,000 | $147 | 2020-04-17 | 1996 | 2,889 | Resale |
| 6231 Myrtlewood Court | $472,500 | $164 | 2020-04-10 | 1995 | 2,879 | Resale |
| 6375 Mallard Trace Drive | $355,000 | $164 | 2020-04-03 | 1995 | 2,168 | Resale |
| 6338 Glasgow Drive | $435,000 | $163 | 2020-04-02 | 1997 | 2,667 | Resale |
| 6142 Borderline Dr | $392,000 | $162 | 2020-03-27 | 1989 | 2,415 | Resale |
| 212 Hawk Meadow Drive | $332,500 | $133 | 2020-03-26 | 1991 | 2,507 | Resale |
| 442 Meadow Ridge Drive | $392,000 | $148 | 2020-03-23 | 1998 | 2,657 | Resale |
| 6308 Mallard Trace Drive | $375,000 | $143 | 2020-03-12 | 1993 | 2,622 | Resale |
| 215 Thornberg Drive | $529,900 | $175 | 2020-03-09 | 2000 | 3,028 | Resale |
| 6243 Buck Run Circle | $460,000 | $178 | 2020-02-28 | 2011 | 2,586 | Resale |
| 6412 Mallard Trace Drive | $336,000 | $159 | 2020-02-19 | 1995 | 2,113 | Resale |
| 6356 San Martin Court | $420,000 | $189 | 2020-01-31 | 1997 | 2,222 | Resale |
| 345 Meadow Ridge Dr | $238,300 | $92 | 2020-01-27 | 1994 | 2,574 | Resale |
| 6379 Mallard Trace Drive | $351,000 | $144 | 2019-12-10 | 1994 | 2,439 | Resale |
| 347 Thornberg Drive | $411,000 | $157 | 2019-12-05 | 1996 | 2,615 | Resale |
| 368 Thornberg Dr. | $405,000 | $145 | 2019-12-04 | 1997 | 2,785 | Resale |
| 6266 Hines Hill Circle | $336,700 | $159 | 2019-11-22 | 1992 | 2,123 | Resale |
| 6390 Belgrand Drive | $300,100 | $128 | 2019-11-22 | 1998 | 2,346 | Resale |
| 6284 Blackfox Way | $320,000 | $160 | 2019-10-31 | 1995 | 1,994 | Resale |
| 6367 Sinkola Drive | $318,000 | $123 | 2019-10-22 | 1996 | 2,586 | Resale |
| 6303 Mallard Trace Drive | $409,000 | $154 | 2019-10-21 | 1996 | 2,664 | Resale |
| 6347 Pickney Hill Road | $439,000 | $154 | 2019-10-18 | 1995 | 2,842 | Resale |
| 6321 Sinkola Drive | $395,000 | $151 | 2019-10-02 | 2007 | 2,611 | Resale |
| 6416 Mallard Trace Drive | $385,000 | $179 | 2019-09-13 | 1997 | 2,153 | Resale |
| 6265 Blackfox Way | $405,000 | $167 | 2019-09-13 | 1997 | 2,417 | Resale |
| 6371 Mallard Trace Drive | $380,000 | $139 | 2019-09-06 | 1995 | 2,737 | Resale |
| 6367 Mallard Trace Drive | $325,000 | $150 | 2019-09-06 | 1993 | 2,168 | Resale |
| 6115 Ox Bottom Manor Drive | $396,500 | $143 | 2019-08-30 | 1989 | 2,768 | Resale |
| 6248 Hines Hill Circle | $301,000 | $110 | 2019-08-29 | 1994 | 2,730 | Resale |
| 6258 Buck Run Circle | $425,000 | $146 | 2019-08-15 | 2007 | 2,913 | Resale |
| 6259 Black Fox Way | $477,500 | $155 | 2019-08-12 | 1996 | 3,074 | Resale |
| 5968 Ox Bottom Manor Rd | $372,000 | $140 | 2019-08-09 | 1989 | 2,663 | Resale |
| 6392 Mallard Trace Drive | $315,000 | $124 | 2019-07-26 | 1997 | 2,547 | Resale |
| 511 Meadow Ridge Court | $380,000 | $172 | 2019-06-11 | 1997 | 2,205 | Resale |
| 6392 Belgrand Drive | $385,000 | $169 | 2019-06-07 | 1995 | 2,283 | Resale |
| 6294 Hines Hill Circle | $464,500 | $169 | 2019-06-03 | 1993 | 2,750 | Resale |
| 6269 Buck Run Cir | $440,000 | $172 | 2019-05-31 | 2013 | 2,560 | Resale |
| 135 Thistlewood Court | $411,000 | $166 | 2019-05-31 | 1995 | 2,481 | Resale |
| 6287 Whittondale Drive | $314,000 | $127 | 2019-05-29 | 1994 | 2,466 | Resale |
| 353 Thornberg Drive | $350,000 | $125 | 2019-05-28 | 1997 | 2,804 | Resale |
| 6323 Pickney Hill Road | $460,000 | $155 | 2019-05-23 | 1995 | 2,960 | Resale |
| 6367 Mallard Trace Dr | $210,000 | $97 | 2019-05-17 | 1993 | 2,168 | Resale |
| 534 Meadow Ridge Drive | $470,000 | $152 | 2019-05-17 | 1995 | 3,097 | Resale |
| 6290 Hines Hill Circle | $441,500 | $158 | 2019-05-02 | 1993 | 2,797 | Resale |
| 6039 Quail Ridge Dr | $209,000 | $96 | 2019-05-01 | 1989 | 2,170 | Resale |
| 6247 Whittondale Drive | $380,000 | $159 | 2019-04-29 | 1993 | 2,395 | Resale |
| 502 Meadow Ridge Drive | $370,000 | $177 | 2019-04-25 | 1995 | 2,086 | Resale |
| 6356 Pickney Hill Road | $385,000 | $165 | 2019-04-16 | 1996 | 2,336 | Resale |
| 6110 Borderline Drive | $355,000 | $173 | 2019-03-11 | 1991 | 2,048 | Resale |
| 363 Milestone Drive | $355,000 | $151 | 2019-02-28 | 1992 | 2,357 | Resale |
| 323 Milestone Drive | $414,900 | $176 | 2019-02-11 | 1991 | 2,352 | Resale |
| 6336 Brace Court | $280,000 | $148 | 2019-01-28 | 1995 | 1,886 | Resale |
| 6319 Belgrand Drive | $370,000 | $156 | 2019-01-25 | 2002 | 2,373 | Resale |
| 258 Thornberg Dr | $330,000 | $155 | 2018-12-12 | 1998 | 2,135 | Resale |
| 6328 Mallard Trace Dr | $303,000 | $153 | 2018-12-03 | 1993 | 1,985 | Resale |
| 6348 Mallard Trace Drive | $342,000 | $152 | 2018-11-30 | 1993 | 2,247 | Resale |
| 6122 Borderline Drive | $334,500 | $140 | 2018-11-30 | 1991 | 2,389 | Resale |
| 6281 Blackfox Way | $295,000 | $140 | 2018-11-16 | 1996 | 2,094 | Resale |
| 6122 Borderline Dr | $334,500 | $140 | 2018-10-31 | 1991 | 2,389 | Resale |
| 6227 Myrtlewood Court | $385,000 | $159 | 2018-09-21 | 1996 | 2,425 | Resale |
| 6143 Borderline Dr | $373,000 | $161 | 2018-09-05 | 1991 | 2,312 | Resale |
| 501 Rogers Ln | $520,000 | $169 | 2018-08-16 | 2006 | 3,082 | Resale |
| 6323 Mallard Trace Drive | $335,000 | $160 | 2018-08-08 | 1995 | 2,100 | Resale |
| 6308 Sinkola Drive | $425,000 | $163 | 2018-07-26 | 1996 | 2,614 | Resale |
| 6282 Hines Hill Circle | $475,000 | $142 | 2018-07-09 | 1995 | 3,357 | Resale |
| 6267 Whittondale Court | $458,350 | $193 | 2018-06-29 | 1994 | 2,371 | Resale |
| 418 Meadow Ridge Drive | $432,500 | $172 | 2018-06-29 | 2001 | 2,520 | Resale |
| 414 Meadow Ridge Drive | $462,000 | $172 | 2018-06-29 | 1998 | 2,686 | Resale |
| 342 Thornberg Drive | $385,000 | $126 | 2018-06-28 | 1999 | 3,046 | Resale |
| 6337 Glasgow Drive | $415,000 | $146 | 2018-06-25 | 1997 | 2,850 | Resale |
| 6404 Mallard Trace Drive | $285,000 | $143 | 2018-06-22 | 1995 | 1,993 | Resale |
| 6396 Mallard Trace Drive | $318,000 | $145 | 2018-06-12 | 1995 | 2,195 | Resale |
| 6339 Belgrand Drive | $352,000 | $153 | 2018-06-11 | 2001 | 2,299 | Resale |
| 6340 Sinkola Drive | $420,000 | $161 | 2018-06-11 | 1997 | 2,609 | Resale |
| 8048 Evening Star Lane | $510,000 | $175 | 2018-05-31 | 1994 | 2,917 | Resale |
| 5953 Ox Bottom Manor Dr | $350,000 | $150 | 2018-05-31 | 1990 | 2,327 | Resale |
| 198 Meadow Ridge Drive | $438,000 | $157 | 2018-05-29 | 1992 | 2,783 | Resale |
| 6345 Sinkola Drive | $436,000 | $170 | 2018-05-25 | 1999 | 2,567 | Resale |
| 6030 Quail Ridge Drive | $325,000 | $122 | 2018-05-03 | 1992 | 2,665 | Resale |
| 6272 Buck Run Circle | $373,000 | $144 | 2018-04-30 | 2007 | 2,591 | Resale |
| 6272 Blackfox Way | $425,000 | $153 | 2018-04-24 | 1995 | 2,779 | Resale |
| 6334 Sinkola Drive | $344,000 | $145 | 2018-03-30 | 1997 | 2,376 | Resale |
| 6010 Quail Ridge Drive | $424,000 | $154 | 2018-03-28 | 1990 | 2,748 | Resale |
| 489 Meadow Ridge Dr | $460,000 | $152 | 2018-03-02 | 1997 | 3,017 | Resale |
| 530 Meadow Ridge Dr | $349,000 | $132 | 2018-03-01 | 1996 | 2,636 | Resale |
| 412 Holly Hill Court | $420,000 | $145 | 2018-02-28 | 1996 | 2,902 | Resale |
| 188 Cotillion Circle | $337,000 | $149 | 2018-02-14 | 1995 | 2,260 | Resale |
| 6273 Buck Run Cir | $575,200 | -- | 2018-01-18 | 2018 | -- | New |
| 558 Meadow Ridge | $449,000 | $160 | 2018-01-09 | 1995 | 2,800 | Resale |
| 6150 Borderline Dr | $350,000 | $137 | 2017-11-10 | 1989 | 2,556 | Resale |
| 6340 Brace Court | $364,000 | $148 | 2017-10-11 | 1994 | 2,466 | Resale |
| 6277 Buck Run Circle | $425,000 | $166 | 2017-10-06 | 2013 | 2,560 | Resale |
| 6269 Buck Run Cir | $425,000 | $166 | 2017-10-06 | 2013 | 2,560 | Resale |
| 6281 Blackfox Way | $116,900 | $56 | 2017-09-28 | 1996 | 2,094 | Resale |
| 6316 Pickney Hill | $350,000 | $138 | 2017-08-31 | 1995 | 2,536 | Resale |
| 6219 Whittondale Drive | $395,300 | $154 | 2017-08-30 | 1994 | 2,565 | Resale |
| 506 Meadow Ridge Drive | $450,000 | $149 | 2017-08-28 | 1996 | 3,012 | Resale |
| 414 Meadow Ridge Drive | $442,000 | $165 | 2017-07-28 | 1998 | 2,686 | Resale |
| 6138 Borderline Dr | $399,000 | $154 | 2017-07-14 | 1989 | 2,586 | Resale |
| 6345 Mallard Trace Drive | $360,000 | $129 | 2017-07-12 | 1993 | 2,800 | Resale |
| 182 Cotillion Circle | $319,000 | $156 | 2017-06-30 | 1995 | 2,040 | Resale |
| 6327 Coach House Court | $370,000 | $136 | 2017-06-21 | 1995 | 2,729 | Resale |
| 6388 Mallard Trace Dr | $295,000 | $118 | 2017-06-09 | 2001 | 2,492 | Resale |
| 5965 Ox Bottom Manor Drive | $450,000 | $142 | 2017-06-09 | 1991 | 3,171 | Resale |
| 6271 Whittondale Court | $395,000 | $143 | 2017-05-31 | 1993 | 2,756 | Resale |
| 194 Meadow Ridge Drive | $349,000 | $139 | 2017-05-24 | 1991 | 2,516 | Resale |
| 281 Thornberg Dr | $400,000 | $183 | 2017-05-15 | 1998 | 2,184 | Resale |
| 6371 Sinkola Drive | $335,000 | $159 | 2017-05-08 | 1996 | 2,109 | Resale |
| 6223 Buck Run Cir | $400,000 | $167 | 2017-04-28 | 2006 | 2,396 | Resale |
| 212 Meadow Ridge Drive | $342,000 | $122 | 2017-04-14 | 1993 | 2,809 | Resale |
| 6352 Sinkola Dr | $335,000 | $154 | 2017-04-14 | 1996 | 2,174 | Resale |
| 6243 Buck Run Cir | $408,000 | $160 | 2017-03-17 | 2011 | 2,550 | Resale |
| 6351 Sinkola Dr | $322,100 | $166 | 2017-02-22 | 1996 | 1,940 | Resale |
| 6019 Ox Bottom Manor Dr | $385,000 | $165 | 2017-02-13 | 1990 | 2,337 | Resale |
| 349 Meadow Ridge Dr | $35,000 | $15 | 2017-01-26 | 1994 | 2,316 | Resale |
| 6238 Buck Run Cir | $610,000 | $154 | 2017-01-23 | 2007 | 3,965 | Resale |
| 6263 Whittondale | $375,000 | $124 | 2016-12-05 | 1999 | 3,025 | Resale |
| 6315 Sinkola Drive | $345,000 | $104 | 2016-12-01 | 2001 | 3,331 | Resale |
| 6388 Mallard Trace Drive | $280,000 | $112 | 2016-11-10 | 2001 | 2,492 | Resale |
| 449 San Martin Dr | $315,000 | $143 | 2016-10-31 | 2000 | 2,201 | Resale |
| 6211 Buck Run Circle | $373,000 | $151 | 2016-10-26 | 2007 | 2,472 | Resale |
| 6338 Glasgow Drive | $355,000 | $133 | 2016-10-24 | 1997 | 2,667 | Resale |
| 393 Meadow Ridge Drive | $331,000 | $130 | 2016-09-30 | 1995 | 2,553 | Resale |
| 6027 Quail Ridge Dr | $282,000 | $132 | 2016-09-14 | 1991 | 2,137 | Resale |
| 6420 Mallard Trace Dr | $367,500 | $137 | 2016-08-25 | 1995 | 2,676 | Resale |
| 6263 Hines Hill Circle | $355,000 | $139 | 2016-08-24 | 1992 | 2,555 | Resale |
| 6248 Whittondale Drive | $297,450 | $128 | 2016-08-12 | 1995 | 2,321 | Resale |
| 6366 San Martin Ct. | $277,000 | $138 | 2016-08-12 | 1998 | 2,008 | Resale |
| 6042 Quail Ridge Drive | $315,000 | $129 | 2016-07-29 | 1991 | 2,438 | Resale |
| 362 Meadow Ridge Dr | $313,659 | $119 | 2016-07-28 | 1994 | 2,632 | Resale |
| 6424 Mallard Trace | $355,000 | $159 | 2016-07-27 | 1994 | 2,231 | Resale |
| 5960 Ox Bottom Manor Drive | $417,000 | $123 | 2016-07-26 | 1991 | 3,383 | Resale |
| 383 Thornberg Drive | $355,000 | $142 | 2016-07-15 | 2000 | 2,493 | Resale |
| 136 Thistlewood Ct | $317,500 | $124 | 2016-07-13 | 1998 | 2,553 | Resale |
| 429 Meadow Ridge Drive | $349,900 | $121 | 2016-07-08 | 1998 | 2,884 | Resale |
| 6328 Pickney Hill Road | $325,000 | $147 | 2016-06-30 | 1995 | 2,206 | Resale |
| 541 Meadow Ridge Dr | $500,000 | $162 | 2016-06-10 | 1997 | 3,086 | Resale |
| 315 Milestone Drive | $340,000 | $133 | 2016-05-27 | 1994 | 2,556 | Resale |
| 315 Milestone Dr | $340,000 | $133 | 2016-05-27 | 1994 | 2,556 | Resale |
| 6304 Mallard Trace Drive | $360,000 | $125 | 2016-05-21 | 1996 | 2,875 | Resale |
| 6023 Quail Ridge Dr | $365,000 | $130 | 2016-05-16 | 1992 | 2,811 | Resale |
| 6107 Ox Bottom Manor Drive | $336,500 | $149 | 2016-05-16 | 1993 | 2,259 | Resale |
| 6266 Buck Run Circle | $439,000 | $165 | 2016-05-05 | 2015 | 2,665 | Resale |
| 323 Milestone Drive | $340,000 | $145 | 2016-04-29 | 1991 | 2,352 | Resale |
| 578 Meadow Ridge Drive | $355,000 | $142 | 2016-04-22 | 1995 | 2,500 | Resale |
| 6252 Whittondale Drive | $315,000 | $151 | 2016-04-21 | 1995 | 2,091 | Resale |
| 239 Thornberg Drive | $400,000 | $126 | 2016-03-24 | 1997 | 3,176 | Resale |
| 6248 Whittondale Dr | $180,000 | $78 | 2016-03-10 | 1995 | 2,321 | Resale |
| 6379 Belgrand Dr | $427,450 | $136 | 2016-02-29 | 2006 | 3,150 | New |
| 6330 Belgrand Drive | $375,000 | $127 | 2016-01-06 | 1997 | 2,953 | Resale |
| 6351 Sinkola Dr | $215,000 | $111 | 2015-12-18 | 1996 | 1,940 | Resale |
| 6376 Mallard Trace Dr | $395,000 | $128 | 2015-11-13 | 1995 | 3,078 | Resale |
| 6351 Sinkola Dr | $60,000 | $31 | 2015-10-29 | 1996 | 1,940 | Resale |
| 412 Holly Hill Court | $339,025 | $117 | 2015-10-27 | 1996 | 2,902 | Resale |
| 6326 Coach House Court | $300,000 | $109 | 2015-10-26 | 1992 | 2,752 | Resale |
| 6335 Pickney Hill Rd | $326,000 | $144 | 2015-10-06 | 1995 | 2,262 | Resale |
| 5953 Ox Bottom Manor Dr. | $252,100 | $108 | 2015-09-25 | 1990 | 2,327 | Resale |
| 6300 Mallard Trace | $274,900 | $106 | 2015-09-18 | 1993 | 2,585 | Resale |
| 6010 Quail Ridge Drive | $360,000 | $131 | 2015-09-11 | 1990 | 2,748 | Resale |
| 6328 Mallard Trace Drive | $262,000 | $132 | 2015-08-28 | 1993 | 1,985 | Resale |
| 6286 Hines Hill Circle | $419,000 | $121 | 2015-08-19 | 1993 | 3,457 | Resale |
| 5956 Ox Bottom Manor | $344,500 | $142 | 2015-08-17 | 1991 | 2,426 | Resale |
| 340 Meadow Ridge Drive | $357,500 | $146 | 2015-08-12 | 1994 | 2,446 | Resale |
| 549 Meadow Ridge Dr | $412,500 | $138 | 2015-08-07 | 1996 | 2,996 | Resale |
| 6257 Buck Run Circle | $439,900 | $149 | 2015-08-03 | 2007 | 2,955 | Resale |
| 6284 Whittondale Drive | $298,000 | $123 | 2015-07-31 | 1995 | 2,429 | Resale |
| 412 Holly Hill Ct | $253,100 | $87 | 2015-07-28 | 1996 | 2,902 | Resale |
| 154 Meadow Ridge Dr | $380,000 | $136 | 2015-07-20 | 1994 | 2,786 | Resale |
| 6011 Ox Bottom Manor Dr. | $292,000 | $136 | 2015-07-17 | 1992 | 2,142 | Resale |
| 344 Meadow Ridge Drive | $275,000 | $145 | 2015-07-08 | 1994 | 1,899 | Resale |
| 6326 Glasgow Drive | $367,500 | $144 | 2015-06-25 | 1996 | 2,556 | Resale |
| 6359 Mallard Trace Drive | $353,000 | $112 | 2015-06-16 | 1993 | 3,166 | Resale |
| 411 Holly Hill Ct | $315,500 | $135 | 2015-06-12 | 2002 | 2,333 | Resale |
| 318 Thornberg Dr | $316,000 | $118 | 2015-06-01 | 1996 | 2,685 | Resale |
| 6281 Buck Run Circle | $442,000 | $154 | 2015-05-31 | 2015 | 2,879 | New |
| 6276 Whittondale Dr | $400,000 | $135 | 2015-05-29 | 1995 | 2,954 | Resale |
| 6336 Pickney Hill | $353,500 | $107 | 2015-05-14 | 1995 | 3,306 | Resale |
| 6115 Ox Bottom Manor Dr | $380,000 | $137 | 2015-05-11 | 1989 | 2,768 | Resale |
| 370 Milestone Dr | $285,000 | $134 | 2015-05-09 | 1993 | 2,132 | Resale |
| 6352 Mallard Trace Dr | $277,500 | $138 | 2015-05-08 | 1993 | 2,012 | Resale |
| 341 Meadow Ridge Dr | $375,000 | $144 | 2015-04-30 | 1994 | 2,607 | Resale |
| 6330 Coach House Court | $300,000 | $141 | 2015-04-24 | 1993 | 2,125 | Resale |
| 6328 Ne Sinkola Drive | $320,000 | $135 | 2015-04-10 | 1998 | 2,365 | Resale |
| 6328 Sinkola Dr Ne | $320,000 | $135 | 2015-04-10 | 1998 | 2,365 | Resale |
| 342 Milestone Dr | $307,000 | $126 | 2015-04-09 | 1989 | 2,428 | Resale |
| 369 Meadow Ridge Dr | $369,900 | $142 | 2015-03-26 | 1994 | 2,600 | Resale |
| 204 Hawk Meadow | $365,000 | $136 | 2015-03-24 | 1991 | 2,679 | Resale |
| 6325 Coach House Ct | $375,000 | $117 | 2015-03-23 | 1992 | 3,200 | Resale |
| 6022 Quail Ridge Dr | $13,700 | $5 | 2015-02-27 | 1989 | 2,725 | Resale |
| 6338 Glasgow Dr | $355,000 | $137 | 2015-02-25 | 1997 | 2,597 | Resale |
| 6252 Whittondale Dr | $270,000 | $129 | 2015-01-30 | 1995 | 2,091 | Resale |
| 585 Meadow Ridge Dr | $282,000 | $110 | 2015-01-29 | 1995 | 2,570 | Resale |
| 401 Meadow Ridge Dr | $347,400 | $124 | 2015-01-26 | 1994 | 2,803 | Resale |
| 450 Tall Stand Ct | $62,800 | $22 | 2015-01-22 | 1998 | 2,836 | Resale |
| 6336 Brace Ct | $234,500 | $124 | 2015-01-16 | 1995 | 1,889 | Resale |
| 6362 San Martin Ct | $300,000 | $110 | 2015-01-13 | 1997 | 2,738 | Resale |
| 578 Meadow Ridge Dr | $335,000 | $134 | 2015-01-06 | 1995 | 2,493 | Resale |
| 182 Meadow Ridge Dr | $300,500 | $110 | 2014-12-22 | 1992 | 2,739 | Resale |
| 6399 Belgrand Dr | $312,500 | $129 | 2014-11-20 | 1998 | 2,425 | Resale |
| 590 Meadow Ridge Dr | $321,000 | $131 | 2014-11-10 | 1994 | 2,443 | Resale |
| 269 Thornberg Dr | $430,000 | $114 | 2014-11-03 | 1996 | 3,763 | Resale |
| 363 Milestone Dr | $315,000 | $134 | 2014-10-21 | 1992 | 2,357 | Resale |
| 6034 Quail Ridge Dr | $354,500 | $140 | 2014-10-14 | 1989 | 2,531 | Resale |
| 449 Meadow Ridge Dr | $375,000 | $111 | 2014-09-10 | 1998 | 3,390 | Resale |
| 6334 Sinkola Dr | $302,000 | $127 | 2014-09-10 | 1997 | 2,376 | Resale |
| 457 San Martin Dr | $355,000 | $137 | 2014-09-02 | 1998 | 2,587 | Resale |
| 6010 Quail Ridge Dr | $230,000 | $84 | 2014-08-15 | 1990 | 2,748 | Resale |
| 506 Meadow Ridge Dr | $419,000 | $139 | 2014-08-13 | 1996 | 3,012 | Resale |
| 319 Milestone Dr | $315,000 | $104 | 2014-08-12 | 1989 | 3,034 | Resale |
| 6294 Blackfox Way | $290,000 | $109 | 2014-07-21 | 2000 | 2,656 | Resale |
| 6379 Mallard Trace Dr | $284,000 | $129 | 2014-07-18 | 1994 | 2,199 | Resale |
| 367 Milestone Dr | $348,000 | $158 | 2014-06-30 | 1993 | 2,206 | Resale |
| 6272 Whittondale Dr | $288,000 | $129 | 2014-06-06 | 1998 | 2,241 | Resale |
| 310 Thornberg Dr | $290,000 | $147 | 2014-05-30 | 1997 | 1,975 | Resale |
| 6023 Ox Bottom Manor Dr | $415,000 | $159 | 2014-05-29 | 1990 | 2,613 | Resale |
| 6290 Blackfox Way | $360,000 | $121 | 2014-05-20 | 2000 | 2,974 | Resale |
| 6319 Belgrand Dr | $330,000 | $139 | 2014-05-12 | 2002 | 2,373 | Resale |
| 6103 Ox Bottom Manor Dr | $383,000 | $134 | 2014-03-19 | 1989 | 2,856 | Resale |
| 6276 Whittondale Dr | $390,000 | $181 | 2014-03-04 | 1995 | 2,160 | Resale |
| 6100 Borderline Dr | $325,000 | $97 | 2014-02-14 | 1992 | 3,361 | Resale |
| 6309 Pickney Hill Rd | $340,000 | $126 | 2013-12-27 | 1995 | 2,689 | Resale |
| 6306 Coach House Ct | $295,000 | $140 | 2013-12-16 | 1993 | 2,105 | Resale |
| 6277 Buck Run Cir | $375,000 | $146 | 2013-10-31 | 2013 | 2,560 | New |
| 258 Thornberg Dr | $298,000 | $140 | 2013-10-23 | 1998 | 2,135 | Resale |
| 269 Thornberg Dr | $405,000 | $108 | 2013-10-15 | 1996 | 3,763 | Resale |
| 6344 Glasgow Dr | $385,000 | $128 | 2013-10-14 | 1996 | 3,019 | Resale |
| 6031 Quail Ridge Dr | $348,500 | $136 | 2013-10-08 | 1992 | 2,556 | Resale |
| 6231 Buck Run Cir | $529,000 | $171 | 2013-10-04 | 2010 | 3,101 | Resale |
| 505 Rogers Ln | $379,500 | $141 | 2013-09-26 | 2013 | 2,700 | New |
| 341 Thornberg Dr | $352,500 | $136 | 2013-09-12 | 2004 | 2,585 | Resale |
| 6371 Sinkola Dr | $223,200 | $106 | 2013-08-26 | 1996 | 2,109 | Resale |
| 362 Milestone Dr | $365,000 | $115 | 2013-08-07 | 1989 | 3,164 | Resale |
| 6281 Hines Hill Cir | $371,500 | $121 | 2013-08-07 | 1992 | 3,060 | Resale |
| 6265 Buck Run Cir | $225,000 | $65 | 2013-08-05 | 2013 | 3,484 | New |
| 489 Meadow Ridge Dr | $400,000 | $133 | 2013-07-31 | 1997 | 3,017 | Resale |
| 6416 Mallard Trace Dr | $305,000 | $142 | 2013-07-31 | 1997 | 2,153 | Resale |
| 6240 Whittondale Dr | $315,000 | $135 | 2013-07-29 | 1996 | 2,335 | Resale |
| 453 San Martin Dr | $350,000 | $144 | 2013-07-26 | 1997 | 2,425 | Resale |
| 461 Meadow Ridge Dr | $367,000 | $161 | 2013-07-19 | 1998 | 2,275 | Resale |
| 6235 Myrtlewood Ct | $327,000 | $144 | 2013-07-17 | 1994 | 2,265 | Resale |
| 421 Meadow Ridge Dr | $385,000 | $135 | 2013-07-12 | 1999 | 2,855 | Resale |
| 522 Meadow Ridge Dr | $366,000 | $127 | 2013-07-01 | 1996 | 2,887 | Resale |
| 6008 Ox Bottom Manor Dr | $300,000 | $99 | 2013-06-14 | 1990 | 3,027 | Resale |
| 198 Meadow Ridge Dr | $370,000 | $133 | 2013-06-14 | 1992 | 2,783 | Resale |
| 170 Meadow Ridge Dr | $368,000 | $123 | 2013-06-10 | 1992 | 2,992 | Resale |
| 6115 Borderline Dr | $293,000 | $146 | 2013-06-07 | 1991 | 2,008 | Resale |
| 6118 Borderline Dr | $391,500 | $126 | 2013-06-06 | 1993 | 3,107 | Resale |
| 182 Meadow Ridge Dr | $298,500 | $109 | 2013-05-31 | 1992 | 2,739 | Resale |
| 437 Meadow Ridge Dr | $270,000 | $129 | 2013-05-31 | 1997 | 2,099 | Resale |
| 6370 Pickney Hill Rd | $300,000 | $101 | 2013-05-31 | 1997 | 2,983 | Resale |
| 6301 Mallard Trace Dr | $330,000 | $108 | 2013-05-30 | 1993 | 3,042 | Resale |
| 6284 Buck Run Cir | $346,000 | $126 | 2013-05-29 | 2007 | 2,744 | Resale |
| 6242 Buck Run Cir | $275,000 | $86 | 2013-05-27 | 2013 | 3,203 | New |
| 464 Meadow Ridge Dr | $358,000 | $140 | 2013-05-17 | 1997 | 2,558 | Resale |
| 6215 Buck Run Cir | $349,900 | $151 | 2013-05-15 | 2013 | 2,323 | New |
| 6304 Mallard Trace Dr | $223,700 | $78 | 2013-05-09 | 1996 | 2,875 | Resale |
| 6269 Buck Run Cir | $300,000 | $86 | 2013-05-06 | 2013 | 3,489 | New |
| 6259 Blackfox Way | $375,000 | $136 | 2013-04-29 | 1996 | 2,762 | Resale |
| 383 Thornberg Dr | $330,000 | $135 | 2013-04-24 | 2000 | 2,448 | Resale |
| 6235 Buck Run Cir | $390,000 | $141 | 2013-04-19 | 2007 | 2,772 | Resale |
| 250 Thornberg Dr | $341,500 | $143 | 2013-04-19 | 1997 | 2,391 | Resale |
| 306 Meadow Ridge Dr | $296,000 | $101 | 2013-04-15 | 1994 | 2,923 | Resale |
| 6254 Buck Run Cir | $275,000 | $83 | 2013-04-08 | 2013 | 3,329 | New |
| 6327 Sinkola Dr | $365,000 | $125 | 2013-04-03 | 2001 | 2,918 | Resale |
| 6346 Sinkola Dr | $241,800 | $112 | 2013-04-02 | 1997 | 2,157 | Resale |
| 6011 Ox Bottom Manor Dr | $295,000 | $138 | 2013-03-25 | 1992 | 2,142 | Resale |
| 6312 Mallard Trace Dr | $260,000 | $125 | 2013-01-07 | 1994 | 2,077 | Resale |
| 6275 Whittondale Dr | $290,000 | $108 | 2012-12-28 | 1994 | 2,690 | Resale |
| 6363 Sinkola Dr | $277,000 | $119 | 2012-12-20 | 1996 | 2,330 | Resale |
| 6392 Mallard Trace Dr | $205,000 | $80 | 2012-12-10 | 1997 | 2,547 | Resale |
| 257 Thornberg Dr | $350,000 | $125 | 2012-12-06 | 1996 | 2,792 | Resale |
| 6348 Promenade Ct | $245,000 | $94 | 2012-11-21 | 1993 | 2,600 | Resale |
| 6358 Glasgow Dr | $305,000 | $126 | 2012-11-19 | 1995 | 2,428 | Resale |
| 6285 Buck Run Cir | $360,000 | $94 | 2012-11-15 | 2006 | 3,814 | Resale |
| 6352 Mallard Trace Dr | $247,000 | $123 | 2012-10-31 | 1993 | 2,012 | Resale |
| 6290 Blackfox Way | $342,500 | $115 | 2012-10-12 | 2000 | 2,974 | Resale |
| 444 Tall Stand Ct | $455,000 | $145 | 2012-09-26 | 1997 | 3,129 | Resale |
| 6219 Whittondale Dr | $345,000 | $135 | 2012-08-31 | 1994 | 2,565 | Resale |
| 6356 Mallard Trace Dr | $275,500 | $124 | 2012-08-24 | 1993 | 2,228 | Resale |
| 454 San Martin Dr | $350,000 | $134 | 2012-08-21 | 1996 | 2,607 | Resale |
| 371 Milestone Dr | $307,000 | $132 | 2012-08-16 | 1993 | 2,333 | Resale |
| 6103 Ox Bottom Manor Dr | $342,500 | $120 | 2012-07-31 | 1989 | 2,856 | Resale |
| 6328 Pickney Hill Rd | $276,000 | $125 | 2012-07-27 | 1995 | 2,206 | Resale |
| 6294 Blackfox Way | $257,000 | $97 | 2012-07-17 | 2000 | 2,656 | Resale |
| 6353 San Martin Ct | $285,000 | $118 | 2012-07-16 | 1995 | 2,414 | Resale |
| 445 San Martin Dr | $300,000 | $117 | 2012-07-10 | 1998 | 2,570 | Resale |
| 6278 Hines Hill Cir | $370,000 | $116 | 2012-06-18 | 1992 | 3,181 | Resale |
| 6016 Ox Bottom Manor Dr | $255,800 | $101 | 2012-06-06 | 1990 | 2,535 | Resale |
| 6313 Pickney Hill Rd | $239,900 | $98 | 2012-06-06 | 1994 | 2,456 | Resale |
| 6316 Pickney Hill Rd | $254,500 | $117 | 2012-05-31 | 1995 | 2,184 | Resale |
| 6034 Quail Ridge Dr | $335,000 | $132 | 2012-05-31 | 1989 | 2,531 | Resale |
| 445 Meadow Ridge Dr | $327,000 | $111 | 2012-05-18 | 1998 | 2,953 | Resale |
| 6274 Hines Hill Cir | $343,000 | $129 | 2012-05-11 | 1993 | 2,668 | Resale |
| 411 Holly Hill Ct | $293,000 | $125 | 2012-05-04 | 2002 | 2,341 | Resale |
| 433 Meadow Ridge Dr | $320,000 | $127 | 2012-04-20 | 1997 | 2,511 | Resale |
| 6129 Borderline Dr | $184,000 | $91 | 2012-04-02 | 1991 | 2,026 | Resale |
| 6371 Belgrand Dr | $309,000 | $124 | 2012-03-29 | 2001 | 2,484 | Resale |
| 385 Meadow Ridge Dr | $362,000 | $121 | 2012-03-27 | 1994 | 3,000 | Resale |
| 6356 San Martin Ct | $282,000 | $127 | 2012-03-15 | 1997 | 2,222 | Resale |
| 6007 Ox Bottom Manor Dr | $334,500 | $124 | 2012-02-10 | 1989 | 2,706 | Resale |
| 257 Thornberg Dr | $345,000 | $124 | 2012-01-20 | 1996 | 2,792 | Resale |
| 6271 Whittondale Ct | $275,000 | $108 | 2012-01-06 | 1993 | 2,536 | Resale |
| 6276 Whittondale Dr | $290,000 | $134 | 2011-12-14 | 1995 | 2,157 | Resale |
| 355 Milestone Dr | $255,000 | $108 | 2011-11-30 | 1994 | 2,357 | Resale |
| 205 Hawk Meadow Dr | $341,700 | $107 | 2011-11-08 | 1990 | 3,185 | Resale |
| 6392 Belgrand Dr | $299,900 | $131 | 2011-09-09 | 1995 | 2,283 | Resale |
| 489 Meadow Ridge Dr | $345,000 | $114 | 2011-08-29 | 1997 | 3,017 | Resale |
| 511 Meadow Ridge Dr | $280,000 | $127 | 2011-08-26 | 1997 | 2,205 | Resale |
| 6030 Quail Ridge Dr | $265,000 | $108 | 2011-08-24 | 1992 | 2,449 | Resale |
| 6266 Hines Hill Cir | $270,000 | $127 | 2011-08-18 | 1992 | 2,123 | Resale |
| 250 Thornberg Dr | $310,000 | $129 | 2011-08-15 | 1997 | 2,400 | Resale |
| 6121 Borderline Dr | $313,500 | $127 | 2011-07-01 | 1993 | 2,475 | Resale |
| 6260 Hines Hill Cir | $230,500 | $107 | 2011-06-15 | 1993 | 2,159 | Resale |
| 342 Milestone Dr | $296,500 | $127 | 2011-06-15 | 1989 | 2,341 | Resale |
| 292 Thornberg Dr | $275,000 | $128 | 2011-06-15 | 1996 | 2,145 | Resale |
| 6262 Buck Run Cir | $250,000 | $69 | 2011-03-21 | 2011 | 3,614 | New |
| 6266 Hines Hill Cir | $240,500 | $113 | 2011-02-22 | 1992 | 2,123 | Resale |
| 6355 Belgrand Dr | $215,000 | $107 | 2011-02-04 | 1998 | 2,008 | Resale |
| 6332 Glasgow Dr | $315,000 | $125 | 2011-01-28 | 1996 | 2,516 | Resale |
| 6321 Sinkola Dr | $330,000 | $126 | 2011-01-11 | 2007 | 2,611 | New |
| 6276 Whittondale Dr | $350,000 | $162 | 2011-01-07 | 1995 | 2,157 | Resale |
| 6272 Whittondale Dr | $255,000 | $114 | 2010-12-31 | 1998 | 2,241 | Resale |
| 107 Hawk Meadow Dr | $255,000 | $117 | 2010-12-29 | 1993 | 2,179 | Resale |
| 6416 Mallard Trace Dr | $290,000 | $135 | 2010-12-23 | 1997 | 2,153 | Resale |
| 335 Milestone Dr | $365,000 | $121 | 2010-12-10 | 1991 | 3,017 | Resale |
| 335 Milestone Dr | $397,500 | $132 | 2010-12-10 | 1991 | 3,017 | Resale |
| 515 Meadow Ridge Ct | $292,500 | $123 | 2010-11-16 | 1996 | 2,378 | Resale |
| 521 Meadow Ridge Dr | $316,000 | $122 | 2010-10-07 | 2001 | 2,591 | Resale |
| 322 Thornberg Dr | $322,000 | $121 | 2010-09-24 | 1996 | 2,663 | Resale |
| 6110 Borderline Dr | $299,000 | $146 | 2010-08-20 | 1991 | 2,048 | Resale |
| 275 Thornberg Dr | $300,000 | $130 | 2010-08-13 | 1997 | 2,301 | Resale |
| 6108 Ox Bottom Manor Dr | $325,000 | $122 | 2010-08-05 | 1990 | 2,667 | Resale |
| 6330 Coach House Ct | $247,000 | $126 | 2010-06-25 | 1993 | 1,955 | Resale |
| 6115 Ox Bottom Manor Dr | $335,000 | $121 | 2010-06-24 | 1989 | 2,768 | Resale |
| 143 Thistlewood Ct | $283,000 | $136 | 2010-06-07 | 1997 | 2,074 | Resale |
| 6335 Belgrand Dr | $295,000 | $136 | 2010-06-01 | 2001 | 2,174 | Resale |
| 6259 Hines Hill Cir | $265,000 | $125 | 2010-04-20 | 1993 | 2,116 | Resale |
| 6011 Quail Ridge Dr | $312,500 | $131 | 2010-03-31 | 1995 | 2,386 | Resale |
| 518 Meadow Ridge Dr | $337,000 | $131 | 2010-03-15 | 1996 | 2,575 | Resale |
| 6114 Borderline Dr | $390,000 | $114 | 2010-03-09 | 1991 | 3,426 | Resale |
| 209 Thornberg Dr | $350,000 | $123 | 2010-03-01 | 1999 | 2,853 | Resale |
| 365 Meadow Ridge Dr | $392,000 | $123 | 2010-02-26 | 1995 | 3,185 | Resale |
| 6011 Ox Bottom Manor Dr | $280,000 | $132 | 2010-02-26 | 1992 | 2,128 | Resale |
| 6211 Buck Run Cir | $335,000 | $136 | 2009-12-18 | 2007 | 2,472 | New |
| 6395 Heritage Ridge Rd | $280,000 | $129 | 2009-12-15 | 1995 | 2,165 | Resale |
| 421 Meadow Ridge Dr | $387,500 | $136 | 2009-12-02 | 1999 | 2,855 | Resale |
| 421 Meadow Ridge Dr | $387,500 | $136 | 2009-12-02 | 1999 | 2,855 | Resale |
| 6344 Glasgow Dr | $437,500 | $145 | 2009-11-24 | 1996 | 3,019 | Resale |
| 398 Meadow Ridge Dr | $265,000 | $116 | 2009-11-23 | 1996 | 2,279 | Resale |
| 6328 Mallard Trace Dr | $270,000 | $137 | 2009-11-11 | 1993 | 1,971 | Resale |
| 501 Rogers Cir | $453,500 | $144 | 2009-09-25 | 2006 | 3,150 | Resale |
| 147 Cotillion Cir | $325,000 | $133 | 2009-09-18 | 1995 | 2,445 | Resale |
| 6318 Coach House Ct | $340,000 | $150 | 2009-08-31 | 2001 | 2,268 | Resale |
| 442 Meadow Ridge Dr | $340,000 | $128 | 2009-08-21 | 1998 | 2,661 | Resale |
| 6333 Sinkola Dr | $325,000 | $139 | 2009-07-31 | 1996 | 2,336 | Resale |
| 6261 Buck Run Cir | $424,000 | $128 | 2009-06-30 | 2009 | 3,315 | New |
| 6392 Belgrand Dr | $335,000 | $147 | 2009-06-29 | 1995 | 2,283 | Resale |
| 509 Meadow Ridge Dr | $285,000 | $127 | 2009-06-15 | 2000 | 2,249 | Resale |
| 526 Meadow Ridge Dr | $335,000 | $126 | 2009-05-29 | 1995 | 2,656 | Resale |
| 522 Meadow Ridge Dr | $399,900 | $139 | 2009-05-22 | 1996 | 2,887 | Resale |
| 454 San Martin Dr | $400,000 | $153 | 2009-05-15 | 1996 | 2,607 | Resale |
| 6115 Ox Bottom Manor Dr | $339,000 | $122 | 2009-04-27 | 1989 | 2,768 | Resale |
| 6143 Borderline Dr | $300,000 | $138 | 2009-03-26 | 1991 | 2,167 | Resale |
| 6305 Coach House Ct | $294,500 | $118 | 2009-03-13 | 1992 | 2,487 | Resale |
| 558 Meadow Ridge Dr | $441,000 | $158 | 2008-12-04 | 1995 | 2,800 | Resale |
| 6305 Coach House Ct | $366,000 | $147 | 2008-12-01 | 1992 | 2,487 | Resale |
| 6261 Buck Run Cir | $350,000 | $106 | 2008-09-29 | 2008 | 3,315 | New |
| 6320 Glasgow Dr | $415,000 | $142 | 2008-09-29 | 1997 | 2,915 | Resale |
| 421 Meadow Ridge Dr | $412,500 | $144 | 2008-09-25 | 1999 | 2,855 | Resale |
| 211 Meadow Ridge Dr | $465,000 | $125 | 2008-09-18 | 1991 | 3,715 | Resale |
| 6359 San Martin Ct | $324,000 | $145 | 2008-08-21 | 1997 | 2,238 | Resale |
| -- | $340,000 | $139 | 2008-08-08 | 1989 | 2,442 | Resale |
| 187 Meadow Ridge Dr | $345,000 | $142 | 2008-07-28 | 1993 | 2,433 | Resale |
| 363 Milestone Dr | $310,000 | $131 | 2008-07-28 | 1992 | 2,361 | Resale |
| 6421 Mallard Trace Dr | $387,500 | $153 | 2008-06-30 | 1994 | 2,531 | Resale |
| 6012 Ox Bottom Manor Dr | $400,000 | $145 | 2008-06-27 | 1992 | 2,760 | Resale |
| 347 Thornberg Dr | $364,900 | $158 | 2008-06-20 | 1996 | 2,305 | Resale |
| 417 Meadow Ridge Dr | $449,000 | $140 | 2008-06-09 | 1997 | 3,202 | Resale |
| 352 Meadow Ridge Dr | $340,000 | $127 | 2008-06-04 | 1995 | 2,684 | Resale |
| 341 Meadow Ridge Dr | $400,000 | $163 | 2008-05-29 | 1994 | 2,449 | Resale |
| 6369 Mallard Trace Dr | $380,000 | $141 | 2008-05-23 | 1998 | 2,691 | Resale |
| 6359 Belgrand Dr | $302,500 | $151 | 2008-05-02 | 1998 | 2,008 | Resale |
| 6228 Buck Run Cir | $600,000 | -- | 2008-04-07 | 2008 | -- | New |
| 6330 Belgrand Dr | $490,000 | $166 | 2008-03-28 | 1997 | 2,953 | Resale |
| 6329 Glasgow Dr | $98,237 | $35 | 2008-03-10 | 2008 | 2,790 | New |
| 6309 Pickney Hill Rd | $407,500 | $151 | 2008-02-05 | 1995 | 2,692 | Resale |
| 448 Tall Stand Ct | $340,000 | $148 | 2007-11-30 | 1996 | 2,294 | Resale |
| 6265 Buck Run Cir | $149,000 | $43 | 2007-11-29 | 2007 | 3,484 | New |
| 130 Thistlewood Ct | $365,000 | $160 | 2007-11-02 | 1994 | 2,280 | Resale |
| 6351 Sinkola Dr | $310,000 | $159 | 2007-10-31 | 1996 | 1,944 | Resale |
| 6232 Whittondale Dr | $354,900 | $151 | 2007-10-26 | 1996 | 2,346 | Resale |
| 135 Thistlewood Ct | $402,000 | $162 | 2007-10-25 | 1995 | 2,483 | Resale |
| 401 Meadow Ridge Dr | $453,000 | $162 | 2007-10-15 | 1994 | 2,803 | Resale |
| 6318 Coach House Ct | $390,000 | $172 | 2007-10-03 | 2001 | 2,268 | Resale |
| 6362 San Martin Ct | $445,000 | $163 | 2007-09-27 | 1997 | 2,738 | Resale |
| 6359 Belgrand Dr | $295,000 | $147 | 2007-09-19 | 1998 | 2,008 | Resale |
| 143 Cotillion Cir | $360,000 | $163 | 2007-09-14 | 1995 | 2,213 | Resale |
| 182 Cotillion Cir | $295,900 | $143 | 2007-09-13 | 1995 | 2,068 | Resale |
| 310 Thornberg Dr | $322,500 | $163 | 2007-08-30 | 1997 | 1,975 | Resale |
| 6110 Borderline Dr | $320,000 | $156 | 2007-08-23 | 1991 | 2,048 | Resale |
| 6359 Mallard Trace Dr | $447,000 | $145 | 2007-08-23 | 1993 | 3,075 | Resale |
| 6345 Mallard Trace Dr | $385,000 | $154 | 2007-08-02 | 1993 | 2,501 | Resale |
| 472 Meadow Ridge Dr | $385,000 | $171 | 2007-07-27 | 1997 | 2,248 | Resale |
| 505 Rogers Cir | $150,000 | -- | 2007-07-16 | 2007 | -- | New |
| 211 Hawkmeadow Dr | $368,000 | $158 | 2007-07-13 | 1990 | 2,326 | Resale |
| 6367 Sinkola Dr | $440,000 | $196 | 2007-06-27 | 1996 | 2,250 | Resale |
| 414 Meadow Ridge Dr | $450,000 | $168 | 2007-06-26 | 1998 | 2,686 | Resale |
| 509 Rogers Cir | $494,000 | -- | 2007-06-19 | 2007 | -- | New |
| -- | $323,900 | $133 | 2007-06-16 | 1989 | 2,442 | Resale |
| 6327 Coach House Ct | $420,000 | $154 | 2007-06-15 | 1995 | 2,729 | Resale |
| 6257 Buck Run Cir | $546,000 | -- | 2007-06-13 | 2007 | -- | New |
| 6323 Belgrand Dr | $390,000 | $165 | 2007-06-08 | 1999 | 2,368 | Resale |
| 6253 Buck Run Cir | $525,900 | -- | 2007-05-14 | 2007 | -- | New |
| 501 Rogers Cir | $508,800 | $162 | 2007-05-11 | 2006 | 3,150 | New |
| 6356 San Martin Ct | $392,000 | $176 | 2007-05-04 | 1997 | 2,222 | Resale |
| 6154 Borderline Dr | $400,000 | $144 | 2007-05-02 | 1989 | 2,782 | Resale |
| 6264 Whittondale Dr | $345,000 | $160 | 2007-05-02 | 1994 | 2,150 | Resale |
| 6397 Mallard Trace Dr | $440,000 | $180 | 2007-04-05 | 1994 | 2,444 | Resale |
| 270 Thornberg Dr | $442,900 | $165 | 2007-03-30 | 1996 | 2,688 | Resale |
| 143 Thistlewood Ct | $330,000 | $159 | 2007-03-27 | 1997 | 2,074 | Resale |
| 6220 Buck Run Cir | $595,000 | -- | 2007-03-19 | 2007 | -- | New |
| 6292 Whittondale Dr | $362,000 | $162 | 2007-02-28 | 1999 | 2,228 | Resale |
| 6238 Buck Run Cir | $355,000 | $79 | 2007-01-30 | 2006 | 4,492 | New |
| 515 Rogers Ln | $240,000 | $60 | 2007-01-09 | 2006 | 4,010 | New |
| 6294 Black Fox Way | $374,900 | $140 | 2006-12-29 | 2000 | 2,674 | Resale |
| 457 San Martin Dr | $420,000 | $163 | 2006-12-28 | 1998 | 2,579 | Resale |
| 6115 Borderline Dr | $353,500 | $176 | 2006-12-21 | 1991 | 2,008 | Resale |
| 411 Holly Hill Ct | $375,000 | $160 | 2006-11-27 | 2002 | 2,341 | Resale |
| 300 Thornberg Dr | $407,000 | $164 | 2006-10-31 | 1996 | 2,480 | Resale |
| 227 Thornberg Dr | $475,000 | $154 | 2006-09-26 | 1997 | 3,084 | Resale |
| 6367 Belgrand Dr | $385,000 | $167 | 2006-09-22 | 2001 | 2,299 | Resale |
| -- | $368,000 | $175 | 2006-09-13 | 1995 | 2,100 | Resale |
| 6239 Buck Run Cir | $425,000 | $97 | 2006-08-31 | 2006 | 4,363 | New |
| 6258 Buck Run Cir | $316,500 | $87 | 2006-08-28 | 2006 | 3,642 | New |
| 6111 Ox Bottom Manor Dr | $469,900 | $140 | 2006-08-15 | 1990 | 3,360 | Resale |
| 6235 Buck Run Cir | $192,000 | $50 | 2006-08-01 | 2007 | 3,866 | New |
| 6263 Hines Hill Cir | $415,000 | $162 | 2006-07-31 | 1992 | 2,562 | Resale |
| 329 Thornberg Dr | $369,000 | $175 | 2006-07-28 | 1997 | 2,107 | Resale |
| 428 Meadow Ridge Dr | $430,000 | $157 | 2006-07-28 | 2001 | 2,743 | Resale |
| 6118 Borderline Dr | $535,000 | $173 | 2006-07-21 | 1993 | 3,099 | Resale |
| 6357 Glasgow Dr | $450,000 | $168 | 2006-07-20 | 1995 | 2,684 | Resale |
| 6340 Pickney Hill Rd | $430,000 | $175 | 2006-07-07 | 1995 | 2,453 | Resale |
| 6264 Black Fox Way | $460,000 | $163 | 2006-06-20 | 1996 | 2,814 | Resale |
| 6284 Whittondale Dr | $407,000 | $168 | 2006-06-02 | 1995 | 2,416 | Resale |
| 337 Meadow Ridge Dr | $399,000 | $163 | 2006-06-01 | 1993 | 2,451 | Resale |
| 6326 Glasgow Dr | $400,000 | $156 | 2006-06-01 | 1996 | 2,556 | Resale |
| -- | $384,900 | $155 | 2006-05-30 | 2001 | 2,484 | Resale |
| 342 Milestone Dr | $379,000 | $162 | 2006-05-25 | 1989 | 2,341 | Resale |
| 6379 Belgrand Dr | $593,700 | $153 | 2006-05-22 | -- | 3,886 | Resale |
| 6232 Buck Run Cir | $237,000 | $78 | 2006-05-16 | 2006 | 3,022 | New |
| 6272 Black Fox Way | $448,200 | $161 | 2006-03-28 | 1995 | 2,779 | Resale |
| 6330 Belgrand Dr | $449,900 | $152 | 2006-03-20 | 1997 | 2,953 | Resale |
| 6008 Ox Bottom Manor Dr | $468,000 | $155 | 2006-03-03 | 1990 | 3,027 | Resale |
| 6389 Belgrand Dr | $368,000 | $174 | 2006-02-17 | 1996 | 2,119 | Resale |
| 6301 Mallard Trace Dr | $435,000 | $143 | 2006-01-30 | 1993 | 3,042 | Resale |
| 562 Meadow Ridge Dr | $315,000 | $137 | 2006-01-27 | 1994 | 2,305 | Resale |
| 6309 Coach House Ct | $360,000 | $147 | 2006-01-26 | 1992 | 2,443 | Resale |
| 6317 Coach House Ct | $425,000 | $155 | 2005-12-16 | 1995 | 2,740 | Resale |
| 335 Thornberg Dr | $435,000 | $160 | 2005-12-13 | 1997 | 2,713 | Resale |
| 6007 Ox Bottom Manor Dr | $400,000 | $148 | 2005-12-09 | 1989 | 2,706 | Resale |
| 418 Holly Hill Ct | $409,000 | $162 | 2005-12-02 | 1995 | 2,531 | Resale |
| 165 Meadow Ridge Dr | $445,000 | $150 | 2005-12-01 | 1992 | 2,960 | Resale |
| 6223 Buck Run Cir | $210,000 | $71 | 2005-10-27 | 2005 | 2,959 | New |
| 6305 Coach House Ct | $375,000 | $151 | 2005-10-24 | 1992 | 2,487 | Resale |
| 6332 Glasgow Dr | $425,000 | $169 | 2005-10-18 | 1996 | 2,516 | Resale |
| 353 Thornberg Dr | $410,000 | $146 | 2005-10-14 | 1997 | 2,804 | Resale |
| 523 Meadow Ridge Dr | $350,000 | $119 | 2005-10-12 | 1996 | 2,932 | Resale |
| 342 Milestone Dr | $408,000 | $170 | 2005-09-29 | 1989 | 2,394 | Resale |
| 521 Meadow Ridge Dr | $385,000 | $149 | 2005-09-23 | 2001 | 2,591 | Resale |
| 6336 Pickney Hill Rd | $455,000 | $138 | 2005-08-18 | 1995 | 3,306 | Resale |
| 6344 Glasgow Dr | $415,000 | $137 | 2005-08-01 | 1996 | 3,019 | Resale |
| 6004 Ox Bottom Manor Dr | $370,000 | $154 | 2005-07-28 | 1990 | 2,403 | Resale |
| 6367 Belgrand Dr | $340,000 | $148 | 2005-07-22 | 2001 | 2,299 | Resale |
| 6390 Belgrand Dr | $360,000 | $153 | 2005-07-18 | 1998 | 2,346 | Resale |
| 6356 Mallard Trace Dr | $289,900 | $130 | 2005-07-15 | 1993 | 2,228 | Resale |
| 188 Cotillion Cir | $327,000 | $147 | 2005-07-14 | 1995 | 2,219 | Resale |
| 300 Thornberg Dr | $362,000 | $146 | 2005-07-08 | 1996 | 2,480 | Resale |
| 428 Meadow Ridge Dr | $384,000 | $140 | 2005-07-08 | 2001 | 2,743 | Resale |
| 6107 Ox Bottom Manor Dr | $325,000 | $147 | 2005-07-01 | 1993 | 2,218 | Resale |
| 6038 Quail Ridge Dr | $334,000 | $145 | 2005-06-30 | 1989 | 2,298 | Resale |
| 6122 Borderline Dr | $342,000 | $143 | 2005-06-30 | 1991 | 2,389 | Resale |
| 6248 Whittondale Dr | $350,000 | $151 | 2005-06-29 | 1995 | 2,321 | Resale |
| 6338 Glasgow Dr | $379,000 | $146 | 2005-06-28 | 1997 | 2,601 | Resale |
| 138 Cotillion Cir | $364,000 | $143 | 2005-06-23 | 1995 | 2,546 | Resale |
| 6133 Borderline Dr | $357,000 | $136 | 2005-06-21 | 1990 | 2,617 | Resale |
| 429 Meadow Ridge Dr | $407,000 | $141 | 2005-06-17 | 1998 | 2,884 | Resale |
| 154 Thistlewood Ct | $299,000 | $145 | 2005-05-31 | 1995 | 2,058 | Resale |
| 401 Meadow Ridge Dr | $335,000 | $120 | 2005-05-27 | 1994 | 2,803 | Resale |
| 329 Thornberg Dr | $320,000 | $152 | 2005-05-26 | 1997 | 2,107 | Resale |
| 506 Meadow Ridge Dr | $426,000 | $141 | 2005-05-16 | 1996 | 3,012 | Resale |
| 371 Milestone Dr | $316,000 | $135 | 2005-04-29 | 1993 | 2,333 | Resale |
| 6235 Myrtlewood Ct | $300,000 | $132 | 2005-04-15 | 1994 | 2,265 | Resale |
| 505 Meadow Ridge Dr | $287,000 | $122 | 2005-04-01 | 2000 | 2,354 | Resale |
| 6309 Coach House Ct | $311,000 | $127 | 2005-03-29 | 1992 | 2,443 | Resale |
| 371 Milestone Dr | $316,000 | $135 | 2005-03-21 | 1993 | 2,333 | Resale |
| 221 Thornberg Dr | $400,000 | $126 | 2005-03-11 | 1997 | 3,183 | Resale |
| 356 Meadow Ridge Dr | $343,800 | $161 | 2005-02-28 | 1994 | 2,134 | Resale |
| 6276 Whittondale Dr | $374,900 | $174 | 2005-02-28 | 1995 | 2,157 | Resale |
| 376 Thornberg Dr | $220,000 | $73 | 2005-02-25 | 2004 | 3,026 | New |
| 435 San Martin Dr | $382,000 | $132 | 2004-12-30 | 2000 | 2,891 | Resale |
| 433 Meadow Ridge Dr | $355,000 | $141 | 2004-12-20 | 1997 | 2,511 | Resale |
| 6287 Whittondale Dr | $281,000 | $114 | 2004-12-20 | 1994 | 2,472 | Resale |
| 155 Cotillion Cir | $325,000 | $141 | 2004-12-06 | 2000 | 2,311 | Resale |
| 188 Cotillion Cir | $289,900 | $131 | 2004-12-03 | 1995 | 2,219 | Resale |
| 6256 Whittondale Dr | $374,000 | $140 | 2004-12-03 | 1993 | 2,677 | Resale |
| 6396 Belgrand Dr | $300,000 | $117 | 2004-11-29 | 1996 | 2,562 | Resale |
| 179 Cotillion Cir | $365,900 | $143 | 2004-11-05 | 1995 | 2,563 | Resale |
| 473 Meadow Ridge Dr | $282,500 | $124 | 2004-10-15 | 1999 | 2,271 | Resale |
| 6386 Belgrand Dr | $302,000 | $132 | 2004-10-15 | 1996 | 2,295 | Resale |
| 6316 Pickney Hill Rd | $312,000 | $143 | 2004-10-11 | 1995 | 2,184 | Resale |
| 465 Meadow Ridge Dr | $379,000 | $112 | 2004-10-06 | 1998 | 3,387 | Resale |
| 6343 Belgrand Dr | $350,000 | $112 | 2004-09-30 | 1999 | 3,138 | Resale |
| 435 San Martin Dr | $369,000 | $128 | 2004-09-27 | 2000 | 2,891 | Resale |
| 6313 Pickney Hill Rd | $307,000 | $125 | 2004-09-03 | 1994 | 2,456 | Resale |
| 138 Cotillion Cir | $310,600 | $122 | 2004-08-17 | 1995 | 2,546 | Resale |
| 310 Meadow Ridge Dr | $355,000 | $133 | 2004-08-16 | 1996 | 2,668 | Resale |
| 6335 Pickney Hill Rd | $265,000 | $117 | 2004-08-06 | 1995 | 2,262 | Resale |
| 142 Thistlewood Ct | $285,000 | $132 | 2004-08-05 | 1995 | 2,158 | Resale |
| 6388 Mallard Trace Dr | $321,000 | $129 | 2004-08-02 | 2001 | 2,492 | Resale |
| 6252 Whittondale Dr | $278,000 | $133 | 2004-07-30 | 1995 | 2,091 | Resale |
| 345 Meadow Ridge Dr | $307,000 | $120 | 2004-07-28 | 1994 | 2,564 | Resale |
| 6394 Heritage Ridge Rd | $298,500 | $139 | 2004-07-16 | 1994 | 2,149 | Resale |
| 6315 Mallard Trace Dr | $274,800 | $126 | 2004-07-14 | 1993 | 2,183 | Resale |
| 522 Meadow Ridge Dr | $389,000 | $135 | 2004-07-08 | 1996 | 2,887 | Resale |
| 402 Meadow Ridge Dr | $353,000 | $132 | 2004-06-24 | 2004 | 2,683 | New |
| 523 Meadow Ridge Dr | $293,000 | $100 | 2004-06-16 | 1996 | 2,932 | Resale |
| 187 Cotillion Cir | $305,000 | $130 | 2004-06-11 | 1995 | 2,349 | Resale |
| 461 Meadow Ridge Dr | $322,000 | $142 | 2004-06-04 | 1998 | 2,275 | Resale |
| 457 San Martin Dr | $310,000 | $120 | 2004-06-02 | 1998 | 2,579 | Resale |
| 6224 Whittondale Dr | $287,000 | $118 | 2004-05-26 | 1997 | 2,441 | Resale |
| 205 Hawkmeadow Dr | $349,000 | $110 | 2004-05-24 | 1990 | 3,185 | Resale |
| 315 Milestone Dr | $285,000 | $112 | 2004-05-17 | 1994 | 2,556 | Resale |
| 397 Meadow Ridge Dr | $269,000 | $116 | 2004-05-03 | 1994 | 2,325 | Resale |
| 413 Meadow Ridge Dr | $270,000 | $117 | 2004-04-30 | 1997 | 2,298 | Resale |
| 6395 Belgrand Dr | $262,500 | $134 | 2004-04-06 | 1996 | 1,952 | Resale |
| 278 Thornberg Dr | $279,000 | $113 | 2004-03-31 | 1997 | 2,478 | Resale |
| 131 Cotillion Cir | $329,000 | $131 | 2004-03-29 | 1995 | 2,521 | Resale |
| 6303 Mallard Trace Dr | $316,300 | $119 | 2004-03-23 | 1996 | 2,664 | Resale |
| 5968 Ox Bottom Manor Dr | $322,000 | $121 | 2004-03-22 | 1989 | 2,672 | Resale |
| 317 Thornberg Dr | $259,900 | $108 | 2004-03-19 | 1996 | 2,398 | Resale |
| 174 Cotillion Cir | $272,000 | $120 | 2004-03-12 | 1998 | 2,264 | Resale |
| 6320 Glasgow Dr | $349,900 | $120 | 2004-02-27 | 1997 | 2,915 | Resale |
| 258 Thornberg Dr | $250,000 | $117 | 2004-01-30 | 1998 | 2,135 | Resale |
| 6011 Ox Bottom Manor Dr | $265,000 | $125 | 2004-01-29 | 1992 | 2,128 | Resale |
| 356 Meadow Ridge Dr | $281,000 | $132 | 2004-01-06 | 1994 | 2,134 | Resale |
| 354 Milestone Dr | $258,000 | $101 | 2003-12-29 | 1989 | 2,562 | Resale |
| 6367 Sinkola Dr | $225,500 | $100 | 2003-12-27 | 1996 | 2,250 | Resale |
| 216 Hawkmeadow Dr | $320,000 | $119 | 2003-12-23 | 1992 | 2,696 | Resale |
| 341 Thornberg Dr | $175,000 | $49 | 2003-12-16 | 2004 | 3,573 | New |
| 409 Meadow Ridge Dr | $335,500 | $126 | 2003-12-15 | 1995 | 2,664 | Resale |
| 6323 Pickney Hill Rd | $339,900 | $115 | 2003-12-15 | 1995 | 2,960 | Resale |
| 6108 Ox Bottom Manor Dr | $283,300 | $106 | 2003-12-05 | 1990 | 2,667 | Resale |
| 5969 Ox Bottom Manor Dr | $238,000 | $111 | 2003-11-26 | 1989 | 2,139 | Resale |
| 6294 Black Fox Way | $294,000 | $133 | 2003-11-14 | 2000 | 2,215 | Resale |
| 6312 Mallard Trace Dr | $260,000 | $125 | 2003-11-14 | 1994 | 2,077 | Resale |
| 6327 Belgrand Dr | $260,000 | $109 | 2003-11-03 | 1999 | 2,395 | Resale |
| 6323 Pickney Hill Rd | $339,900 | $115 | 2003-10-24 | 1995 | 2,960 | Resale |
| 6365 San Martin Ct | $270,000 | $109 | 2003-10-13 | 1998 | 2,477 | Resale |
| 6401 Mallard Trace Dr | $293,000 | $128 | 2003-10-10 | 1998 | 2,290 | Resale |
| 521 Meadow Ridge Dr | $320,000 | $117 | 2003-09-25 | 2001 | 2,724 | Resale |
| 154 Thistlewood Ct | $240,400 | $117 | 2003-09-25 | 1995 | 2,058 | Resale |
| 6294 Hines Hill Cir | $300,000 | $114 | 2003-09-12 | 1993 | 2,636 | Resale |
| 6280 Whittondale Dr | $285,000 | $100 | 2003-09-04 | 1993 | 2,857 | Resale |
| 6389 Belgrand Dr | $259,000 | $102 | 2003-09-02 | 1996 | 2,550 | Resale |
| 6330 Coach House Ct | $246,000 | $126 | 2003-09-02 | 1993 | 1,955 | Resale |
| 414 Meadow Ridge Dr | $270,000 | $101 | 2003-08-29 | 1998 | 2,686 | Resale |
| 409 Meadow Ridge Dr | $335,500 | $126 | 2003-08-23 | 1995 | 2,664 | Resale |
| 6428 Mallard Trace Dr | $305,000 | $121 | 2003-08-22 | 1995 | 2,519 | Resale |
| 417 Meadow Ridge Dr | $359,000 | $112 | 2003-08-15 | 1997 | 3,202 | Resale |
| 6326 Coach House Ct | $265,000 | $119 | 2003-08-14 | 1992 | 2,219 | Resale |
| 337 Meadow Ridge Dr | $267,000 | $109 | 2003-08-12 | 1993 | 2,451 | Resale |
| 6260 Black Fox Way | $310,000 | $99 | 2003-08-01 | 1996 | 3,132 | Resale |
| 370 Milestone Dr | $242,000 | $125 | 2003-07-31 | 1993 | 1,941 | Resale |
| 6377 Sinkola Dr | $240,000 | $113 | 2003-07-31 | 1996 | 2,131 | Resale |
| 355 Milestone Dr | $246,900 | $105 | 2003-07-29 | 1994 | 2,357 | Resale |
| 537 Meadow Ridge Dr | $325,000 | $117 | 2003-07-28 | 2000 | 2,786 | Resale |
| 5956 Ox Bottom Manor Dr | $269,900 | $111 | 2003-07-21 | 1991 | 2,426 | Resale |
| 170 Meadow Ridge Dr | $345,000 | $115 | 2003-07-18 | 1992 | 2,992 | Resale |
| 6109 Borderline Dr | $312,500 | $111 | 2003-07-15 | 1993 | 2,806 | Resale |
| 7310 Ox Bow Cir | $610,000 | $149 | 2003-07-15 | 2000 | 4,098 | Resale |
| 412 Holly Hill Ct | $325,000 | $112 | 2003-07-11 | 1996 | 2,902 | Resale |
| 205 Hawkmeadow Dr | $298,000 | $94 | 2003-07-01 | 1990 | 3,185 | Resale |
| 578 Meadow Ridge Dr | $278,000 | $112 | 2003-07-01 | 1995 | 2,493 | Resale |
| 165 Meadow Ridge Dr | $294,000 | $99 | 2003-06-27 | 1992 | 2,960 | Resale |
| 351 Milestone Dr | $298,000 | $100 | 2003-06-27 | 1996 | 2,984 | Resale |
| 6376 Belgrand Dr | $254,800 | $104 | 2003-06-24 | 2001 | 2,458 | Resale |
| 6376 Belgrand Dr | $254,800 | $104 | 2003-06-24 | 2001 | 2,458 | Resale |
| 6335 Belgrand Dr | $231,000 | $106 | 2003-06-20 | 2001 | 2,174 | Resale |
| 6352 Glasgow Dr | $265,000 | $113 | 2003-06-19 | 1997 | 2,349 | Resale |
| 519 Meadow Ridge Dr | $400,000 | $164 | 2003-06-16 | 2000 | 2,433 | Resale |
| 212 Meadow Ridge Dr | $279,000 | $99 | 2003-06-06 | 1993 | 2,809 | Resale |
| 6427 Mallard Trace Dr | $300,000 | $117 | 2003-05-30 | 2000 | 2,564 | Resale |
| 214 Meadow Ridge Dr | $321,000 | $105 | 2003-05-29 | 1993 | 3,064 | Resale |
| 6112 Ox Bottom Manor Dr | $256,000 | $97 | 2003-05-27 | 1990 | 2,638 | Resale |
| 345 Meadow Ridge Dr | $223,000 | $87 | 2003-05-15 | 1994 | 2,564 | Resale |
| 135 Thistlewood Ct | $275,000 | $111 | 2003-04-30 | 1995 | 2,483 | Resale |
| 6268 Black Fox Way | $269,900 | $101 | 2003-04-18 | 1996 | 2,660 | Resale |
| 6327 Pickney Hill Rd | $264,900 | $110 | 2003-04-18 | 1994 | 2,406 | Resale |
| 6306 Coach House Ct | $214,000 | $102 | 2003-04-15 | 1993 | 2,105 | Resale |
| 319 Milestone Dr | $250,000 | $90 | 2003-03-28 | 1989 | 2,787 | Resale |
| 6332 Glasgow Dr | $257,000 | $102 | 2003-03-28 | 1996 | 2,516 | Resale |
| 6327 Sinkola Dr | $300,100 | $103 | 2003-03-28 | 2001 | 2,918 | Resale |
| 174 Meadow Ridge Dr | $206,900 | $100 | 2003-03-21 | 1992 | 2,064 | Resale |
| 6392 Belgrand Dr | $236,500 | $104 | 2003-03-14 | 1995 | 2,283 | Resale |
| 6356 San Martin Ct | $251,000 | $113 | 2003-03-13 | 1997 | 2,222 | Resale |
| 6297 Hines Hill Cir | $280,900 | $115 | 2003-02-28 | 1992 | 2,443 | Resale |
| 147 Cotillion Cir | $255,000 | $104 | 2003-02-26 | 1995 | 2,445 | Resale |
| 586 Meadow Ridge Dr | $269,000 | $100 | 2003-01-31 | 1994 | 2,690 | Resale |
| 6335 Belgrand Dr | $221,000 | $102 | 2003-01-11 | 2001 | 2,174 | Resale |
| 6311 Mallard Trace Dr | $219,500 | $105 | 2003-01-07 | 1993 | 2,100 | Resale |
| 392 Meadow Ridge Dr | $212,200 | $100 | 2002-12-27 | 1995 | 2,125 | Resale |
| 6287 Whittondale Dr | $238,500 | $96 | 2002-12-23 | 1994 | 2,472 | Resale |
| 6400 Belgrand Dr | $253,100 | $103 | 2002-12-12 | 1996 | 2,453 | Resale |
| 166 Cotillion Cir | $216,700 | $102 | 2002-12-03 | 1995 | 2,132 | Resale |
| 6315 Sinkola Dr | $282,000 | $85 | 2002-11-27 | 2001 | 3,319 | Resale |
| 187 Meadow Ridge Dr | $238,000 | $98 | 2002-11-20 | 1993 | 2,433 | Resale |
| 334 Winnstead Ct | $315,000 | $95 | 2002-10-31 | 1994 | 3,300 | Resale |
| -- | $260,000 | $104 | 2002-10-30 | 1994 | 2,500 | Resale |
| 6369 Mallard Trace Dr | $260,000 | $97 | 2002-10-30 | 1998 | 2,691 | Resale |
| 6344 Mallard Trace Dr | $225,000 | $95 | 2002-10-15 | 1993 | 2,357 | Resale |
| 353 Thornberg Dr | $270,000 | $96 | 2002-10-15 | 1997 | 2,804 | Resale |
| 6276 Whittondale Dr | $279,000 | $129 | 2002-10-11 | 1995 | 2,157 | Resale |
| 6331 Pickney Hill Rd | $235,000 | $95 | 2002-09-27 | 1994 | 2,463 | Resale |
| 6256 Hines Hill Cir | $240,400 | $94 | 2002-09-26 | 1993 | 2,569 | Resale |
| 6367 Belgrand Dr | $231,000 | $100 | 2002-09-19 | 2001 | 2,299 | Resale |
| 498 Meadow Ridge Dr | $292,000 | $111 | 2002-09-13 | 1997 | 2,630 | Resale |
| 6281 Hines Hill Cir | $296,000 | $96 | 2002-09-12 | 1992 | 3,076 | Resale |
| 6281 Hines Hill Cir | $296,000 | $96 | 2002-09-12 | 1992 | 3,076 | Resale |
| 221 Thornberg Dr | $304,900 | $96 | 2002-09-12 | 1997 | 3,183 | Resale |
| 6390 Belgrand Dr | $240,000 | $102 | 2002-09-09 | 1998 | 2,346 | Resale |
| 6347 Belgrand Dr | $140,000 | $46 | 2002-09-06 | 2002 | 3,036 | New |
| 6389 Belgrand Dr | $207,000 | $98 | 2002-08-29 | 1996 | 2,119 | Resale |
| 6324 Mallard Trace Dr | $241,000 | $95 | 2002-08-19 | 1993 | 2,525 | Resale |
| 6150 Borderline Dr | $247,500 | $97 | 2002-08-08 | 1989 | 2,556 | Resale |
| 6320 Glasgow Dr | $280,000 | $96 | 2002-08-02 | 1997 | 2,915 | Resale |
| 6316 Pickney Hill Rd | $223,900 | $103 | 2002-07-31 | 1995 | 2,184 | Resale |
| 341 Meadow Ridge Dr | $245,000 | $100 | 2002-07-26 | 1994 | 2,449 | Resale |
| 330 Winnstead Ct | $249,000 | $111 | 2002-07-25 | 1993 | 2,243 | Resale |
| 6327 Pickney Hill Rd | $243,500 | $101 | 2002-07-22 | 1994 | 2,406 | Resale |
| 6278 Hines Hill Cir | $245,000 | $105 | 2002-07-19 | 1992 | 2,325 | Resale |
| 362 Meadow Ridge Dr | $258,900 | $98 | 2002-07-12 | 1994 | 2,632 | Resale |
| 6319 Belgrand Dr | $245,500 | $97 | 2002-07-03 | 2002 | 2,520 | New |
| 509 Meadow Ridge Dr | $230,000 | $102 | 2002-06-28 | 2000 | 2,249 | Resale |
| 6408 Mallard Trace Dr | $228,000 | $97 | 2002-06-26 | 1999 | 2,340 | Resale |
| 566 Meadow Ridge Dr | $254,000 | $91 | 2002-06-21 | 1994 | 2,781 | Resale |
| 6034 Quail Ridge Dr | $254,900 | $101 | 2002-06-19 | 1989 | 2,533 | Resale |
| 158 Cotillion Cir | $232,000 | $97 | 2002-06-13 | 1995 | 2,399 | Resale |
| 368 Meadow Ridge Dr | $227,000 | $95 | 2002-06-07 | 1997 | 2,393 | Resale |
| 515 Meadow Ridge Ct | $260,000 | $109 | 2002-05-30 | 1996 | 2,378 | Resale |
| 175 Cotillion Cir | $284,900 | $106 | 2002-05-29 | 2002 | 2,682 | New |
| 6228 Whittondale Dr | $249,900 | $92 | 2002-05-24 | 1993 | 2,714 | Resale |
| 6348 Promenade Ct | $274,000 | $105 | 2002-05-10 | 1993 | 2,600 | Resale |
| 210 Meadow Ridge Dr | $237,000 | $90 | 2002-05-03 | 1994 | 2,646 | Resale |
| 526 Meadow Ridge Dr | $264,900 | $100 | 2002-04-30 | 1995 | 2,656 | Resale |
| 6366 Glasgow Dr | $277,900 | $96 | 2002-04-26 | 1996 | 2,898 | Resale |
| 6047 Quail Ridge Dr | $254,000 | $96 | 2002-04-24 | 1991 | 2,658 | Resale |
| 6035 Quail Ridge Dr | $236,500 | $89 | 2002-04-15 | 1990 | 2,670 | Resale |
| 250 Thornberg Dr | $205,000 | $85 | 2002-04-12 | 1997 | 2,400 | Resale |
| 6239 Myrtlewood Ct | $232,500 | $95 | 2002-03-28 | 1995 | 2,458 | Resale |
| 323 Thornberg Dr | $265,000 | $97 | 2002-03-14 | 1998 | 2,737 | Resale |
| 107 Hawkmeadow Dr | $209,000 | $96 | 2002-02-28 | 1993 | 2,179 | Resale |
| 214 Meadow Ridge Dr | $283,000 | $92 | 2002-02-25 | 1993 | 3,064 | Resale |
| 519 Meadow Ridge Dr | $359,900 | $148 | 2002-02-25 | 2000 | 2,433 | Resale |
| 6260 Whittondale Dr | $202,314 | $58 | 2002-02-14 | 2001 | 3,482 | New |
| 136 Thistlewood Ct | $55,800 | $25 | 2002-02-07 | 1998 | 2,193 | Resale |
| 411 Holly Hill Ct | $249,500 | $107 | 2002-02-01 | 2002 | 2,341 | New |
| 412 Holly Hill Ct | $263,000 | $91 | 2002-01-25 | 1996 | 2,902 | Resale |
| 5969 Ox Bottom Manor Dr | $204,900 | $96 | 2002-01-25 | 1989 | 2,139 | Resale |
| 365 Meadow Ridge Dr | $296,000 | $91 | 2002-01-09 | 1995 | 3,238 | Resale |
| -- | $220,000 | $90 | 2001-12-28 | 1989 | 2,442 | Resale |
| 6011 Ox Bottom Manor Dr | $198,500 | $93 | 2001-12-21 | 1992 | 2,128 | Resale |
| 377 Meadow Ridge Dr | $192,000 | -- | 2001-12-20 | -- | -- | Resale |
| 6273 Black Fox Way | $198,000 | $88 | 2001-12-14 | 1995 | 2,254 | Resale |
| -- | $240,900 | -- | 2001-12-13 | 2001 | -- | New |
| 239 Thornberg Dr | $290,500 | $91 | 2001-12-13 | 1997 | 3,176 | Resale |
| 352 Meadow Ridge Dr | $255,000 | $95 | 2001-11-30 | 1995 | 2,684 | Resale |
| 6376 Belgrand Dr | $236,000 | $96 | 2001-11-27 | 2001 | 2,458 | New |
| 421 Meadow Ridge Dr | $280,000 | $98 | 2001-11-20 | 1999 | 2,855 | Resale |
| 165 Meadow Ridge Dr | $264,000 | $89 | 2001-11-15 | 1992 | 2,960 | Resale |
| 6293 Black Fox Way | $280,000 | $95 | 2001-11-05 | 1996 | 2,934 | Resale |
| 446 San Martin Dr | $221,000 | $91 | 2001-11-02 | 1998 | 2,422 | Resale |
| 5960 Ox Bottom Manor Dr | $285,000 | $84 | 2001-10-26 | 1991 | 3,383 | Resale |
| 6240 Whittondale Dr | $234,900 | $101 | 2001-10-12 | 1996 | 2,335 | Resale |
| 6308 Mallard Trace Dr | $215,300 | $83 | 2001-10-11 | 1993 | 2,595 | Resale |
| 6313 Pickney Hill Rd | $219,900 | $90 | 2001-10-01 | 1994 | 2,456 | Resale |
| 292 Thornberg Dr | $235,000 | $110 | 2001-09-21 | 1996 | 2,145 | Resale |
| 6367 Belgrand Dr | $216,000 | $94 | 2001-09-14 | 2001 | 2,299 | New |
| 6008 Ox Bottom Manor Dr | $278,000 | $92 | 2001-09-10 | 1990 | 3,027 | Resale |
| 414 Meadow Ridge Dr | $265,000 | $99 | 2001-09-05 | 1998 | 2,686 | Resale |
| 6421 Mallard Trace Dr | $257,000 | $102 | 2001-08-28 | 1994 | 2,531 | Resale |
| 281 Thornberg Dr | $208,000 | $95 | 2001-08-24 | 1998 | 2,184 | Resale |
| 481 Meadow Ridge Dr | $199,000 | $92 | 2001-08-22 | 1999 | 2,152 | Resale |
| 6421 Mallard Trace Dr | $257,000 | $102 | 2001-08-22 | 1994 | 2,531 | Resale |
| 484 Meadow Ridge Dr | $216,500 | $96 | 2001-08-21 | 1996 | 2,265 | Resale |
| 530 Meadow Ridge Dr | $230,800 | $88 | 2001-08-20 | 1996 | 2,636 | Resale |
| 142 Thistlewood Ct | $180,000 | $83 | 2001-08-20 | 1995 | 2,158 | Resale |
| 6224 Whittondale Dr | $226,000 | $93 | 2001-08-10 | 1997 | 2,441 | Resale |
| 6396 Belgrand Dr | $216,000 | $84 | 2001-07-31 | 1996 | 2,562 | Resale |
| 6315 Sinkola Dr | $275,900 | $83 | 2001-07-31 | 2001 | 3,319 | New |
| 6340 Sinkola Dr | $244,000 | $94 | 2001-07-27 | 1997 | 2,609 | Resale |
| 6284 Whittondale Dr | $223,000 | $92 | 2001-07-27 | 1995 | 2,416 | Resale |
| 188 Cotillion Cir | $207,900 | $94 | 2001-07-27 | 1995 | 2,219 | Resale |
| 158 Meadow Ridge Dr | $280,900 | $104 | 2001-07-26 | 1992 | 2,710 | Resale |
| 6322 Sinkola Dr | $214,000 | $88 | 2001-07-23 | 1996 | 2,444 | Resale |
| 6339 Belgrand Dr | $209,900 | -- | 2001-07-13 | 2001 | -- | New |
| 6388 Mallard Trace Dr | $214,600 | $86 | 2001-07-13 | 2001 | 2,492 | New |
| 332 Winnstead Ct | $280,000 | $101 | 2001-07-02 | 1996 | 2,785 | Resale |
| 6395 Heritage Ridge Rd | $191,000 | $88 | 2001-06-29 | 1995 | 2,165 | Resale |
| 6327 Sinkola Dr | $260,000 | $89 | 2001-06-29 | 2001 | 2,918 | New |
| 6316 Mallard Trace Dr | $210,000 | $89 | 2001-06-15 | 1995 | 2,370 | Resale |
| 6386 Belgrand Dr | $202,000 | $88 | 2001-06-04 | 1996 | 2,295 | Resale |
| 489 Meadow Ridge Dr | $287,900 | $95 | 2001-06-01 | 1997 | 3,017 | Resale |
| 6030 Quail Ridge Dr | $228,900 | $93 | 2001-05-31 | 1992 | 2,449 | Resale |
| 6240 Hines Hill Cir | $245,500 | $99 | 2001-05-31 | 1992 | 2,481 | Resale |
| 6390 Belgrand Dr | $233,000 | $99 | 2001-05-31 | 1998 | 2,346 | Resale |
| 6335 Belgrand Dr | $205,900 | $95 | 2001-05-31 | 2001 | 2,174 | New |
| 6108 Ox Bottom Manor Dr | $220,000 | $82 | 2001-05-25 | 1990 | 2,667 | Resale |
| 6265 Hines Hill Cir | $221,000 | $102 | 2001-05-23 | 1992 | 2,165 | Resale |
| 6331 Belgrand Dr | $210,800 | -- | 2001-05-21 | 2001 | -- | New |
| 6310 Coach House Ct | $245,000 | $89 | 2001-05-18 | 1993 | 2,764 | Resale |
| 6352 Glasgow Dr | $200,000 | $85 | 2001-05-16 | 1997 | 2,349 | Resale |
| 227 Thornberg Dr | $275,500 | $89 | 2001-05-16 | 1997 | 3,084 | Resale |
| 6322 Coach House Ct | $237,500 | $84 | 2001-05-14 | 1995 | 2,812 | Resale |
| 6366 San Martin Ct | $195,000 | $97 | 2001-04-30 | 1998 | 2,008 | Resale |
| 428 Meadow Ridge Dr | $260,000 | $95 | 2001-04-25 | 2001 | 2,743 | New |
| 131 Cotillion Cir | $279,000 | $111 | 2001-04-20 | 1995 | 2,521 | Resale |
| 311 Thornberg Dr | $140,000 | $25 | 2001-04-19 | 2001 | 5,600 | New |
| 515 Meadow Ridge Ct | $240,000 | $101 | 2001-04-17 | 1996 | 2,378 | Resale |
| 6272 Black Fox Way | $277,500 | $102 | 2001-04-14 | 1995 | 2,723 | Resale |
| 521 Meadow Ridge Dr | $270,000 | $104 | 2001-04-13 | 2001 | 2,591 | New |
| 6427 Mallard Trace Dr | $242,200 | $94 | 2001-04-13 | 2000 | 2,564 | New |
| 6360 Mallard Trace Dr | $219,000 | $74 | 2001-04-04 | 1993 | 2,941 | Resale |
| 6382 Belgrand Dr | $205,000 | $83 | 2001-03-29 | 1996 | 2,469 | Resale |
| 6288 Whittondale Dr | $225,000 | $85 | 2001-03-28 | 1994 | 2,650 | Resale |
| 6315 Mallard Trace Dr | $205,000 | $94 | 2001-03-22 | 1993 | 2,183 | Resale |
| 371 Milestone Dr | $206,900 | $89 | 2001-03-14 | 1993 | 2,333 | Resale |
| 6377 Sinkola Dr | $216,000 | $101 | 2001-03-01 | 1996 | 2,131 | Resale |
| 450 Tall Stand Ct | $208,500 | $97 | 2001-02-27 | 1998 | 2,149 | Resale |
| 212 Meadow Ridge Dr | $222,000 | $79 | 2001-02-01 | 1993 | 2,809 | Resale |
| 464 Meadow Ridge Dr | $218,500 | $85 | 2001-01-27 | 1997 | 2,558 | Resale |
| 460 Meadow Ridge Dr | $200,000 | $78 | 2001-01-19 | 1997 | 2,558 | Resale |
| 6294 Black Fox Way | $224,900 | $102 | 2001-01-08 | 2000 | 2,215 | New |
| 6312 Mallard Trace Dr | $176,000 | $85 | 2000-12-28 | 1994 | 2,077 | Resale |
| 154 Meadow Ridge Dr | $238,000 | $85 | 2000-12-22 | 1994 | 2,786 | Resale |
| 211 Hawkmeadow Dr | $200,000 | $86 | 2000-12-15 | 1990 | 2,326 | Resale |
| 6042 Quail Ridge Dr | $240,000 | $98 | 2000-12-15 | 1991 | 2,438 | Resale |
| 6220 Whittondale Dr | $232,500 | $86 | 2000-12-07 | 1994 | 2,707 | Resale |
| 258 Thornberg Dr | $186,000 | $87 | 2000-11-13 | 1998 | 2,135 | Resale |
| 215 Thornberg Dr | $279,900 | -- | 2000-10-27 | 2000 | -- | New |
| 6385 Belgrand Dr | $249,000 | $60 | 2000-10-13 | 2000 | 4,176 | New |
| 160 Thistlewood Ct | $165,700 | $47 | 2000-10-02 | 2000 | 3,500 | New |
| 6408 Mallard Trace Dr | $214,900 | $92 | 2000-09-29 | 1999 | 2,340 | New |
| 335 Milestone Dr | $249,900 | $83 | 2000-09-27 | 1991 | 3,017 | Resale |
| 278 Thornberg Dr | $215,000 | $87 | 2000-09-11 | 1997 | 2,478 | Resale |
| 425 Meadow Ridge Dr | $240,000 | $62 | 2000-09-08 | 2000 | 3,876 | New |
| 435 San Martin Dr | $265,900 | $92 | 2000-08-31 | 2000 | 2,891 | New |
| 6367 Sinkola Dr | $207,000 | $92 | 2000-08-31 | 1996 | 2,250 | Resale |
| 6359 Mallard Trace Dr | $258,500 | $84 | 2000-08-31 | 1993 | 3,075 | Resale |
| 6126 Borderline Dr | $230,000 | $62 | 2000-08-30 | 2000 | 3,724 | New |
| 6267 Whittondale Ct | $226,000 | $95 | 2000-08-30 | 1994 | 2,367 | Resale |
| 347 Thornberg Dr | $215,000 | $93 | 2000-08-16 | 1996 | 2,305 | Resale |
| 270 Thornberg Dr | $230,000 | $86 | 2000-08-14 | 1996 | 2,688 | Resale |
| 6318 Coach House Ct | $150,000 | $51 | 2000-08-09 | 2001 | 2,958 | New |
| 383 Thornberg Dr | $172,500 | $58 | 2000-08-07 | 2000 | 2,958 | New |
| 6327 Coach House Ct | $235,000 | $86 | 2000-08-01 | 1995 | 2,729 | Resale |
| 6294 Hines Hill Cir | $257,000 | $97 | 2000-07-31 | 1993 | 2,636 | Resale |
| 310 Meadow Ridge Dr | $258,000 | $97 | 2000-07-28 | 1996 | 2,668 | Resale |
| 330 Thornberg Dr | $168,000 | $74 | 2000-07-28 | 2000 | 2,272 | New |
| 377 Thornberg Dr | $200,000 | $56 | 2000-07-26 | 2000 | 3,596 | New |
| -- | $232,000 | $91 | 2000-07-21 | 1997 | 2,550 | Resale |
| 6297 Hines Hill Cir | $246,000 | $101 | 2000-07-14 | 1992 | 2,443 | Resale |
| 158 Cotillion Cir | $208,000 | $87 | 2000-07-07 | 1995 | 2,399 | Resale |
| 6223 Whittondale Dr | $234,000 | $99 | 2000-06-30 | 1994 | 2,363 | Resale |
| 509 Meadow Ridge Dr | $213,000 | $95 | 2000-06-29 | 2000 | 2,249 | New |
| 329 Thornberg Dr | $202,000 | $96 | 2000-06-29 | 1997 | 2,107 | Resale |
| 484 Meadow Ridge Dr | $207,500 | $92 | 2000-06-27 | 1996 | 2,265 | Resale |
| 6111 Ox Bottom Manor Dr | $255,000 | $76 | 2000-06-16 | 1990 | 3,360 | Resale |
| 6259 Black Fox Way | $246,000 | $89 | 2000-06-15 | 1996 | 2,762 | Resale |
| 6344 Glasgow Dr | $255,000 | $84 | 2000-06-06 | 1996 | 3,019 | Resale |
| 489 Meadow Ridge Dr | $282,500 | $94 | 2000-05-31 | 1997 | 3,017 | Resale |
| 6351 Sinkola Dr | $190,000 | $98 | 2000-05-19 | 1996 | 1,944 | Resale |
| 7328 Ox Bottom Cir | $380,000 | $71 | 2000-05-18 | 2000 | 5,340 | New |
| 6104 Ox Bottom Manor Dr | $210,000 | $82 | 2000-04-28 | 1990 | 2,562 | Resale |
| 6260 Black Fox Way | $263,000 | $84 | 2000-04-28 | 1996 | 3,132 | Resale |
| 422 Meadow Ridge Dr | $273,000 | $103 | 2000-04-28 | 1997 | 2,657 | Resale |
| 457 Meadow Ridge Dr | $265,000 | $75 | 2000-04-26 | 1998 | 3,530 | Resale |
| 6396 Mallard Trace Dr | $179,900 | $82 | 2000-04-17 | 1995 | 2,195 | Resale |
| 562 Meadow Ridge Dr | $200,000 | $87 | 2000-04-12 | 1994 | 2,305 | Resale |
| 553 Meadow Ridge Dr | $249,000 | $91 | 2000-03-24 | 1999 | 2,740 | New |
| 6339 Sinkola Dr | $187,000 | $93 | 2000-03-23 | 1997 | 2,016 | Resale |
| 6269 Black Fox Way | $230,000 | $98 | 2000-03-16 | 1996 | 2,339 | Resale |
| 6309 Pickney Hill Rd | $229,000 | $85 | 2000-02-28 | 1995 | 2,692 | Resale |
| 505 Meadow Ridge Dr | $202,700 | $86 | 2000-02-22 | 2000 | 2,354 | New |
| 6219 Whittondale Dr | $214,000 | $83 | 2000-02-18 | 1994 | 2,565 | Resale |
| 293 Thornberg Dr | $192,000 | $87 | 2000-02-17 | 1996 | 2,208 | Resale |
| 6240 Whittondale Dr | $74,500 | $32 | 2000-02-16 | 1996 | 2,335 | Resale |
| 6256 Hines Hill Cir | $220,000 | $86 | 2000-02-15 | 1993 | 2,569 | Resale |
| 6138 Borderline Dr | $245,000 | $95 | 2000-02-15 | 1989 | 2,572 | Resale |
| 6268 Black Fox Way | $232,500 | $87 | 1999-12-30 | 1996 | 2,660 | Resale |
| 362 Meadow Ridge Dr | $201,500 | $77 | 1999-12-21 | 1994 | 2,632 | Resale |
| 370 Milestone Dr | $180,000 | $93 | 1999-12-17 | 1993 | 1,941 | Resale |
| 6362 San Martin Ct | $244,900 | $89 | 1999-12-15 | 1997 | 2,738 | Resale |
| 211 Hawkmeadow Dr | $190,000 | $82 | 1999-12-09 | 1990 | 2,326 | Resale |
| 6311 Mallard Trace Dr | $188,500 | $90 | 1999-11-30 | 1993 | 2,100 | Resale |
| 519 Meadow Ridge Ct | $200,000 | $37 | 1999-11-17 | 1999 | 5,412 | New |
| 6280 Black Fox Way | $234,900 | $89 | 1999-11-15 | 1996 | 2,646 | Resale |
| 6000 Ox Bottom Manor Dr | $299,000 | $91 | 1999-10-29 | 1990 | 3,299 | Resale |
| 270 Thornberg Dr | $240,000 | $89 | 1999-10-29 | 1996 | 2,688 | Resale |
| 6280 Whittondale Dr | $237,000 | $83 | 1999-10-08 | 1993 | 2,857 | Resale |
| 6122 Borderline Dr | $196,000 | $82 | 1999-10-08 | 1991 | 2,389 | Resale |
| 6255 Hines Hill Cir | $175,000 | $81 | 1999-09-30 | 1993 | 2,163 | Resale |
| 342 Thornberg Dr | $245,000 | $81 | 1999-09-30 | 1999 | 3,041 | Resale |
| 361 Meadow Ridge Dr | $252,800 | $83 | 1999-09-29 | 1999 | 3,043 | New |
| 473 Meadow Ridge Dr | $187,000 | $82 | 1999-09-23 | 1999 | 2,271 | New |
| 406 Holly Hill Ct | $275,000 | $62 | 1999-09-21 | 1999 | 4,422 | New |
| 6409 Mallard Trace Dr | $194,000 | $89 | 1999-09-16 | 1994 | 2,188 | Resale |
| 214 Meadow Ridge Dr | $270,100 | $88 | 1999-08-27 | 1993 | 3,064 | Resale |
| 338 Thornberg Dr | $268,000 | $113 | 1999-08-20 | 1997 | 2,372 | Resale |
| 208 Hawkmeadow Dr | $199,900 | $93 | 1999-08-17 | 1991 | 2,145 | Resale |
| 6387 Belgrand Dr | $199,900 | $87 | 1999-08-03 | 1996 | 2,302 | Resale |
| 6343 Belgrand Dr | $225,900 | $72 | 1999-08-03 | 1999 | 3,138 | New |
| 581 Meadow Ridge Dr | $232,900 | $86 | 1999-08-02 | 1995 | 2,720 | Resale |
| 550 Meadow Ridge Dr | $195,000 | $84 | 1999-07-30 | 1997 | 2,322 | Resale |
| -- | $187,000 | $89 | 1999-07-30 | 1995 | 2,100 | Resale |
| 6232 Whittondale Dr | $212,000 | $90 | 1999-07-29 | 1996 | 2,346 | Resale |
| 6356 Pickney Hill Rd | $228,000 | $98 | 1999-07-28 | 1996 | 2,336 | Resale |
| 165 Meadow Ridge Dr | $241,000 | $81 | 1999-07-15 | 1992 | 2,960 | Resale |
| 418 Holly Hill Ct | $206,000 | $81 | 1999-07-13 | 1995 | 2,531 | Resale |
| 6337 Glasgow Dr | $215,000 | $81 | 1999-07-01 | 1997 | 2,667 | Resale |
| 385 Meadow Ridge Dr | $247,500 | $83 | 1999-06-30 | 1994 | 3,000 | Resale |
| 6228 Whittondale Dr | $235,000 | $87 | 1999-06-30 | 1993 | 2,714 | Resale |
| 589 Meadow Ridge Dr | $210,000 | $80 | 1999-06-30 | 1995 | 2,628 | Resale |
| 6027 Ox Bottom Manor Dr | $200,000 | $92 | 1999-06-30 | 1990 | 2,184 | Resale |
| 452 Meadow Ridge Dr | $249,900 | $96 | 1999-06-29 | 1999 | 2,607 | New |
| 6345 Sinkola Dr | $229,000 | $89 | 1999-06-25 | 1999 | 2,567 | New |
| 526 Meadow Ridge Dr | $230,000 | $87 | 1999-06-23 | 1995 | 2,656 | Resale |
| 6340 Pickney Hill Rd | $253,800 | $103 | 1999-06-21 | 1995 | 2,453 | Resale |
| 6315 Mallard Trace Dr | $198,500 | $91 | 1999-06-15 | 1993 | 2,183 | Resale |
| 6263 Black Fox Way | $183,000 | $81 | 1999-06-15 | 1997 | 2,256 | Resale |
| 493 Meadow Ridge Dr | $213,000 | $84 | 1999-06-11 | 1996 | 2,526 | Resale |
| 6115 Ox Bottom Manor Dr | $245,000 | $89 | 1999-06-11 | 1989 | 2,768 | Resale |
| 6307 Mallard Trace Dr | $210,000 | $77 | 1999-06-10 | 1993 | 2,727 | Resale |
| 6323 Belgrand Dr | $195,700 | $83 | 1999-06-09 | 1999 | 2,368 | New |
| 530 Meadow Ridge Dr | $217,000 | $82 | 1999-05-27 | 1996 | 2,636 | Resale |
| 6306 Coach House Ct | $166,000 | $79 | 1999-05-03 | 1993 | 2,105 | Resale |
| 365 Thornberg Dr | $333,400 | $120 | 1999-05-03 | 1999 | 2,788 | New |
| 380 Meadow Ridge Dr | $185,300 | $94 | 1999-04-30 | 1997 | 1,975 | Resale |
| 6413 Mallard Trace Dr | $212,000 | $89 | 1999-04-15 | 1996 | 2,394 | Resale |
| 545 Meadow Ridge Dr | $261,000 | $77 | 1999-04-12 | 1999 | 3,390 | Resale |
| 6427 Mallard Trace Dr | $135,000 | $41 | 1999-04-09 | 2000 | 3,304 | New |
| -- | $191,000 | $76 | 1999-04-01 | 1994 | 2,500 | Resale |
| 444 Tall Stand Ct | $280,000 | $89 | 1999-03-24 | 1997 | 3,141 | Resale |
| 6309 Coach House Ct | $200,000 | $82 | 1999-03-24 | 1992 | 2,443 | Resale |
| 159 Cotillion Cir | $167,000 | $81 | 1999-03-19 | 1995 | 2,065 | Resale |
| 6023 Quail Ridge Dr | $231,500 | $82 | 1999-03-17 | 1992 | 2,811 | Resale |
| 209 Thornberg Dr | $237,900 | $83 | 1999-03-08 | 1999 | 2,853 | New |
| 354 Thornberg Dr | $249,000 | $93 | 1999-03-05 | 1999 | 2,683 | New |
| 6263 Hines Hill Cir | $219,900 | $86 | 1999-03-05 | 1992 | 2,562 | Resale |
| 6382 Belgrand Dr | $189,900 | $77 | 1999-03-04 | 1996 | 2,469 | Resale |
| 5969 Ox Bottom Manor Dr | $185,000 | $86 | 1999-02-26 | 1989 | 2,139 | Resale |
| 414 Meadow Ridge Dr | $256,000 | $95 | 1999-02-26 | 1998 | 2,686 | Resale |
| 5957 Ox Bottom Manor Dr | $270,000 | $113 | 1999-02-25 | 1994 | 2,381 | Resale |
| 6266 Hines Hill Cir | $178,900 | $84 | 1999-02-19 | 1992 | 2,123 | Resale |
| 214 Meadow Ridge Dr | $255,000 | $83 | 1999-02-19 | 1993 | 3,064 | Resale |
| 6372 Glasgow Dr | $209,500 | $83 | 1999-02-05 | 1997 | 2,514 | Resale |
| 6239 Myrtlewood Ct | $208,500 | $85 | 1999-02-01 | 1995 | 2,458 | Resale |
| 6327 Belgrand Dr | $178,900 | $75 | 1999-01-25 | 1999 | 2,395 | Resale |
| 585 Meadow Ridge Dr | $218,000 | $85 | 1999-01-12 | 1995 | 2,570 | Resale |
| 6280 Black Fox Way | $226,000 | $85 | 1999-01-11 | 1996 | 2,646 | Resale |
| 450 Tall Stand Ct | $184,700 | $86 | 1998-12-31 | 1998 | 2,149 | New |
| 6038 Quail Ridge Dr | $187,500 | $82 | 1998-12-24 | 1989 | 2,298 | Resale |
| 6316 Sinkola Dr | $232,500 | $87 | 1998-12-18 | -- | 2,664 | Resale |
| 6269 Black Fox Way | $200,500 | $86 | 1998-12-09 | 1996 | 2,339 | Resale |
| 6231 Myrtlewood Ct | $257,000 | $89 | 1998-12-04 | -- | 2,881 | Resale |
| 151 Cotillion Cir | $185,000 | $82 | 1998-11-25 | -- | 2,249 | Resale |
| 6389 Belgrand Dr | $167,900 | $79 | 1998-11-25 | 1996 | 2,119 | Resale |
| 6332 Glasgow Dr | $186,500 | $74 | 1998-11-18 | 1996 | 2,516 | Resale |
| 448 Tall Stand Ct | $213,800 | $93 | 1998-11-16 | 1996 | 2,294 | Resale |
| 457 Meadow Ridge Dr | $279,900 | $79 | 1998-11-10 | 1998 | 3,530 | New |
| 6405 Mallard Trace Dr | $195,000 | $81 | 1998-11-10 | 1998 | 2,402 | New |
| 445 Meadow Ridge Dr | $219,500 | $74 | 1998-11-09 | 1998 | 2,953 | New |
| 461 Meadow Ridge Dr | $203,500 | $89 | 1998-10-30 | 1998 | 2,275 | New |
| 6304 Mallard Trace Dr | $235,000 | $82 | 1998-10-30 | 1996 | 2,875 | Resale |
| 6324 Pickney Hill Rd | $192,000 | $65 | 1998-10-30 | -- | 2,934 | Resale |
| 6412 Mallard Trace Dr | $184,500 | $88 | 1998-10-29 | -- | 2,099 | Resale |
| 6275 Whittondale Dr | $225,900 | $84 | 1998-10-23 | 1994 | 2,685 | Resale |
| 6244 Whittendale Dr | $145,000 | $58 | 1998-10-12 | 1998 | 2,510 | New |
| 429 Meadow Ridge Dr | $250,600 | $87 | 1998-10-09 | 1998 | 2,884 | Resale |
| 6352 Pickney Hill Rd | $177,000 | $84 | 1998-09-28 | -- | 2,112 | Resale |
| 6404 Mallard Trace Dr | $168,500 | $85 | 1998-09-25 | -- | 1,991 | Resale |
| 6350 Belgrand Dr | $190,000 | $78 | 1998-09-23 | 1998 | 2,437 | New |
| 350 Milestone Dr | $254,000 | $94 | 1998-09-18 | -- | 2,716 | Resale |