Piney Z Listings And Sales Report December 2021
Posted by Joe Manausa on Tuesday, December 7, 2021 at 5:56 AM
By Joe Manausa / December 7, 2021
Comment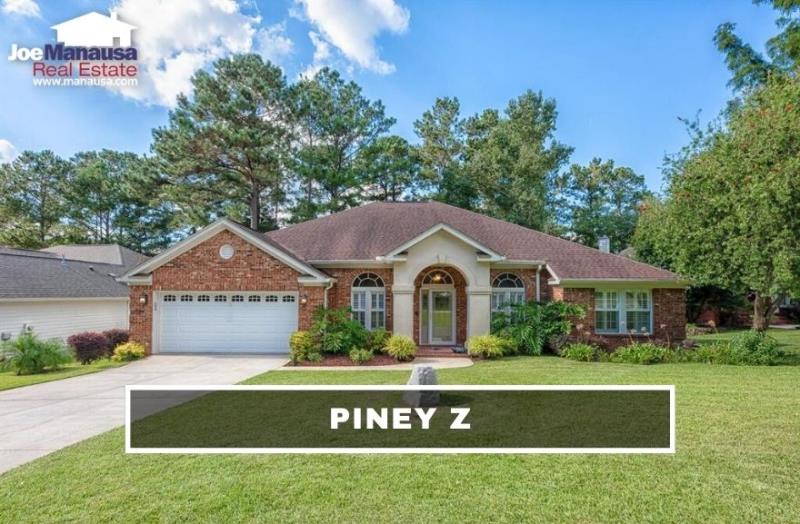 Piney Z is located east of Capital Circle SE on the north side of Conner Blvd. and contains a strong amenity package (fitness center, pool, pavilion, gazebo, playground, and a park) that is very popular among buyers today.
Filled with hundreds of three, four, and five-bedroom homes built from 1999 to as recently as 2020, Piney Z is a hit with active lifestyle buyers.
Homes For Sale In Piney Z
The following are the current Tallahassee MLS listings in Piney Z.
Piney Z is zoned for the following Leon County public schools:
This Piney Z neighborhood report includes charts and graphs that display average home prices, home values, and home sizes, as well as a list of the most recent 1,000 closed home sales in Piney Z.
For each of the three real estate graphs found in this Tallahassee housing report, you will find the number of closed home sales for each year (red columns, measured on the left vertical axis), and an important real estate statistic shown in blue (measured on the right vertical axis).
It is important to note that the narrative contained below is for sales through December for all previous years but through the first five days of December in 2021. The graphs and the closed sales table will be continuously updated into the future (meaning bookmark this page if you always want to know the current status of homes in Piney Z).
Piney Z Home Prices
The average home price in Piney Z has risen more than 9% thus far in 2021, setting a new all-time high annual average.
The average price of the homes sold in Piney Z thus far in 2021 is $301K.
Activity in Piney Z is still very strong. Home sellers that use an active pre-marketing plan will sell immediately upon hitting the market. Currently, there are nine homes for sale in Piney Z and five are already under contract with buyers.
Home Values
The average home value in Piney Z has risen more than 13% thus far in 2021, which is slightly above our local market average.
The average home value in Piney Z in 2021 is $171 per square foot, extending the all-time high annual average set last year.
Keep Up With New Trends In Tallahassee!
Get The Tallahassee Real Estate Newsletter
Don't be the one that doesn't know what's going on when you sell a home or buy a home in Tallahassee.
Other buyers, sellers, lenders, and real estate agents have this critical information, and now you can too!
Get immediate access to our most recent newsletter.
Let more than 30 years of experience work for you with charts, graphs, and analysis of the Tallahassee housing market.
Home Sizes
The average size of homes sold in Piney Z typically falls within a range of 1,700 to 1,900 square feet, and 2021 has been no different.
The 47 homes sold thus far in 2021 were measured at an average size of 1,777 square feet.
Piney Z Home Sales
The following list shows the 1,000 most recent home sales in Piney Z. Note that you can reorganize the list by simply clicking the column heading for the data you wish to sort by.
| Address | Price | Price/SQF | Closing Date | Year Built | SQF | Sale Type |
| --- | --- | --- | --- | --- | --- | --- |
| 1179 Landings Loop | $310,000 | $208 | 2023-09-07 | 2002 | 1,493 | Resale |
| 1121 High Meadow Drive | $320,000 | $220 | 2023-08-31 | 2003 | 1,455 | Resale |
| 1076 Kingdom Drive | $283,600 | $207 | 2023-08-29 | 2003 | 1,367 | Resale |
| 1068 Landings Loop | $285,000 | $188 | 2023-08-18 | 2001 | 1,514 | Resale |
| 1033 Piney Z Plantation Road | $310,000 | $214 | 2023-08-15 | 2000 | 1,448 | Resale |
| 4729 Plantation View Drive | $425,000 | $208 | 2023-08-04 | 2002 | 2,039 | Resale |
| 831 Piney Village Loop | $355,000 | $175 | 2023-07-19 | 2002 | 2,029 | Resale |
| 837 Eagle View Drive | $449,500 | $195 | 2023-06-29 | 2005 | 2,306 | Resale |
| 4640 Heritage Park Blvd | $415,000 | $249 | 2023-06-16 | 2019 | 1,668 | Resale |
| 1191 Landings Loop | $295,500 | $202 | 2023-06-12 | 2001 | 1,461 | Resale |
| 1008 Landings Loop | $318,000 | $223 | 2023-06-07 | 2001 | 1,426 | Resale |
| 729 Eagle View Circle | $450,000 | $183 | 2023-06-07 | 2004 | 2,458 | Resale |
| 4875 Heritage Park Boulevard | $350,000 | $202 | 2023-04-28 | 2004 | 1,729 | Resale |
| 4747 Planters Ridge Drive | $315,000 | $199 | 2023-04-27 | 2001 | 1,581 | Resale |
| 4778 Planters Ridge Drive | $360,000 | $223 | 2023-03-30 | 2002 | 1,615 | Resale |
| 4721 Plantation View Drive | $450,000 | $178 | 2023-03-20 | 2002 | 2,529 | Resale |
| 1004 Kingdom Drive | $293,500 | $191 | 2023-03-15 | 2001 | 1,535 | Resale |
| 4656 Fledgling Drive | $390,500 | $222 | 2023-03-10 | 2004 | 1,756 | Resale |
| 4730 Planters Ridge Drive | $312,000 | $227 | 2023-03-03 | 2002 | 1,375 | Resale |
| 1112 Landings Loop | $216,000 | $145 | 2023-02-10 | 2002 | 1,486 | Resale |
| 1046 Piney Z Plantation Road | $312,000 | $230 | 2023-02-10 | 2002 | 1,355 | Resale |
| 1174 High Meadow Dr | $299,900 | $193 | 2023-02-02 | 1999 | 1,550 | Resale |
| 1080 Landings Loop | $295,000 | $201 | 2023-01-31 | 2001 | 1,471 | Resale |
| 1183 Landings Loop | $275,500 | $189 | 2023-01-17 | 2001 | 1,461 | Resale |
| 1080 Winter Lane | $315,000 | $215 | 2022-12-29 | 2003 | 1,467 | Resale |
| 1072 Kingdom Drive | $280,000 | $185 | 2022-12-12 | 2001 | 1,517 | Resale |
| 844 Eagle View Drive | $375,000 | $218 | 2022-12-09 | 2004 | 1,723 | Resale |
| 1024 Kingdom Drive | $280,000 | $183 | 2022-11-30 | 2001 | 1,534 | Resale |
| 1133 High Meadow Drive | $375,000 | $194 | 2022-11-18 | 2001 | 1,930 | Resale |
| 1075 Parkview Drive | $355,000 | $200 | 2022-10-31 | 2002 | 1,778 | Resale |
| 911 Parkview Drive | $375,000 | $182 | 2022-10-28 | 2001 | 2,062 | Resale |
| 1059 Park View Drive | $365,000 | $195 | 2022-10-24 | 2005 | 1,870 | Resale |
| 4886 Heritage Park Boulevard | $304,000 | $189 | 2022-10-18 | 2002 | 1,606 | Resale |
| 4865 Lake Park Drive | $345,000 | $216 | 2022-10-11 | 2001 | 1,597 | Resale |
| 689 Eagle View Cir | $410,000 | $157 | 2022-09-29 | 2003 | 2,617 | Resale |
| 4923 Heritage Park Boulevard | $342,000 | $209 | 2022-09-28 | 2002 | 1,637 | Resale |
| 917 Parkview Drive | $365,000 | $183 | 2022-09-15 | 2003 | 1,997 | Resale |
| 817 Eagle View Drive | $425,000 | $195 | 2022-09-12 | 2003 | 2,177 | Resale |
| 4657 Nesting Trl | $443,000 | $188 | 2022-09-01 | 2004 | 2,358 | Resale |
| 4860 Lake Park Drive | $417,500 | $201 | 2022-08-31 | 2001 | 2,082 | Resale |
| 832 Eagle View Dr | $425,000 | $185 | 2022-08-19 | 2004 | 2,292 | Resale |
| 1067 Kingdom Drive | $296,000 | $200 | 2022-08-09 | 2001 | 1,479 | Resale |
| 4665 Nesting Trail | $438,000 | $184 | 2022-08-05 | 2001 | 2,378 | Resale |
| 747 Eagle View Drive | $355,000 | $191 | 2022-08-02 | 2001 | 1,856 | Resale |
| 883 Eagle View Drive | $424,900 | $201 | 2022-06-29 | 2004 | 2,113 | Resale |
| 1132 Winter Lane | $295,000 | $214 | 2022-06-21 | 2005 | 1,380 | Resale |
| 826 Piney Village Loop | $506,000 | $224 | 2022-06-17 | 2018 | 2,262 | Resale |
| 4849 Lake Park Drive | $378,000 | $198 | 2022-06-14 | 2001 | 1,906 | Resale |
| 1030 Parkview Drive | $335,000 | $173 | 2022-05-31 | 2003 | 1,936 | Resale |
| 1001 Piney Z Plantation Road | $335,000 | $211 | 2022-05-31 | 2000 | 1,589 | Resale |
| 957 Park View Dr | $415,000 | $208 | 2022-05-06 | 2001 | 1,988 | Resale |
| 957 Parkview Drive | $415,000 | $177 | 2022-05-06 | 2001 | 2,349 | Resale |
| 1020 Landings Loop | $275,000 | $179 | 2022-03-31 | 2001 | 1,535 | Resale |
| 4847 Heritage Park Boulevard | $315,000 | $197 | 2022-03-18 | 2002 | 1,601 | Resale |
| 1120 Winter Lane | $295,000 | $164 | 2022-03-18 | 2005 | 1,795 | Resale |
| 1196 Landings Loop | $285,000 | $193 | 2022-03-15 | 2002 | 1,476 | Resale |
| 1022 High Meadow Drive | $355,000 | $186 | 2022-02-25 | 2003 | 1,908 | Resale |
| 1120 Landings Loop | $260,000 | $157 | 2022-02-18 | 2001 | 1,658 | Resale |
| 4904 Park View Ct | $290,000 | $220 | 2022-02-18 | 1999 | 1,321 | Resale |
| 1216 Landings Loop | $280,000 | $187 | 2022-02-11 | 2001 | 1,497 | Resale |
| 4707 Planters Ridge Drive | $309,000 | $186 | 2022-02-11 | 2002 | 1,660 | Resale |
| 4580 Heritage Park Boulevard | $386,900 | $180 | 2022-01-28 | 2008 | 2,152 | Resale |
| 1183 Landings Loop | $253,000 | $173 | 2022-01-28 | 2001 | 1,461 | Resale |
| 4758 Planters Ridge Drive | $307,938 | $200 | 2022-01-27 | 2001 | 1,537 | Resale |
| 1092 Winter Lane | $295,000 | $180 | 2022-01-14 | 2002 | 1,640 | Resale |
| 875 Eagle View Drive | $407,500 | $162 | 2022-01-14 | 2002 | 2,514 | Resale |
| 4875 Heritage Park Blvd | $310,000 | $185 | 2021-12-30 | 2004 | 1,676 | Resale |
| 864 Eagle View Drive | $389,000 | $148 | 2021-12-27 | 2004 | 2,635 | Resale |
| 745 Eagle View Drive | $375,000 | $177 | 2021-12-20 | 2004 | 2,113 | Resale |
| 937 Piney Z Plantation Road | $395,000 | $168 | 2021-12-15 | 2000 | 2,347 | Resale |
| 1172 Landings Loop | $265,000 | $180 | 2021-12-13 | 2002 | 1,476 | Resale |
| 4656 Fledgling Drive | $320,000 | $182 | 2021-12-03 | 2004 | 1,756 | Resale |
| 861 Piney Village Loop | $390,000 | $181 | 2021-12-01 | 2005 | 2,150 | Resale |
| 762 Eagle View Drive | $480,000 | $154 | 2021-11-30 | 2004 | 3,127 | Resale |
| 4662 Nesting Trail | $370,000 | $214 | 2021-11-22 | 2003 | 1,730 | Resale |
| 1021 Landings Loop | $250,000 | $161 | 2021-11-19 | 2001 | 1,551 | Resale |
| 1039 Winter Lane | $279,000 | $187 | 2021-11-15 | 2001 | 1,492 | Resale |
| 1107 Winter Lane | $282,900 | $169 | 2021-11-01 | 2003 | 1,673 | Resale |
| 1026 High Meadow Drive | $310,000 | $206 | 2021-10-29 | 2002 | 1,502 | Resale |
| 836 Eagle View Drive | $397,000 | $195 | 2021-10-28 | 2004 | 2,036 | Resale |
| 1041 Piney Z Plantation Road | $280,000 | $196 | 2021-10-26 | 2000 | 1,428 | Resale |
| 909 Piney Z Plantation Drive | $330,000 | $163 | 2021-09-29 | 2002 | 2,021 | Resale |
| 1080 Landings Loop | $261,000 | $177 | 2021-09-28 | 2001 | 1,471 | Resale |
| 951 Lone Feather Drive | $366,000 | $182 | 2021-09-23 | 2002 | 2,016 | Resale |
| 1001 Landings Loop | $268,000 | $181 | 2021-09-17 | 2001 | 1,479 | Resale |
| 4885 Lake Park Drive | $350,000 | $196 | 2021-09-13 | 2001 | 1,789 | Resale |
| 1036 Kingdom Dr | $240,000 | $165 | 2021-09-03 | 2001 | 1,448 | Resale |
| 1100 Landings Loop | $220,000 | $158 | 2021-09-03 | 2001 | 1,385 | Resale |
| 4887 Planters Ridge Dr | $100,000 | $51 | 2021-09-01 | 2000 | 1,946 | Resale |
| 1064 Piney Z Plantation Road | $280,000 | $176 | 2021-08-31 | 2001 | 1,589 | Resale |
| 1162 Landings Loop | $278,000 | $188 | 2021-08-31 | 2002 | 1,478 | Resale |
| 837 Piney Village Loop | $385,000 | $161 | 2021-08-26 | 2005 | 2,394 | Resale |
| 817 Eagle View Drive | $365,000 | $172 | 2021-08-11 | 2003 | 2,124 | Resale |
| 4919 Planters Ridge Drive | $280,000 | $186 | 2021-08-10 | 2000 | 1,506 | Resale |
| 1060 Piney Z Plantation Road | $279,000 | $186 | 2021-08-09 | 2001 | 1,504 | Resale |
| 1073 High Meadow Drive | $280,000 | $181 | 2021-08-06 | 2002 | 1,547 | Resale |
| 833 Piney Village Loop | $320,000 | $181 | 2021-08-06 | 2004 | 1,769 | Resale |
| 4882 Planters Ridge Drive | $283,000 | $155 | 2021-08-04 | 2002 | 1,830 | Resale |
| 848 Eagle View Drive | $375,000 | $142 | 2021-07-22 | 2003 | 2,632 | Resale |
| 4662 Nesting Trail | $325,000 | $188 | 2021-07-15 | 2003 | 1,730 | Resale |
| 4610 Heritage Park Blvd | $313,000 | $196 | 2021-07-02 | 2019 | 1,591 | Resale |
| 981 Park View Drive | $383,000 | $170 | 2021-07-02 | 2002 | 2,247 | Resale |
| 1168 Landings Loop | $239,000 | $162 | 2021-07-01 | 2002 | 1,478 | Resale |
| 1168 Landings Loop | $239,000 | $161 | 2021-06-30 | 2002 | 1,478 | Resale |
| 1046 High Meadow Dr | $255,000 | $166 | 2021-06-30 | 2002 | 1,531 | Resale |
| 1144 Winter Lane | $270,000 | $157 | 2021-06-25 | 2002 | 1,723 | Resale |
| 4775 Planters Ridge Dr | $247,000 | $144 | 2021-06-21 | 2000 | 1,710 | Resale |
| 1064 Landings Loop | $264,000 | $158 | 2021-06-07 | 2001 | 1,676 | Resale |
| 971 Park View | $395,000 | $161 | 2021-06-03 | 2001 | 2,448 | Resale |
| 971 Park View Dr | $395,000 | $161 | 2021-06-03 | 2001 | 2,448 | Resale |
| 1102 High Meadow Drive | $242,500 | $164 | 2021-05-27 | 2004 | 1,483 | Resale |
| 1088 Winter Lane | $242,000 | $152 | 2021-05-07 | 2002 | 1,587 | Resale |
| 1063 Kingdom Dr | $228,000 | $154 | 2021-05-07 | 2001 | 1,479 | Resale |
| 1142 Landings Loop | $280,500 | $189 | 2021-05-07 | 2002 | 1,482 | Resale |
| 1149 Winter Lane | $265,000 | $189 | 2021-05-05 | 2004 | 1,399 | Resale |
| 861 Eagle View Drive | $410,000 | $142 | 2021-05-05 | 2008 | 2,894 | Resale |
| 1155 Landings Loop | $246,700 | $165 | 2021-04-28 | 2001 | 1,495 | Resale |
| 4738 Planters Ridge Drive | $245,000 | $158 | 2021-04-28 | 2002 | 1,550 | Resale |
| 1036 Piney Z Plantation Road Road | $250,000 | $179 | 2021-04-02 | 2002 | 1,395 | Resale |
| 1153 Landings Loop | $230,000 | $153 | 2021-04-01 | 2001 | 1,495 | Resale |
| 1061 Landings Loop | $218,100 | $159 | 2021-03-11 | 2001 | 1,375 | Resale |
| 871 Eagle View Drive | $383,000 | $153 | 2021-03-05 | 2002 | 2,501 | Resale |
| 849 Eagle View Drive | $330,000 | $161 | 2021-03-03 | 2002 | 2,049 | Resale |
| 1038 High Meadow Drive | $258,900 | $174 | 2021-03-01 | 2002 | 1,492 | Resale |
| 1056 Landings Loop | $249,500 | $132 | 2021-02-26 | 2001 | 1,887 | Resale |
| 1006 High Meadow Drive | $260,000 | $172 | 2021-02-25 | 2002 | 1,511 | Resale |
| 1055 Winter Lane | $240,000 | $156 | 2021-02-11 | 2002 | 1,536 | Resale |
| 828 Eagle View Drive | $362,000 | $161 | 2021-01-28 | 2004 | 2,255 | Resale |
| 1096 Landings Loop | $215,200 | $141 | 2021-01-08 | 2001 | 1,530 | Resale |
| 1029 High Meadow Drive | $235,000 | $164 | 2021-01-08 | 2003 | 1,437 | Resale |
| 1038 High Meadow Drive | $185,000 | $124 | 2020-12-23 | 2002 | 1,492 | Resale |
| 4931 Heritage Park Boulevard | $260,000 | $160 | 2020-12-23 | 2003 | 1,624 | Resale |
| 1040 Piney Z Plantation Road | $320,000 | $162 | 2020-12-18 | 2002 | 1,980 | Resale |
| 4774 Planters Ridge Drive | $244,000 | $169 | 2020-12-18 | 2002 | 1,448 | Resale |
| 1017 Park View Drive | $270,000 | $162 | 2020-12-15 | 1999 | 1,662 | Resale |
| 1001 Kingdom Drive | $225,000 | $172 | 2020-12-04 | 2001 | 1,309 | Resale |
| 4885 Lake Park Drive | $264,000 | $148 | 2020-11-24 | 2001 | 1,789 | Resale |
| 845 Piney Village Loop | $320,000 | $142 | 2020-11-20 | 2005 | 2,246 | Resale |
| 4840 Lake Park Drive | $329,900 | $154 | 2020-11-19 | 2004 | 2,147 | Resale |
| 796 Eagle View Drive | $340,000 | $148 | 2020-11-17 | 2003 | 2,301 | Resale |
| 4915 Heritage Park Boulevard | $259,500 | $153 | 2020-11-06 | 2003 | 1,701 | Resale |
| 4841 Lake Park Drive | $240,000 | $156 | 2020-11-06 | 2000 | 1,535 | Resale |
| 4720 Plantation View Drive | $345,000 | $148 | 2020-11-06 | 2006 | 2,333 | Resale |
| 863 Eagle View Drive | $325,000 | $136 | 2020-11-03 | 2002 | 2,394 | Resale |
| 609 Eagle View Circle | $355,000 | $138 | 2020-11-02 | 2004 | 2,571 | Resale |
| 821 Piney Village Loop | $329,900 | $152 | 2020-10-30 | 2003 | 2,164 | Resale |
| 1183 Landings Loop | $235,000 | $161 | 2020-10-29 | 2001 | 1,461 | Resale |
| 1001 High Meadow Drive | $253,000 | $132 | 2020-10-27 | 1999 | 1,919 | Resale |
| 4767 Planters Ridge Drive | $259,900 | $151 | 2020-10-26 | 2001 | 1,718 | Resale |
| 1029 Piney Z Plantation Road | $221,500 | $156 | 2020-10-08 | 2002 | 1,416 | Resale |
| 1001 Landings Loop | $232,000 | $157 | 2020-10-02 | 2001 | 1,479 | Resale |
| 693 Eagle View Circle Circle | $285,000 | $162 | 2020-09-28 | 2003 | 1,760 | Resale |
| 4716 Plantation View Drive | $345,000 | $147 | 2020-09-21 | 2006 | 2,351 | Resale |
| 4703 Planters Ridge Drive | $230,000 | $145 | 2020-09-18 | 2001 | 1,585 | Resale |
| 4733 Plantation View Drive | $318,000 | $144 | 2020-08-20 | 2001 | 2,205 | Resale |
| 1153 High Meadow Drive | $289,000 | $159 | 2020-08-10 | 2002 | 1,819 | Resale |
| 4897 Lake Park Drive | $254,000 | $163 | 2020-08-07 | 2004 | 1,555 | Resale |
| 969 Watersview Drive | $350,000 | $142 | 2020-07-31 | 2004 | 2,465 | Resale |
| 907 Parkview Drive | $385,000 | $170 | 2020-07-31 | 2003 | 2,268 | Resale |
| 1121 High Meadow Drive | $240,000 | $165 | 2020-07-31 | 2003 | 1,455 | Resale |
| 4751 Planters Ridge Drive | $229,600 | $150 | 2020-07-30 | 2001 | 1,530 | Resale |
| 1100 Winter Lane | $260,000 | $149 | 2020-07-24 | 2002 | 1,747 | Resale |
| 4762 Planters Ridge Drive | $219,900 | $142 | 2020-07-23 | 2001 | 1,548 | Resale |
| 701 Eagle View Circle | $335,999 | $153 | 2020-07-15 | 2002 | 2,203 | Resale |
| 887 Eagle View Drive | $317,000 | $137 | 2020-07-10 | 2001 | 2,321 | Resale |
| 4660 Heritage Park Boulevard | $304,500 | $182 | 2020-06-26 | 2019 | 1,670 | Resale |
| 983 Watersview Drive | $333,000 | $139 | 2020-06-19 | 2003 | 2,391 | Resale |
| 836 Piney Village Loop | $369,900 | $181 | 2020-06-18 | 2020 | 2,043 | New |
| 1005 Landings Loop | $239,900 | $166 | 2020-06-12 | 2001 | 1,442 | Resale |
| 4862 Heritage Park Boulevard | $250,000 | $154 | 2020-06-05 | 2002 | 1,619 | Resale |
| 834 Piney Village Loop | $369,900 | $181 | 2020-05-28 | 2020 | 2,043 | New |
| 1047 Kingdom Drive | $198,000 | $137 | 2020-05-26 | 2001 | 1,444 | Resale |
| 1091 Piney Z Plantation Road | $245,000 | $149 | 2020-05-15 | 2001 | 1,647 | Resale |
| 4863 Heritage Park Boulevard | $248,000 | $152 | 2020-05-04 | 2003 | 1,628 | Resale |
| 1002 Kingdom Drive | $227,500 | $157 | 2020-04-27 | 2001 | 1,453 | Resale |
| 920 Park View Drive | $306,000 | $147 | 2020-04-24 | 2001 | 2,080 | Resale |
| 4650 Heritage Park Boulevard | $307,900 | $182 | 2020-04-23 | 2019 | 1,690 | New |
| 1072 Piney Z Plantation Road | $235,000 | $147 | 2020-04-15 | 2001 | 1,604 | Resale |
| 4738 Planters Ridge Drive | $210,000 | $136 | 2020-04-07 | 2002 | 1,539 | Resale |
| 4845 Planters Ridge Drive | $215,000 | $130 | 2020-03-12 | 2000 | 1,659 | Resale |
| 872 Piney Village Loop | $310,000 | $137 | 2020-02-28 | 2007 | 2,267 | Resale |
| 745 Eagle View Drive | $320,000 | $148 | 2020-02-28 | 2004 | 2,156 | Resale |
| 693 Eagle View Circle | $265,000 | $151 | 2020-02-26 | 2003 | 1,760 | Resale |
| 1067 Kingdom Drive | $205,000 | $139 | 2020-02-12 | 2001 | 1,479 | Resale |
| 837 Eagle View Drive | $329,500 | $141 | 2020-02-07 | 2005 | 2,334 | Resale |
| 1005 Landings Loop | $158,300 | $109 | 2020-02-05 | 2001 | 1,442 | Resale |
| 4750 Ne Planters Ridge Drive | $237,000 | $138 | 2020-01-28 | 2001 | 1,715 | Resale |
| 4750 Planters Ridge Dr | $237,000 | $151 | 2020-01-28 | 2001 | 1,568 | Resale |
| 1092 Winter Ln | $119,000 | $72 | 2020-01-27 | 2002 | 1,640 | Resale |
| 1035 Kingdom Dr | $205,000 | $138 | 2020-01-17 | 2001 | 1,479 | Resale |
| 4855 Heritage Park Boulevard | $231,500 | $142 | 2020-01-15 | 2002 | 1,630 | Resale |
| 4620 Heritage Park Boulevard | $307,900 | $184 | 2019-12-27 | 2019 | 1,670 | New |
| 4862 Planters Ridge Drive | $213,000 | $146 | 2019-12-20 | 2004 | 1,458 | Resale |
| 969 Watersview Dr | $236,300 | $96 | 2019-12-19 | 2004 | 2,465 | Resale |
| 4657 Soaring Way | $367,000 | $138 | 2019-12-13 | 2005 | 2,654 | Resale |
| 861 Piney Village Loop | $315,000 | $147 | 2019-12-06 | 2005 | 2,150 | Resale |
| 4914 Heritage Park Boulevard | $252,500 | $147 | 2019-12-06 | 2002 | 1,716 | Resale |
| 1029 High Meadow Drive | $210,000 | $146 | 2019-12-04 | 2003 | 1,437 | Resale |
| 813 Eagle View Drive | $300,000 | $140 | 2019-11-08 | 2003 | 2,149 | Resale |
| 1018 High Meadow Drive | $230,000 | $146 | 2019-11-07 | 2002 | 1,571 | Resale |
| 1068 Landings Loop | $203,000 | $134 | 2019-10-18 | 2001 | 1,514 | Resale |
| 1187 Landings Loop | $197,750 | $119 | 2019-10-17 | 2001 | 1,658 | Resale |
| 4770 Planters Ridge Drive Drive | $257,000 | $134 | 2019-10-08 | 2002 | 1,913 | Resale |
| 1023 Winter Lane | $261,000 | $126 | 2019-10-08 | 2000 | 2,066 | Resale |
| 4610 Heritage Park Boulevard | $306,900 | $192 | 2019-09-26 | 2019 | 1,595 | New |
| 988 Watersview Drive | $209,000 | $123 | 2019-09-23 | 2004 | 1,705 | Resale |
| 4630 Heritage Park Blvd Road | $324,900 | $193 | 2019-09-20 | 2019 | 1,680 | New |
| 1013 Piney Z Plantation Road | $224,000 | $150 | 2019-09-20 | 2001 | 1,496 | Resale |
| 1057 High Meadow Dr | $210,000 | $149 | 2019-09-20 | 2003 | 1,407 | Resale |
| 4856 Lake Park Drive | $310,000 | $146 | 2019-09-06 | 2004 | 2,120 | Resale |
| 4763 Planters Ridge Dr | $220,000 | $141 | 2019-09-04 | 2004 | 1,555 | Resale |
| 4860 Lake Park Drive | $287,500 | $138 | 2019-09-03 | 2001 | 2,084 | Resale |
| 964 Park View Dr | $275,000 | $138 | 2019-08-30 | 2001 | 1,983 | Resale |
| 804 Eagle View Drive | $289,000 | $137 | 2019-08-26 | 2002 | 2,110 | Resale |
| 4640 Heritage Park Boulevard | $299,900 | $180 | 2019-08-09 | 2019 | 1,670 | New |
| 1165 High Meadow Drive | $245,000 | $145 | 2019-08-09 | 2002 | 1,692 | Resale |
| 1049 Winter Lane | $246,500 | $151 | 2019-08-01 | 2002 | 1,632 | Resale |
| 1076 Kingdom Drive | $169,286 | $124 | 2019-07-31 | 2003 | 1,367 | Resale |
| 974 Parkview Drive | $270,000 | $149 | 2019-07-26 | 2002 | 1,815 | Resale |
| 4903 Heritage Park | $231,000 | $141 | 2019-07-26 | 2002 | 1,644 | Resale |
| 713 Eagle View Circle | $305,000 | $133 | 2019-07-24 | 2003 | 2,292 | Resale |
| 1032 Kingdom Drive | $193,000 | $130 | 2019-07-08 | 2001 | 1,479 | Resale |
| 1043 Park View | $210,200 | $154 | 2019-07-08 | 2000 | 1,368 | Resale |
| 4849 Lake Park Dr | $270,000 | $142 | 2019-07-01 | 2001 | 1,906 | Resale |
| 4859 Heritage Park Boulevard | $256,000 | $160 | 2019-06-28 | 2002 | 1,601 | Resale |
| 1039 Winter Lane | $223,000 | $149 | 2019-06-28 | 2001 | 1,492 | Resale |
| 1124 Landings Loop | $185,000 | $117 | 2019-06-17 | 2001 | 1,577 | Resale |
| 1177 High Meadow Dr | $215,000 | $145 | 2019-06-07 | 2001 | 1,475 | Resale |
| 1171 Landings Loop | $210,500 | $143 | 2019-05-29 | 2002 | 1,476 | Resale |
| 1080 Winter Lane | $195,000 | $133 | 2019-05-23 | 2003 | 1,467 | Resale |
| 4882 Heritage Park Boulevard | $252,000 | $147 | 2019-05-23 | 2002 | 1,716 | Resale |
| 1149 Winter Lane | $220,000 | $157 | 2019-05-20 | 2004 | 1,399 | Resale |
| 4660 Heritage Park Boulevard | $299,900 | $180 | 2019-05-20 | 2019 | 1,670 | New |
| 1104 Winter Lane | $210,000 | $134 | 2019-05-15 | 2003 | 1,572 | Resale |
| 836 Eagle View Drive | $245,000 | $120 | 2019-05-02 | 2004 | 2,036 | Resale |
| 844 Eagle View Dr | $263,000 | $153 | 2019-04-26 | 2004 | 1,723 | Resale |
| 4879 Planters Ridge Dr | $257,000 | $138 | 2019-04-26 | 2000 | 1,866 | Resale |
| 1047 Piney Z Plantation Road | $239,900 | $140 | 2019-04-12 | 1999 | 1,716 | Resale |
| 4664 Fledgling Dr. | $340,000 | $136 | 2019-04-08 | 2002 | 2,491 | Resale |
| 1067 Park View Drive | $250,000 | $149 | 2019-04-04 | 2002 | 1,678 | Resale |
| 4891 Planters Ridge Drive | $263,000 | $148 | 2019-04-01 | 2000 | 1,773 | Resale |
| 4707 Planters Ridge Drive | $232,000 | $140 | 2019-03-29 | 2002 | 1,660 | Resale |
| 832 Piney Village Loop | $359,000 | $169 | 2019-03-28 | 2018 | 2,122 | New |
| 1225 Landings Loop | $188,000 | $129 | 2019-03-26 | 2001 | 1,461 | Resale |
| 836 Eagle View Dr | $231,100 | $114 | 2019-03-04 | 2004 | 2,036 | Resale |
| 820 Eagle View Drive | $290,000 | $127 | 2019-03-01 | 2004 | 2,276 | Resale |
| 1055 Park View Drive | $280,000 | $163 | 2019-02-13 | 1999 | 1,723 | Resale |
| 4841 Planters Ridge Drive | $207,000 | $136 | 2019-02-08 | 1999 | 1,523 | Resale |
| 709 Eagle View Circle | $317,000 | $122 | 2019-01-29 | 2004 | 2,592 | Resale |
| 1108 Winter Lane | $200,000 | $146 | 2019-01-22 | 2003 | 1,374 | New |
| 1037 High Meadow Drive | $225,000 | $143 | 2019-01-18 | 2003 | 1,577 | Resale |
| 1047 Park View | $185,000 | $103 | 2018-12-28 | 1999 | 1,798 | Resale |
| 4670 Heritage Park Boulevard | $287,900 | $181 | 2018-12-21 | 2018 | 1,595 | New |
| 1088 Landings Loop | $200,000 | $126 | 2018-12-20 | 2001 | 1,582 | Resale |
| 910 Park View Drive | $340,000 | $127 | 2018-12-07 | 2003 | 2,684 | Resale |
| 838 Piney Village | $369,000 | $179 | 2018-12-03 | 2018 | 2,060 | New |
| 853 Piney Village Loop | $315,000 | $145 | 2018-11-30 | 2005 | 2,180 | Resale |
| 871 Eagle View Drive | $330,000 | $132 | 2018-11-30 | 2002 | 2,501 | Resale |
| 1149 Landings Loop | $203,000 | $136 | 2018-11-30 | 2001 | 1,495 | Resale |
| 4680 Heritage Park Boulevard | $299,900 | $180 | 2018-11-27 | 2018 | 1,670 | New |
| 874 Piney Village Loop | $329,000 | $133 | 2018-11-19 | 2008 | 2,479 | Resale |
| 1027 Winter Lane | $195,000 | $143 | 2018-11-14 | 2002 | 1,360 | Resale |
| 1073 Kingdom Drive | $190,000 | $115 | 2018-11-13 | 2001 | 1,648 | Resale |
| 1106 High Meadow Drive | $198,000 | $144 | 2018-10-25 | 2004 | 1,379 | Resale |
| 1183 Landings Loop | $185,000 | $127 | 2018-10-19 | 2001 | 1,461 | Resale |
| 826 Piney Village Loop | $369,000 | $163 | 2018-10-19 | 2018 | 2,262 | New |
| 4719 Planters Ridge Drive | $242,500 | $145 | 2018-10-09 | 2001 | 1,678 | Resale |
| 828 Piney Village Loop | $350,000 | $155 | 2018-10-02 | 2018 | 2,262 | New |
| 1003 Kingdom Dr | $173,500 | $131 | 2018-09-28 | 2001 | 1,321 | Resale |
| 861 Piney Village Loop | $315,800 | $147 | 2018-09-12 | 2005 | 2,150 | Resale |
| 4837 Planters Ridge Drive | $237,500 | $150 | 2018-08-20 | 2003 | 1,587 | Resale |
| 1004 Piney Z Plantation Road | $210,000 | $126 | 2018-08-16 | 2003 | 1,671 | Resale |
| 1046 High Meadow Drive | $215,000 | $140 | 2018-08-15 | 2002 | 1,531 | Resale |
| 4767 Planters Ridge Dr | $225,000 | $131 | 2018-08-15 | 2001 | 1,718 | Resale |
| 1079 Parkview Drive | $236,000 | $147 | 2018-08-14 | 2002 | 1,608 | Resale |
| 961 Park View Drive | $299,900 | $139 | 2018-08-10 | 2000 | 2,154 | Resale |
| 917 Parkview Drive | $276,000 | $138 | 2018-07-31 | 2003 | 1,997 | Resale |
| 804 Eagle View Dr | $221,000 | $104 | 2018-07-31 | 2002 | 2,110 | Resale |
| 1145 High Meadow Drive | $195,000 | $147 | 2018-07-30 | 2002 | 1,331 | Resale |
| 972 Watersview Dr | $290,000 | $138 | 2018-07-25 | 2001 | 2,097 | Resale |
| 613 Eagle View Circle | $280,000 | $141 | 2018-07-19 | 2004 | 1,992 | Resale |
| 830 Piney Village | $369,900 | $181 | 2018-07-09 | 2018 | 2,043 | New |
| 1116 Winter Lane | $227,000 | $134 | 2018-07-06 | 2003 | 1,699 | Resale |
| 1067 Park View Drive | $188,000 | $112 | 2018-07-06 | 2002 | 1,678 | Resale |
| 1024 Piney Z Plantation Road | $190,000 | $133 | 2018-07-06 | 2002 | 1,426 | Resale |
| 4710 Planters Ridge Drive | $223,000 | $145 | 2018-07-03 | 2002 | 1,539 | Resale |
| 4721 Plantation View Dr | $305,000 | $121 | 2018-06-29 | 2002 | 2,529 | Resale |
| 912 Parkview | $335,000 | $122 | 2018-06-29 | 2002 | 2,752 | Resale |
| 1007 Kingdom Drive | $185,297 | $142 | 2018-06-28 | 2001 | 1,306 | Resale |
| 1165 Winter Lane | $215,000 | $152 | 2018-06-27 | 2002 | 1,411 | Resale |
| 4690 Heritage Park Boulevard | $315,000 | $179 | 2018-06-26 | 2018 | 1,757 | New |
| 1069 Winter Lane | $210,000 | $130 | 2018-06-26 | 2001 | 1,619 | Resale |
| 1069 Kingdom Drive | $174,500 | $118 | 2018-06-21 | 2001 | 1,481 | Resale |
| 1208 Landings Loop | $170,000 | $131 | 2018-06-15 | 2001 | 1,300 | Resale |
| 4898 Planters Ridge Drive | $248,000 | $146 | 2018-06-15 | 1999 | 1,699 | Resale |
| 1002 Kingdom Dr | $205,000 | $141 | 2018-06-14 | 2001 | 1,453 | Resale |
| 1155 Landings Loop | $199,900 | $134 | 2018-06-07 | 2001 | 1,495 | Resale |
| 4720 Plantation View Drive | $310,000 | $133 | 2018-06-02 | 2006 | 2,333 | Resale |
| 1157 High Meadow | $250,000 | $124 | 2018-05-30 | 2002 | 2,020 | Resale |
| 673 Eagle View Circle | $262,500 | $145 | 2018-05-25 | 2003 | 1,812 | Resale |
| 1031 Landings Loop | $190,000 | $137 | 2018-05-16 | 2001 | 1,385 | Resale |
| 1025 Parkview Drive | $260,000 | $140 | 2018-04-26 | 2000 | 1,851 | Resale |
| 1051 Kingdom Drive | $200,000 | $117 | 2018-04-24 | 2001 | 1,710 | Resale |
| 1017 Landings Loop | $192,000 | $133 | 2018-04-20 | 2001 | 1,447 | Resale |
| 1121 High Meadow Drive | $208,000 | $143 | 2018-04-11 | 2003 | 1,455 | Resale |
| 984 Park View Dr | $322,000 | $151 | 2018-04-09 | 2001 | 2,119 | Resale |
| 863 Eagle View Drive | $297,500 | $124 | 2018-04-04 | 2002 | 2,394 | Resale |
| 1196 Landings Loop | $202,500 | $137 | 2018-03-30 | 2002 | 1,476 | Resale |
| 4717 Plantation View Drive | $310,000 | $136 | 2018-03-23 | 2002 | 2,278 | Resale |
| 4660 Fledgling Drive | $346,000 | $131 | 2018-03-23 | 2004 | 2,637 | Resale |
| 4860 Lake Park Dr | $172,000 | $95 | 2018-03-15 | 2001 | 1,796 | Resale |
| 731 Eagle View Circle | $310,000 | $144 | 2018-03-15 | 2005 | 2,150 | Resale |
| 1045 High Meadow Drive | $180,000 | $120 | 2018-03-12 | 2002 | 1,505 | Resale |
| 1161 Winter Lane | $199,000 | $135 | 2018-03-09 | 2003 | 1,469 | Resale |
| 1129 High Meadow Drive | $190,000 | $112 | 2018-03-03 | 2002 | 1,702 | Resale |
| 929 Parkview Drive | $288,000 | $141 | 2018-02-23 | 2002 | 2,048 | Resale |
| 1051 Park View | $226,500 | $141 | 2018-02-21 | 1999 | 1,611 | Resale |
| 925 Piney Z Plantation Road | $315,000 | $151 | 2018-02-16 | 2000 | 2,084 | Resale |
| 4915 Planters Ridge Drive | $235,000 | $134 | 2018-01-31 | 1999 | 1,755 | Resale |
| 1001 Kingdom Drive | $180,000 | $138 | 2018-01-31 | 2001 | 1,309 | Resale |
| 1046 High Meadow Drive | $207,500 | $136 | 2018-01-30 | 2002 | 1,531 | Resale |
| 701 Eagle View Circle | $313,000 | $144 | 2018-01-26 | 2002 | 2,181 | Resale |
| 1056 Kingdom Dr | $172,000 | $107 | 2018-01-23 | 2001 | 1,606 | Resale |
| 1066 High Meadow Lane | $215,000 | $135 | 2017-12-20 | 2003 | 1,588 | Resale |
| 1016 Kingdom Dr | $183,000 | $124 | 2017-12-19 | 2001 | 1,479 | Resale |
| 1065 Landings Loop | $180,000 | $131 | 2017-11-30 | 2001 | 1,375 | Resale |
| 1028 Piney Z Plantation Road | $186,500 | $131 | 2017-11-28 | 2002 | 1,426 | Resale |
| 4727 Planters Ridge Drive | $211,000 | $128 | 2017-11-13 | 2001 | 1,645 | Resale |
| 1056 Piney Z Plantation Road | $187,000 | $127 | 2017-11-10 | 1999 | 1,478 | Resale |
| 4650 Soaring Way | $302,500 | $119 | 2017-10-27 | 2003 | 2,547 | Resale |
| 1002 Kingdom Drive | $180,000 | $111 | 2017-08-04 | 2001 | 1,623 | Resale |
| 1067 Kingdom Drive | $185,000 | $125 | 2017-08-02 | 2001 | 1,479 | Resale |
| 624 Eagle View Circle | $300,000 | $133 | 2017-07-31 | 2003 | 2,260 | Resale |
| 1072 Piney Z Plantation Road | $212,000 | $132 | 2017-07-26 | 2001 | 1,604 | Resale |
| 1039 Landings Loop | $180,000 | $131 | 2017-07-26 | 2001 | 1,374 | Resale |
| 1213 Landings Loop | $195,500 | $134 | 2017-07-26 | 2002 | 1,461 | Resale |
| 1172 Landings Loop | $190,000 | $129 | 2017-07-25 | 2002 | 1,476 | Resale |
| 4912 Park View Ct | $200,000 | $134 | 2017-07-25 | 1999 | 1,498 | Resale |
| 999 Parkview Drive | $327,500 | $142 | 2017-07-19 | 2005 | 2,314 | Resale |
| 1073 High Meadow Drive | $210,000 | $136 | 2017-07-17 | 2002 | 1,547 | Resale |
| 4890 Planters Ridge Dr | $205,000 | $119 | 2017-07-12 | 2000 | 1,729 | Resale |
| 641 Eagle View Cir | $323,900 | $136 | 2017-07-06 | 2003 | 2,387 | Resale |
| 1023 Winter Lane | $235,000 | $114 | 2017-06-30 | 2000 | 2,066 | Resale |
| 1107 Winter Lane | $220,000 | $132 | 2017-06-28 | 2003 | 1,673 | Resale |
| 4905 Park View Court | $236,000 | $137 | 2017-06-28 | 2001 | 1,729 | Resale |
| 1040 Kingdom Drive | $165,000 | $111 | 2017-06-23 | 2001 | 1,488 | Resale |
| 1157 Winter Lane | $195,000 | $130 | 2017-06-15 | 2003 | 1,500 | Resale |
| 742 Eagle View Drive | $340,000 | $135 | 2017-06-12 | 2002 | 2,516 | Resale |
| 4590 Heritage Park Blvd | $262,000 | $132 | 2017-06-07 | 2008 | 1,980 | Resale |
| 719 Eagle View Circle | $307,500 | $148 | 2017-06-05 | 2004 | 2,071 | Resale |
| 4845 Lake Park Dr | $215,000 | $113 | 2017-05-31 | 2001 | 1,911 | Resale |
| 4862 Heritage Park Blvd | $218,000 | $135 | 2017-05-22 | 2001 | 1,619 | Resale |
| 860 Eagle View Drive | $269,000 | $136 | 2017-05-17 | 2003 | 1,982 | Resale |
| 993 Park View Drive | $320,000 | $146 | 2017-05-15 | 2005 | 2,185 | Resale |
| 1026 High Meadow Drive | $199,900 | $127 | 2017-04-28 | 2002 | 1,576 | Resale |
| 1017 Piney Z Plantation Road | $187,400 | $127 | 2017-04-28 | 2002 | 1,476 | Resale |
| 1068 Landings Loop | $181,500 | $120 | 2017-04-19 | 2001 | 1,514 | Resale |
| 4726 Planters Ridge Drive | $211,000 | $123 | 2017-04-17 | 2003 | 1,711 | Resale |
| 4706 Planters Ridge Drive | $178,000 | $129 | 2017-04-14 | 2002 | 1,375 | Resale |
| 1048 Winter Lane | $205,000 | $121 | 2017-04-05 | 2002 | 1,701 | Resale |
| 1072 Landings Loop | $175,000 | $118 | 2017-04-05 | 2001 | 1,483 | Resale |
| 845 Piney Village Loop | $269,900 | $120 | 2017-03-31 | 2005 | 2,246 | Resale |
| 777 Eagle View Drive | $350,000 | $122 | 2017-03-31 | 2004 | 2,864 | Resale |
| 1174 High Meadow Dr | $200,000 | $129 | 2017-03-27 | 1999 | 1,550 | Resale |
| 1076 Landings Loop | $179,900 | $121 | 2017-03-22 | 2001 | 1,483 | Resale |
| 1124 Winter Lane | $218,000 | $121 | 2017-03-14 | 2005 | 1,800 | Resale |
| 1039 Winter Lane | $189,900 | $127 | 2017-03-01 | 2001 | 1,492 | Resale |
| 1099 Winter Lane | $140,000 | $94 | 2017-02-28 | 2002 | 1,483 | Resale |
| 840 Eagle View Drive | $309,800 | $124 | 2017-02-28 | 2004 | 2,495 | Resale |
| 1088 Landings Loop | $187,000 | $118 | 2017-02-22 | 2001 | 1,582 | Resale |
| 4862 Planters Ridge Drive | $187,000 | $129 | 2017-02-22 | 2004 | 1,451 | Resale |
| 1037 Piney Z Plantation Road | $186,000 | $127 | 2017-02-10 | 2001 | 1,460 | Resale |
| 934 Piney Z Plantation Road | $340,000 | $118 | 2017-02-10 | 2006 | 2,878 | Resale |
| 1052 Winters Lane | $172,000 | $125 | 2017-01-27 | 2003 | 1,375 | Resale |
| 1048 Piney Z Plantation Rd | $180,000 | $130 | 2017-01-20 | 1999 | 1,383 | Resale |
| 967 Park View Drive | $284,000 | $137 | 2016-12-30 | 2002 | 2,079 | Resale |
| 1162 Landings Loop | $135,000 | $91 | 2016-12-20 | 2002 | 1,478 | Resale |
| 1030 Park View Drive | $240,000 | $124 | 2016-12-16 | 2003 | 1,936 | Resale |
| 1021 Park View Dr | $220,000 | $127 | 2016-12-09 | 1999 | 1,728 | Resale |
| 1021 Parkview Dr | $220,000 | $127 | 2016-12-09 | 1999 | 1,728 | Resale |
| 874 Piney Village Loop | $310,000 | $125 | 2016-12-09 | 2008 | 2,479 | Resale |
| 1148 Winter Lane | $194,500 | $131 | 2016-12-07 | 2002 | 1,483 | Resale |
| 1085 Piney Z Plantation Road | $157,000 | $109 | 2016-11-30 | 2002 | 1,444 | Resale |
| 1032 Kingdom Drive | $175,000 | $118 | 2016-11-29 | 2001 | 1,479 | Resale |
| 1065 Landings Loop | $155,000 | $113 | 2016-11-28 | 2001 | 1,375 | Resale |
| 1121 High Meadow Drive | $180,000 | $124 | 2016-11-04 | 2003 | 1,455 | Resale |
| 1036 Piney Z Plantation Road | $178,000 | $128 | 2016-10-30 | 2002 | 1,395 | Resale |
| 1019 Kingdom Drive | $169,000 | $128 | 2016-10-28 | 2001 | 1,321 | Resale |
| 1073 Sw Piney Z Plantation Road | $182,500 | $129 | 2016-10-28 | 2000 | 1,419 | Resale |
| 1036 Kingdom Drive | $183,000 | $126 | 2016-10-27 | 2001 | 1,448 | Resale |
| 1142 High Meadow Drive | $184,900 | $129 | 2016-10-27 | 2001 | 1,437 | Resale |
| 867 Eagle View | $299,000 | $133 | 2016-10-25 | 2002 | 2,242 | Resale |
| 1165 High Meadow Drive | $209,000 | $124 | 2016-10-19 | 2002 | 1,692 | Resale |
| 1073 Piney Z Plantation Rd | $182,500 | $129 | 2016-10-18 | 2000 | 1,419 | Resale |
| 1084 Landings Loop | $173,000 | $118 | 2016-10-17 | 2001 | 1,471 | Resale |
| 1068 Winter Lane | $179,900 | $122 | 2016-10-14 | 2005 | 1,471 | Resale |
| 1068 Winter Ln | $179,900 | $122 | 2016-10-14 | 2004 | 1,471 | Resale |
| 4754 Planters Ridge Drive | $200,000 | $117 | 2016-09-30 | 2003 | 1,716 | Resale |
| 4902 Heritage Park Blvd | $185,000 | $103 | 2016-09-16 | 2000 | 1,790 | Resale |
| 829 Piney Village Loop | $300,000 | $137 | 2016-08-29 | 2003 | 2,185 | Resale |
| 1062 High Meadow | $217,000 | $123 | 2016-08-26 | 2003 | 1,768 | Resale |
| 4905 Lake Park Drive | $236,000 | $121 | 2016-08-19 | 2003 | 1,947 | Resale |
| 817 Eagle View Dr | $285,000 | $134 | 2016-08-16 | 2003 | 2,124 | Resale |
| 4902 Heritage Park Blvd | $185,000 | $103 | 2016-08-11 | 2000 | 1,790 | Resale |
| 915 Park View Dr | $246,000 | $120 | 2016-08-05 | 2001 | 2,045 | Resale |
| 915 Parkview Drive | $264,000 | $129 | 2016-08-05 | 2001 | 2,045 | Resale |
| 848 Eagle View Drive | $276,000 | $105 | 2016-08-03 | 2003 | 2,632 | Resale |
| 1012 Kingdom Drive | $184,900 | $125 | 2016-07-29 | 2001 | 1,479 | Resale |
| 1202 Landings Loop | $169,000 | $123 | 2016-07-29 | 2001 | 1,370 | Resale |
| 833 Piney Village Loop | $227,000 | $128 | 2016-07-27 | 2004 | 1,769 | Resale |
| 1142 Landings Loop | $177,900 | $120 | 2016-07-22 | 2002 | 1,482 | Resale |
| 4851 Heritage Park Boulevard | $213,000 | $127 | 2016-07-20 | 2002 | 1,683 | Resale |
| 1044 Kingdom Dr | $159,000 | $107 | 2016-07-18 | 2001 | 1,488 | Resale |
| 730 Eagle View Cir | $270,000 | $128 | 2016-06-30 | 2003 | 2,109 | Resale |
| 762 Eagle View Dr | $377,000 | $159 | 2016-06-23 | 2004 | 2,364 | Resale |
| 4663 Fledgling Drive | $385,000 | $123 | 2016-06-23 | 2004 | 3,127 | Resale |
| 686 Eagle View Circle | $280,000 | $123 | 2016-06-20 | 2005 | 2,285 | Resale |
| 887 Eagle View Drive | $295,000 | $127 | 2016-06-13 | 2001 | 2,321 | Resale |
| 4882 Heritage Park Blvd | $215,500 | $126 | 2016-05-26 | 2002 | 1,716 | Resale |
| 1060 Winter Lane | $166,000 | $114 | 2016-05-26 | 2003 | 1,460 | Resale |
| 1063 Parkview Drive | $216,000 | $121 | 2016-05-09 | 2002 | 1,782 | Resale |
| 4746 Planters Ridge | $189,000 | $121 | 2016-05-06 | 2002 | 1,560 | Resale |
| 1064 Kingdom Drive | $180,000 | $110 | 2016-04-29 | 2001 | 1,642 | Resale |
| 4724 Plantation View | $271,000 | $118 | 2016-04-26 | 2006 | 2,304 | Resale |
| 773 Eagle View Drive | $290,000 | $133 | 2016-04-22 | 2004 | 2,185 | Resale |
| 1008 Kingdom Drive | $175,000 | $114 | 2016-04-12 | 2001 | 1,535 | Resale |
| 907 Park View Dr | $282,900 | $125 | 2016-04-06 | 2003 | 2,268 | Resale |
| 1142 Landings Loop | $122,600 | $83 | 2016-04-04 | 2002 | 1,482 | Resale |
| 1105 High Meadow Drive | $169,900 | $109 | 2016-03-29 | 2004 | 1,562 | Resale |
| 910 Park View Drive | $287,000 | $107 | 2016-03-17 | 2003 | 2,684 | Resale |
| 608 Eagle View Cir | $229,154 | $102 | 2016-03-08 | 2004 | 2,244 | Resale |
| 4899 Heritage Park Boulevard | $208,000 | $116 | 2016-03-08 | 2002 | 1,794 | Resale |
| 1056 Winter | $221,000 | $117 | 2016-03-08 | 2004 | 1,881 | Resale |
| 4657 Soaring Wy | $270,100 | $110 | 2016-02-29 | 2005 | 2,454 | Resale |
| 4755 Planters Ridge Drive | $175,250 | $114 | 2016-02-19 | 2004 | 1,543 | Resale |
| 1141 High Meadow Dr | $151,500 | $95 | 2016-01-31 | 2002 | 1,586 | Resale |
| 1014 High Meadow Dr | $217,000 | $121 | 2016-01-27 | 2002 | 1,791 | Resale |
| 4889 Lake Park Drive | $195,000 | $117 | 2016-01-08 | 2001 | 1,665 | Resale |
| 4922 Heritage Park Boulevard | $204,500 | $119 | 2015-12-18 | 2003 | 1,716 | Resale |
| 1042 High Meadow Drive | $175,000 | $120 | 2015-12-17 | 2002 | 1,461 | Resale |
| 1116 Winter Lane | $202,000 | $119 | 2015-12-11 | 2003 | 1,699 | Resale |
| 1049 Landings Loop | $163,000 | $102 | 2015-11-19 | 2001 | 1,599 | Resale |
| 1224 Landings Loop | $170,000 | $126 | 2015-11-13 | 2001 | 1,352 | Resale |
| 792 Eagle View Drive | $268,000 | $116 | 2015-11-10 | 2002 | 2,320 | Resale |
| 853 Piney Village Loop | $276,000 | $127 | 2015-10-27 | 2005 | 2,180 | Resale |
| 4901 Lake Park Dr | $223,500 | $121 | 2015-10-16 | 2002 | 1,852 | Resale |
| 4926 Heritage Park Boulevard | $191,000 | $117 | 2015-10-08 | 2003 | 1,626 | Resale |
| 1063 Park View Drive | $135,100 | $76 | 2015-10-08 | 2002 | 1,782 | Resale |
| 1133 High Meadow Drive | $215,000 | $111 | 2015-10-07 | 2001 | 1,930 | Resale |
| 1122 High Meadow Drive | $186,000 | $113 | 2015-09-30 | 2002 | 1,645 | Resale |
| 1001 Piney Z Plantation Road | $200,000 | $124 | 2015-08-31 | 2000 | 1,614 | Resale |
| 1016 Kingdom Drive | $160,000 | $108 | 2015-08-28 | 2001 | 1,479 | Resale |
| 745 Eagle View Drive | $265,000 | $123 | 2015-08-25 | 2004 | 2,156 | Resale |
| 4917 Park View Court | $190,000 | $111 | 2015-08-21 | 2000 | 1,716 | Resale |
| 1175 Landings Loop | $172,500 | $117 | 2015-08-17 | 2002 | 1,476 | Resale |
| 4847 Heritage Park Blvd | $190,000 | $117 | 2015-07-31 | 2002 | 1,630 | Resale |
| 4931 Heritage Park Blvd | $190,000 | $117 | 2015-07-31 | 2003 | 1,624 | Resale |
| 4664 Fledgling Drive | $305,000 | $121 | 2015-07-15 | 2002 | 2,512 | Resale |
| 1106 High Meadow Dr | $168,900 | $122 | 2015-07-10 | 2004 | 1,379 | Resale |
| 4915 Planters Ridge Drive | $205,000 | $117 | 2015-07-02 | 1999 | 1,755 | Resale |
| 4731 Planters Ridge Drive | $192,000 | $112 | 2015-06-30 | 2004 | 1,709 | Resale |
| 4590 Heritage Park Boulevard | $260,000 | $131 | 2015-06-24 | 2009 | 1,980 | Resale |
| 1008 Piney Z Plantation Rd | $194,000 | $100 | 2015-06-19 | 2003 | 1,936 | Resale |
| 1043 Kingdom Drive | $165,000 | $112 | 2015-06-16 | 2001 | 1,479 | Resale |
| 912 Park View Drive | $259,900 | $94 | 2015-06-16 | 2002 | 2,752 | Resale |
| 1136 Landings Loop | $155,000 | $105 | 2015-06-15 | 2001 | 1,479 | Resale |
| 1140 Landings Loop | $155,000 | $105 | 2015-06-15 | 2001 | 1,479 | Resale |
| 4904 Park View Court | $175,000 | $129 | 2015-06-10 | 1999 | 1,360 | Resale |
| 4870 Heritage Park Blvd | $68,800 | $41 | 2015-06-09 | 2002 | 1,659 | Resale |
| 4927 Heritage Park Blvd | $190,000 | $117 | 2015-06-05 | 2003 | 1,624 | Resale |
| 1012 Kingdom Drive | $155,000 | $105 | 2015-05-29 | 2001 | 1,479 | Resale |
| 1072 Piney Z Plantation Rd | $186,100 | $116 | 2015-05-22 | 2001 | 1,604 | Resale |
| 1004 Piney Z Plantation Rd | $205,000 | $123 | 2015-05-20 | 2003 | 1,671 | Resale |
| 4882 Planters Ridge Dr | $201,000 | $110 | 2015-05-15 | 2002 | 1,830 | Resale |
| 4905 Park View Ct | $199,900 | $116 | 2015-05-15 | 2001 | 1,729 | Resale |
| 1102 High Meadow Dr | $160,000 | $108 | 2015-05-12 | 2004 | 1,483 | Resale |
| 4877 Lake Park Dr | $309,900 | $136 | 2015-05-08 | 2003 | 2,287 | Resale |
| 4759 Planters Ridge Dr | $188,000 | $120 | 2015-05-04 | 2004 | 1,561 | Resale |
| 995 Park View Dr | $265,000 | $123 | 2015-04-20 | 2005 | 2,153 | Resale |
| 1093 Piney Z Plantation Rd | $185,000 | $110 | 2015-04-02 | 2001 | 1,677 | Resale |
| 1080 Piney Z Plantation Rd | $200,000 | $111 | 2015-03-30 | 2001 | 1,808 | Resale |
| 1078 High Meadow Dr | $190,000 | $140 | 2015-03-30 | 2003 | 1,357 | Resale |
| 1017 Park View Dr | $204,500 | $123 | 2015-03-27 | 1999 | 1,662 | Resale |
| 769 Eagle View Dr | $253,000 | $118 | 2015-03-11 | 2004 | 2,142 | Resale |
| 701 Eagle View Cir | $265,000 | $137 | 2015-03-10 | 2002 | 1,940 | Resale |
| 4778 Planters Ridge Dr | $187,500 | $116 | 2015-03-04 | 2002 | 1,615 | Resale |
| 780 Eagle View Dr | $249,900 | $126 | 2015-02-24 | 2003 | 1,976 | Resale |
| 4915 Heritage Park Blvd | $180,000 | $106 | 2015-02-06 | 2003 | 1,701 | Resale |
| 1029 High Meadow Dr | $149,900 | $104 | 2015-02-06 | 2003 | 1,437 | Resale |
| 939 Park View Dr | $283,500 | $118 | 2014-12-23 | 2002 | 2,412 | Resale |
| 4895 Heritage Park Blvd | $170,000 | $108 | 2014-12-19 | 2003 | 1,568 | Resale |
| 1025 Park View Dr | $215,000 | $117 | 2014-12-18 | 2000 | 1,830 | Resale |
| 1073 Piney Z Plantation Rd | $167,000 | $118 | 2014-12-18 | 2000 | 1,419 | Resale |
| 1069 Piney Z Plantation Rd | $190,000 | $111 | 2014-12-18 | 2001 | 1,716 | Resale |
| 1059 Park View Dr | $210,000 | $112 | 2014-12-01 | 2005 | 1,870 | Resale |
| 797 Eagle View Dr | $290,000 | $112 | 2014-11-03 | 2003 | 2,584 | Resale |
| 1021 Landings Loop | $158,000 | $102 | 2014-10-29 | 2001 | 1,551 | Resale |
| 1126 High Meadow Dr | $173,000 | $122 | 2014-10-28 | 2003 | 1,418 | Resale |
| 4866 Planters Ridge Dr | $185,000 | $121 | 2014-10-08 | 2002 | 1,530 | Resale |
| 1077 Piney Z Plantation Rd | $163,200 | $109 | 2014-10-03 | 2002 | 1,492 | Resale |
| 1061 High Meadow Dr | $185,000 | $115 | 2014-10-02 | 2003 | 1,604 | Resale |
| 1001 High Meadow Dr | $187,000 | $114 | 2014-09-30 | 1999 | 1,644 | Resale |
| 4926 Heritage Park Blvd | $192,500 | $118 | 2014-09-19 | 2003 | 1,626 | Resale |
| 4767 Planters Ridge Dr | $192,000 | $112 | 2014-09-11 | 2001 | 1,718 | Resale |
| 1157 Winter Ln | $185,000 | $123 | 2014-09-11 | 2003 | 1,500 | Resale |
| 900 Park View Dr | $243,000 | $124 | 2014-08-26 | 2002 | 1,962 | Resale |
| 1001 Landings Loop | $160,300 | $108 | 2014-08-25 | 2001 | 1,479 | Resale |
| 953 Park View Dr | $255,000 | $127 | 2014-08-21 | 2001 | 2,013 | Resale |
| 677 Eagle View Cir | $143,000 | $81 | 2014-08-08 | 2003 | 1,760 | Resale |
| 629 Eagle View Cir | $270,000 | $110 | 2014-07-31 | 2003 | 2,454 | Resale |
| 1212 Landings Loop | $158,000 | $111 | 2014-07-25 | 2001 | 1,428 | Resale |
| 4875 Heritage Park Blvd | $188,000 | $112 | 2014-07-24 | 2004 | 1,676 | Resale |
| 661 Eagle View Cir | $243,000 | $124 | 2014-06-30 | 2002 | 1,961 | Resale |
| 4735 Planters Ridge Dr | $185,000 | $110 | 2014-06-25 | 2003 | 1,682 | Resale |
| 4716 Plantation View Dr | $295,000 | $125 | 2014-06-24 | 2006 | 2,351 | Resale |
| 868 Eagle View Dr | $285,000 | $118 | 2014-06-16 | 2008 | 2,406 | Resale |
| 633 Eagle View Cir | $260,000 | $116 | 2014-06-06 | 2004 | 2,236 | Resale |
| 1021 Piney Z Plantation Rd | $171,000 | $118 | 2014-06-02 | 2001 | 1,448 | Resale |
| 4660 Fledgling Dr | $305,000 | $116 | 2014-05-23 | 2004 | 2,637 | Resale |
| 4855 Heritage Park Blvd | $199,900 | $123 | 2014-05-23 | 2002 | 1,630 | Resale |
| 1192 Landings Loop | $155,000 | $106 | 2014-05-23 | 2002 | 1,461 | Resale |
| 1020 Landings Loop | $155,000 | $101 | 2014-05-14 | 2001 | 1,535 | Resale |
| 1091 Piney Z Plantation Rd | $202,000 | $123 | 2014-05-09 | 2001 | 1,647 | Resale |
| 1024 Landings Loop | $158,000 | $108 | 2014-05-05 | 2001 | 1,468 | Resale |
| 1048 Kingdom Dr | $143,000 | $111 | 2014-05-02 | 2001 | 1,290 | Resale |
| 1199 Landings Loop | $156,500 | $107 | 2014-05-01 | 2001 | 1,461 | Resale |
| 1076 Piney Z Plantation Rd | $185,000 | $119 | 2014-04-21 | 2001 | 1,556 | Resale |
| 4878 Planters Ridge Dr | $151,000 | $98 | 2014-04-18 | 2002 | 1,533 | Resale |
| 1161 Winter Ln | $141,400 | $96 | 2014-04-14 | 2003 | 1,469 | Resale |
| 4883 Planters Ridge Dr | $204,500 | $115 | 2014-04-08 | 2000 | 1,775 | Resale |
| 4704 Planters Ridge Dr | $174,000 | $102 | 2014-03-14 | 2002 | 1,702 | Resale |
| 905 Piney Z Plantation Rd | $248,000 | $119 | 2014-02-25 | 2000 | 2,078 | Resale |
| 808 Eagle View Dr | $259,900 | $97 | 2014-02-13 | 2001 | 2,689 | Resale |
| 4905 Lake Park Dr | $211,000 | $126 | 2014-02-05 | 2003 | 1,672 | Resale |
| 1136 Winter Ln | $169,900 | $123 | 2014-02-01 | 2002 | 1,378 | Resale |
| 632 Eagle View Cir | $221,500 | $111 | 2014-01-24 | 2003 | 1,989 | Resale |
| 825 Eagle View Dr | $259,000 | $111 | 2014-01-10 | 2005 | 2,338 | Resale |
| 1065 Landings Loop | $155,000 | $113 | 2013-12-20 | 2001 | 1,375 | Resale |
| 1049 High Meadow Dr | $160,000 | $108 | 2013-12-11 | 2003 | 1,476 | Resale |
| 1153 Winter Ln | $158,000 | $118 | 2013-12-10 | 2002 | 1,342 | Resale |
| 1055 Kingdom Dr | $154,900 | $106 | 2013-12-03 | 2001 | 1,461 | Resale |
| 860 Eagle View Dr | $225,000 | $114 | 2013-11-21 | 2003 | 1,982 | Resale |
| 4721 Plantation View Dr | $242,500 | $96 | 2013-11-08 | 2002 | 2,529 | Resale |
| 789 Eagle View Dr | $265,000 | $113 | 2013-11-01 | 2003 | 2,345 | Resale |
| 4893 Lake Park Dr | $222,000 | $124 | 2013-11-01 | 2002 | 1,794 | Resale |
| 1156 Winter Ln | $187,000 | $124 | 2013-10-16 | 2001 | 1,508 | Resale |
| 1046 Piney Z Plantation Rd | $141,000 | $104 | 2013-10-07 | 2002 | 1,355 | Resale |
| 1049 Landings Loop | $162,500 | $102 | 2013-10-01 | 2001 | 1,599 | Resale |
| 1040 Kingdom Dr | $155,000 | $104 | 2013-09-30 | 2001 | 1,488 | Resale |
| 852 Eagle View Dr | $267,000 | $109 | 2013-09-26 | 2001 | 2,458 | Resale |
| 1173 Winter Ln | $200,000 | $125 | 2013-09-19 | 2001 | 1,605 | Resale |
| 867 Piney Village Loop | $265,000 | $120 | 2013-09-17 | 2004 | 2,207 | Resale |
| 624 Eagle View Cir | $265,000 | $117 | 2013-08-29 | 2003 | 2,260 | Resale |
| 4931 Heritage Park Blvd | $198,000 | $122 | 2013-08-23 | 2003 | 1,624 | Resale |
| 984 Watersview Dr | $240,000 | $86 | 2013-08-16 | 2001 | 2,799 | Resale |
| 709 Eagle View Cir | $310,000 | $120 | 2013-08-15 | 2004 | 2,592 | Resale |
| 4859 Heritage Park Blvd | $204,900 | $128 | 2013-08-08 | 2002 | 1,601 | Resale |
| 820 Eagle View Dr | $280,000 | $123 | 2013-07-31 | 2004 | 2,276 | Resale |
| 1145 Winter Ln | $185,500 | $127 | 2013-07-24 | 2003 | 1,462 | Resale |
| 1015 Landings Loop | $159,000 | $110 | 2013-07-16 | 2001 | 1,447 | Resale |
| 1051 Park View Dr | $186,000 | $115 | 2013-07-12 | 1999 | 1,611 | Resale |
| 4861 Lake Park Dr | $170,000 | $112 | 2013-07-08 | 2004 | 1,524 | Resale |
| 1002 High Meadow Dr | $189,000 | $118 | 2013-07-01 | 2002 | 1,597 | Resale |
| 883 Eagle View Dr | $225,000 | $106 | 2013-06-28 | 2004 | 2,113 | Resale |
| 964 Park View Dr | $219,000 | $110 | 2013-06-25 | 2001 | 1,983 | Resale |
| 1096 Landings Loop | $156,000 | $109 | 2013-06-20 | 2001 | 1,426 | Resale |
| 937 Piney Z Plantation Rd | $200,000 | $85 | 2013-06-12 | 2000 | 2,347 | Resale |
| 4883 Heritage Park Blvd | $188,000 | $115 | 2013-05-30 | 2002 | 1,637 | Resale |
| 1013 Piney Z Plantation Rd | $177,000 | $118 | 2013-05-24 | 2001 | 1,496 | Resale |
| 730 Eagle View Cir | $240,000 | $114 | 2013-05-17 | 2003 | 2,109 | Resale |
| 713 Eagle View Cir | $280,000 | $122 | 2013-05-15 | 2003 | 2,292 | Resale |
| 961 Park View Dr | $242,000 | $112 | 2013-05-15 | 2000 | 2,154 | Resale |
| 1039 Park View Dr | $210,800 | $124 | 2013-05-15 | 2003 | 1,703 | Resale |
| 4862 Planters Ridge Dr | $175,000 | $121 | 2013-05-15 | 2004 | 1,451 | Resale |
| 793 Eagle View Dr | $211,000 | $104 | 2013-05-10 | 2003 | 2,038 | Resale |
| 712 Eagle View Cir | $250,000 | $109 | 2013-05-10 | 2004 | 2,293 | Resale |
| 964 Park View Dr | $219,000 | $110 | 2013-05-03 | 2001 | 1,983 | Resale |
| 4720 Plantation View Dr | $281,000 | $120 | 2013-05-03 | 2006 | 2,333 | Resale |
| 1037 High Meadow Dr | $192,500 | $131 | 2013-04-04 | 2003 | 1,468 | Resale |
| 1060 Kingdom Dr | $163,000 | $101 | 2013-03-29 | 2001 | 1,606 | Resale |
| 849 Piney Village Loop | $234,500 | $104 | 2013-03-29 | 2005 | 2,245 | Resale |
| 1000 Piney Z Plantation Rd | $180,000 | $124 | 2013-03-28 | 2000 | 1,446 | Resale |
| 1149 Winter Ln | $168,000 | $120 | 2013-03-11 | 2004 | 1,399 | Resale |
| 4893 Lake Park Dr | $217,000 | $121 | 2013-03-04 | 2002 | 1,794 | Resale |
| 731 Eagle View Cir | $270,000 | $126 | 2013-02-22 | 2005 | 2,150 | Resale |
| 1092 Winter Ln | $195,000 | $119 | 2013-02-15 | 2002 | 1,640 | Resale |
| 1137 Winter Ln | $166,700 | $107 | 2013-02-08 | 2000 | 1,555 | Resale |
| 906 Park View Dr | $270,000 | $106 | 2013-01-28 | 2003 | 2,554 | Resale |
| 845 Piney Village Loop | $245,000 | $112 | 2013-01-23 | 2005 | 2,188 | Resale |
| 825 Piney Village Loop | $240,000 | $119 | 2013-01-23 | 2004 | 2,025 | Resale |
| 921 Piney Z Plantation Rd | $327,500 | $119 | 2013-01-18 | 2001 | 2,763 | Resale |
| 4774 Planters Ridge Dr | $155,000 | $107 | 2013-01-15 | 2002 | 1,448 | Resale |
| 1047 Piney Z Plantation Rd | $175,000 | $102 | 2013-01-04 | 1999 | 1,716 | Resale |
| 4919 Planters Ridge Dr | $178,000 | $118 | 2012-12-27 | 2000 | 1,506 | Resale |
| 4657 Soaring Way | $222,500 | $91 | 2012-12-12 | 2005 | 2,454 | Resale |
| 868 Piney Village Loop | $309,000 | $132 | 2012-12-07 | 2007 | 2,341 | Resale |
| 4653 Nesting Trl | $275,000 | $109 | 2012-11-27 | 2004 | 2,516 | Resale |
| 874 Piney Village Loop | $294,000 | $122 | 2012-11-16 | 2008 | 2,404 | Resale |
| 904 Park View Dr | $235,000 | $94 | 2012-11-16 | 2001 | 2,488 | Resale |
| 1064 Kingdom Dr | $160,000 | $97 | 2012-11-06 | 2001 | 1,642 | Resale |
| 633 Eagle View Cir | $265,000 | $119 | 2012-10-23 | 2004 | 2,236 | Resale |
| 929 Park View Dr | $240,000 | $117 | 2012-10-16 | 2002 | 2,048 | Resale |
| 926 Piney Z Plantation Rd | $235,000 | $101 | 2012-09-28 | 2006 | 2,327 | Resale |
| 915 Park View Dr | $210,000 | $103 | 2012-09-28 | 2001 | 2,045 | Resale |
| 1021 Landings Loop | $156,000 | $101 | 2012-09-28 | 2001 | 1,551 | Resale |
| 900 Park View Dr | $228,000 | $116 | 2012-09-06 | 2002 | 1,962 | Resale |
| 1167 Landings Loop | $157,000 | $106 | 2012-08-31 | 2002 | 1,476 | Resale |
| 1120 Winter Ln | $175,000 | $97 | 2012-08-09 | 2005 | 1,795 | Resale |
| 1039 Landings Loop | $150,000 | $109 | 2012-08-09 | 2001 | 1,374 | Resale |
| 1132 Landings Loop | $165,000 | $109 | 2012-08-07 | 2002 | 1,514 | Resale |
| 1041 Piney Z Plantation Rd | $165,000 | $116 | 2012-08-03 | 2000 | 1,428 | Resale |
| 1001 High Meadow Dr | $180,000 | $109 | 2012-07-30 | 1999 | 1,644 | Resale |
| 1076 Kingdom Dr | $134,000 | $98 | 2012-07-06 | 2003 | 1,367 | Resale |
| 1209 Landings Loop | $147,000 | $101 | 2012-06-27 | 2002 | 1,461 | Resale |
| 4869 Planters Ridge Dr | $196,500 | $111 | 2012-06-27 | 2000 | 1,768 | Resale |
| 860 Eagle View Dr | $192,000 | $97 | 2012-06-22 | 2003 | 1,982 | Resale |
| 4778 Planters Ridge Dr | $148,500 | $92 | 2012-06-15 | 2002 | 1,615 | Resale |
| 1080 Piney Z Plantation Rd | $155,000 | $86 | 2012-06-13 | 2001 | 1,808 | Resale |
| 4774 Planters Ridge Dr | $98,300 | $68 | 2012-06-06 | 2002 | 1,448 | Resale |
| 1126 High Meadow Dr | $164,000 | $116 | 2012-06-04 | 2003 | 1,418 | Resale |
| 1161 High Meadow Dr | $170,000 | $108 | 2012-05-31 | 2002 | 1,569 | Resale |
| 4724 Plantation View Dr | $224,900 | $98 | 2012-05-26 | 2006 | 2,304 | Resale |
| 1165 High Meadow Dr | $174,000 | $103 | 2012-05-18 | 2002 | 1,692 | Resale |
| 861 Eagle View Dr | $250,000 | $94 | 2012-05-14 | 2008 | 2,657 | Resale |
| 637 Eagle View Cir | $330,000 | $125 | 2012-04-18 | 2004 | 2,637 | Resale |
| 4915 Heritage Park Blvd | $145,000 | $85 | 2012-04-16 | 2003 | 1,701 | Resale |
| 4901 Planters Ridge Dr | $175,000 | $110 | 2012-03-29 | 1999 | 1,584 | Resale |
| 689 Eagle View Cir | $249,900 | $106 | 2012-03-20 | 2003 | 2,367 | Resale |
| 4840 Lake Park Dr | $278,000 | $129 | 2012-01-31 | 2004 | 2,147 | Resale |
| 1020 Piney Z Plantation Rd | $175,500 | $108 | 2012-01-03 | 2002 | 1,621 | Resale |
| 1036 Park View Dr | $153,000 | $105 | 2011-12-29 | 2001 | 1,461 | Resale |
| 1059 Kingdom Dr | $155,000 | $106 | 2011-12-20 | 2001 | 1,461 | Resale |
| 4870 Heritage Park Blvd | $188,000 | $113 | 2011-12-19 | 2002 | 1,659 | Resale |
| 1134 High Meadow Dr | $175,000 | $109 | 2011-12-13 | 2003 | 1,602 | Resale |
| 1019 Kingdom Dr | $157,000 | $119 | 2011-11-22 | 2001 | 1,321 | Resale |
| 1137 High Meadow Dr | $170,000 | $110 | 2011-10-28 | 2002 | 1,552 | Resale |
| 751 Eagle View Dr | $263,000 | $102 | 2011-10-27 | 2004 | 2,575 | Resale |
| 861 Piney Village Loop | $245,000 | $114 | 2011-09-30 | 2005 | 2,150 | Resale |
| 979 Watersview Dr | $275,000 | $104 | 2011-09-28 | 2004 | 2,634 | Resale |
| 1187 Landings Loop | $177,400 | $121 | 2011-09-12 | 2001 | 1,461 | Resale |
| 844 Eagle View Dr | $215,000 | $125 | 2011-08-31 | 2004 | 1,723 | Resale |
| 1150 Landings Loop | $167,800 | $112 | 2011-08-02 | 2002 | 1,501 | Resale |
| 4779 Planters Ridge Dr | $185,000 | $123 | 2011-08-01 | 2000 | 1,510 | Resale |
| 825 Eagle View Dr | $250,000 | $107 | 2011-07-29 | 2005 | 2,338 | Resale |
| 856 Eagle View Dr | $245,500 | $118 | 2011-07-28 | 2001 | 2,084 | Resale |
| 1084 Landings Loop | $159,000 | $108 | 2011-07-22 | 2001 | 1,471 | Resale |
| 1001 Piney Z Plantation Rd | $185,000 | $116 | 2011-07-01 | 2000 | 1,589 | Resale |
| 1090 High Meadow Dr | $150,000 | $105 | 2011-06-15 | 2002 | 1,427 | Resale |
| 1068 Winter Ln | $182,500 | $124 | 2011-05-20 | 2004 | 1,471 | Resale |
| 761 Eagle View Dr | $262,500 | $117 | 2011-05-06 | 2005 | 2,245 | Resale |
| 1023 Kingdom Dr | $147,000 | $113 | 2011-04-28 | 2001 | 1,306 | Resale |
| 1069 Kingdom Dr | $162,000 | $109 | 2011-04-27 | 2001 | 1,481 | Resale |
| 1073 High Meadow Dr | $160,000 | $103 | 2011-04-19 | 2002 | 1,547 | Resale |
| 1172 Landings Loop | $176,700 | $120 | 2011-03-30 | 2002 | 1,476 | Resale |
| 1184 Landings Loop | $180,000 | $122 | 2011-03-16 | 2002 | 1,476 | Resale |
| 1113 High Meadow Dr | $196,000 | $124 | 2011-03-15 | 2003 | 1,575 | Resale |
| 4919 Heritage Park Blvd | $190,000 | $112 | 2011-03-12 | 2003 | 1,701 | Resale |
| 4718 Planters Ridge Dr | $165,000 | $99 | 2011-02-23 | 2004 | 1,669 | Resale |
| 1133 High Meadow Dr | $202,500 | $105 | 2011-01-31 | 2001 | 1,930 | Resale |
| 4741 Plantation View Dr | $240,000 | $111 | 2010-12-29 | 2002 | 2,169 | Resale |
| 4902 Planters Ridge Dr | $178,400 | $105 | 2010-12-14 | 2000 | 1,707 | Resale |
| 925 Piney Z Plantation Rd | $293,500 | $141 | 2010-12-13 | 2000 | 2,084 | Resale |
| 949 Park View Dr | $255,000 | $124 | 2010-11-23 | 2001 | 2,054 | Resale |
| 648 Eagle View Cir | $300,000 | $93 | 2010-11-15 | 2007 | 3,219 | Resale |
| 4580 Heritage Park Blvd | $249,000 | $125 | 2010-11-15 | 2008 | 1,998 | Resale |
| 801 Eagle View Dr | $260,000 | $100 | 2010-11-09 | 2003 | 2,603 | Resale |
| 939 Park View Dr | $275,800 | $114 | 2010-11-08 | 2002 | 2,412 | Resale |
| 1020 Landings Loop | $153,000 | $100 | 2010-10-28 | 2001 | 1,535 | Resale |
| 4860 Lake Park Dr | $245,000 | $136 | 2010-10-15 | 2001 | 1,796 | Resale |
| 1023 Kingdom Dr | $135,200 | $104 | 2010-10-08 | 2001 | 1,306 | Resale |
| 1055 Park View Dr | $213,500 | $124 | 2010-08-03 | 1999 | 1,723 | Resale |
| 1032 Kingdom Dr | $172,000 | $116 | 2010-07-30 | 2001 | 1,479 | Resale |
| 4725 Plantation View Dr | $231,000 | $127 | 2010-07-30 | 2002 | 1,812 | Resale |
| 959 Lone Feather Dr | $288,000 | $111 | 2010-07-30 | 2001 | 2,584 | Resale |
| 872 Piney Village Loop | $260,000 | $115 | 2010-07-29 | 2007 | 2,267 | Resale |
| 953 Park View Dr | $269,500 | $134 | 2010-07-17 | 2001 | 2,013 | Resale |
| 4702 Planters Ridge Dr | $190,000 | $120 | 2010-06-29 | 2010 | 1,580 | New |
| 921 Piney Z Plantation Rd | $355,500 | $129 | 2010-06-11 | 2001 | 2,763 | Resale |
| 1064 Kingdom Dr | $160,000 | $97 | 2010-06-02 | 2001 | 1,642 | Resale |
| 1075 Park View Dr | $230,300 | $133 | 2010-05-27 | 2002 | 1,737 | Resale |
| 4714 Planters Ridge Dr | $200,000 | $120 | 2010-05-24 | 2003 | 1,669 | Resale |
| 813 Eagle View Dr | $265,900 | $127 | 2010-05-14 | 2003 | 2,093 | Resale |
| 4704 Planters Ridge Dr | $165,000 | $118 | 2010-05-07 | 2002 | 1,393 | Resale |
| 1108 Landings Loop | $181,500 | $120 | 2010-04-29 | 2002 | 1,514 | Resale |
| 1060 Winter Ln | $201,000 | $138 | 2010-04-16 | 2003 | 1,460 | Resale |
| 1165 High Meadow Dr | $180,000 | $106 | 2010-04-02 | 2002 | 1,692 | Resale |
| 1041 Landings Loop | $170,000 | $125 | 2010-03-29 | 2001 | 1,358 | Resale |
| 1077 Piney Z Plantation Rd | $179,000 | $120 | 2010-03-24 | 2002 | 1,492 | Resale |
| 4889 Lake Park Dr | $195,000 | $118 | 2010-03-18 | 2001 | 1,646 | Resale |
| 1023 Landings Loop | $178,000 | $116 | 2010-03-16 | 2001 | 1,535 | Resale |
| 977 Watersview Dr | $215,000 | $109 | 2010-02-23 | 2003 | 1,973 | Resale |
| 628 Eagle View Cir | $267,000 | $127 | 2010-01-29 | 2002 | 2,108 | Resale |
| 4739 Planters Ridge Dr | $214,000 | $129 | 2009-12-29 | 2002 | 1,662 | Resale |
| 4874 Heritage Park Blvd | $178,000 | $115 | 2009-12-21 | 2002 | 1,552 | Resale |
| 907 Park View Dr | $280,000 | $123 | 2009-12-21 | 2003 | 2,268 | Resale |
| 625 Eagle View Cir | $295,000 | $120 | 2009-12-17 | 2002 | 2,468 | Resale |
| 1145 High Meadow Dr | $164,000 | $123 | 2009-12-11 | 2002 | 1,331 | Resale |
| 1003 Kingdom Dr | $160,000 | $121 | 2009-11-20 | 2001 | 1,321 | Resale |
| 1072 Winter Ln | $175,000 | $122 | 2009-11-20 | 2000 | 1,433 | Resale |
| 1022 High Meadow Dr | $212,000 | $111 | 2009-10-29 | 2003 | 1,908 | Resale |
| 1067 Kingdom Dr | $178,000 | $120 | 2009-10-21 | 2001 | 1,479 | Resale |
| 4905 Park View Ct | $167,300 | $97 | 2009-10-13 | 2001 | 1,729 | Resale |
| 1141 High Meadow Dr | $180,000 | $113 | 2009-09-30 | 2002 | 1,586 | Resale |
| 4882 Heritage Park Blvd | $202,500 | $118 | 2009-09-21 | 2002 | 1,716 | Resale |
| 4909 Park View Ct | $185,000 | $104 | 2009-09-11 | 2000 | 1,774 | Resale |
| 836 Eagle View Dr | $255,000 | $125 | 2009-09-04 | 2004 | 2,036 | Resale |
| 685 Eagle View Cir | $320,000 | $127 | 2009-08-28 | 2004 | 2,515 | Resale |
| 821 Piney Village Loop | $235,000 | $120 | 2009-07-30 | 2003 | 1,960 | Resale |
| 964 Park View Dr | $232,000 | $117 | 2009-07-17 | 2001 | 1,983 | Resale |
| 1036 Park View Dr | $195,000 | $133 | 2009-06-30 | 2001 | 1,461 | Resale |
| 1045 Landings Loop | $170,000 | $106 | 2009-06-23 | 2001 | 1,599 | Resale |
| 4732 Plantation View Dr | $280,000 | $119 | 2009-06-22 | 2006 | 2,351 | Resale |
| 780 Eagle View Dr | $251,000 | $127 | 2009-06-15 | 2003 | 1,976 | Resale |
| 750 Eagle View Dr | $268,000 | $102 | 2009-06-12 | 2002 | 2,625 | Resale |
| 1162 Landings Loop | $175,300 | $119 | 2009-06-11 | 2002 | 1,478 | Resale |
| 4590 Heritage Park Blvd | $284,000 | $143 | 2009-06-04 | 2008 | 1,980 | New |
| 4919 Planters Ridge Dr | $196,000 | $130 | 2009-06-01 | 2000 | 1,506 | Resale |
| 905 Piney Z Plantation Rd | $265,000 | $128 | 2009-05-22 | 2000 | 2,078 | Resale |
| 4837 Planters Ridge Dr | $195,500 | $123 | 2009-05-22 | 2003 | 1,587 | Resale |
| 1213 Landings Loop | $180,000 | $123 | 2009-05-14 | 2002 | 1,461 | Resale |
| 4905 Park View Ct | $167,300 | $97 | 2009-05-12 | 2001 | 1,729 | Resale |
| 1148 Winter Ln | $165,000 | $111 | 2009-05-07 | 2002 | 1,483 | Resale |
| 1037 Piney Z Plantation Rd | $182,500 | $125 | 2009-04-17 | 2001 | 1,460 | Resale |
| 974 Park View Dr | $247,500 | $136 | 2009-04-17 | 2002 | 1,815 | Resale |
| 4915 Planters Ridge Dr | $226,000 | $129 | 2009-04-10 | 1999 | 1,755 | Resale |
| 765 Eagle View Dr | $305,000 | $124 | 2009-03-12 | 2004 | 2,468 | Resale |
| 1018 High Meadow Dr | $194,000 | $123 | 2009-03-09 | 2002 | 1,571 | Resale |
| 4726 Planters Ridge Dr | $200,000 | $117 | 2009-03-03 | 2003 | 1,711 | Resale |
| 4907 Heritage Park Blvd | $190,000 | $112 | 2009-01-16 | 2003 | 1,701 | Resale |
| 1057 Landings Loop | $175,000 | $127 | 2008-12-12 | 2001 | 1,374 | Resale |
| 1150 Landings Loop | $180,000 | $120 | 2008-11-24 | 2002 | 1,501 | Resale |
| 4877 Lake Park Dr | $270,000 | $118 | 2008-11-17 | 2003 | 2,287 | Resale |
| 4759 Planters Ridge Dr | $214,000 | $137 | 2008-11-14 | 2004 | 1,561 | Resale |
| 4915 Heritage Park Blvd | $225,000 | $132 | 2008-10-30 | 2003 | 1,701 | Resale |
| 669 Eagle View Cir | $315,000 | $126 | 2008-10-14 | 2003 | 2,496 | Resale |
| 4751 Planters Ridge Dr | $208,000 | $139 | 2008-10-10 | 2001 | 1,500 | Resale |
| 1168 Landings Loop | $185,000 | $125 | 2008-10-10 | 2002 | 1,478 | Resale |
| 1162 High Meadow Dr | $185,000 | $129 | 2008-10-03 | 2002 | 1,430 | Resale |
| 911 Park View Dr | $275,000 | $133 | 2008-10-01 | 2001 | 2,062 | Resale |
| 1047 Park View Dr | $215,000 | $118 | 2008-09-24 | 1999 | 1,819 | Resale |
| 1018 High Meadow Dr | $128,000 | $81 | 2008-09-13 | 2002 | 1,571 | Resale |
| 4917 Lake Park Dr | $230,000 | $135 | 2008-09-12 | 2002 | 1,710 | Resale |
| 4650 Soaring Way | $332,000 | $130 | 2008-09-04 | 2003 | 2,547 | Resale |
| 825 Eagle View Dr | $260,000 | $111 | 2008-08-22 | 2005 | 2,338 | Resale |
| 742 Eagle View Cir | $345,000 | $137 | 2008-08-08 | 2002 | 2,516 | Resale |
| 1025 Park View Dr | $248,000 | $136 | 2008-07-21 | 2000 | 1,830 | Resale |
| 817 Eagle View Dr | $282,500 | $133 | 2008-07-17 | 2003 | 2,124 | Resale |
| 1108 Winter Ln | $190,000 | $138 | 2008-07-07 | 2003 | 1,374 | Resale |
| 1148 Landings Loop | $200,000 | $137 | 2008-07-03 | 2002 | 1,461 | Resale |
| 1055 Park View Dr | $205,000 | $119 | 2008-06-23 | 1999 | 1,723 | Resale |
| 1096 Landings Loop | $187,500 | $131 | 2008-06-23 | 2001 | 1,426 | Resale |
| 1032 Kingdom Dr | $185,000 | $125 | 2008-06-20 | 2001 | 1,479 | Resale |
| 1149 Landings Loop | $190,000 | $127 | 2008-06-20 | 2001 | 1,495 | Resale |
| 868 Eagle View Dr | $351,000 | $146 | 2008-06-09 | 2008 | 2,406 | New |
| 1015 Kingdom Dr | $167,000 | $126 | 2008-05-30 | 2001 | 1,321 | Resale |
| 1072 Piney Z Plantation Rd | $215,000 | $134 | 2008-05-29 | 2001 | 1,604 | Resale |
| 1112 Winter Ln | $200,000 | $135 | 2008-05-09 | 2003 | 1,479 | Resale |
| 4661 Nesting Trl | $272,000 | $130 | 2008-05-08 | 2003 | 2,097 | Resale |
| 1137 Winter Ln | $213,000 | $137 | 2008-04-30 | 2000 | 1,555 | Resale |
| 989 Park View Dr | $321,000 | $168 | 2008-04-25 | 2002 | 1,912 | Resale |
| 1221 Landings Loop | $207,000 | $142 | 2008-04-21 | 2003 | 1,461 | Resale |
| 874 Piney Village Loop | $368,000 | $153 | 2008-04-17 | 2008 | 2,404 | New |
| 4856 Lake Park Dr | $297,500 | $140 | 2008-04-11 | 2004 | 2,120 | Resale |
| 4710 Planters Ridge Dr | $208,500 | $135 | 2008-03-28 | 2002 | 1,539 | Resale |
| 861 Eagle View Dr | $372,900 | $140 | 2008-03-10 | 2008 | 2,657 | New |
| 729 Eagle View Cir | $350,000 | $142 | 2008-02-29 | 2004 | 2,458 | Resale |
| 1149 Winter Ln | $198,000 | $142 | 2008-02-29 | 2004 | 1,399 | Resale |
| 1174 High Meadow Dr | $200,000 | $129 | 2008-02-29 | 1999 | 1,550 | Resale |
| 867 Eagle View Dr | $310,000 | $138 | 2007-12-20 | 2002 | 2,242 | Resale |
| 910 Park View Dr | $286,000 | $107 | 2007-12-18 | 2003 | 2,684 | Resale |
| 1020 Kingdom Dr | $200,000 | $130 | 2007-12-17 | 2001 | 1,539 | Resale |
| 1100 Winter Ln | $245,000 | $140 | 2007-12-07 | 2002 | 1,747 | Resale |
| 1183 Landings Loop | $210,000 | $144 | 2007-11-20 | 2001 | 1,461 | Resale |
| 4712 Plantation View Dr | $379,900 | $145 | 2007-11-05 | 2007 | 2,627 | New |
| 933 Piney Z Plantation Rd | $317,500 | $146 | 2007-10-19 | 2000 | 2,174 | Resale |
| 913 Piney Z Plantation Rd | $260,000 | $138 | 2007-10-12 | 2001 | 1,884 | Resale |
| 701 Eagle View Cir | $335,000 | $173 | 2007-10-12 | 2002 | 1,940 | Resale |
| 4922 Heritage Park Blvd | $220,000 | $128 | 2007-10-03 | 2003 | 1,716 | Resale |
| 1004 Piney Z Plantation Rd | $205,000 | $123 | 2007-09-25 | 2003 | 1,671 | Resale |
| 995 Park View Dr | $292,500 | $136 | 2007-09-17 | 2005 | 2,153 | Resale |
| 866 Piney Village Loop | $370,000 | $160 | 2007-09-04 | 2007 | 2,311 | New |
| 917 Park View Dr | $298,000 | $149 | 2007-08-24 | 2003 | 1,997 | Resale |
| 917 Park View Dr | $298,000 | $149 | 2007-08-24 | 2003 | 1,997 | Resale |
| 4881 Lake Park Dr | $253,000 | $136 | 2007-08-21 | 2001 | 1,865 | Resale |
| 1149 Landings Loop | $211,600 | $142 | 2007-08-14 | 2001 | 1,495 | Resale |
| 1001 Kingdom Dr | $184,000 | $141 | 2007-08-03 | 2001 | 1,309 | Resale |
| 1149 High Meadow Dr | $205,000 | $151 | 2007-07-31 | 2002 | 1,358 | Resale |
| 4853 Planters Ridge Dr | $260,000 | $158 | 2007-07-27 | 2001 | 1,641 | Resale |
| 4877 Lake Park Dr | $273,500 | $120 | 2007-07-18 | 2003 | 2,287 | Resale |
| 636 Eagle View Cir | $283,000 | $144 | 2007-07-16 | 2002 | 1,962 | Resale |
| 1069 Kingdom Dr | $210,000 | $142 | 2007-07-16 | 2001 | 1,481 | Resale |
| 1066 High Meadow Dr | $241,000 | $152 | 2007-07-13 | 2003 | 1,588 | Resale |
| 1107 Winter Ln | $247,500 | $148 | 2007-07-06 | 2003 | 1,673 | Resale |
| 1034 High Meadow Dr | $255,000 | $139 | 2007-07-02 | 2002 | 1,831 | Resale |
| 1016 Landings Loop | $210,000 | $132 | 2007-06-29 | 2001 | 1,592 | Resale |
| 1091 Piney Z Plantation Rd | $242,500 | $147 | 2007-06-29 | 2001 | 1,647 | Resale |
| 1072 Piney Z Plantation Rd | $186,600 | $116 | 2007-06-28 | 2001 | 1,604 | Resale |
| 931 Park View Dr | $300,000 | $131 | 2007-06-22 | 2002 | 2,294 | Resale |
| 4886 Heritage Park Blvd | $247,800 | $154 | 2007-06-15 | 2002 | 1,606 | Resale |
| 1154 Landings Loop | $209,000 | $141 | 2007-06-11 | 2002 | 1,478 | Resale |
| 1026 Park View Dr | $200,000 | $141 | 2007-05-24 | 2004 | 1,423 | Resale |
| 4770 Planters Ridge Dr | $250,000 | $131 | 2007-05-23 | 2002 | 1,913 | Resale |
| 1033 High Meadow Dr | $250,000 | $144 | 2007-05-22 | 2003 | 1,734 | Resale |
| 4863 Heritage Park Blvd | $251,000 | $155 | 2007-05-21 | 2003 | 1,624 | Resale |
| 689 Eagle View Cir | $371,000 | $157 | 2007-05-15 | 2003 | 2,367 | Resale |
| 868 Piney Village Loop | $382,900 | $164 | 2007-05-14 | 2007 | 2,341 | New |
| 1132 Landings Loop | $205,000 | $135 | 2007-05-03 | 2002 | 1,514 | Resale |
| 1121 High Meadow Dr | $212,000 | $146 | 2007-04-30 | 2003 | 1,455 | Resale |
| 725 Eagle View Cir | $300,000 | $148 | 2007-04-30 | 2002 | 2,027 | Resale |
| 920 Park View Dr | $305,000 | $146 | 2007-04-27 | 2001 | 2,087 | Resale |
| 1048 Piney Z Plantation Rd | $200,000 | $149 | 2007-04-27 | 1999 | 1,346 | Resale |
| 926 Piney Z Plantation Rd | $369,600 | $159 | 2007-04-19 | 2006 | 2,327 | New |
| 833 Piney Village Loop | $273,000 | $154 | 2007-04-13 | 2004 | 1,769 | Resale |
| 1088 Winter Ln | $225,000 | $143 | 2007-04-11 | 2002 | 1,575 | Resale |
| 1068 Winter Ln | $214,500 | $146 | 2007-04-05 | 2004 | 1,471 | Resale |
| 945 Piney Z Plantation Rd | $330,000 | $130 | 2007-03-23 | 2000 | 2,547 | Resale |
| 4859 Heritage Park Blvd | $229,000 | $143 | 2007-03-22 | 2002 | 1,601 | Resale |
| 4895 Planters Ridge Dr | $256,500 | $149 | 2007-03-21 | 2000 | 1,726 | Resale |
| 900 Park View Dr | $295,000 | $150 | 2007-03-16 | 2002 | 1,962 | Resale |
| 1169 High Meadow Dr | $195,000 | $146 | 2007-03-16 | 2002 | 1,340 | Resale |
| 1012 Piney Z Plantation Rd | $235,000 | $154 | 2007-03-07 | 2002 | 1,526 | Resale |
| 1041 Piney Z Plantation Rd | $213,000 | $149 | 2007-02-26 | 2000 | 1,428 | Resale |
| 1088 Winter Ln | $160,000 | $102 | 2007-02-26 | 2002 | 1,575 | Resale |
| 1085 Piney Z Plantation Rd | $216,000 | $150 | 2007-02-23 | 2002 | 1,444 | Resale |
| 1153 Winter Ln | $200,000 | $149 | 2007-02-22 | 2002 | 1,342 | Resale |
| 853 Eagle View Dr | $444,900 | $159 | 2007-02-22 | 2005 | 2,803 | Resale |
| 4895 Planters Ridge Dr | $211,000 | $122 | 2007-02-16 | 2000 | 1,726 | Resale |
| 1188 Landings Loop | $210,000 | $144 | 2007-02-11 | 2002 | 1,459 | Resale |
| 729 Eagle View Cir | $349,900 | $142 | 2007-02-08 | 2004 | 2,458 | Resale |
| 4929 Lake Park Dr | $269,300 | $135 | 2007-01-31 | 2003 | 1,999 | Resale |
| 1015 Landings Loop | $203,000 | $140 | 2007-01-31 | 2001 | 1,447 | Resale |
| 1017 Landings Loop | $203,000 | $140 | 2007-01-31 | 2001 | 1,447 | Resale |
| 887 Eagle View Dr | $345,000 | $149 | 2007-01-16 | 2001 | 2,321 | Resale |
| 4886 Planters Ridge Dr | $252,500 | $148 | 2007-01-10 | 2001 | 1,702 | Resale |
| 1208 Landings Loop | $190,000 | $140 | 2007-01-09 | 2001 | 1,353 | Resale |
| 4738 Planters Ridge Dr | $231,000 | $150 | 2006-12-29 | 2002 | 1,539 | Resale |
| 4738 Planters Ridge Dr | $231,000 | $150 | 2006-12-29 | 2002 | 1,539 | Resale |
| 1033 Piney Z Plantation Rd | $210,000 | $145 | 2006-12-22 | 2000 | 1,448 | Resale |
| 1080 Winter Ln | $212,000 | $145 | 2006-12-22 | 2003 | 1,467 | Resale |
| 899 Eagle View Dr | $340,000 | $152 | 2006-12-21 | 2001 | 2,235 | Resale |
| 1000 Kingdom Dr | $155,000 | $100 | 2006-12-19 | 2001 | 1,555 | Resale |
| 870 Piney Village Loop | $353,700 | $151 | 2006-12-15 | 2006 | 2,344 | New |
| 628 Eagle View Cir | $325,400 | $154 | 2006-11-30 | 2002 | 2,108 | Resale |
| 922 Piney Z Plantation Rd | $385,900 | $158 | 2006-11-27 | 2006 | 2,441 | New |
| 1099 Winter Ln | $230,000 | $155 | 2006-11-07 | 2002 | 1,483 | Resale |
| 1037 High Meadow Dr | $225,000 | $153 | 2006-11-03 | 2003 | 1,468 | Resale |
| 1184 Landings Loop | $203,000 | $138 | 2006-11-03 | 2002 | 1,476 | Resale |
| 4706 Planters Ridge Dr | $204,900 | $149 | 2006-10-20 | 2002 | 1,375 | Resale |
| 1142 High Meadow Dr | $193,000 | $136 | 2006-10-13 | 2001 | 1,416 | Resale |
| 4915 Planters Ridge Dr | $224,000 | $128 | 2006-10-06 | 1999 | 1,755 | Resale |
| 824 Eagle View Dr | $281,000 | $142 | 2006-09-29 | 2004 | 1,977 | Resale |
| 828 Eagle View Dr | $334,000 | $148 | 2006-09-29 | 2004 | 2,255 | Resale |
| 781 Eagle View Dr | $357,000 | $157 | 2006-09-29 | 2003 | 2,279 | Resale |
| 1138 High Meadow Dr | $209,900 | $145 | 2006-09-29 | 2001 | 1,445 | Resale |
| 1071 Park View Dr | $265,300 | $154 | 2006-09-29 | 2002 | 1,719 | Resale |
| 1199 Landings Loop | $214,500 | $147 | 2006-09-28 | 2001 | 1,461 | Resale |
| 1039 Kingdom Dr | $205,000 | $140 | 2006-09-23 | 2001 | 1,461 | Resale |
| 1125 High Meadow Dr | $212,000 | $138 | 2006-09-21 | 2002 | 1,536 | Resale |
| 712 Eagle View Cir | $335,000 | $146 | 2006-09-15 | 2004 | 2,293 | Resale |
| 1073 High Meadow Dr | $227,000 | $147 | 2006-09-05 | 2002 | 1,547 | Resale |
| 735 Eagle View Dr | $485,000 | $177 | 2006-08-21 | 2005 | 2,744 | Resale |
| 1088 Landings Loop | $220,000 | $139 | 2006-08-18 | 2001 | 1,582 | Resale |
| 4661 Soaring Way | $323,500 | $155 | 2006-08-18 | 2004 | 2,092 | Resale |
| 4724 Plantation View Dr | $354,900 | $154 | 2006-08-15 | 2006 | 2,304 | New |
| 1076 Piney Z Plantation Rd | $250,000 | $161 | 2006-08-07 | 2001 | 1,556 | Resale |
| 621 Eagle View Cir | $352,000 | $151 | 2006-08-04 | 2004 | 2,337 | Resale |
| 979 Watersview Dr | $365,000 | $139 | 2006-07-31 | 2004 | 2,634 | Resale |
| 999 Park View Dr | $332,500 | $157 | 2006-07-28 | 2005 | 2,112 | Resale |
| 1065 High Meadow Dr | $209,900 | $144 | 2006-07-28 | 2003 | 1,454 | Resale |
| 4657 Nesting Trl | $355,000 | $151 | 2006-07-28 | 2004 | 2,358 | Resale |
| 4913 Park View Ct | $228,000 | $153 | 2006-07-21 | 1999 | 1,490 | Resale |
| 4716 Plantation View Dr | $352,800 | $150 | 2006-07-19 | 2006 | 2,351 | Resale |
| 4913 Lake Park Dr | $268,000 | $144 | 2006-07-14 | 2002 | 1,862 | Resale |
| 930 Piney Z Plantation Rd | $359,900 | $130 | 2006-07-14 | 0 | -- | New |
| 977 Watersview Dr | $311,000 | $158 | 2006-07-10 | 2003 | 1,973 | Resale |
| 1114 High Meadow Dr | $223,000 | $154 | 2006-07-03 | 2004 | 1,451 | Resale |
| 1202 Landings Loop | $194,000 | $142 | 2006-06-30 | 2001 | 1,370 | Resale |
| 1179 Landings Loop | $210,700 | $141 | 2006-06-30 | 2002 | 1,493 | Resale |
| 4720 Plantation View Dr | $349,900 | $150 | 2006-06-30 | 2006 | 2,333 | New |
| 934 Piney Z Plantation Rd | $372,800 | $130 | 2006-06-30 | 2006 | 2,878 | New |
| 961 Park View Dr | $357,000 | $166 | 2006-06-30 | 2000 | 2,154 | Resale |
| 713 Eagle View Cir | $370,000 | $161 | 2006-06-29 | 2003 | 2,292 | Resale |
| 1169 Winter Ln | $214,500 | $152 | 2006-06-26 | 2002 | 1,411 | Resale |
| 1221 Landings Loop | $225,000 | $154 | 2006-06-23 | 2003 | 1,461 | Resale |
| 1059 Kingdom Dr | $212,500 | $145 | 2006-06-15 | 2001 | 1,461 | Resale |
| 4728 Plantation View Dr | $350,000 | $145 | 2006-05-31 | 2006 | 2,415 | New |
| 4853 Planters Ridge Dr | $252,000 | $154 | 2006-05-30 | 2001 | 1,641 | Resale |
| 1212 Landings Loop | $193,000 | $135 | 2006-05-25 | 2001 | 1,428 | Resale |
| 904 Piney Z Plantation Rd | $300,000 | $142 | 2006-05-18 | 2003 | 2,108 | Resale |
| 4929 Lake Park Dr | $292,500 | $146 | 2006-05-17 | 2003 | 1,999 | Resale |
| 1167 Landings Loop | $202,500 | $137 | 2006-05-15 | 2002 | 1,476 | Resale |
| 1041 Piney Z Plantation Rd | $218,000 | $153 | 2006-05-15 | 2000 | 1,428 | Resale |
| 4754 Planters Ridge Dr | $245,500 | $147 | 2006-05-11 | 2003 | 1,667 | Resale |
| 739 Eagle View Dr | $375,000 | $161 | 2006-05-11 | 2005 | 2,335 | Resale |
| 1109 High Meadow Dr | $215,000 | $152 | 2006-04-29 | 2003 | 1,414 | Resale |
| 4656 Fledgling Dr | $281,000 | $160 | 2006-04-28 | 2004 | 1,756 | Resale |
| 4927 Heritage Park Blvd | $250,000 | $154 | 2006-04-28 | 2003 | 1,624 | Resale |
| 1020 Kingdom Dr | $185,000 | $120 | 2006-04-26 | 2001 | 1,539 | Resale |
| 1105 High Meadow Dr | $217,500 | $139 | 2006-04-20 | 2004 | 1,562 | Resale |
| 4855 Heritage Park Blvd | $235,000 | $144 | 2006-04-13 | 2002 | 1,630 | Resale |
| 907 Park View Dr | $330,000 | $146 | 2006-04-12 | 2003 | 2,268 | Resale |
| 4732 Plantation View Dr | $348,000 | $148 | 2006-04-03 | 2006 | 2,351 | New |
| 1216 Landings Loop | $187,400 | $125 | 2006-03-31 | 2001 | 1,497 | Resale |
| 1045 Landings Loop | $205,000 | $128 | 2006-03-31 | 2001 | 1,599 | Resale |
| 1128 Winter Ln | $259,900 | $133 | 2006-03-30 | 2005 | 1,951 | New |
| 1172 Landings Loop | $205,000 | $139 | 2006-03-27 | 2002 | 1,476 | Resale |
| 4849 Lake Park Dr | $273,900 | $144 | 2006-03-17 | 2001 | 1,906 | Resale |
| 4751 Planters Ridge Dr | $224,000 | $149 | 2006-03-17 | 2001 | 1,500 | Resale |
| 613 Eagle View Cir | $319,000 | $160 | 2006-03-15 | 2004 | 1,992 | Resale |
| 968 Watersview Dr | $271,000 | $144 | 2006-02-28 | 2003 | 1,884 | Resale |
| 4759 Planters Ridge Dr | $230,000 | $147 | 2006-02-28 | 2004 | 1,561 | Resale |
| 1064 Kingdom Dr | $190,000 | $116 | 2006-02-27 | 2001 | 1,642 | Resale |
| 983 Watersview Dr | $330,000 | $138 | 2006-02-17 | 2003 | 2,391 | Resale |
| 1038 High Meadow Dr | $193,100 | $129 | 2006-02-16 | 2002 | 1,492 | Resale |
| 4714 Planters Ridge Dr | $227,500 | $136 | 2006-01-27 | 2003 | 1,669 | Resale |
| 1159 Landings Loop | $200,000 | $143 | 2006-01-27 | 2001 | 1,397 | Resale |
| 1209 Landings Loop | $206,000 | $141 | 2006-01-27 | 2002 | 1,461 | Resale |
| 1062 High Meadow Dr | $247,800 | $146 | 2006-01-20 | 2003 | 1,699 | Resale |
| 777 Eagle View Dr | $380,000 | $144 | 2006-01-19 | 2004 | 2,637 | Resale |
| 1157 High Meadow Dr | $284,900 | $141 | 2006-01-13 | 2002 | 2,020 | Resale |
| 1120 Winter Ln | $250,000 | $139 | 2006-01-05 | 2005 | 1,795 | Resale |
| 4725 Plantation View Dr | $273,000 | $151 | 2006-01-05 | 2002 | 1,812 | Resale |
| 825 Eagle View Dr | $363,500 | $155 | 2005-12-30 | 2005 | 2,338 | New |
| 4874 Heritage Park Blvd | $217,000 | $140 | 2005-12-30 | 2002 | 1,552 | Resale |
| 941 Piney Z Plantation Rd | $310,000 | $155 | 2005-12-27 | 2000 | 1,999 | Resale |
| 1036 Piney Z Plantation Rd | $200,000 | $143 | 2005-12-27 | 2002 | 1,395 | Resale |
| 1060 Winter Ln | $212,600 | $146 | 2005-12-16 | 2003 | 1,460 | Resale |
| 1220 Landings Loop | $183,500 | $139 | 2005-12-15 | 2001 | 1,321 | Resale |
| 4882 Heritage Park Blvd | $250,000 | $146 | 2005-12-09 | 2002 | 1,716 | Resale |
| 1036 Park View Dr | $210,000 | $144 | 2005-12-05 | 2001 | 1,461 | Resale |
| 1090 High Meadow Dr | $215,900 | $151 | 2005-12-02 | 2002 | 1,427 | Resale |
| 941 Piney Z Plantation Rd | $310,000 | $155 | 2005-12-01 | 2000 | 1,999 | Resale |
| 761 Eagle View Dr | $349,900 | $156 | 2005-11-29 | 2005 | 2,245 | New |
| 1099 Winter Ln | $210,000 | $142 | 2005-11-29 | 2002 | 1,483 | Resale |
| 1023 Winter Ln | $275,000 | $150 | 2005-11-23 | 2000 | 1,835 | Resale |
| 1059 Park View Dr | $253,900 | $136 | 2005-11-22 | 2005 | 1,870 | Resale |
| 837 Eagle View Dr | $360,000 | $160 | 2005-11-22 | 2005 | 2,254 | New |
| 4782 Planters Ridge Dr | $246,100 | $137 | 2005-11-17 | 2000 | 1,792 | Resale |
| 4778 Planters Ridge Dr | $229,900 | $142 | 2005-11-17 | 2002 | 1,615 | Resale |
| 837 Piney Village Loop | $288,200 | $129 | 2005-11-15 | 2005 | 2,230 | New |
| 681 Eagle View Cir | $280,000 | $140 | 2005-11-14 | 2003 | 2,006 | Resale |
| 4658 Soaring Way | $331,000 | $134 | 2005-11-14 | 2002 | 2,478 | Resale |
| 4782 Planters Ridge Dr | $246,100 | $137 | 2005-11-10 | 2000 | 1,792 | Resale |
| 849 Piney Village Loop | $289,900 | $129 | 2005-10-31 | 2005 | 2,245 | New |
| 4890 Planters Ridge Dr | $235,000 | $136 | 2005-10-28 | 2000 | 1,729 | Resale |
| 983 Watersview Dr | $330,000 | $138 | 2005-10-28 | 2003 | 2,391 | Resale |
| 1117 High Meadow Dr | $205,000 | $149 | 2005-10-24 | 2003 | 1,372 | Resale |
| 1060 Piney Z Plantation Rd | $219,000 | $146 | 2005-10-24 | 2001 | 1,504 | Resale |
| 1124 Winter Ln | $219,900 | $122 | 2005-10-21 | 2005 | 1,800 | New |
| 1124 Winter Ln | $224,900 | $125 | 2005-10-19 | 2005 | 1,800 | New |
| 981 Park View Dr | $323,000 | $141 | 2005-10-14 | 2002 | 2,292 | Resale |
| 1006 High Meadow Dr | $180,000 | $119 | 2005-10-11 | 2002 | 1,511 | Resale |
| 608 Eagle View Cir | $335,000 | $149 | 2005-10-05 | 2004 | 2,244 | Resale |
| 1069 Kingdom Dr | $201,000 | $136 | 2005-09-30 | 2001 | 1,481 | Resale |
| 4654 Soaring Way | $334,500 | $127 | 2005-09-30 | 2002 | 2,625 | Resale |
| 4851 Heritage Park Blvd | $230,000 | $137 | 2005-09-23 | 2002 | 1,683 | Resale |
| 845 Piney Village Loop | $289,900 | $132 | 2005-09-23 | 2005 | 2,188 | New |
| 4658 Nesting Trl | $285,000 | $140 | 2005-09-09 | 2003 | 2,037 | Resale |
| 4909 Park View Ct | $245,000 | $138 | 2005-08-24 | 2000 | 1,774 | Resale |
| 1004 Piney Z Plantation Rd | $217,000 | $128 | 2005-08-23 | 2003 | 1,691 | Resale |
| 841 Piney Village Loop | $274,900 | $126 | 2005-08-16 | 2005 | 2,179 | New |
| 709 Eagle View Cir | $383,000 | $148 | 2005-08-11 | 2004 | 2,592 | Resale |
| 1184 Landings Loop | $199,300 | $135 | 2005-08-11 | 2002 | 1,476 | Resale |
| 1187 Landings Loop | $189,900 | $130 | 2005-08-05 | 2001 | 1,461 | Resale |
| 649 Eagle View Cir | $325,000 | $137 | 2005-08-05 | 2002 | 2,379 | Resale |
| 867 Piney Village Loop | $313,000 | $142 | 2005-08-05 | 2004 | 2,207 | Resale |
| 4847 Heritage Park Blvd | $230,000 | $144 | 2005-08-03 | 2002 | 1,601 | Resale |
| 1027 Winter Ln | $189,000 | $104 | 2005-08-01 | 2002 | 1,820 | Resale |
| 1068 Kingdom Dr | $187,500 | $117 | 2005-08-01 | 2001 | 1,606 | Resale |
| 1063 Park View Dr | $240,000 | $135 | 2005-07-29 | 2002 | 1,782 | Resale |
| 1082 High Meadow Dr | $232,900 | $147 | 2005-07-29 | 2003 | 1,588 | Resale |
| 1149 High Meadow Dr | $185,000 | $136 | 2005-07-29 | 2002 | 1,358 | Resale |
| 1169 Winter Ln | $193,000 | $123 | 2005-07-28 | 2002 | 1,566 | Resale |
| 1029 Piney Z Plantation Rd | $192,500 | $136 | 2005-07-28 | 2002 | 1,416 | Resale |
| 4879 Planters Ridge Dr | $245,000 | $131 | 2005-07-28 | 2000 | 1,866 | Resale |
| 1067 Kingdom Dr | $186,000 | $126 | 2005-07-27 | 2001 | 1,479 | Resale |
| 1165 Winter Ln | $199,000 | $141 | 2005-07-22 | 2002 | 1,411 | Resale |
| 1038 High Meadow Dr | $159,000 | $107 | 2005-07-19 | 2002 | 1,492 | Resale |
| 1101 High Meadow Dr | $210,000 | $138 | 2005-07-15 | 2003 | 1,518 | Resale |
| 1162 High Meadow Dr | $202,000 | $141 | 2005-07-15 | 2002 | 1,430 | Resale |
| 1132 Winter Ln | $190,000 | $138 | 2005-07-15 | 2005 | 1,380 | New |
| 686 Eagle View Cir | $279,000 | $122 | 2005-07-08 | 2005 | 2,285 | New |
| 1158 Landings Loop | $196,500 | $133 | 2005-07-01 | 2002 | 1,476 | Resale |
| 4849 Planters Ridge Dr | $195,000 | $153 | 2005-06-30 | 2000 | 1,271 | Resale |
| 953 Park View Dr | $270,000 | $134 | 2005-06-30 | 2001 | 2,013 | Resale |
| 677 Eagle View Cir | $242,000 | $138 | 2005-06-28 | 2003 | 1,760 | Resale |
| 1033 Piney Z Plantation Rd | $192,000 | $133 | 2005-06-27 | 2000 | 1,448 | Resale |
| 4657 Soaring Way | $338,000 | $138 | 2005-06-24 | 2005 | 2,454 | New |
| 677 Eagle View Cir | $242,000 | $138 | 2005-06-22 | 2003 | 1,760 | Resale |
| 1136 Winter Ln | $193,300 | $140 | 2005-06-21 | 2002 | 1,378 | New |
| 1221 Landings Loop | $189,900 | $130 | 2005-06-17 | 2003 | 1,461 | Resale |
| 1148 Winter Ln | $193,000 | $130 | 2005-06-16 | 2002 | 1,483 | Resale |
| 1045 High Meadow Dr | $198,000 | $132 | 2005-06-15 | 2002 | 1,505 | Resale |
| 645 Eagle View Cir | $269,900 | $126 | 2005-06-15 | 2005 | 2,150 | Resale |
| 861 Piney Village Loop | $277,300 | $129 | 2005-06-08 | 2005 | 2,150 | New |
| 4657 Nesting Trl | $310,000 | $131 | 2005-06-06 | 2004 | 2,358 | Resale |
| 1042 High Meadow Dr | $178,000 | $122 | 2005-05-31 | 2002 | 1,461 | Resale |
| 1047 Kingdom Dr | $182,500 | $126 | 2005-05-27 | 2001 | 1,444 | Resale |
| 1134 High Meadow Dr | $198,500 | $124 | 2005-05-27 | 2003 | 1,602 | Resale |
| 4906 Heritage Park Blvd | $215,000 | $134 | 2005-05-27 | 2002 | 1,601 | Resale |