How Multi-Family Properties Are Doing In Today's Market
Posted by Joe Manausa on Thursday, September 9, 2021 at 5:53 AM
By Joe Manausa / September 9, 2021
1 Comment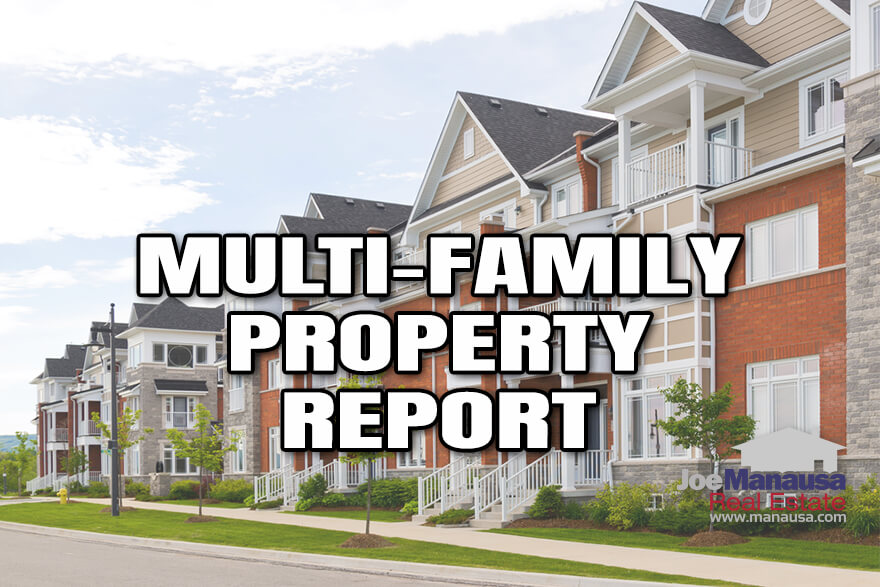 I recently received a request regarding multi-family homes on our Tallahassee Real Estate Youtube Channel that piqued my interest and got my wheels spinning. It was for something that I do not usually cover in great detail.
Jake commented:
Just discovered your channel and I love your videos!! It'd be great to hear what you think is happening and likely going to happen with multi-family homes in Tallahassee. Specifically 2-4 unit properties. I purchased my 1st fourplex there in April and I wonder if multi-family appreciation is anything like single-family. Thanks so much for the great content!!! ~ Jake D
It took me a few days to gather the data, but I think I have some decent answers for Jake. First, I've started with all the multi-family properties for sale in the Tallahassee MLS, and you'll note that just like the single-family market, most multi-family properties that are priced from the median and below are already under contract with buyers!
See The Video On Multi-Family Homes
In order to create a clear report, it's important to understand the difference between multi-family homes and single-family homes. Each term is a "property type" category that the county uses to distinguish one from the other.
A single-family home is a building that houses just one family, whereas a multifamily home is a building that houses separate residences where more than one family can live. While that sounds simple and easy to understand, the reality in the record-keeping is a whole other story.
Leon County has two multi-family categories, Multi-Family (Under 10 units) and Multi-Family (10 units or more). But it also has single-family categories of condominiums and townhomes, which all get bundled up in the single-family realm and do not show up in multi-family data records.
Today's report uses Leon County tax record data (collected by Metro Market Trends) and solely relies on Multi-Family property types (Under 10 units) (meaning no single-family designated properties are counted and no properties with 10 or more units in the multi-family report.
So yes, that was a lot of mumbo-jumbo, but I wanted to disclose that today's report has been produced with as much accuracy as I could provide without having to spend several thousand hours cleaning and combining data records.
Multi-Family Unit Sales
The first thing that I wanted to explore was the rate of sales of multi-family properties when compared to the same for single-family properties. Fortunately, I use the single-family data source on a regular basis so no additional work was needed there, but that is not the case with multi-family data.
I went through nearly 4,000 multi-family property transfers and removed non-arms-length transactions as well as transactions with incomplete data (like the property size or value). This left me a dataset that was fairly representative of what has been sold over the past thirty years in Tallahassee.
All of the graphs in today's reports provide 10-year averages for the purpose of eliminating the noise in the data and truly focusing on our viewer's questions. Stated simply, Jake wonders how multi-family properties have performed when compared to single-family properties, and that I can answer!
The first graph shows unit sales trends, with the average number of multi-family properties plotted in blue and the average number of single-family properties plotted in red. The total number of single-family properties is divided by forty so that the scale of each is similar enough to make comparisons.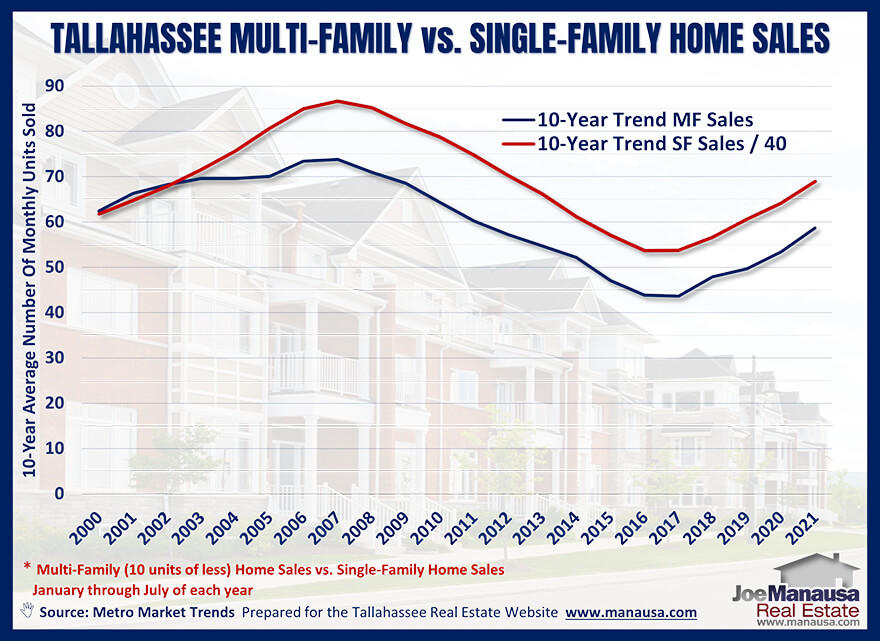 Remember, the graph plots the 10-year average monthly number of properties sold (with single-family properties divided by 40), so that is why our trend lines are so smooth. We are seeing long-term trend changes.
It appears to me that the number of properties sold in each category each year has followed a similar trajectory, with the spike of the market in 2005 and the bottom of the market in 2012 impacting the trend lines in an obvious and similar manner. Simply put, both single-family and multi-family properties have behaved in similar manners when it comes to counting how many have sold.
Multi-Family Property Prices
Our next graph is similar to the previous one, but it plots the ten-year average price of each property category.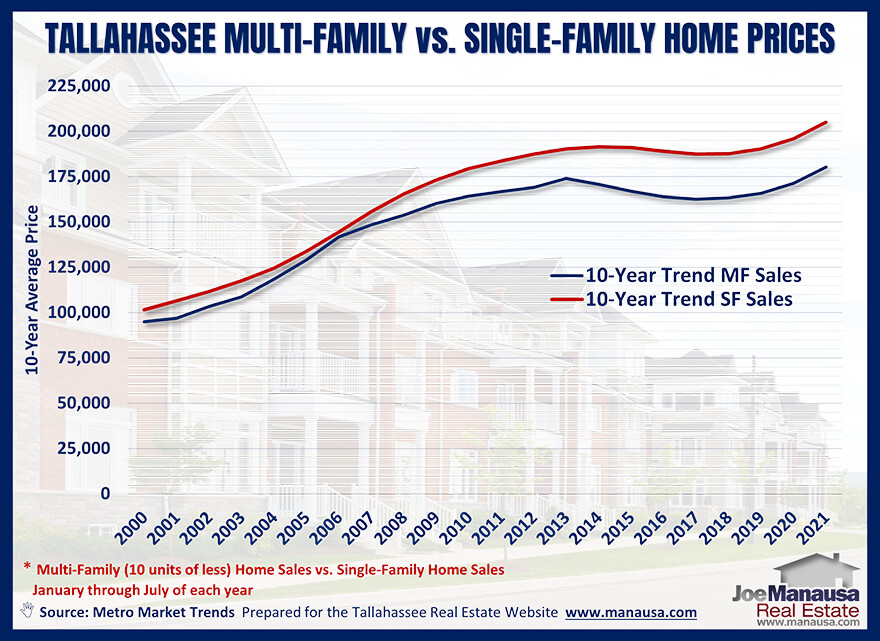 As I look at this graph, what strikes me is that the average price of multi-family properties was hit harder by the housing bubble than were single-family homes. I know this to be the case in my recurring analysis of single-family homes, the single-family detached homes have moved higher at a faster rate than have single-family attached homes.
Look at how closely the average price trends moved for the first five years of the graph, but as the housing bubble burst, they moved at a different trajectory. Today, they appear to be moving higher at a similar rate, but the difference in price between the two has grown.
I do believe this is a fair representation of what has occurred, but I'll throw out a caveat that multi-family properties (under ten units) are not the cleanest of all datasets. If I had the time, I would like to see the combination of multi-family (under 10 units), condominiums, and townhomes, and all non-arms length transactions removed and all missing data recovered. But that is not to be.
SUCCESSFUL INVESTMENT IS WARFARE!
There are fundamental concepts that apply to the real estate investment industry that have also been found true consistently on the battlefield throughout history.
Prudent investors could strengthen their positions by taking a lesson from our military history and doctrine.
This brief paper, assembled by a West Point-educated US Army combat veteran, attempts to explain how investors can alter their strategic plans by using the same analytical techniques as would be applied by our modern warriors.
Multi-Family Unit Sales
Finally, we conclude with the graph that specifically addresses Jake's question. It plots the ten-year average single-family home value against the ten-year average multi-family home value.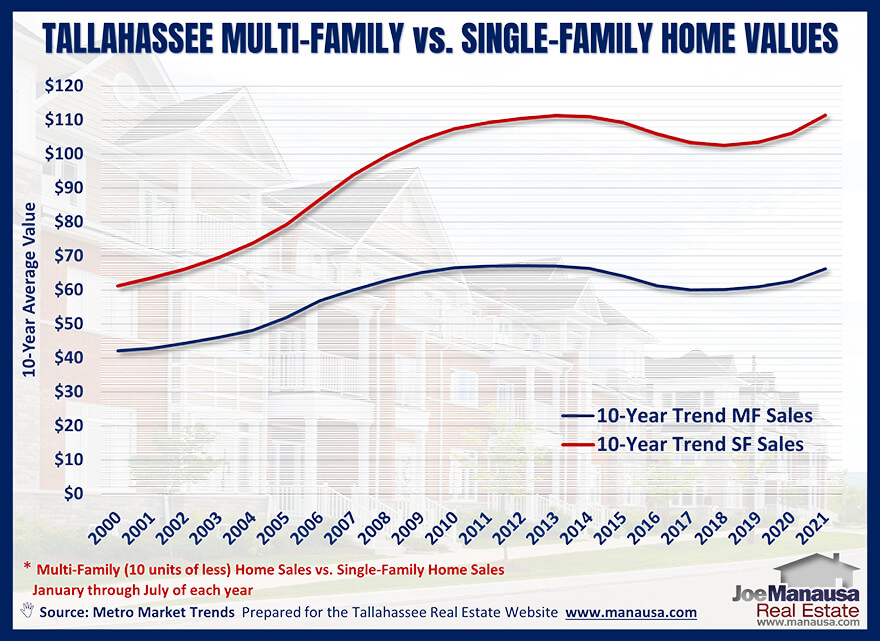 The reason that I chose to plot ten-year averages in each of these graphs was so that you would see a clear picture of the change in the market. Had I plotted annual, non-trending figures, the results could have been skewed greatly by an unusually low or high starting or ending year from either property type. Instead, we're seeing ten-year averages flow across the graph, so the changes observed are meaningful and accurately reflect market behavior.
The red line in the graph shows that the ten-year average value of single-family homes has risen 82% over the past twenty years while the ten-year average value of multi-family homes has only risen 58%.
I think this graph clearly demonstrates that multi-family properties are not appreciating as rapidly as are single-family properties, and one should consider this fact as part of a real estate investment analysis. Additionally, I think it's fair to point out that multi-family properties are more susceptible to negative market influences (as the housing market bubble 15 years ago showed).
There are many other factors beyond appreciation one should consider when determining the best investment plan, so make sure you work with a seasoned real estate agent with investment experience if you decide to add real estate to your investment portfolio.
If you liked today's analysis, please take a moment to give us a "thumbs up" on Facebook and share a link to the article with people who might find it useful!
Recent Housing Market Report Videos
Your Local Expert In Tallahassee
When moving to, in, or from Tallahassee, you will fare better if you work with a local expert. We are here to help. If you have further questions on the Tallahassee real estate market, you can leave a comment below, give us a call at (850) 366-8917, or drop us a note and we'll give you the local information needed to ensure a successful, smooth transaction.
As a local born and raised in Tallahassee with a focus on customer service, I promise you'll find great success when working with Joe Manausa Real Estate, just as have our past customers. You can read thousands of their reviews reported on Google, Facebook and Zillow right here: Real Estate Agent Reviews Tallahassee.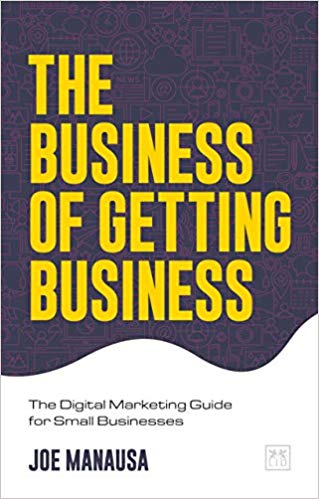 Have you heard about my new book "The Business of Getting Business?" It's a comprehensive guide for small businesses to help them make the move to digital. For those of us who want to survive and thrive in a world where large corporations are taking over, it is a must-read. It's also the perfect guide for how to sell a home in the digital age. You can find The Business Of Getting Business by clicking on any of the trusted retailers below.

Think all REALTORS are alike?
Read what people are saying about working with Joe Manausa Real Estate! You can see thousands of real customer reviews reported on Google, Facebook and Zillow at this link: CLICK HERE FOR REAL ESTATE AGENT REVIEWS.
I recently stumbled upon your latest Carrabelle listing. I must say, a home on Florida's Forgotten Coast is bound to be snatched up quickly. Best of luck with getting it under contract soon!

Posted by Barbara Corcoran on Thursday, June 15, 2023