When Mortgage Interest Rates Return To Normal
Posted by Joe Manausa on Monday, August 28, 2023 at 6:00 AM
By Joe Manausa / August 28, 2023
Comment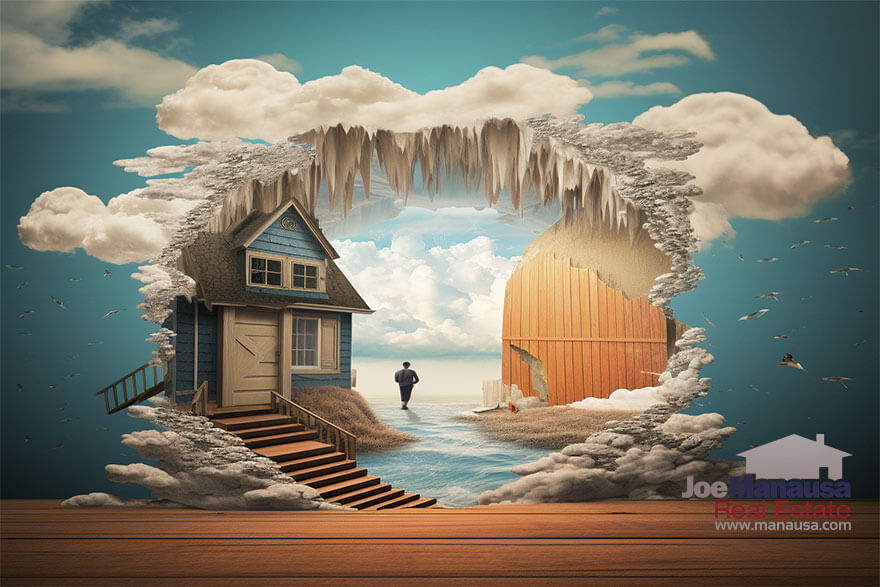 One of the more popular phrases we're hearing from home sellers and buyers alike is "when mortgage rates return to normal." Specifically, many tell us they plan to make their next move when normalcy returns to the mortgage market.
But what if the 'normal' we are accustomed to is not the 'normal' that awaits us? A more nuanced picture of 'normal' emerges as we peel back the layers of historical data and present conditions.
Join us as we explore the history of mortgage interest rates, examining the fascinating story of what 'normal' has meant over the years.
Today's Mortgage Interest Rate (22-Year High)
When we plot the weekly survey of Freddie Mac's thirty-year fixed mortgage interest rates, we find a new 22-year high was reached on August 17, 2023, the highest recorded rate since July 2001.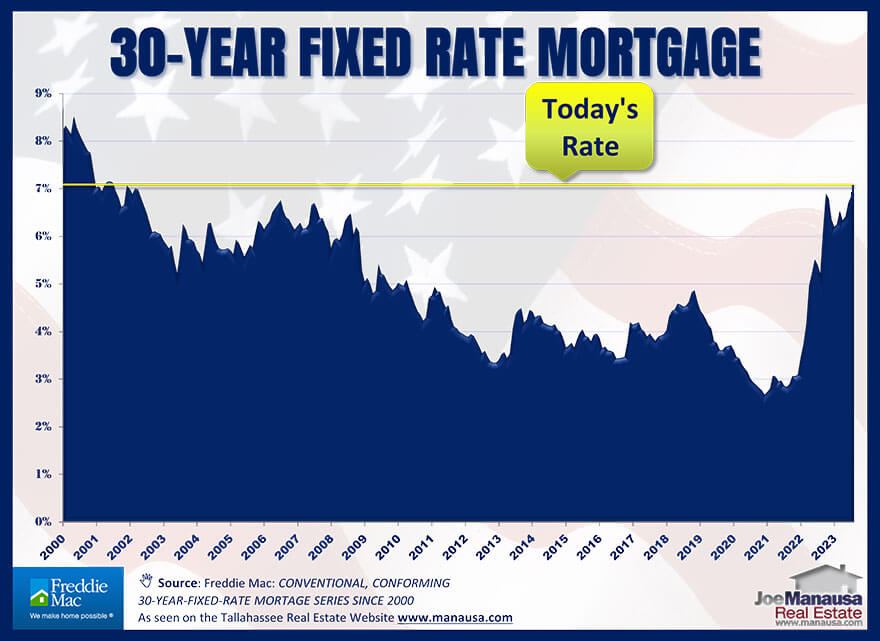 This graph reveals that anybody who has purchased a home (with financing) or who has refinanced in the past 22 years has a rate lower than what is available today.
Today's higher rate, viewed through the lens of recency bias, has slowed the housing market by about 1/3rd compared to two years ago.
Annual US Home Sales
This graph plots the total number of home sales each year, with existing home sales plotted in blue and new home sales plotted in red. 2023 is on track to record slightly more home sales than the four worst post-housing-bubble years from 2008 through 2011.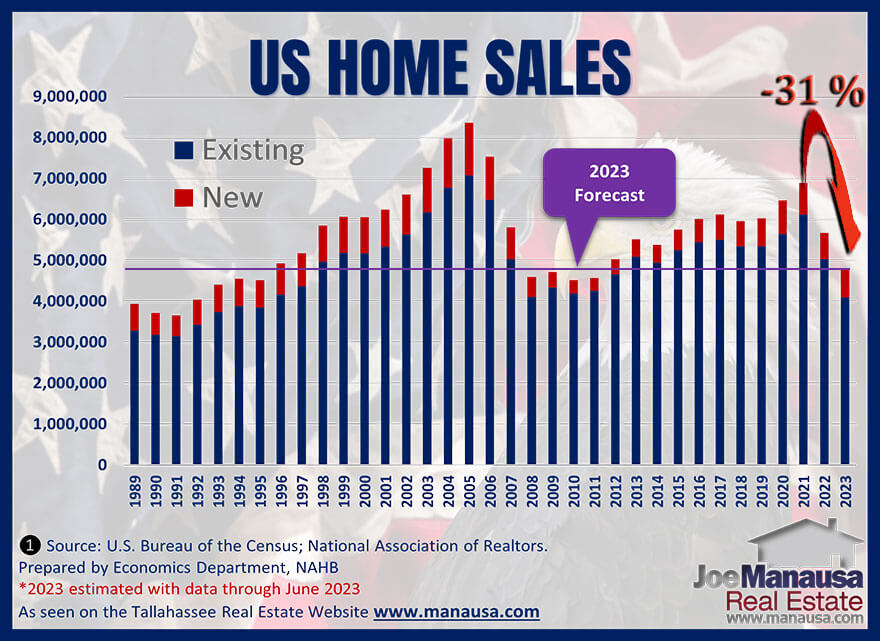 The shock of mortgage interest rates more than doubling from September 2021 to September 2022 shocked the market into a slowdown. Never before have we seen rates double so quickly.
The rapid rate ascent has trapped people in homes with low-interest rate loans. If they decide to move, rates are often double what they paid for their last home, and home prices are higher too. It's a double-whammy on home affordability that will take some time to clear the market. Unless low mortgage interest rates return.
Today's Mortgage Interest Rates (8% Lower Than Average)
When we take a broader view of past mortgage interest rates, we find that today's rate is 8.4% lower than the 52-year average.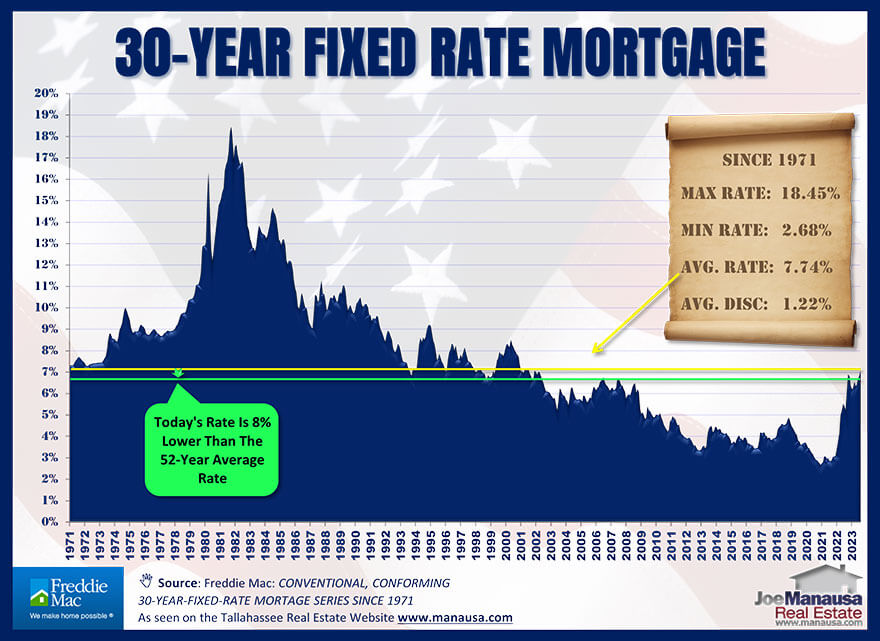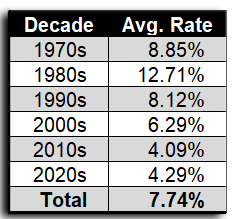 Did you catch that? Today's rates are "lower than normal!" When we look back on the history of mortgage interest rates in the US, it's obvious that the past twenty years have been awesome!
From the 1970s through the 1990s, it was common for some homeowners to have double-digit mortgage interest rates on their homes. But since 2000, we look at 6% as a shockingly high rate to pay for borrowed funds.
Waiting (Hoping) This Time Is Different?
In the quest to determine the future direction of interest rates, one encounters a broad spectrum of opinions, ranging from the highly optimistic to the decidedly pessimistic.
A common assertion is that interest rates are cyclical, following patterns that can be discerned through careful observation. But how does one decode these cycles amidst the noise of economic data?
Conversely, a growing sentiment among some analysts and economists posits that today's landscape is unique. According to this perspective, efforts will be made to maintain mortgage interest rates at historically low levels, raising them primarily as a tool to combat inflation when necessary.
The advocates for this new paradigm often argue that "this time it's different." They cite factors such as political hesitancy or the capabilities of modern computing—which allows for rapid, sophisticated analysis of economic conditions and thereby enables timely interventions to curb inflation—as evidence for their stance.
However, disciples of the "this time it's different" mantra would be wise to consult history. Substantial evidence suggests that each era's 'new normal' is often not as unprecedented as it may seem.
For those interested in a deep and informed perspective on the long-term trends in interest rates, consider adding "This Time Is Different: Eight Centuries Of Financial Folly" to your reading list. This book, which analyzes interest rates across a span of more than 800 years, offers invaluable insights into the historical context of today's rates.
Throughout history, rich and poor countries alike have been lending, borrowing, crashing--and recovering--their way through an extraordinary range of financial crises. Each time, the experts have chimed, "this time is different"--claiming that the old rules of valuation no longer apply and that the new situation bears little similarity to past disasters. With this breakthrough study, leading economists Carmen Reinhart and Kenneth Rogoff definitively prove them wrong.
[This Time Is Different: Eight Centuries Of Financial Folly]
Don't be so quick to assume that rates will come back down!
Marry The Home ... Date The Rate
The saying "Marry the home, date the rate" is a metaphorical way of advising homebuyers to think long-term about the property they are choosing to buy (i.e., they should love the home and be committed to living in it for a significant period of time, like a marriage), but to understand that mortgage rates can and do fluctuate over time, and can be refinanced as they change (like dating, which can be more casual and temporary).
The "marry the home" part of the saying emphasizes that choosing a home should be a thoughtful and committed decision. You should love the home you're buying and plan to be there for a substantial period of time, so you should choose wisely.
The "date the rate" part of the saying suggests that you shouldn't get too attached to your mortgage rate because mortgage rates can be refinanced when they change. Just like you might date different people until you find the right one, you can—and should—shop around for mortgage rates and be open to changing (refinancing) if a better rate becomes available.
It's a way of reminding people to focus on finding a home they will be happy with in the long term while staying flexible and savvy with the financing since interest rates can fluctuate and there may be opportunities to refinance at a lower rate.
Home prices generally rise, so waiting for rates to fall amounts to a higher home price when you purchase. If rates never fall, do you stay where you are? Do you rent?
History warns us that rates will go back higher; these past twenty-plus years have been a blessing that even the youngest amongst us might never see again during their lifetimes. Find a home you can afford that will serve your needs now and well into the future, and secure it before the home affordability crisis makes doing so impossible.
How Can We Help You?
There are a lot of people who endorse Joe for the job of selling your home, from Barbara Corcoran (Star of ABC's Shark Tank) to Preston Scott (host of Tallahassee's top daily "Audio Magazine," as well as the thousands of happy customers Joe has helped in the past. Listen why!