How To Find The Real Estate Agent To Sell Your Home
Posted by Joe Manausa on Friday, October 14, 2011 at 11:17 AM
By Joe Manausa / October 14, 2011
Comment
If you are a homeowner wanting to sell a home in anywhere in the United States, I would recommend you put some serious effort in finding the best agent for the job of selling your home.
With the flood of distressed properties that have hit the market (and will continue arriving for quite some time), you will be competing with a lot of homes where sellers are less concerned about the price they receive and more concerned with just getting the home sold. This means that pricing pressures are going to make it nearly impossible for a homeowner who is trying to fetch top dollar for a home.
In order to pull every single cent out of your home, you should hire the agent who can maximize the pool of buyers for your home. In yesterday's blog post which revealed 5 hidden resources for home sellers, I discussed ways to increase the buyer pool for a home. This results in high offers for the sellers, as the perception of competition among buyers leverages "fear of loss" to attain competitive offers.
Today I want to help you identify the best agent (or company) to do this for you. All it requires is a few hours of investigation on the internet for you to determine who is pulling more buyers to their listed properties than anyone else. Your research will be focused on identifying the major "pull" marketers from the masses of "push" marketers.
Pull Versus Push Marketing In Real Estate
The best style of marketing on the internet is designed to pull targeted traffic to the desired location. Great content and superior tools are the best "pull" marketing tools for real estate. You should be looking for a website that features new content on a daily basis, and not just news and articles are taken from other websites, rather you are seeking a website that has new local content each day.
Push Marketing - Uses a lot of advertising to promote a website in the hopes of driving traffic (pushing) to the site.
Pull Marketing - Uses a lot of pertinent, current, search-engine-optimized content and tools that are designed to attract the attention of Google and other top search engines with the benefit of receiving search traffic from them. They pull homebuyers to their site by providing the information that ready buyers are seeking.
Here at the Tallahassee Real Estate Website, we produce between 3 to 4 new pages of "Tallahassee real estate" content each and every day. Our website has over 6,000 pages of content that Google and the other search engines know is fresh, as they spider our website several times each day. This means that more search traffic is sent our way, which means our featured properties (the ones that we have listed) are seen the most of all listed properties in Tallahassee. Our property search tool features all of the homes for sale in Tallahassee, but the homes of our clients are seen as much as 16 times more often than those listed with our rivals (don't you think a home that is seen by more buyers has a better chance of gaining more interest?).
New relevant content about the market, about neighborhoods, about the home buying and home selling process (this article for example), and a great property search tool are the tools that you will find on the best "pull" marketing websites. Find the local website that has these, and you will have the one that is getting the most attention to its listed properties. Contrarily, sites that look like they were created overnight and have a page dedicated to "our listings," or "our properties" are most likely getting so little traffic as to wonder why they even have a website.
Once you have determined your shortlist of top local "pull" marketers, go to a website like compete.com that allows you to enter the URLs for each of your selected companies to determine which one is pulling in the most traffic. This can be a real eye-opener. The first time I did my search on this traffic ranking website, we had more traffic coming to our website than all of our competition combined had gone to their sites. I was amazed.
So if you want to hire the best real estate agent for the job of selling your home, look to the internet for answers. After all, 94% of homebuyers are using the internet during their home selection process, so you want the agent that can feature your home to those buyers who are ready to make a purchase decision. These "ready buyers" are using the top local website and they are seeing the featured properties 16 times more often then they are seeing the rest of the properties listed for sale.
Ensure that you become a featured property on the best "pull" real estate marketing site in your local area, and you will give yourself the best opportunity to get top dollar for your home. If you would like help in this selection process, just drop me a note and I will help you find the best real estate "pull" marketer in your area.
Your Local Expert In Tallahassee
Do you have further questions about real estate marketing or on the Tallahassee real estate market? If so, you can leave a comment below, give us a call at (850) 366-8917, or drop us a note and we'll give you the local information needed to ensure a successful, smooth transaction.
As a local born and raised in Tallahassee with a focus on customer service, I promise you'll find great success when working with Joe Manausa Real Estate, just as have our past customers. You can thousands of their reviews reported on Google, Facebook and Zillow right here: Real Estate Agent Reviews Tallahassee.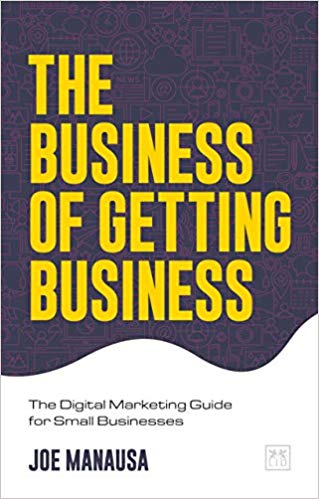 Have you heard about my new book "The Business of Getting Business?" It's a comprehensive guide for small businesses to help them make the move to digital. For those of us who want to survive and thrive in a world where large corporations are taking over, it is a must-read. It's also the perfect guide for how to sell a home in the digital age.
You can find it on Amazon (UK) for immediate delivery, or you can go to Amazon (US) to reserve a copy at a pre-US published rate.