What To Expect For Tallahassee Housing Inventory In 2019
Posted by Joe Manausa on Monday, January 21, 2019 at 5:55 AM
By Joe Manausa / January 21, 2019
Comment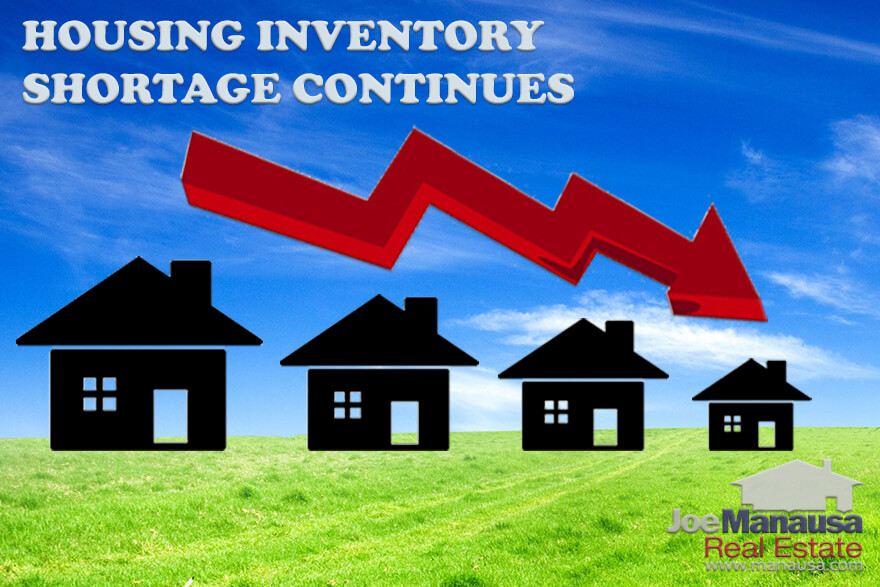 The inventory of homes for sale in Tallahassee remains far too low, with fewer than 1,200 listings currently marketed in the Tallahassee Board of Realtors Multiple Listing Service (MLS).
This article is going to show you those listings and then follow with an analysis of building permits and their impact on our inventory-starved housing market.
Tallahassee Homes For Sale
Every single family listing in the Tallahassee MLS (includes condominiums, townhouses, and single family detached homes) is shown below.
Tallahassee Housing Inventory Report
If you are hearing talk and find yourself concerned about the next housing bubble, then you should check out this week's one-page special report on the next housing bubble, you can find it by clicking here.
The graph below was used in that report, and it will be used today because it helps answer a major question about the future of our housing inventory in Tallahassee. The graph shows all residential permitting activity in Tallahassee for the past forty-eight years.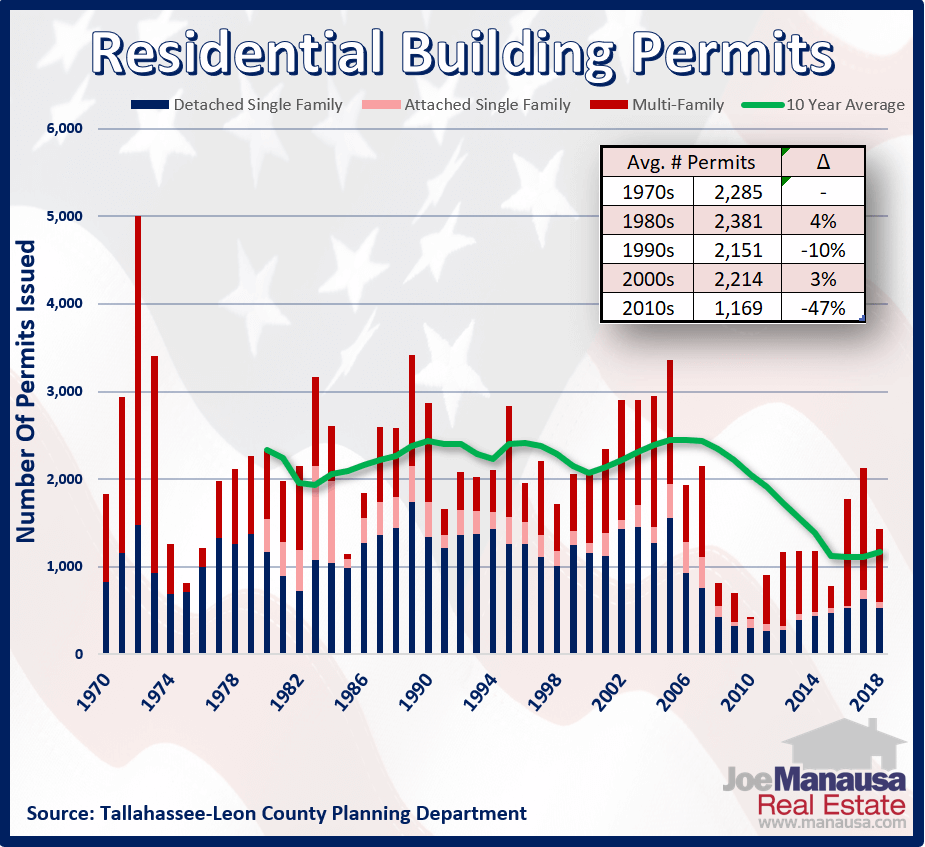 The graph above includes new residential permits for single-family detached homes, single family attached homes (condominiums and townhomes), and multifamily properties. I've omitted mobile home permits from this though I do keep an eye on them every month, and they have not changed enough to be significant in our findings.

As Tallahassee grows, we must build new residential properties to house our new residents. Currently, there is a significant shortage of homes for sale in Tallahassee (see this report for specific areas and price ranges), and we are not building new residential properties fast enough to fill the shortage.
The table in the graph above shows that residential building permits are down 47% this decade compared to last decade, and it's time we start building (wisely, not wildly) to balance out the inventory of homes for sale.
We are going to continue to see a relative rise in multi-family construction as single-family homes become less affordable due to rising construction costs and rising mortgage interest rates. Nevertheless, there is plenty of opportunities for builders to deliver condominiums and townhouses to fill-out the middle of the market where inventory is the most competitive. We just need to start building.

While demand appeared to have softened when mortgage interest rates spiked this past Summer, and I currently see no evidence that demand will fall far enough to make our relative supply of homes for sale sufficient.
Get Our Free Market Update
Other buyers, sellers, lenders, and real estate agents have this critical information, and now you can too!
Get immediate access to our most recent newsletter.
Let nearly 30 years of experience work for you with charts, graphs, and analysis of the Tallahassee housing market.
Each Monday morning we send out a simple, one-page report that provides a snapshot of the Tallahassee housing market. It only takes 2 minutes to read, but it gives you better market intelligence than most real estate agents possess. Just tell us where to send it below!
Single Family Building Permits
The following graph shows just the single-family building permits, which shows 30 years of declines. The current decade reveals single-family building permits are averaging 62% fewer each year than what was reported last decade.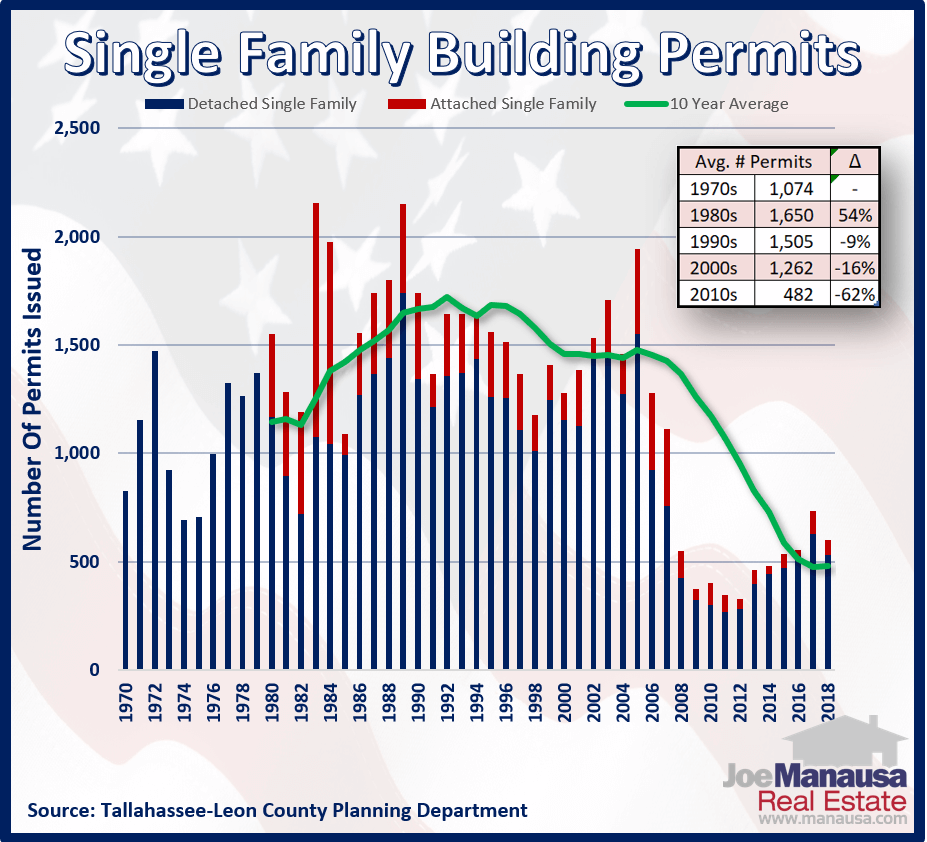 The rate of population growth is an important metric to consider when looking at building permits. After all, if we're not growing, then we probably don't need many new homes. Every source that I have examined estimates Tallahassee's growth is slowing down, so it makes sense that we're seeing fewer building permits.
But if you look at the supply and demand of homes for sale in Tallahassee, then you know that we've slowed permits too much. Our local lenders need to help encourage builders to add to the inventory in the areas and price ranges that are currently too thin.
We have consumed the glut of homes below $350K and we can handle more homes below $450K in certain areas. The following table shows the relative supply of homes for sale today.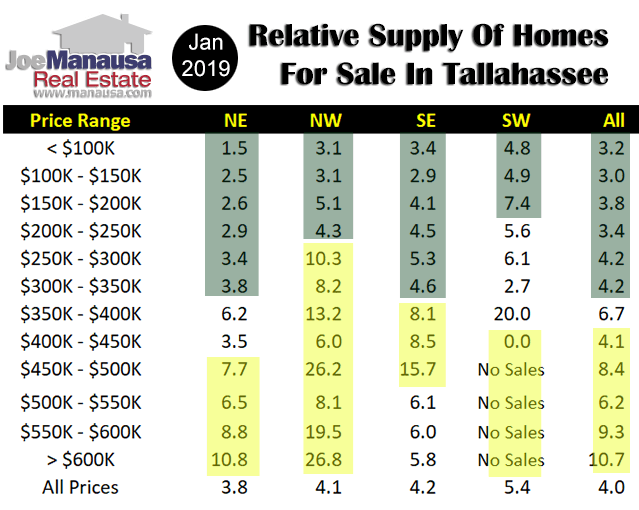 Builders should seek to build in the areas and price ranges shown in green, and they should avoid building in those areas and price ranges identified in yellow.
If you are planning on selling a home and/or buying a home in Tallahassee this year, look at the table above to get a feeling for how it will go. Green means buyers will compete for too few houses, yellow means sellers will compete for too few buyers, and the white areas are where buyers and sellers should be on equal footing.
If you want to know more about how the current housing inventory might impact your move, give us a call at (850) 366-8917 or drop us a note and we'll set a time to review your personal situation and show you what to expect this year.
Joe Wrote The Book On How To Sell A Home Today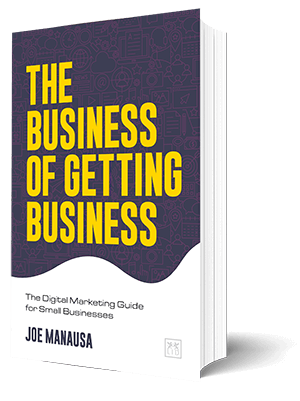 WARNING: The Internet & digital marketing systems have changed the way sellers need to market a home for sale. It's not about getting a home sold anymore, it's about getting a home sold and netting the most money from the sale.
To do this, a seller needs to hit the digital market hard in a coordinated effort that alerts ready-buyers (all at the same time) to ensure buyers understand they are competing for the right to buy the home.
While it only takes ONE buyer to sell a home, it takes MULTIPLE BUYERS for the seller to bid the property up to its highest value in today's market. You see our full explanation about how to sell a house here, or you can buy the book and really get into the nuts and bolts of selling a home in the digital age.
Get the book that explains it all, in a manner that is understanding to all, even technology neophytes. It's available on Amazon, a trusted source for consumers.