How Tallahassee Home Values Compare With The Past
Posted by Joe Manausa on Tuesday, January 15, 2019 at 5:58 AM
By Joe Manausa / January 15, 2019
Comment
Tallahassee home values moved significantly higher in 2018, the result of limited inventory combined with the intense demand from homebuyers aided by low mortgage interest rates.
Homeowners gained significant equity last year, but how do values today compare with where they were when many of today's homeowners made their purchase?
Historic Home Values In Tallahassee
The graph below plots the average price per square foot of existing home sales (resales) from 1991 through 2018.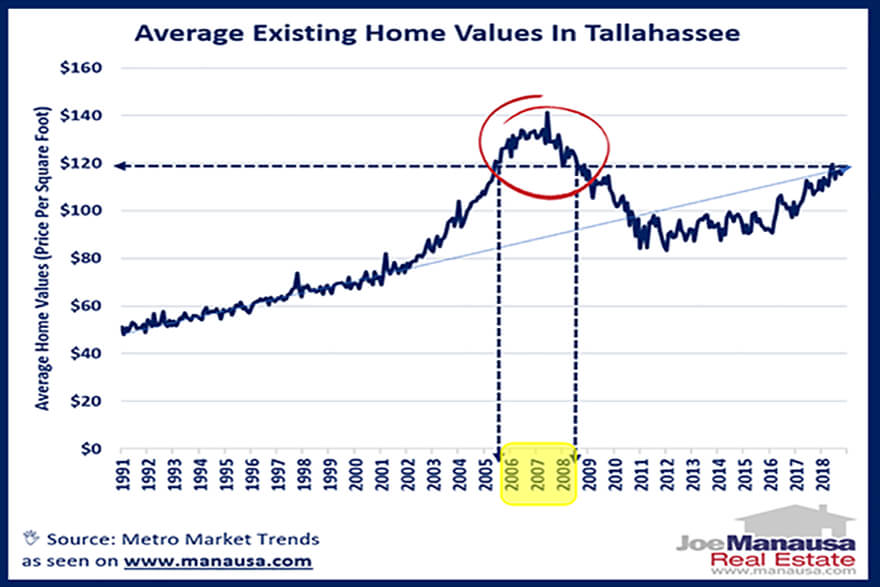 The average value of a home sold at the end of 2018 was just under $120 per square foot.
Homeowners And Their Tallahassee Home Values
The graph shows us that homeowners who purchased their home from the end of 2005 through the middle of 2008 most likely have very little (or negative) equity in their homes.
Those that purchased in December of 2011 have seen values rise 40% through December of 2018, an excellent annualized appreciation rate of nearly 5%! For our long-term homeowners, those that purchased in December of 1990 have seen an annualized appreciation rate of 3.15%.
For those who bought their homes at the very top of the market in June of 2007 have suffered a 1.05% depreciation rate over that time. Of course, they lost more than a third of their value on the way to the market bottom at the beginning of 2012 and have been recovering since.
Get Our Free Market Update
Other buyers, sellers, lenders, and real estate agents have this critical information, and now you can too!
Get immediate access to our most recent newsletter.
Let nearly 30 years of experience work for you with charts, graphs, and analysis of the Tallahassee housing market.
Each Monday morning we send out a simple, one-page report that provides a snapshot of the Tallahassee housing market. It only takes 2 minutes to read, but it gives you better market intelligence than most real estate agents possess. Just tell us where to send it below!
Where Tallahassee Home Values Go From Here
To forecast the future of home values in Tallahassee, we need to study the relationship between supply and demand to determine which segments of our market favor sellers versus those that favor buyers.
We expect those in a strong sellers' market to see higher than normal appreciation rates, while those that are in buyers' markets will see lower than traditional appreciation rate levels, perhaps even depreciation.
Housing Supply And Demand In Tallahassee
The following table identifies the relative supply of homes for sale in Tallahassee, measured in months of supply. We consider 6.0 months of supply to be a balanced market, whereas below six is a sellers' market (not enough homes) and above six is a buyers' market (too many homes).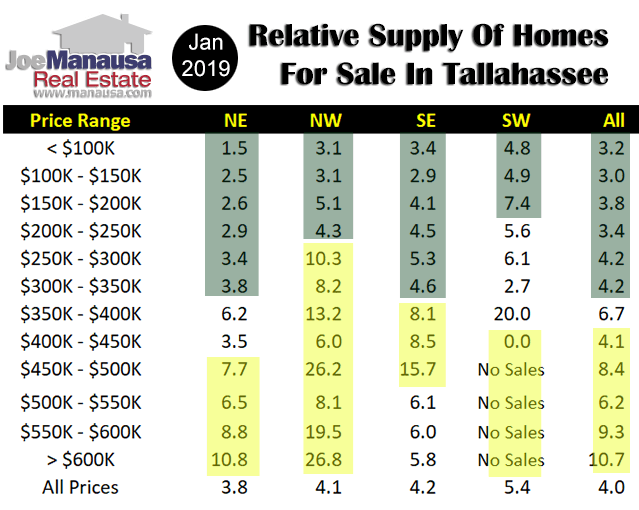 The table above is broken down by quadrant moving across and by price range vertically. Green shading identifies areas and price ranges where it is a sellers' market, while yellow shading identifies a buyers' market. Non-shaded areas reveal market equilibrium (no advantage to either sellers or buyers). Where you see numbers that defy the shading, you'll notice adjacent price ranges that can fill the void (this often happens when there is limited activity in an area).
It's important to note that we created the table by taking the average number of listings and the average number of sales for the past twelve months in each area and price range. By doing it this way, we remove all variances that occur due to seasonality. This table very accurately reflects the relative supply of homes for sale in Tallahassee right now.
Would you like to know what this means for your home specifically? All you need to do is give us a call at (850) 366-8917 or drop us a note and we'll be in touch right away!
Your Local Expert In Tallahassee
When moving to, in, or from Tallahassee, you will fare better if you work with a local expert. We are here to help. If you have further questions on the Tallahassee real estate market, you can leave a comment below, give us a call at (850) 366-8917, or drop us a note and we'll give you the local information needed to ensure a successful, smooth transaction.
As a local born and raised in Tallahassee with a focus on customer service, I promise you'll find great success when working with Joe Manausa Real Estate, just as have our past customers. You can read thousands of their reviews reported on Google, Facebook and Zillow right here: Real Estate Agent Reviews Tallahassee.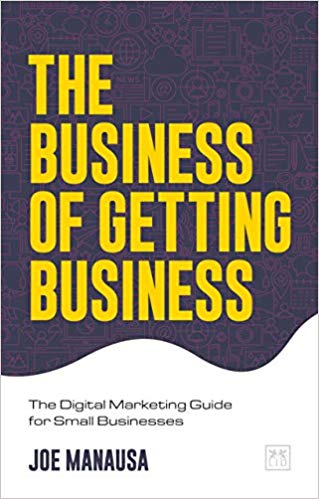 Have you heard about my new book "The Business of Getting Business?" It's a comprehensive guide for small businesses to help them make the move to digital. For those of us who want to survive and thrive in a world where large corporations are taking over, it is a must-read. It's also the perfect guide for how to sell a home in the digital age. You can find The Business Of Getting Business by clicking on any of the trusted retailers below.

Think all REALTORS are alike?
Read what people are saying about working with Joe Manausa Real Estate! You can see thousands of real customer reviews reported on Google, Facebook and Zillow at this link: CLICK HERE FOR REAL ESTATE AGENT REVIEWS.