The Fed, Mortgage Interest Rates And Home Affordability
Posted by Joe Manausa on Thursday, December 27, 2018 at 5:57 AM
By Joe Manausa / December 27, 2018
Comment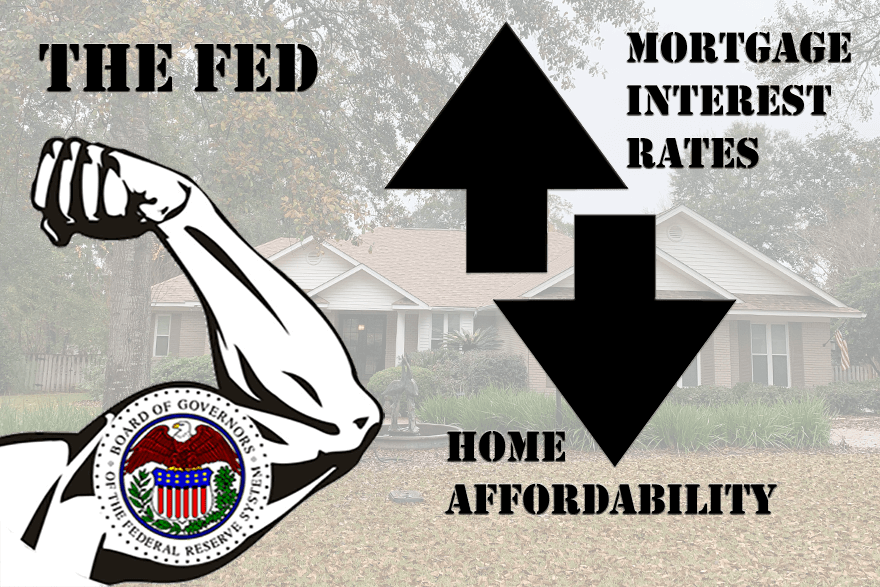 Last week, the Federal Reserve raised its benchmark interest rate a quarter-point and made it clear that future rate increases would be coming in 2019. Jerome Powell, the Fed Chairman, was optimistic that the economy would continue to strengthen.
With a strengthening economy and the Fed raising rates in order to deter inflation, one has to wonder how it will impact the present and future of the housing market. In fact, if you were planning on buying a home in 2019, I think you should strongly consider this advice.
Get Our Free Market Update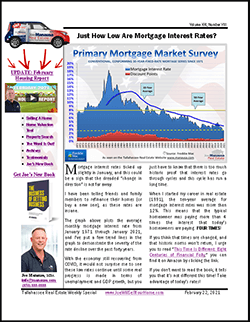 Other buyers, sellers, lenders, and real estate agents have this critical information, and now you can too!
Get immediate access to our most recent newsletter.
Let more than 30 years of experience work for you with charts, graphs, and analysis of the Tallahassee housing market.
Each Monday morning we send out a simple, one-page report that provides a snapshot of the Tallahassee housing market. It only takes 2 minutes to read, but it gives you better market intelligence than most real estate agents possess. Just tell us where to send it below!
Don't Market These Mortgage Mistakes!
Historical Mortgage Interest Rates
The graph below shows the monthly average mortgage interest rate from 1971 through November 2018.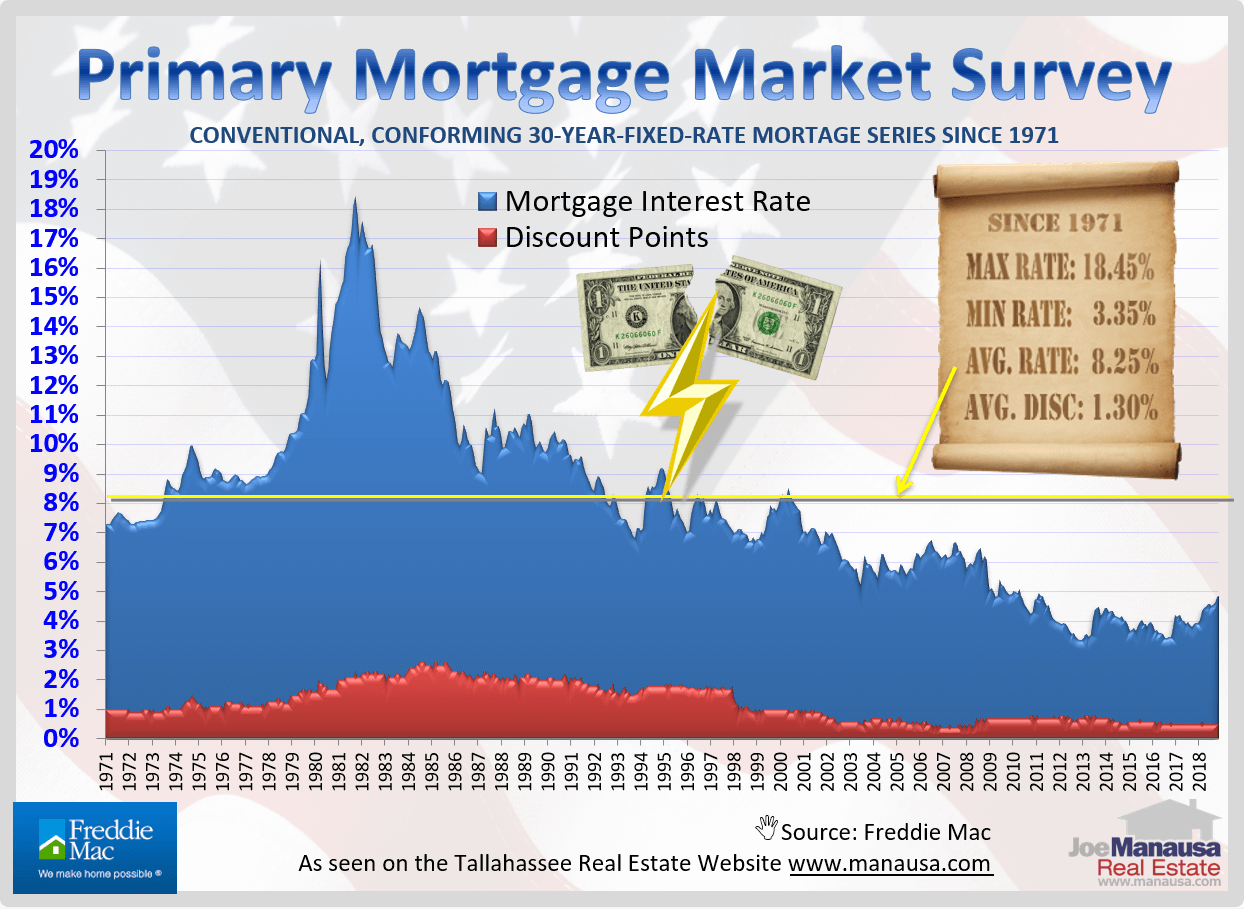 Currently, mortgage interest rates are higher than we have seen since 2010, and nearly every expert anticipates them moving higher next year.
The Fed And Mortgage Interest Rates
The Federal Reserve does not set mortgage interest rates. It determines the federal funds rate, which generally impacts short-term and adjustable interest rates. It is the Fed's rate which banks and other financial institutions use to lend money to one another overnight to meet mandated reserve levels.
When the Fed makes a change, it does not necessarily impact the short-term movement of the mortgage market in the same manner. There have been numerous cases in the past (see Summer and Fall of 2004) when the Fed raised its rate and yet mortgage interest rates fell. Even the experts have differing opinions on how the recent rate hikes will impact the mortgage market.
But buyers should know that mortgage interest rates do move with the Federal Funds rate over the long-term. We should anticipate rising mortgage interest rates over the next five years. In fact, if you look at the graph above, we should anticipate a significant move higher in mortgage interest rates over the next ten or more years! Currently, mortgage rates are just over 1/2 of the 50-year average (meaning they are far lower than normal).
Mortgage Interest Rates And Home Affordability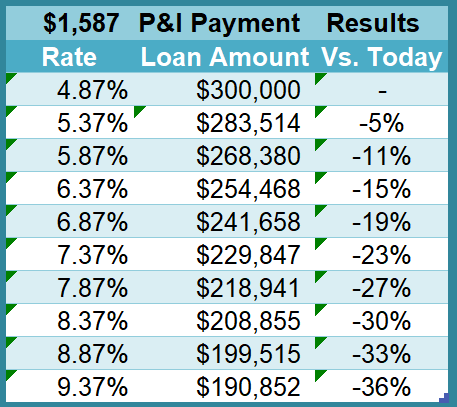 Let's look at an example of how home affordability is impacted by rising mortgage interest rates.
Most people buying a home in Tallahassee borrow money from a lender in order to have the funds necessary to make a purchase. Suppose a buyer can afford a payment of $1,587 (principal and interest) and is thinking about buying a home. The top line shows that the buyer could borrow $300K today, and with down-payment, would likely be purchasing a home for a price near $325K to $350K.
When rates move up by 1/2% in 2019 (as most experts believe will occur), the borrowing power declines to $284K. This means if the buyer wants to purchase a home for the same price, the down payment must be increased by $16K (roughly 5% more cash at closing). Were this buyer to wait until 2020, when many experts believe mortgage interest will be even higher, the impact is far worse.
My near-30 years of experience with buyers and sellers in Tallahassee has shown me that cash is King, and most of our buyers have good credit but are limited on cash. This means the impact of the above scenarios would not create higher down payments (as the buyers would not have the means to meet those new requirements), rather it suggests that buyers will purchase cheaper houses with the same payments as they would get today on more expensive homes.
When you couple this effect with the fact that inventory levels remain historically low, we will observe home prices rising higher while affordability will be dropping. Today's $300,000 house very well could be a $330,000 house in 2020, and yet today's buyer might only be able to purchase $270,000 in 2020 (which is a $250K home today).
Not sure where to start with the pre-qualification process?
Simply tell us who you are and a trusted local mortgage lender will be in touch to answer all of your questions.
2019 Housing Market Forecast
Buyers should expect the following:
Mortgage interest rates will continue to rise, though they may fall in the early months
Home prices will generally rise, though it will be a stair-step pattern
My recommendation is to get informed. Don't be a victim of market movements, instead evaluate your current situation and make a decision to stay where you are or move. Now is the time to make an informed decision. If you merely kick the can down the road, you will likely be gravely disappointed.
Are You Seriously Thinking About Moving In 2019?
If you have been thinking about moving, we would like to help you calculate your options. If you have a home that you own today, it's likely change in value should be part of your decision-making process. We can help you with that.
Our staff includes experts for home sellers and experts for home buyers. Regardless of your needs, we can help. Of course, don't just take my word for it, take a look at what our past home buyers and sellers have said about working with our company. We promise to deliver the same level of service to you and your family too!
Your Local Expert In Tallahassee
When moving to, in, or from Tallahassee, you will fare better if you work with a local expert. We are here to help. If you have further questions on the Tallahassee real estate market, you can leave a comment below, give us a call at (850) 366-8917, or drop us a note and we'll give you the local information needed to ensure a successful, smooth transaction.
As a local born and raised in Tallahassee with a focus on customer service, I promise you'll find great success when working with Joe Manausa Real Estate, just as have our past customers. You can read thousands of their reviews reported on Google, Facebook and Zillow right here: Real Estate Agent Reviews Tallahassee.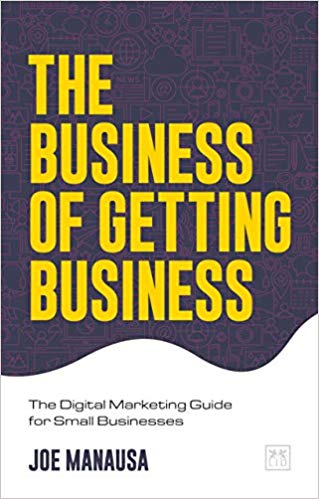 Have you heard about my new book "The Business of Getting Business?" It's a comprehensive guide for small businesses to help them make the move to digital. For those of us who want to survive and thrive in a world where large corporations are taking over, it is a must-read. It's also the perfect guide for how to sell a home in the digital age. You can find The Business Of Getting Business by clicking on any of the trusted retailers below.

Think all REALTORS are alike?
Read what people are saying about working with Joe Manausa Real Estate! You can see thousands of real customer reviews reported on Google, Facebook and Zillow at this link: CLICK HERE FOR REAL ESTATE AGENT REVIEWS.