Home Ownership Is Radically Different For Millennials
Posted by Joe Manausa on Monday, February 14, 2022 at 5:50 AM
By Joe Manausa / February 14, 2022
Comment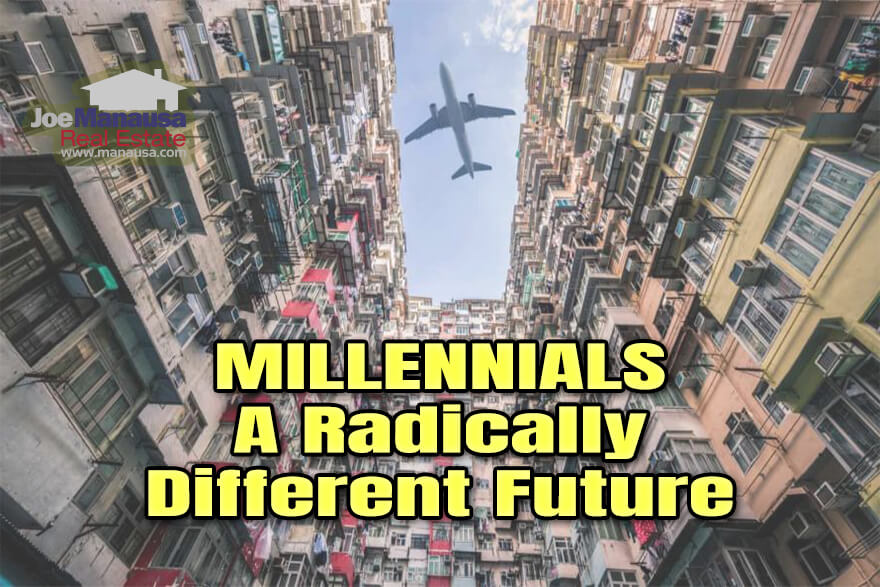 In case you weren't paying attention, the oldest millennial is turning 41 this year. Generation Y is not so young anymore.
As a real estate agent who is among the last few stragglers of the baby boom (or possibly among the earliest members of Generation X by some accounts), I have some bitter news to share with millennials about their future in the housing market. Simply put, it's going to be different for you than it was for your parents, your grandparents, and their parents too!
Follow along as I share a simple case study that will clearly show that the millennials will face a housing market like no other generation going back to post-World War II, and it will be unsettling for those young homeowners today who do not plan ahead.
Why It's Different For Millennials
Future Of Housing For Millennials
If you have been a regular reader of the Tallahassee Real Estate Blog (thank you!), then you have heard my concerns about a generational shift in housing that is going to separate the "haves" from the "have nots" by devastating home affordability.
I believe this will occur for two primary reasons. First, the cost of homes is going to go higher at a rate faster than we have experienced in the past. If you'd like to know more about how I reached that conclusion, you'll need to read from these articles.
Secondly, and the point that we'll explore today, is how millennials through the years are going to be the generation that oversees the biggest shift in the mortgage market in more than 40 years.
Historic Mortgage Interest Rates
Demand has been very high due to wonderful home affordability levels that are the result of historically low mortgage interest rates. The following graph plots the average monthly 30-year fixed-rate mortgage since 1971.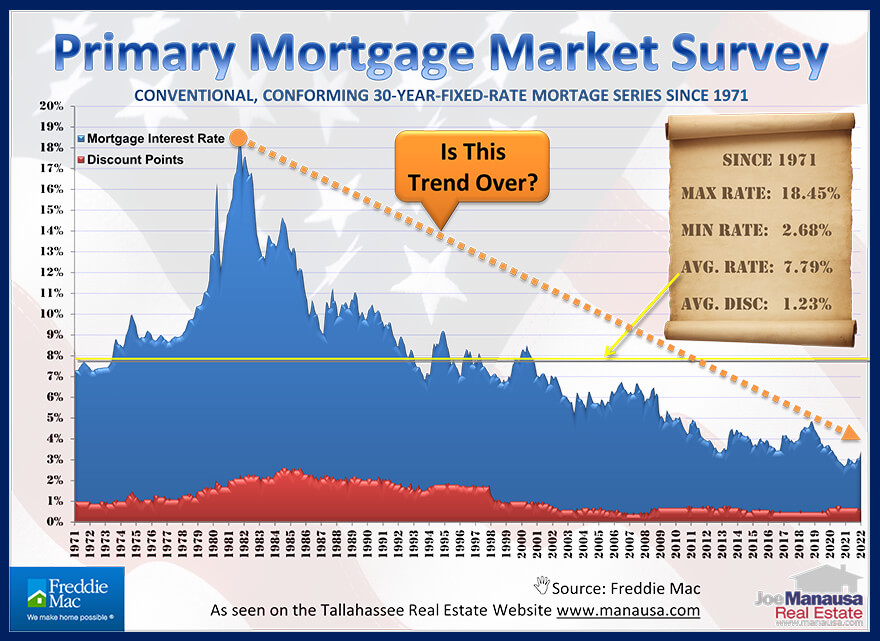 We have enjoyed low rates since 2000, and then COVID hit and brought in a period of market-bottom rates. For consumers who do not often pay attention to mortgage interest rates and the housing market, this is their new normal. But history offers a different story. There is convincing data that serves as historic proof that interest rates go through cycles, and the low-interest-rate cycle has run a long time.
When I started my career in real estate (1991), the ten-year average for mortgage interest rates was more than 12%. This means that the typical homeowner was paying more than 3 times the interest that today's homeowners are paying and more than 4 times the rate last year's buyers were paying.
FOUR TIMES! Take that for perspective, money is VERY cheap today and it is helping buyers spend more on homes without raising their monthly debt coverage obligations. There are some who think that we are now in a new age where interest rates will be low forever, but they have not done their homework.
If you think that times have changed and that historic norms won't return, I urge you to read "This Time Is Different: Eight Centuries of Financial Folly," you can find it on Amazon by clicking the link. The book explains how many smart people over the past 800 years (wrongly) concluded that the cycles were no longer in play for interest rates.
Let's focus on the orange dashed line in the graph. It shows that rates have generally been falling for more than 40 years, meaning that anybody who purchased a home in the past fifty years likely found lower mortgage interest rates when they went to buy their next home (typically 7 to 10 years after their purchase). This means that the "move-up" buyer could buy a more expensive home while keeping their monthly mortgage payment comfortable, and the downsizer (the "move-down" buyer) could nearly eliminate their monthly mortgage obligation.
I believe history suggests we might be in for another 50-year run (or so), meaning every time a millennial is ready to make their next move, they will be facing mortgage interest rates that are higher. Not just higher than today, rather higher than the rates were when they made their previous purchase. This will impede the relatively stable home affordability rate to continue as we've seen since 1970.
Home Affordability Is Tanking
It was less than a year ago when I reported that home affordability (adjusted to inflation) was better than in most previous years going back to the 1990s. But I also warned that converging market forces would put an end to the good times.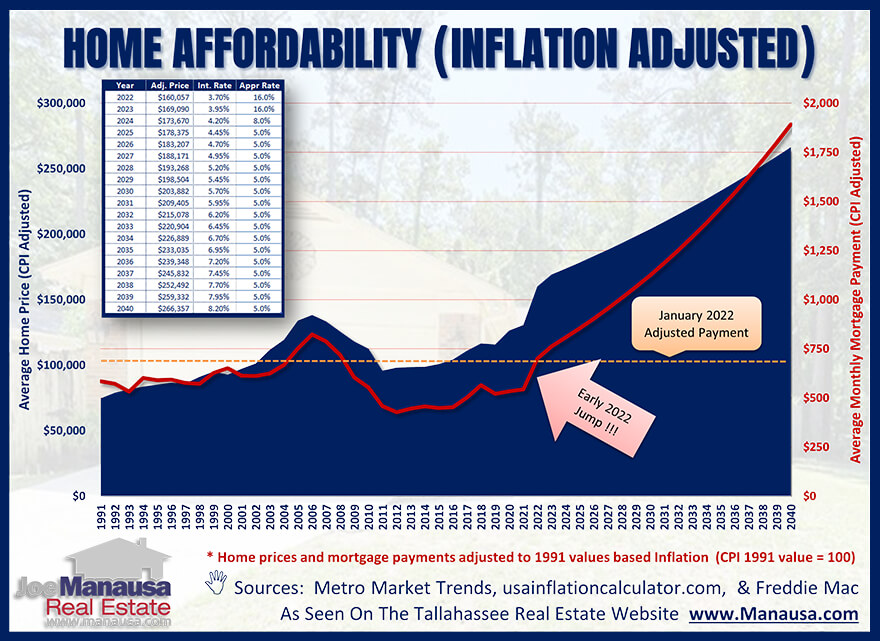 This graph measures home affordability by calculating the monthly mortgage payment of the median-priced home in Tallahassee over time. The payment and home prices are adjusted to 1991 levels with the CPI (inflation) index, thus revealing how home affordability has changed over the past thirty years as well as by providing a forecast through 2040.
The forecast has been created by using actual numbers through January 2022 and very conservative estimates of future home price growth and mortgage interest rate changes, and the average inflation measured over the past 30 years.
Just focus on the red line, that's the monthly mortgage payment (inflation-adjusted) that median homebuyers have and will face through 2040. Look at how far it moved already in 2022!
Today's $700 per month mortgage payment (adjusted to 1991 dollars) is projected to grow 170% to $1,892 (inflation-adjusted to 1991 dollars). It's a historically significant leap and far greater than the small growth that homebuyers experienced from 2004 through 2006.
In order to understand its impact on millennials and their future, I have created two scenarios that show what many millennials will face when they go to buy their next home, and one of them is not very pretty at all.
Get Our Free Market Update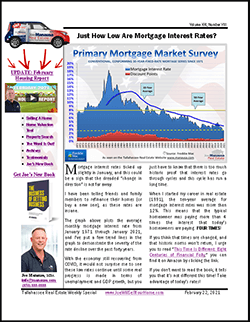 Other buyers, sellers, lenders, and real estate agents have this critical information, and now you can too!
Get immediate access to our most recent newsletter.
Let more than 30 years of experience work for you with charts, graphs, and analysis of the Tallahassee housing market.
Each Monday morning we send out a simple, one-page report that provides a snapshot of the Tallahassee housing market. It only takes 2 minutes to read, but it gives you better market intelligence than most real estate agents possess. Just tell us where to send it below!
How Moving To A Larger Home Will Look In Ten Years
Each of the following two examples is built to show what the future will likely hold for somebody who buys a home today and then decides to move in ten years. I believe the assumptions on appreciation and mortgage interest rates have been very conservative, so the outcome is likely to be even worse than what we discover today. Our first example examines the plight of the millennial move-up homebuyer.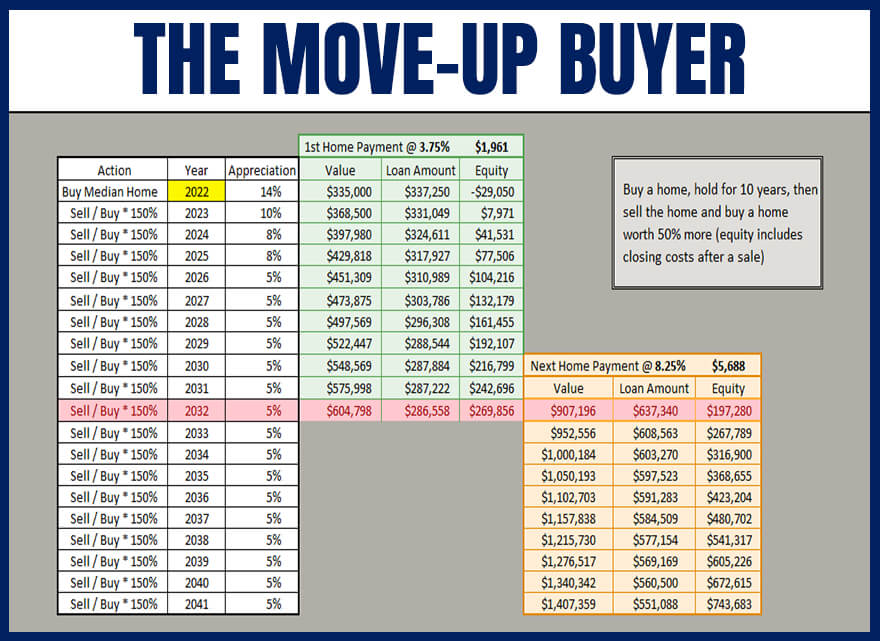 Each scenario starts with a homebuyer purchasing a $300,000 home this year. The white box shows the action taken by the buyer and the expected appreciation rate they will find in the market each year.
The green box shows the home's value at the end of each year, as well as the loan payment ($1,961 PITI), loan balance, and the homeowner's net equity from the sale of the home. Things are looking good at this point, as the homeowner has generated nearly $270K of equity in their ten years of ownership, with a constant low monthly mortgage payment of less than $2,000 per month.
The yellow box shows what a typical move-up might look like for today's buyer ten years from now. This will give our young millennials some gray hair if they are paying attention!
Historically, we find the average move-up to equate to about 150% of the buyer's existing home. So in our scenario, today's $300K home has grown to $605K in ten years, meaning the next move would be to a $908K home. I have used 100% of the buyer's equity from the sale of the first home as a down payment on the second home, but with interest rates moving (ONLY) to the 50-year average, the payment on the next home would jump 190% to $5,688 each month!
This means that a millennial will need qualifying income (in ten years) that is nearly triple their current earnings. While this might not be a big deal in silicon valley, I guarantee you it is going to put a crushing weight on move-up buyers in most local real estate markets!
This is why we have been warning of an upcoming home affordability crisis that will be very difficult to overcome for the majority of people. It's also the reason that I think we'll see a shift (backward) to far lower homeownership rates, similar to what was seen before World War II.
How Moving To A Smaller Home Will Look In Ten Years
Similar to the previous example, our second case examines the plight of the millennial move-down homebuyer.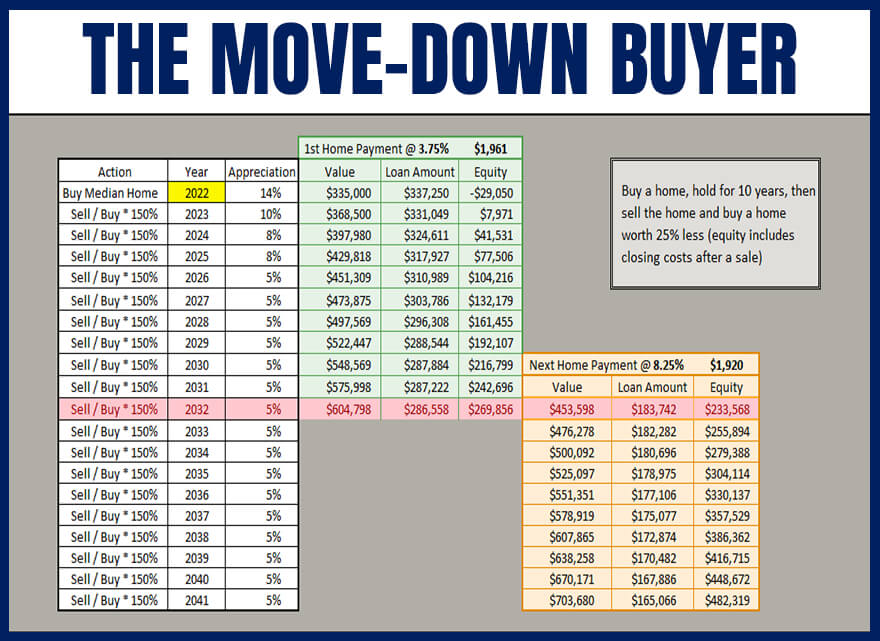 The move-down buyer is not going to face the same level of difficulty as did the move-up buyer. What's interesting is that we're seeing today's buyer sell today's home in ten years for the same price and equity, only to "trade" it in for a home that is 25% cheaper than today's home will be worth in 2032.
With higher mortgage interest rates, the move-down buyer will see their monthly mortgage payment drop from $1,961 to $1,920 each month (a decline of just 2%), so the financial element of the motivation to downsize is going to go away. There might be a good percentage of move-down buyers who do so to simplify the upkeep of their homes, but I suspect we'll see move-down buyers live in their homes longer and then move when they can do so without requiring a mortgage.
The reversal in the trend of mortgage interest rate change will reduce the number of both move-up and move-down buyers, so ultimately we'll see the number of purchase transactions in real estate decline in the future.
Fewer Transactions, Not Fewer Houses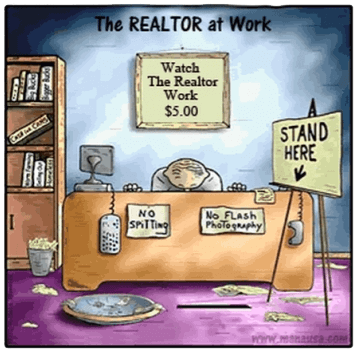 An important takeaway from this is that just because people will be moving less often, it does not mean the US will need fewer houses. If our population continues to grow, then the demand for shelter will grow with it. The rising cost of land, sticks, bricks, and labor will make new home construction costlier and that means millennials need to be prepared to spend more for their housing than did the last few generations (as a percentage of income).
Rents will rise faster. Mortgage payments will rise faster, and that means that millennials will spend a greater percentage of their disposable income on housing. Unless the government gets heavily into the shelter-providing business, I don't see another way to avoid this fate right now. If you think you do, please give us some feedback below, I'd love to explore new ideas.
Your Local Expert In Tallahassee
When moving to, in, or from Tallahassee, you will fare better if you work with a local expert. We are here to help. If you have further questions on the Tallahassee real estate market, you can leave a comment below, give us a call at (850) 366-8917, or drop us a note and we'll give you the local information needed to ensure a successful, smooth transaction.
As a local born and raised in Tallahassee with a focus on customer service, I promise you'll find great success when working with Joe Manausa Real Estate, just as have our past customers. You can read thousands of their reviews reported on Google, Facebook and Zillow right here: Real Estate Agent Reviews Tallahassee.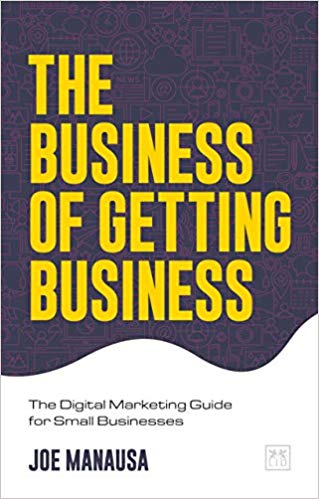 Have you heard about my new book "The Business of Getting Business?" It's a comprehensive guide for small businesses to help them make the move to digital. For those of us who want to survive and thrive in a world where large corporations are taking over, it is a must-read. It's also the perfect guide for how to sell a home in the digital age. You can find The Business Of Getting Business by clicking on any of the trusted retailers below.

Think all REALTORS are alike?
Read what people are saying about working with Joe Manausa Real Estate! You can see thousands of real customer reviews reported on Google, Facebook and Zillow at this link: CLICK HERE FOR REAL ESTATE AGENT REVIEWS.