How Changing Home Prices In Tallahassee Are Shifting The Market
Posted by Joe Manausa on Monday, November 1, 2021 at 5:51 AM
By Joe Manausa / November 1, 2021
Comment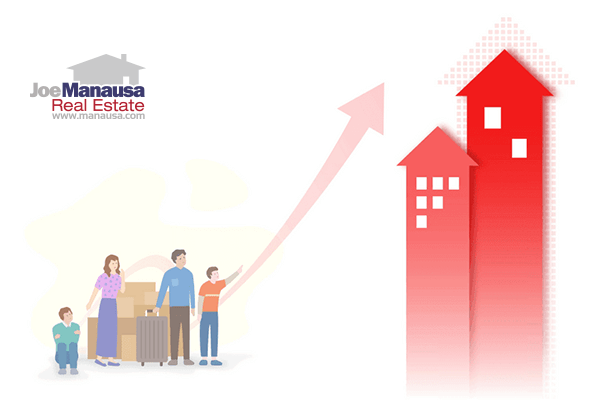 Soaring home prices have changed the look for a lot of the graphs that I have maintained over the past thirty years selling homes in Tallahassee. The second one in our report is a great example of the change that we are seeing in the market.
Today's report includes three graphs that show just how far home prices have risen as we move towards conditions where home affordability might become the greatest challenge the housing market has ever embraced.
The Impact Of Soaring Home Prices
The Median Single-Family Detached Home Price Is Soaring
The first graph in our report shows the annual median home price. Bear in mind, this report was produced on November 1, 2021, so it's likely we'll see even more growth when we look at these at year-end.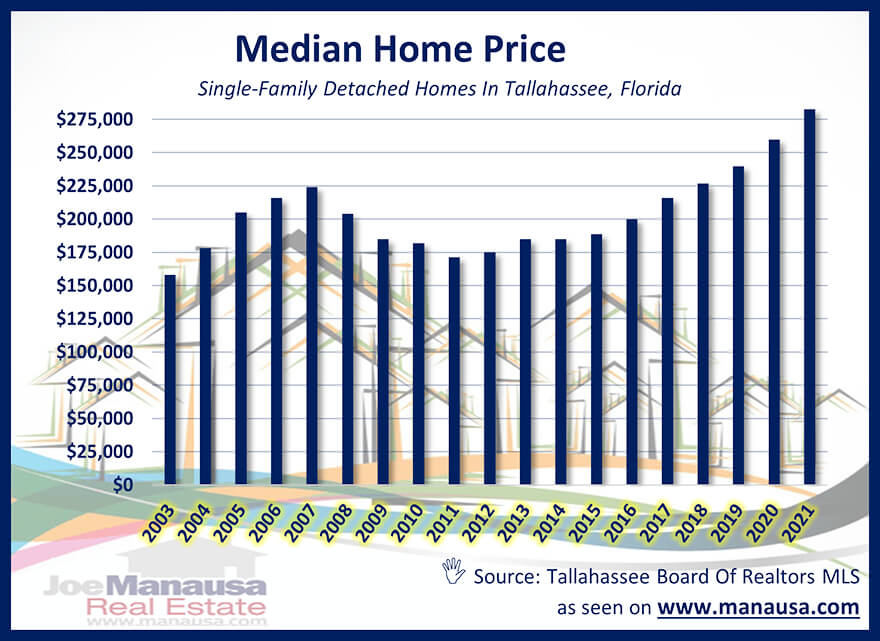 The median home price has risen 65% over the past ten years, an annualized rate of more than 5.1%. If this continues for another ten years, the median home price in Tallahassee at this time in 2031 will be $465,000!
But following the median home price really doesn't give us a fair evaluation of how home values really move. Why? Because the median home price is more reflective of what buyers are spending. When mortgage interest rates drop (like now), people can spend more on a home without paying a higher monthly mortgage payment, The opposite is true when interest rates rise, it reduces the amount that buyers can spend on a home.
But tracking values allow us to see what sellers are getting (in other words, home values report a more accurate appreciation level). When we run the numbers, home values have risen 5.9% annually which far better represents the current average annual appreciation rate. This year, it will be more than double that amount!
Home Sales By Price Range Shows Shift In Market
Take a look at how home sales are distributed by price. The graph shows the cumulative count, starting at the bottom of the graph (or top-down in the table) and moving to the opposite end.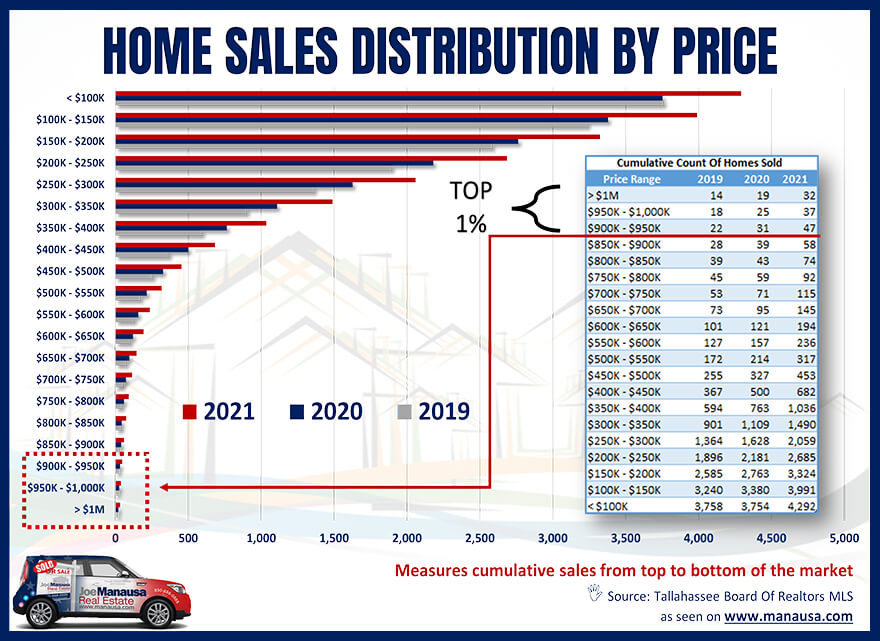 I really like the image the graph creates as it shows that so many of our sales remain below $200K (52% of all sales), yet we know it's nearly impossible to find a home at that price or below in most of Tallahassee.
Nearly 90% of all homes sold were at prices below $400K, yet we're seeing bidding wars in most of Tallahassee when a $400K home hits the market. Perhaps the biggest shocker is that we've seen 32 homes sell for more than $1M this year, which is more than double the amount sold in all ten years combined in the 1990s!
Ten Years Of Change
Here are some interesting statistics for 2021 when compared to 10 years ago:
Homes < $100K: 7% now versus 29% 10 years ago. This is a pretty large change for a ten-year period of time. In 2011, nearly 1 out of every 3 homes sold in Tallahassee was at a price under $100,000, whereas today it's only 1 out of every 14 homes sold. This gives you an idea of how home affordability is eroding.
Homes < $150K: 23% now versus 49% 10 years ago. Similar to the last point, we've gone from 1/2 of the homes sold being below $150K to now fewer than 1/4 of the homes sold falling below $150K.
Homes > $700K: 3% now versus 1% ten years ago. Thanks to low mortgage interest rates, we're seeing more people buying homes that ten years ago would put them in the top 1%. So putting some real numbers to this, ten years ago only 15 people purchased a home for more than $700,000. This year, through nearly ten months of the year, that number has risen to 115!
Keep Up With New Trends In Tallahassee!
Get The Tallahassee Real Estate Newsletter
Don't be the one that doesn't know what's going on when you sell a home or buy a home in Tallahassee.
Other buyers, sellers, lenders, and real estate agents have this critical information, and now you can too!
Get immediate access to our most recent newsletter.
Let more than 30 years of experience work for you with charts, graphs, and analysis of the Tallahassee housing market.
How 2021 Home Sales Compare With Past Years
We know the market is robust and that buyers are competing for the few available homes for sale, but how do home sales this year stack up to previous years?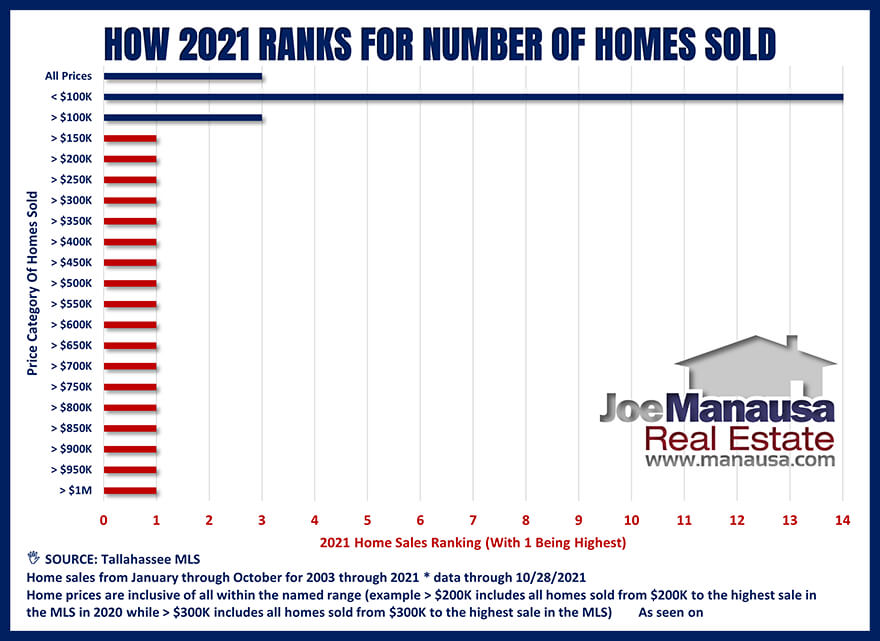 This graph measures cumulative sales starting at the highest price range and moving towards the lowest price home sold in Tallahassee. This means that it is best read from the bottom-up, and that each number on the left vertical axis includes all homes sold at that price and higher.
For example, we see that homes that sold at prices above $1M are ranked #1 in 2021 when compared to all years prior. So too are all homes priced above $950K. In fact, homes priced above $150K and higher are having the best year ever for home sales in Tallahassee.
When we drop down to homes priced above $100K, 2021 only ranks #3. When we isolate homes under $100K, it's the 14th best year of the past 18 years. But when we look at the entire market, 2021 ranks as the 3rd-best year.
If you want to sell a home that is worth $150K or more, it's the best year ever to sell the home in a predictable time frame while also receiving top-dollar for the home.
Your Local Expert In Tallahassee
When moving to, in, or from Tallahassee, you will fare better if you work with a local expert. We are here to help. If you have further questions on the Tallahassee real estate market, you can leave a comment below, give us a call at (850) 366-8917, or drop us a note and we'll give you the local information needed to ensure a successful, smooth transaction.
As a local born and raised in Tallahassee with a focus on customer service, I promise you'll find great success when working with Joe Manausa Real Estate, just as have our past customers. You can read thousands of their reviews reported on Google, Facebook and Zillow right here: Real Estate Agent Reviews Tallahassee.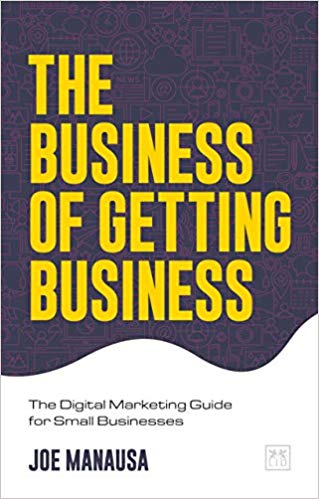 Have you heard about my new book "The Business of Getting Business?" It's a comprehensive guide for small businesses to help them make the move to digital. For those of us who want to survive and thrive in a world where large corporations are taking over, it is a must-read. It's also the perfect guide for how to sell a home in the digital age. You can find The Business Of Getting Business by clicking on any of the trusted retailers below.

Think all REALTORS are alike?
Read what people are saying about working with Joe Manausa Real Estate! You can see thousands of real customer reviews reported on Google, Facebook and Zillow at this link: CLICK HERE FOR REAL ESTATE AGENT REVIEWS.