How To Prepare To Buy A Home Within The Next 6 Months
Posted by Joe Manausa on Thursday, August 3, 2017 at 8:48 AM
By Joe Manausa / August 3, 2017
1 Comment
Home buyers have an increasing access to information on the internet, yet every day we see buyers making the same mistakes over and over again.
If you are better prepared, you will save a lot of money.

3 Step Preparation Before Buying A Home
If you are closing in on the 6 month window to buying a home, here are three steps you can take to ensure that you save money (important), and end up buying the right house that you will love (critical). In a market where 80% of recent buyers wish they had known more about the home buying process and wish they had been better prepared, I encourage you to do this preparation so that you'll be among the 20% who are thrilled with their purchase! You can see what this group is saying at the end of this post!
Websites to Troll (and those to avoid)
Don't become a sold name - The big websites in every industry spend millions of dollars in marketing to get you to visit their sites. Do you want to know how they profit? They do so by selling your contact information to businesses who want to talk with you. If you go to a local site, it likely is just one real estate company that will reach out to you. But if you go to an international site that has the tentacles all over the various related services within the housing industry, your name might be sold to multiple real estate agents, lenders, title providers, builders, home inspectors, insurance agents, etc. etc. etc. Do you really want to be contacted by that many people?
In most markets, you can spend less than an hour on the internet in order to discover the absolutely best website for you to use to prepare to buy a home. One local agent is providing information that no large aggregate site can match (for the local market). A big brand website might have several million listings of homes for sale, but don't you care to learn more about the neighborhoods and homes specific to where you want to live? It's been my experience that becoming a bit of an expert for your specific desired area and price range is usually worth a 5% to 10% savings when you buy a home.
The fact that you are reading this blog post (the Tallahassee Real Estate Blog is written each and every weekday and provides information very specific to selling a home and/or buying a home in Tallahassee) is an indicator that you want to be an informed buyer. Bravo!
Agents To Interview
The best kept secret in the real estate business is that home sellers will pay a real estate agent to help a buyer buy their house! The bad news is that it doesn't matter who you hire, that agent will get paid if you buy a home, even if the agent costs you tens of thousands of dollars in poor advice and ignorance. The good news is that you can hire any real estate agent you wish! Why not hire the best?
Of course, most people know several real estate agents and do not know which one to hire. Most often, buyers do not even think about hiring an agent, they merely shop for homes online and then end up working with an agent that tells them about a house they call on. This is a big mistake! Why would you let fate determine the competency of somebody who will advise you and oversee your purchase on a $300,000 asset? With 95% of the agents working on a part-time basis, do you really need to shoulder this risk? There is a smarter way to go about this!
Go to the internet's best source for information ... Google ... and find out what people are saying about real estate agents. When you find the real estate agent with the most five-star reviews, make sure you add her or him to your list to interview. Remember, the seller will pick up the tab, so why not get the agent that everybody else acknowledges as the best in the business?
If you use a smarter process, you will be happier with the home you buy and you will also save money!
Home Buying For Smart People
A process designed to save you money when buying a home
Something tells us you're just … well … smarter than most people looking to buy a home.
You're not naive, you are looking for a house to call home, and you want to make sure that you love the home you buy, but also get a great value.
In other words, you don't have to be an Einstein to "get" the home buying process. But you do have to be prepared.
We can prepare you

Current Market Conditions
You should know that most real estate agents do not study the market. In fact, the average real estate agent in Tallahassee only sells six homes per year, so with thousands of sales occurring beyond their reach, they typically are poorly informed regarding supply and demand for homes at the micro level. And among many bits of information that you need, supply and demand for homes like the one you want to buy is critical. It determines your posture and opening when making an offer. Supply and demand will tell you whether you are likely to be the lone bidder, or if scores of other buyers will be making an offer on the home that you find. Having an excellent grasp of current housing market conditions is one piece of the puzzle that will put money in your pocket, as you must (or your agent must) be very well read on current conditions for you to negotiate the most favorable deal.
There are several ways for you to get up to speed on the current market. I would recommend that you do 2 things. First, subscribe to our weekly special report that will give you a different macro view of the market each week, and secondly, subscribe to our daily blog. If you do this six months out, you will be better prepared than 95% of the real estate agents in Tallahassee when it comes time to buy a home.
Get Our Free Market Update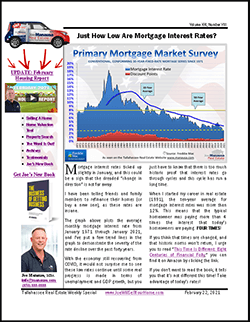 Other buyers, sellers, lenders, and real estate agents have this critical information, and now you can too!
Get immediate access to our most recent newsletter.
Let more than 30 years of experience work for you with charts, graphs, and analysis of the Tallahassee housing market.
Each Monday morning we send out a simple, one-page report that provides a snapshot of the Tallahassee housing market. It only takes 2 minutes to read, but it gives you better market intelligence than most real estate agents possess. Just tell us where to send it below!
So here's the quick summary when preparing to buy a home within the next six months.
Use the best local website to gain and understanding of your local market
Interview the agents with the most five-star reviews on Google so that YOUR agent is the BEST agent
Gain a solid understanding of housing market conditions for your area and price range, with a specific focus on supply and demand
Have fun and happy house hunting!
What Happy Home Buyers Report